Healthy Chocolate Pumpkin Microwave Muffins
Months and months ago, I bought six cans of pumpkin puree in preparation for the Fall baking season, and look what we have here — *opens pantry door* — five cans of pumpkin, totally untouched.  BLASPHEMY!  It's nearly November and I've posted ONE pumpkin recipe this entire chilly season (#foodbloggerfail?).  But don't worry, I've redeemed myself with these Healthy Chocolate Pumpkin Microwave Muffins!  They're dense and sweet, chocolatey, and lightly spiced.  You'd never know they're sugar free, high protein, high fiber, gluten free, dairy free, and vegan too.
Do you see that muffin right up there?  That's pure chocolatey pumpkin bliss.  If you want to indulge in chocolate but you're craving some pumpkin, because, you know, it's FALL and all that, make these Healthy Chocolate Pumpkin Microwave Muffins.  THEY WERE MADE FOR YOU.
Better yet, if you're super impatient (like me) with a hankering sweet tooth (also like me), then this super quick and easy recipe will hit the spot.  You're less than 5 minutes away from this chocolate-pumpkin goodness.
Yeahhhh, this is the life.
They're dense yet soft, like every muffin should be, and filled with nutritious ingredients like flax, pumpkin, oats, and cinnamon.  These Chocolate Pumpkin Microwave Muffins are the best of both (chocolate and pumpkin) worlds!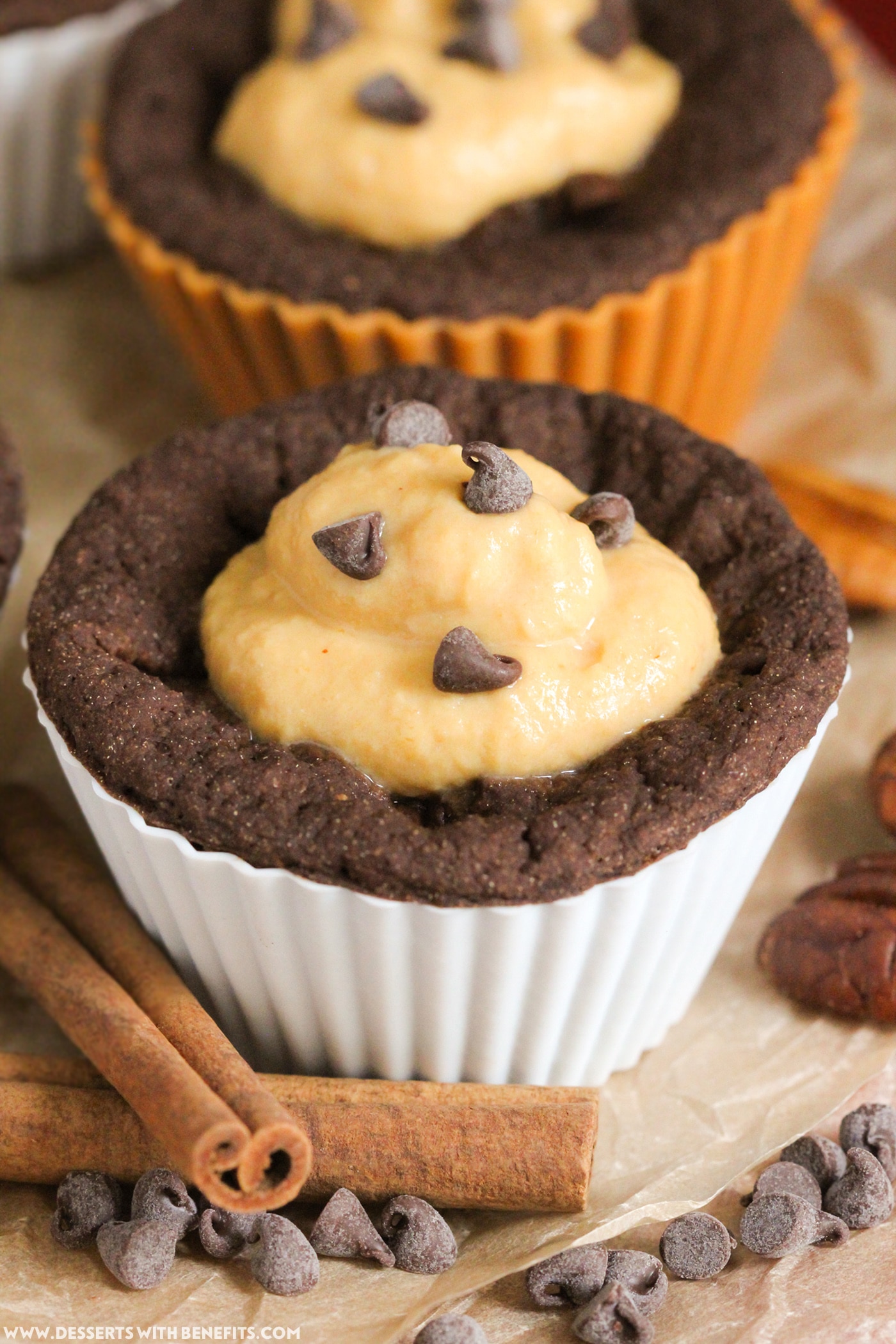 Healthy Chocolate Pumpkin Microwave Muffins
Prep Time: 5 minutes
Cook Time: 3 minutes
Total Time: 8 minutes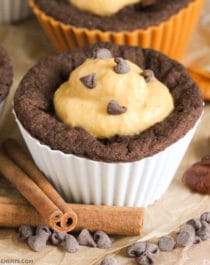 Fat per serving: 8
Calories per serving: 280
Ingredients:
Directions:
In a medium-sized bowl, stir together the ground flaxseed, almond milk, and pumpkin puree.
In a small bowl, whisk together the oat flour, cocoa powder, baking powder, cinnamon, sweetener and salt.  Dump in the wet ingredients and whisk together.
Spoon batter into 4 silicone cupcake molds and microwave for ~2½ minutes.  Let cool slightly, then enjoy!
All images and text ©
.
If you are feeling indulgent, add a tablespoon of mini dark chocolate chips to the batter.  After "baking," feel free to frost the muffins or spread them with Pumpkin Butter, Apple Butter, your favorite nut butter of choice, drizzle 'em with pure maple syrup, or just top them off with all-natural whipped cream!  Whateva tickles yo fancy.
.
Here is the recipe's nutrition label:
Because this recipe is sugar free, contains healthy fats, a whopping 16g of filling fiber and 10g of protein (!!!), these Healthy Chocolate Pumpkin Microwave Muffins will keep you fuller for WAY longer than some typical ole bakery-bought chocolate muffin or pumpkin pie.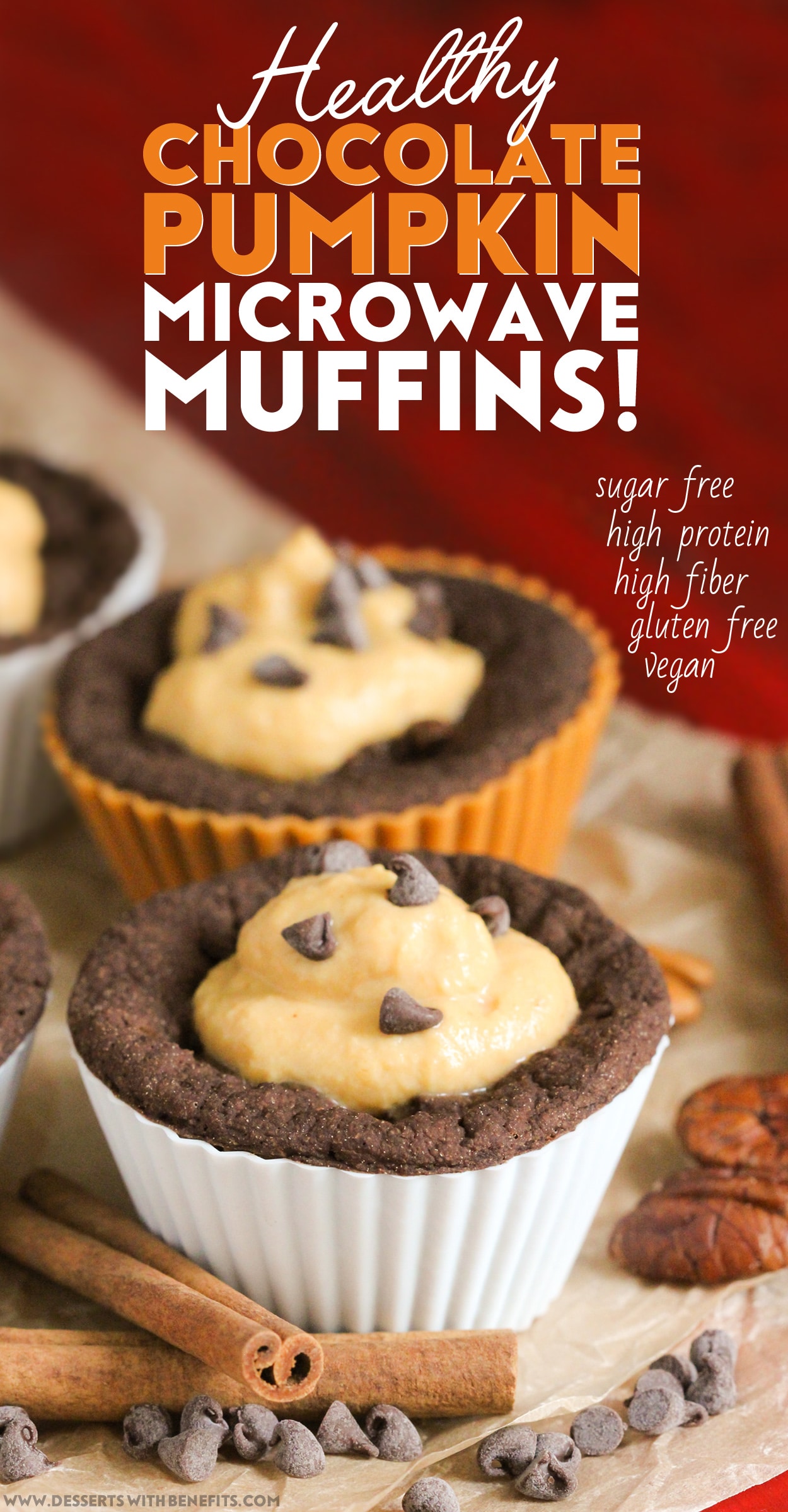 So much deliciousness, so little time!
.
– Jess
.