Healthy Pumpkin Blondies
These Healthy Pumpkin Blondies are dense, chewy, naturally sweet, and warming from the cinnamon, nutmeg, cloves and ginger.  Oh, and they're tooootally addicting!  You'd never know they're sugar free, gluten free and vegan.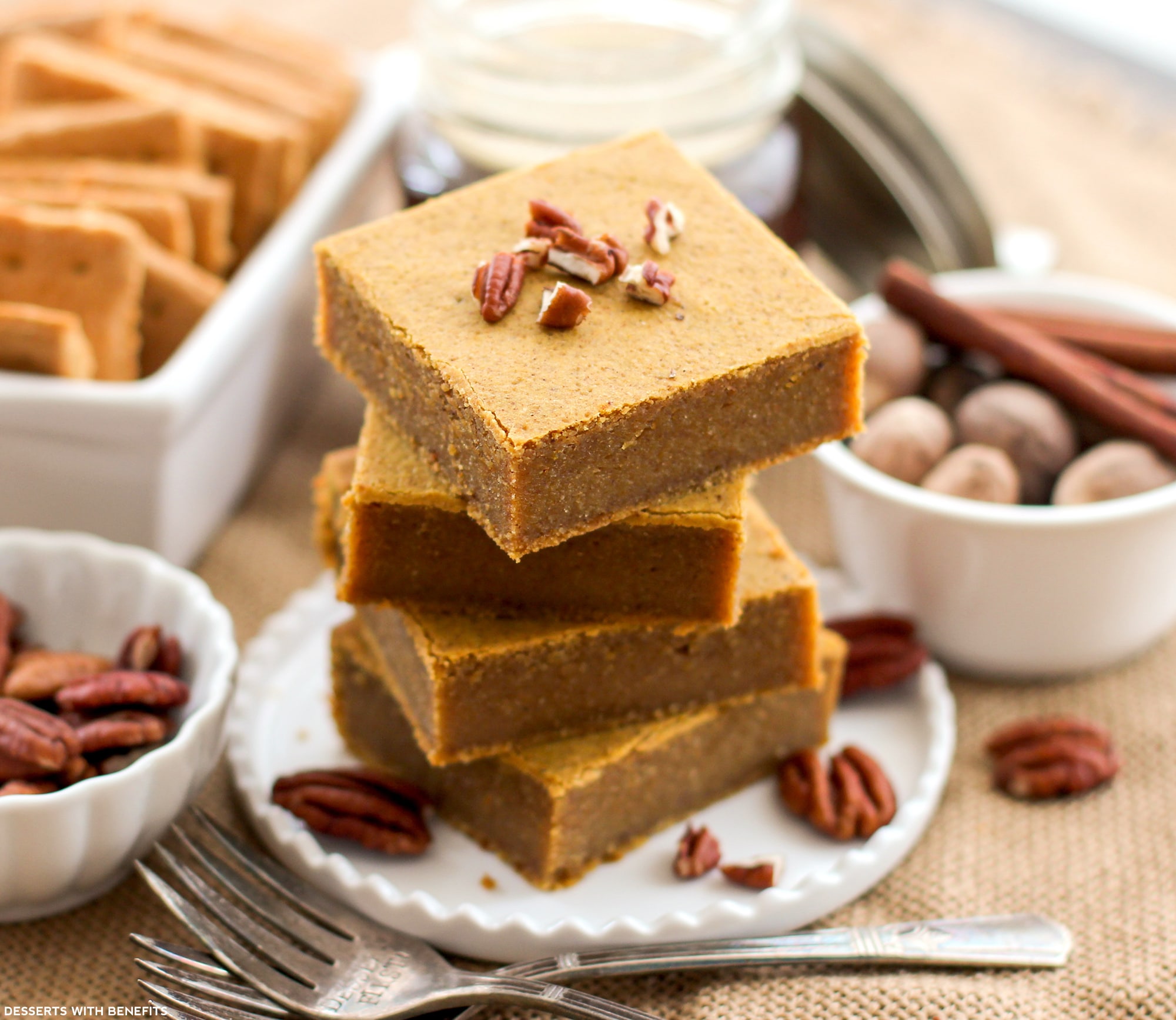 Despite all the recipes I've made with pumpkin, I'm not its biggest fan.  I hold true to the statement I made almost exactly one year ago.  While I'm neutral to pumpkin's flavor, I adore everything else that goes along with it — cinnamon, nutmeg, cloves, ginger, the sugary sweetness.
I could smell a jar of cinnamon alllll daayyy loooong  👌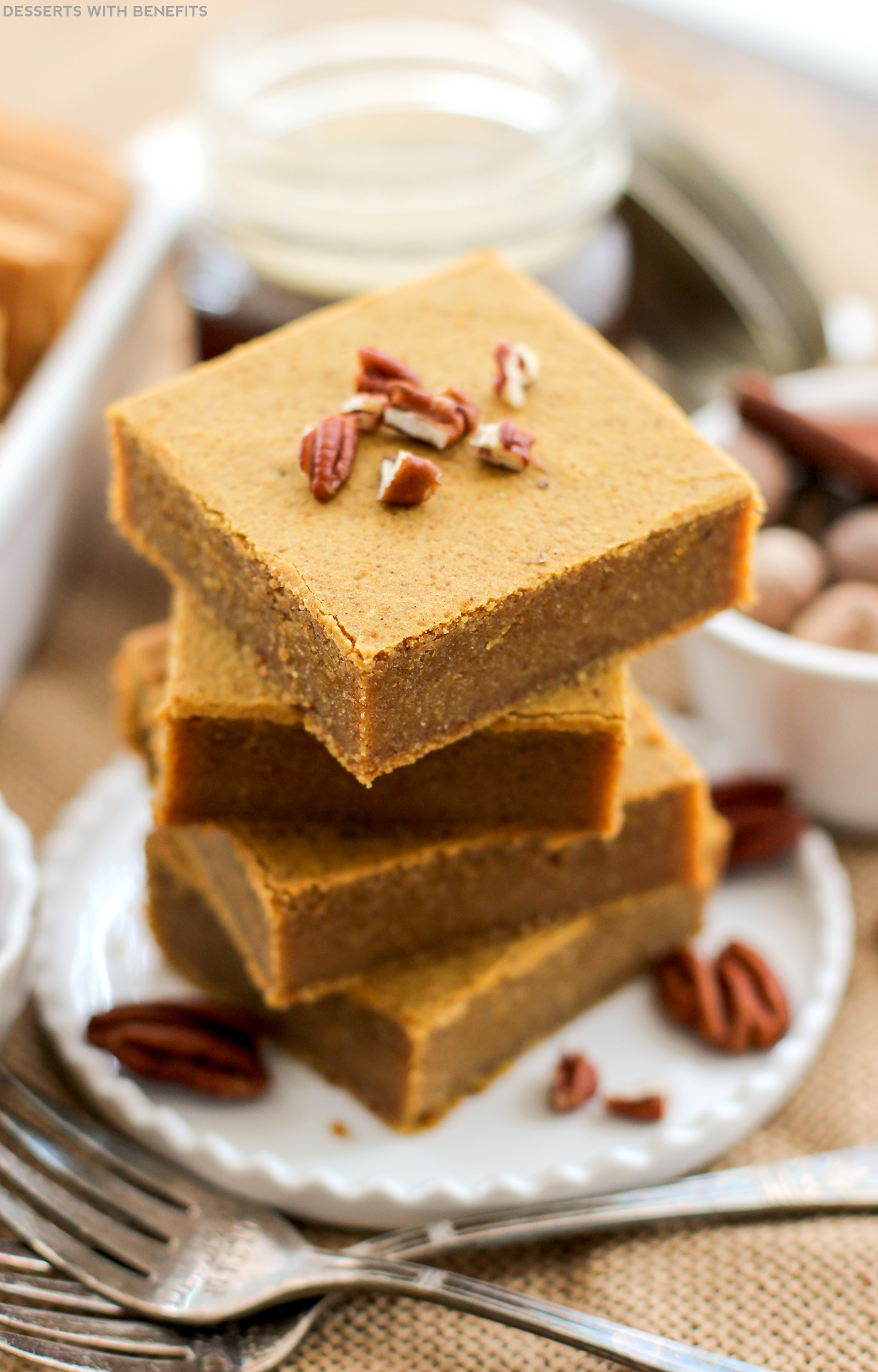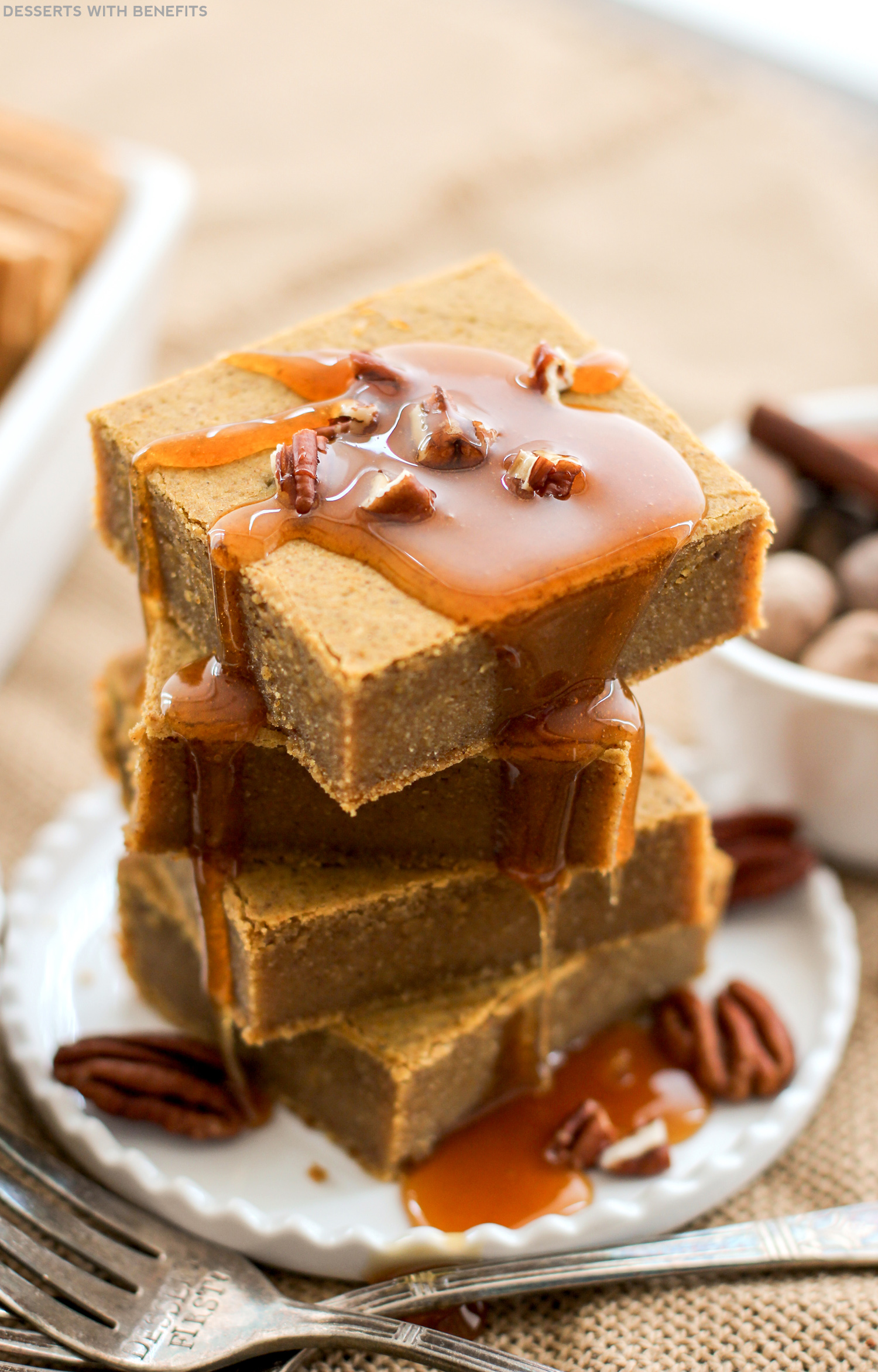 But I know YOU like pumpkin, so I thought I'd make blondies for ya.  Healthy Pumpkin Blondies!  They're flavorful, chewy, and sweet — nothing boring or dry here!  In fact, these blondies are dense and rich just like typical blondies, except they're all-natural, refined sugar free, butter-free…  these are actually good for you!  🙌
Healthy Pumpkin Blondies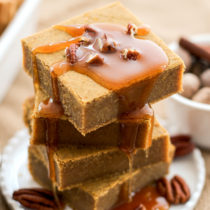 Ingredients:
120g (1 cup) Oat Flour
85g (½ cup + 2 tbs) Quinoa Flour (or Sweet White Sorghum Flour**)
1 tbs Ground Cinnamon
1 tsp Ground Ginger
½ tsp Ground Nutmeg
¼ tsp Ground Cloves
½ tsp Salt
½ tsp Double Acting Baking Powder
215g (¾ cup + 2 tbs) 100% Pure Pumpkin Puree
144g (¾ cup) Granulated Erythritol (or Sucanat or Pure Maple Sugar)
112g (½ cup) Coconut Oil, melted
⅓ cup Unsweetened Vanilla Almond Milk
1 tbs Vanilla Extract
1 tsp Stevia Extract
1 tsp Natural Butter Flavor
½ cup Mini Dark Chocolate Chips (optional)
Directions:
Preheat the oven to 350 degrees Fahrenheit and line an 8x8" brownie pan with parchment paper both ways.
In a small bowl, whisk together the oat flour, quinoa flour (or sorghum flour), cinnamon, ginger, nutmeg, cloves, salt and baking powder (and xanthan gum, if using sorghum flour).
In a large bowl, whisk together the pumpkin puree, erythritol, melted coconut oil, almond milk, vanilla extract, stevia extract and butter flavor.
Dump the dry ingredients over the wet ingredients and fold together.  Mix in the optional chocolate chips, if using.
Scoop the mixture into the prepared pan and spread it out with an offset spatula.
Bake for 35 minutes, or until the center springs back when tapped.  Let cool, then slice and serve!
Notes:
**If using the Sweet White Sorghum Flour instead of Quinoa Flour, add ¼ tsp Xanthan Gum to the dry ingredients.
The recipe above is my revised recipe.  I originally posted a Pumpkin Blondie recipe back in 2012 but felt like it could use some work on the texture (it was delicious, but slightly dry and mochi-like).   Just in case you wanted to see the previous recipe and/or the changes I made, I'm providing the old recipe here:
497g (one 15oz can + ¼ cup) 100% Pure Pumpkin Puree
14g (1 tbs) Grapeseed Oil
½ tsp Stevia Extract
½ tsp Natural Butter Flavor
48g (⅓ cup) Pure Maple Sugar
1 tsp Ground Cinnamon
160g (1 cup) Brown Rice Flour
120g (1 cup) Oat Flour
1 tsp Baking Powder
½ tsp Salt
Here is the recipe's nutrition label:
I told you that you can feel good about eating these blondies!  Not only because they're full of healthy ingredients, but because they're nutritionally balanced with healthy fats, complex carbohydrates, fiber and protein.  I feel ZERO guilt about eating two in a row  😎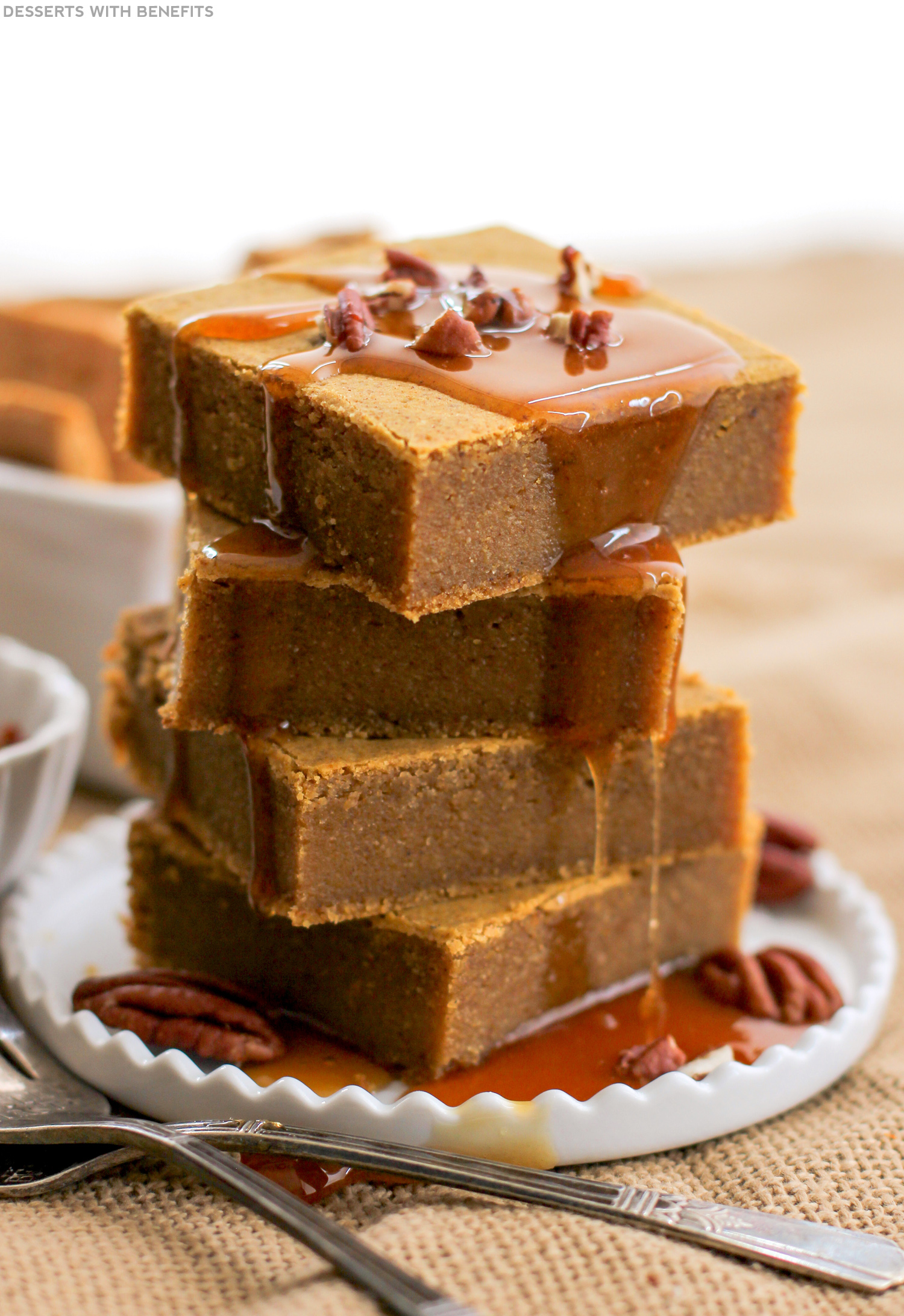 These Healthy Pumpkin Blondies are so good, they're a must make (along with these Blueberry Muffin Blondies!)
.
PS:  Oh, and here's a puppy update:
As you can see, Jax is doing well.  His face is SO SQUISHY!  I love how he lets us do this without getting annoyed  😁