Healthy Coconut Frozen Yogurt
This Healthy Coconut Frozen Yogurt is super smooth and creamy, incredibly flavorful and sweet, and secretly healthy and guilt-free!
Sweeten your day the healthy way, no need for the heavy cream, eggs, sugar, and additives.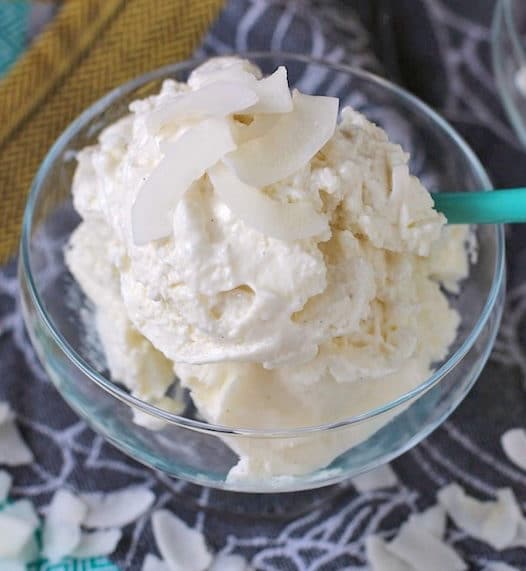 Don't you just wanna dig in?  The spoon is right there, grab it!
Oh wait, there's a screen is holding you back…
Well, if it's any consolation, this Healthy Coconut Frozen Yogurt is really easy to make.  Unlike typical homemade ice creams, this recipe doesn't require any cooking.  So, no need to stir a mixture of cream, eggs and sugar over a stove for half an hour (and knowing my luck, I would probably make curdle it and make a sugary batch of scrambled eggs…  yuck)
I'll stick with the no-cook fro yo.  Easy to make and even easier to eat.  Now that's what I call a win-win.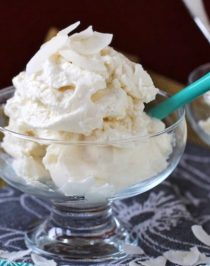 Print Recipe
Pin Recipe
Healthy Coconut Frozen Yogurt
This Healthy Coconut Frozen Yogurt is super smooth and creamy, incredibly flavorful and sweet, and secretly healthy and guilt-free!
Instructions
Freeze your ice cream maker bowl for 24+ hours (I used my 

Cuisinart

).

In a stand mixer bowl with whisk attachment, add the yogurt, stevia extract, butter extract, coconut extract and vanilla paste. Mix on low.

In a microwave-safe bowl, add the coconut cream concentrate and microwave at 15-second intervals, stirring between each one, until melted.

In a small bowl, whisk together the starch, xanthan gum, baking soda and salt. Slowly add this to the mixing stand mixer and increase the speed to medium.

Scrape down the sides of the bowl with a rubber spatula and mix again.

With the stand mixer running, slowly drizzle in the melted coconut cream concentrate.

Detach the whisk from the mixer and place inside the bowl leaning against the spatula. Freeze for 1 hour.

Reattach the whisk to the stand mixer and whisk on medium speed until the mixture is even.

Place the frozen ice cream maker bowl on the ice cream machine and turn the machine on. Scoop the ice cream mixture into the spinning frozen bowl and churn for ~12 minutes.

Scoop the fro yo into a freezer-proof container (I use a glass loaf pan) and freeze until the texture is to your liking (~2 hours for me). Scoop into serving bowls and enjoy!
Recipe Notes
**All coconut extracts vary in flavor, strength and quality.  If you are not using the brand linked here in the recipe, add 1 tsp first then give the ice cream "batter" a taste to see if you want more.  Artificial coconut extracts are MUCH stronger than natural ones, so make sure to check your bottle.  My rule of thumb is, if you don't like the smell of the extract out of the bottle, you most likely won't like whatever you're going to use it in.
Nutrition Facts
Healthy Coconut Frozen Yogurt
Amount Per Serving (1 serving = ½ cup)
Calories 140
Calories from Fat 45
% Daily Value*
Fat 5g8%
Cholesterol 5mg2%
Sodium 140mg6%
Carbohydrates 11g4%
Protein 11g22%
Calcium 100mg10%
Iron 0.7mg4%
* Percent Daily Values are based on a 2000 calorie diet.
After calculating the nutrition facts for this recipe, I gotta say, I am thoroughly impressed.  Compared to PinkBerry's coconut fro yo, my recipe has 19g less carbs, 25g less sugar, and 7g more protein.  PinkBerry's fro yo has 28g of sugar per serving (that's the equivalent to 7 teaspoons of sugar)!
I was originally going to compare my recipe's nutrition label to Williams Sonoma's coconut ice cream recipe, but thank goodness I didn't, because just looking at their ingredient list gave me a blood sugar spike.  It's seriously PURE sugar.
I'll stick with my Healthy Coconut Frozen Yogurt — it's fro-yo surely at its best (and healthiest).  Totally breakfast-worthy, yes?  I mean, it's all natural, sugar free, packed with protein and filling enough to power you through your day!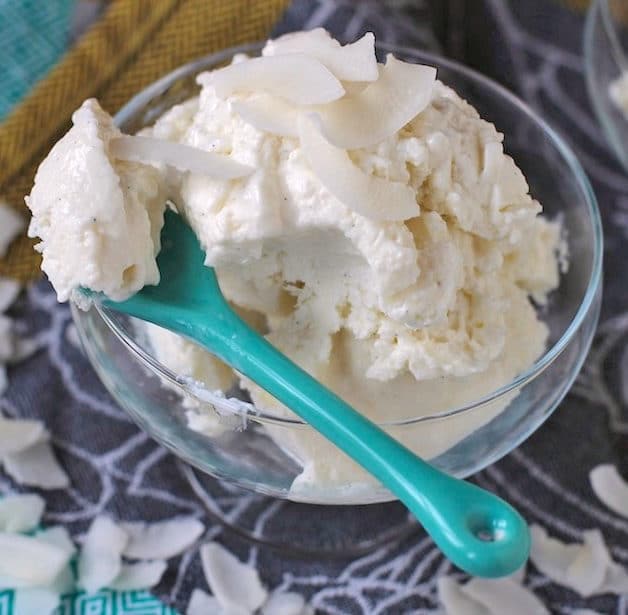 Ugh, the creaminess!  I can't handle it!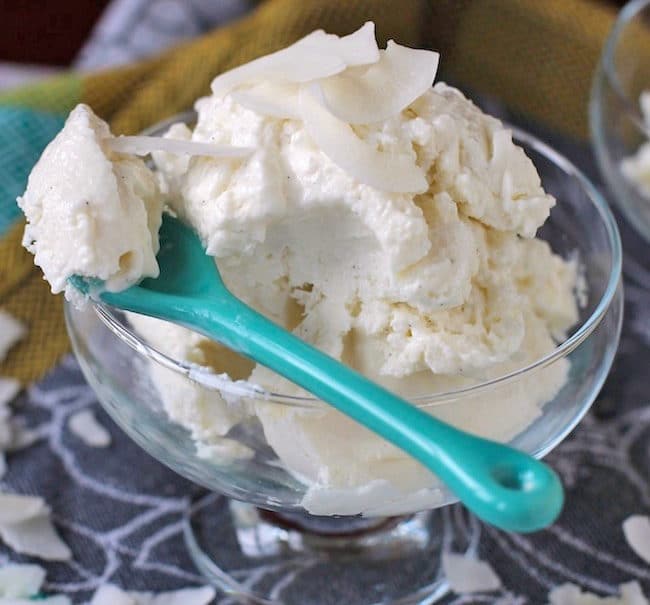 That's a damn delicious (guilt-free) bite right there.  I wish I could share it with you.  HAH, not 😉
.
With love and good eats,
.
– Jess
.