Healthy Cookie Dough Brownies
Cookie Dough + Brownies + Desserts With Benefits  =  HEALTHY Cookie Dough Brownies!
What more could you ask for?!?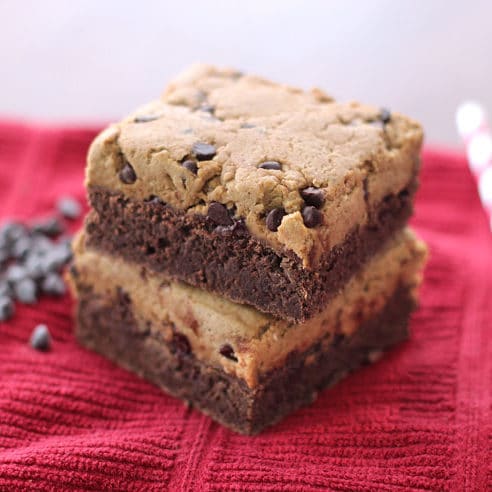 These are the bomb.  BOOM.
These are awesome.  End of story.
When you have a dense, moist, chocolatey brownie covered in a soft, decadent and rich cookie dough, all of your problems seem to fade away.  But when you take those brownies and make them healthy, then problems cease to exist.  These brownies will ensue a period of interminable bliss, bite after bite after bite.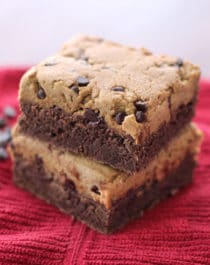 Print Recipe
Pin Recipe
Healthy Cookie Dough Brownies
Instructions
Make the brownies and let cool.

Make the cookie dough and spread onto the brownies while still in the brownie pan.

Slice the brownies. Serve and enjoy!
I'm sure someone out there is wondering what the nutrition stats are for this recipe.  I mean, these brownies are super decadent and they look and taste like they have about 2,392 calories each.
My recipe is nutritionally balanced with a good amount of healthy fats (no butter here!), complex carbohydrates, filling fiber, and satiating protein.  Other recipes are unbalanced, most of the time with 25g+ of unhealthy fats, barely any protein, and nearly A ¼ CUP OF SUGAR PER BROWNIE!!!  That blows my mind.
With my healthy Cookie Dough Brownies you can enjoy a sweet, decadent-tasting dessert and feel satisfied after one serving because the fat, fiber and protein will keep you full for hours.  Unlike the other recipe, where one brownie leads to another…  and another…  and another  (trust me, I've had my fair share of sugar-induced comas before!)
These healthy Cookie Dough Brownies are the perfect school treat, on-the-go snack and party favor, they are portable, a nutritious treat to have on hand when hunger strikes, and a delicious crowd-pleaser!
.
With love and good eats,
.
– Jess
..