Healthy Homemade Strawberry Milk
I don't know about you, but I used to drink that sugar syrup Hershey's strawberry syrup to make strawberry milk allll the time as a kid.  I hated milk back then, so the syrup made it tolerable for me.  But then again, sugar kinda makes everything tolerable…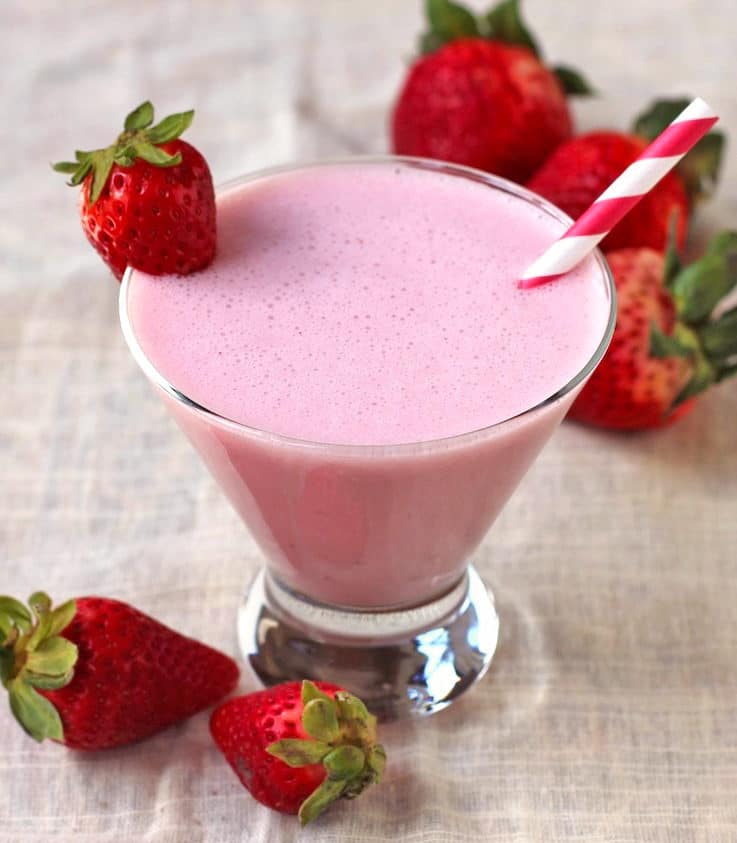 So I made some homemade strawberry syrup, just without the artificial food coloring, artificial flavorings, high fructose corn syrup and refined sugar!
Use this healthy homemade strawberry syrup to make healthy homemade strawberry milk!
I could drink this EVERY. SINGLE. DAY.
It's that good, and I'm sure you will too  😉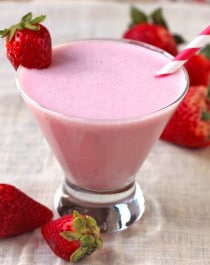 Print Recipe
Pin Recipe
Healthy Homemade Strawberry Milk
Instructions
Strawberry Syrup:
In a small saucepan, stir together the strawberries, water, stevia extract, and strawberry flavor. Stir in the corn starch and xanthan gym. Place over medium/high heat. Bring to a simmer and keep on the heat for ~10 minutes, or until thickened and strawberries are extremely soft.

Strain the mixture through a fine-mesh sieve. Puree the strained mixture in a blender. Add enough of the natural red food coloring to turn it red. Transfer mixture to a jar, seal tightly, and refrigerate to store. Keeps for ~5 days.
Strawberry Milk:
In a shaker cup or blender, add both ingredients and shake/blend until smooth. Enjoy!
Recipe Notes
**For a paleo version, try ½-1 tsp arrowroot starch.
So dang delicious.  Creamy, sweet and full of strawberry flavor  🙂
Enjoy!
.
With love and good eats,
.
– Jess
.