Healthy Lemon Ricotta Cake
Sit back and imagine yourself a slice of the FLUFFIEST, lightest, and most delicious slice of refreshing, lemony cake…  that's what this Lemon Ricotta Cake is!  Not overly sweet like most cakes, but just the right amount of sweetness to satisfy your sweet tooth and dessert cravings.
I don't have that much experience baking (or making recipes) with ricotta, but I think that's about to change.  It's such an amazing ingredient!  Ricotta adds an incredibly rich and sophisticated flavor to recipes — especially this cake.
I adapted this Healthy Lemon Ricotta Cake recipe from Eating Well's Blueberry Ricotta Cake.  I typed out my ingredient swaps below so you can see how I altered the recipe to be healthier and sugar free:
Increased Ricotta from ¾ cup to 1 cup
Used ½ cup Granulated Erythritol instead of ¾ cup Sugar
Used ¼ cup Coconut Oil instead of 5 tbs Butter
This Healthy Lemon Ricotta Cake is sugar free, 100% whole grain, and contains protein and fiber to fill you up…  unlike typical cakes made with refined flour, a ton of white sugar, and artificial ingredients.
You know, the kind where you can eat 3 slices in a row but somehow never feel full?  Or if you magically do get full, you'll get hungry again in 30 minutes…  that's just the white sugar doin' its thang.  But don't worry, this Lemon Ricotta Cake won't do that to you  🙂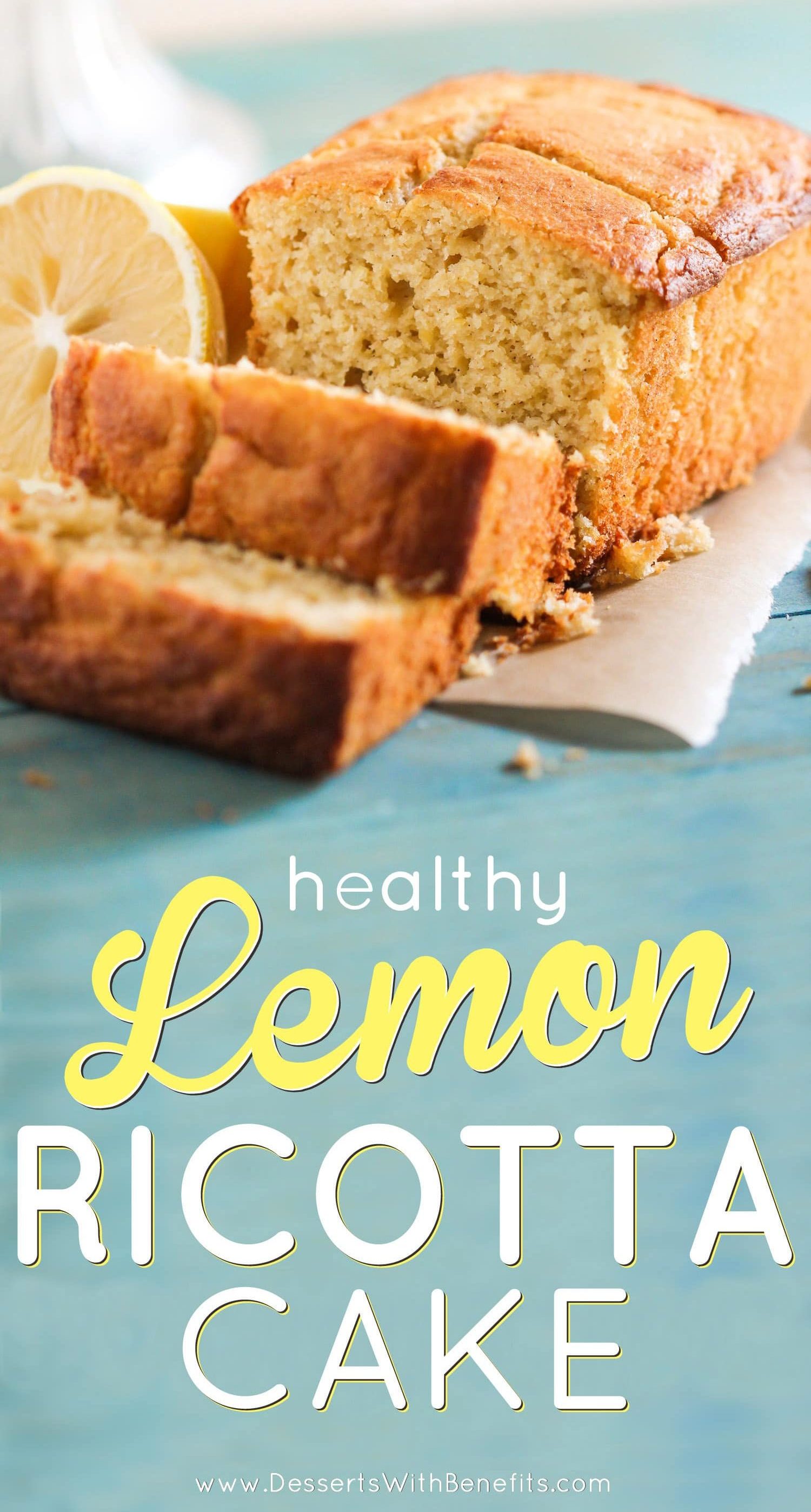 Healthy Lemon Ricotta Cake
Prep Time: 15 minutes
Cook Time: 45 minutes
Total Time: 1 hour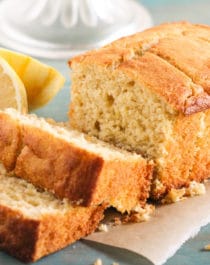 Fat per serving: 8g
Calories per serving: 140
Ingredients:
Directions:
Preheat your oven to 350° Fahrenheit. Spray 2 mini loaf pans* with cooking spray.  Place pans on a cookie sheet (makes it easier to transfer in/out of the oven).
In a stand mixer bowl with beater attachment, add the ricotta, eggs, erythritol, coconut oil, lemon juice, lemon zest, vanilla paste, butter flavor, and stevia extract.  Mix on medium-low speed until completely smooth.
With the mixer running, prepare the dry ingredients.  In a small bowl, whisk together the flour, baking powder, and salt.  Turn the mixer off and dump in the dry ingredients.  Mix on low speed until mostly combined, then scrape down the sides of the bowl.  Mix on low one final time JUST until the batter is smooth.  Do not overmix.
Pour batter into the prepared pan and bake for ~43-45 minutes, or until the surface of the cake springs back when tapped.  Let cool completely in the pans.  Slice and serve!
Notes:
*You can definitely bake this in a regular cake pan if you like! Baking time may vary.
Recipe adapted from Eating Well.
All images and text © .
.
Here is the recipe's nutrition label: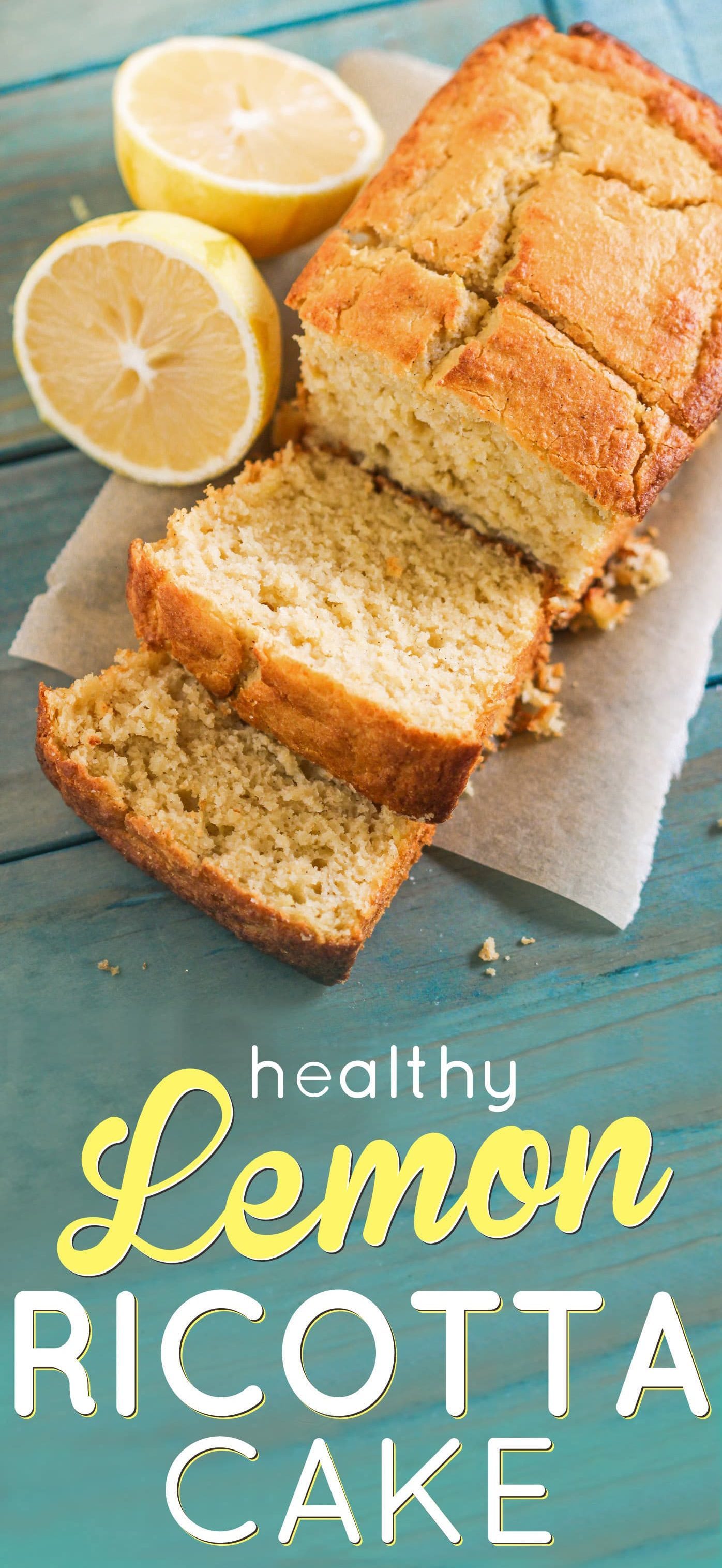 Enjoy!
.
With love and good eats,
.
– Jess
.