Healthy Low Carb and Gluten Free Soft Pretzels
These Healthy Low Carb and Gluten Free Soft Pretzels are so light, buttery, and addicting, you'd never guess they're made without the sugar, butter, and white flour!  They taste anything BUT healthy, sugar free, low carb, high protein, high fiber, and gluten free.  They taste like pure sin.
These babes are sinlessly delicious!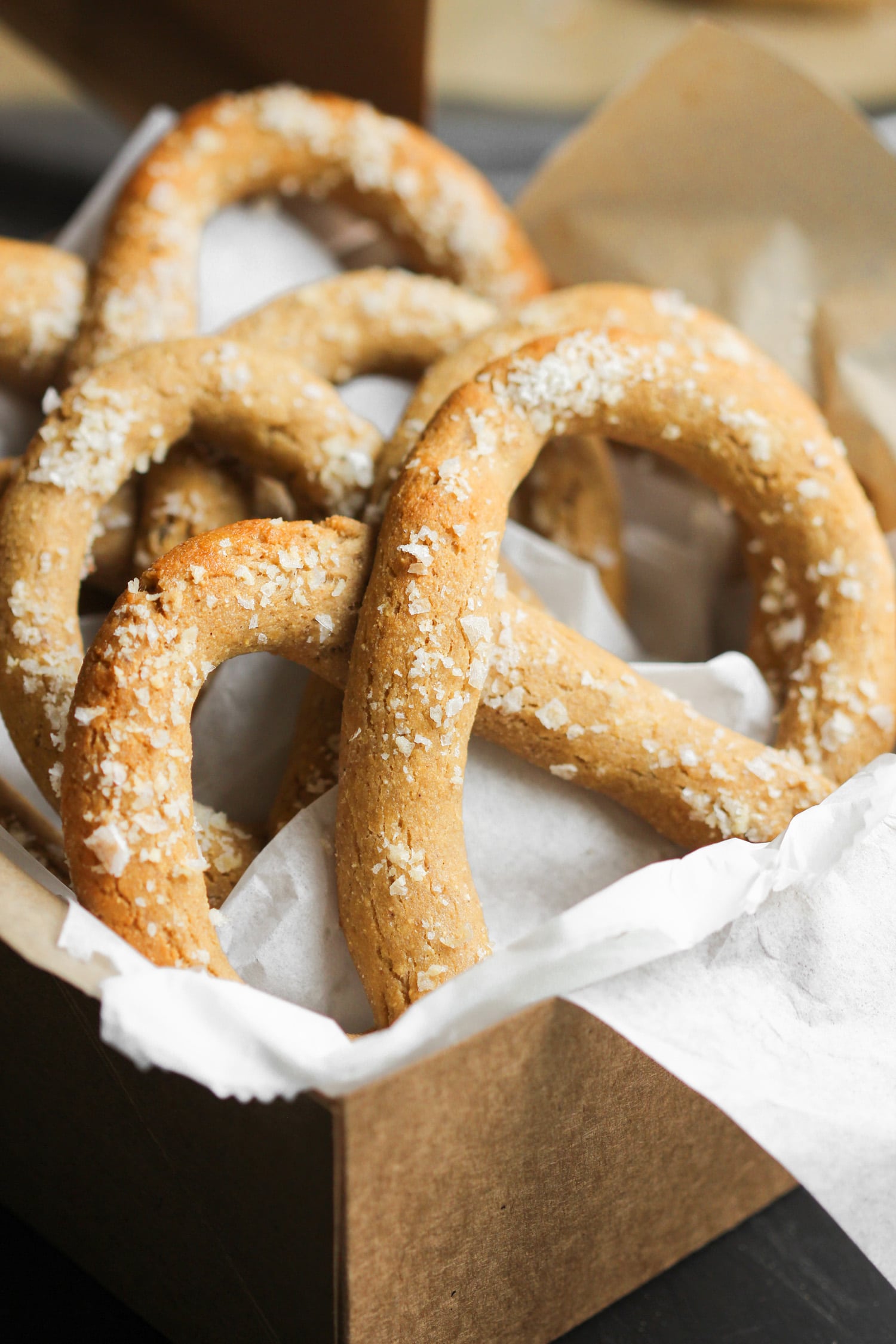 Soooo, ummm…  if you've been following along for some time now, or if you've read My Story, then you know about my first job ever.  At Auntie Anne's.  Where I gained 12lbs in about 3 months and basically ate pretzels all day, all night, at home, at work, on my break, for snacks and sometimes even as my dinner.  I was totally addicted.
Pretty sure the dictionary should update the definition of "addiction" to "baked bread dripping with melted butter and doused with salt."  Because that would just make waayyyy more sense.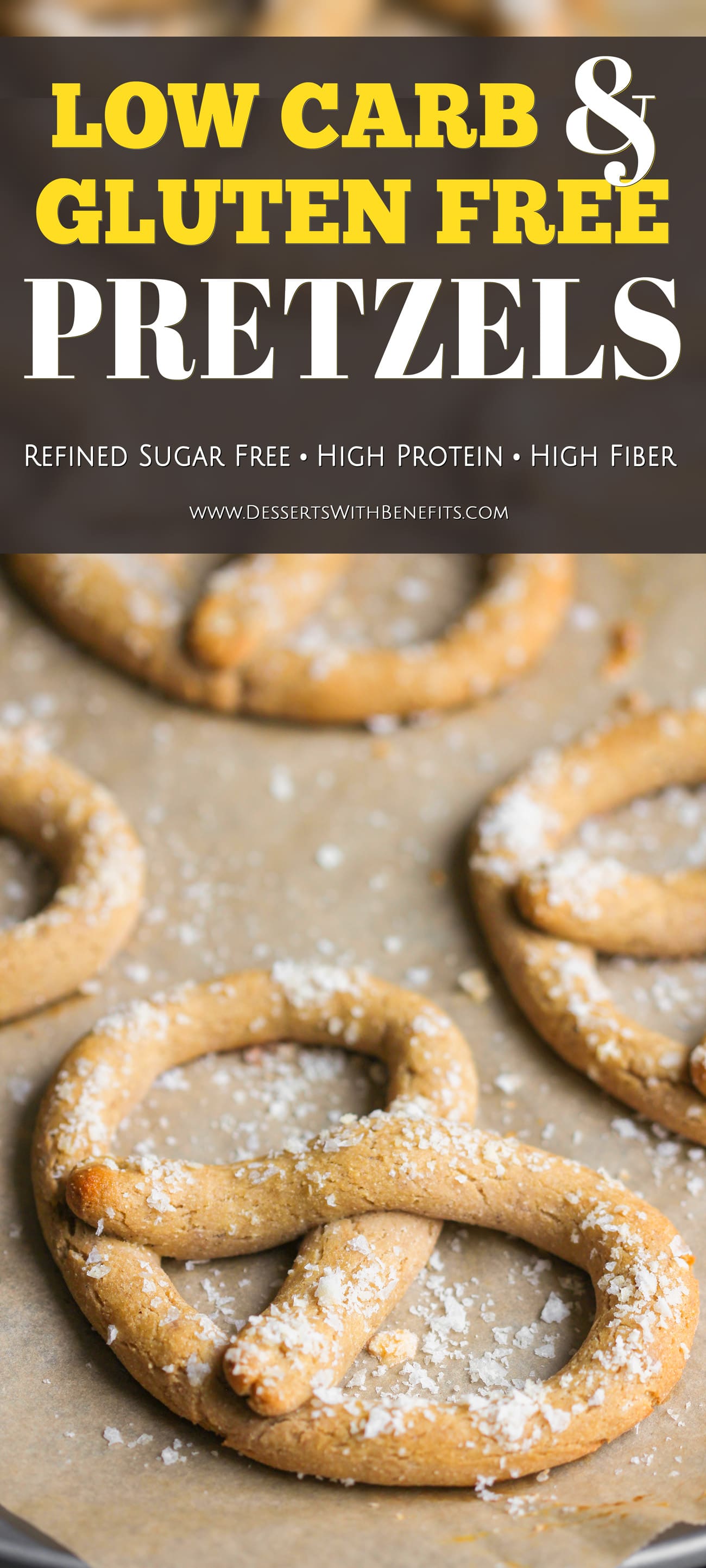 Okay, now get ready for a serious surprise…  I like salted pretzels more than those tooth-achingly sweet cinnamon-sugar pretzels.
*GASP*
What?  Me?!  A diehard sweet tooth liking something savory over sweet??  I think something's wrong with me…  who am I??  But it's true.  I'm sorry if I let you down there, but I think this totally awesome recipe will help me make it up to you 😉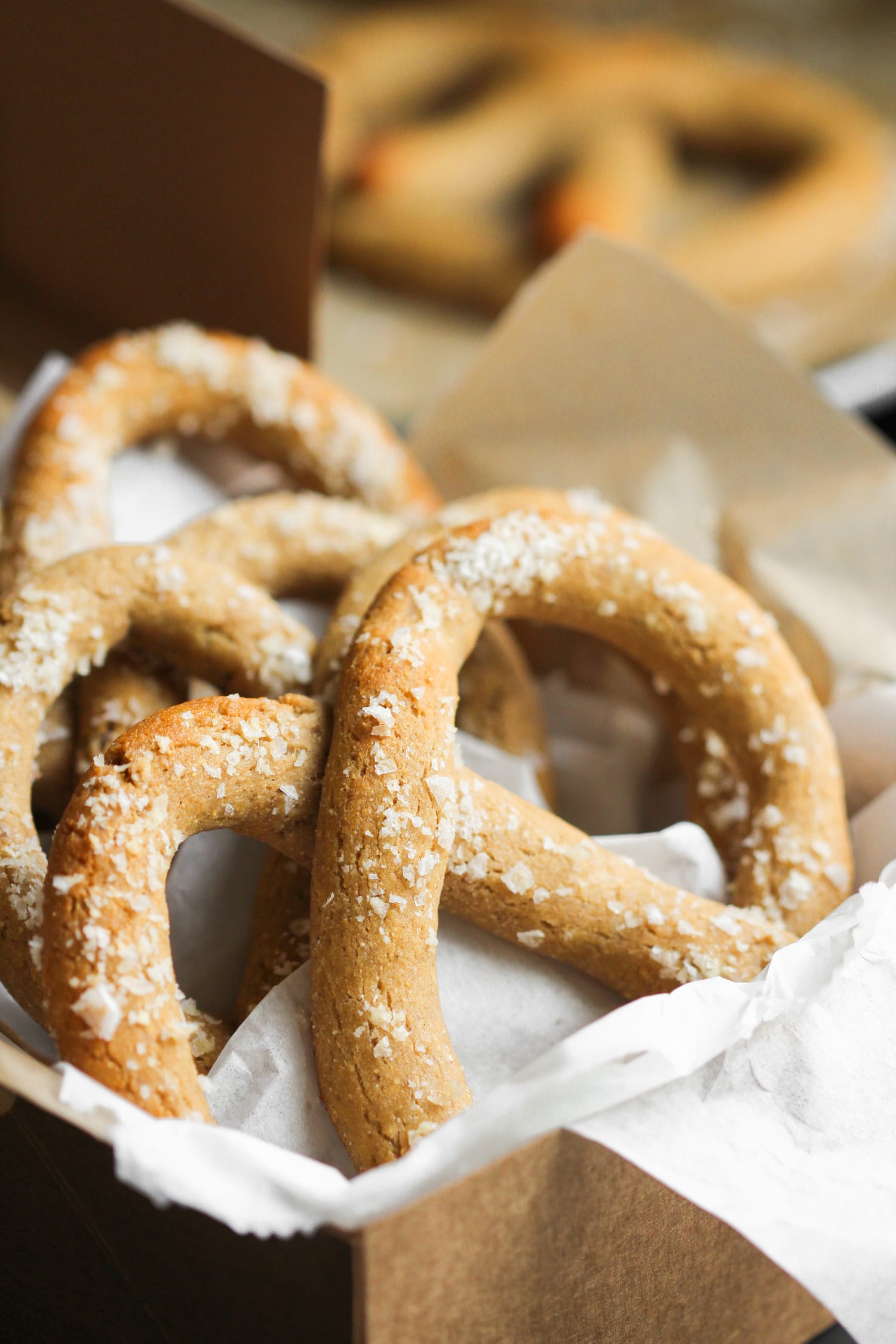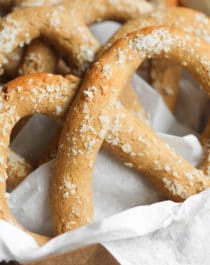 Healthy Gluten Free Soft Pretzels
Ingredients
30g

(3 tbs)

Psyllium Husk Powder

11g

(1 tbs)

Active Dry Yeast

1

cup

Unsweetened Vanilla Almond Milk

124g

(½ cup)

Unsweetened Applesauce

5

Large Egg Whites

(reserve one of the yolks!)

1

tbs 

Natural Butter Flavor

168g

(1½ cups )

Soy Flour

140g

(1¼ cups)

Coconut Flour

2

tsp

Double-Acting Baking Powder

½

tsp

Baking Soda

¼

tsp

Salt

1

Egg Yolk

1

tsp

Water

~2 tsp

Flaked Sea Salt
Instructions
In a small bowl, whisk together the psyllium and yeast.

In a stand mixer bowl fitted with a beater attachment, add the almond milk, applesauce, egg whites, and butter flavor. Turn on medium speed.  While mixing, sprinkle in the psyllium/yeast mixture. Mix until smooth.  Scrape down the sides of the bowl, then mix until smooth again.  Mixture should look like thick gravy.

In a medium-sized bowl, whisk together the soy flour, coconut flour, baking powder, baking soda, and salt. Add to the stand mixer and mix on low speed.  Scrape down the sides of the bowl and mix on last time.  Dough should be very thick, dense, and slightly sticky.

Shape the dough into a ball and cover the bowl with plastic wrap. Place the bowl in a warm area for 1 hour.

Preheat the oven to 350 degrees Fahrenheit and line two cookie sheets with Silpats or parchment paper.

Divide the dough into 8 equal portions. Carefully roll the dough into long logs (if the log breaks, just stick it back and it'll be fine...  these are gluten free, so that's kinda expected right?) and carefully shape into pretzels. Carefully transfer the pretzels onto the prepared pans.

In a small bowl, whisk together the egg yolk and water.  Brush the pretzels with the egg wash and sprinkle with the salt.  Bake for ~23-25 minutes, or until golden brown.  Let cool slightly and serve warm!
Recipe Notes
Just like storebought pretzels, these are best served immediately after they are made. Storing isn't recommend.
Nutrition Facts
Healthy Gluten Free Soft Pretzels
Amount Per Serving (1 pretzel)
Calories 200
Calories from Fat 63
% Daily Value*
Total Fat 7g 11%
Cholesterol 25mg 8%
Sodium 920mg 38%
Total Carbohydrates 19g 6%
Protein 15g 30%
* Percent Daily Values are based on a 2000 calorie diet.

Here are a couple pictures of my very first batch: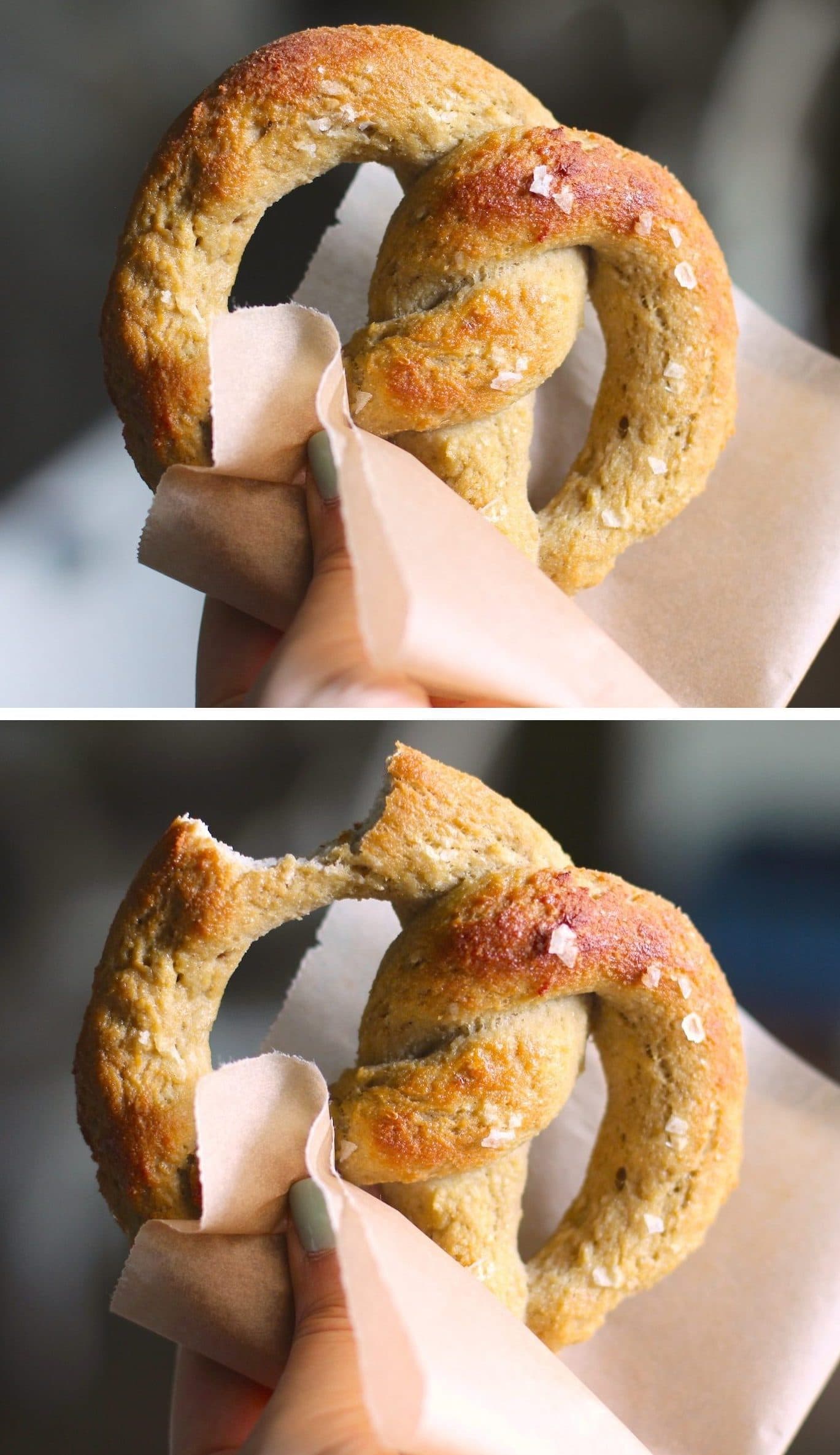 They were suuuuper soft and fluffy, but I needed to revamp the recipe because they were incredibly delicate and a pain in the ass to roll and shape into pretzels.  This new recipe is way easier to handle, shape, and bake.  And eat, of course.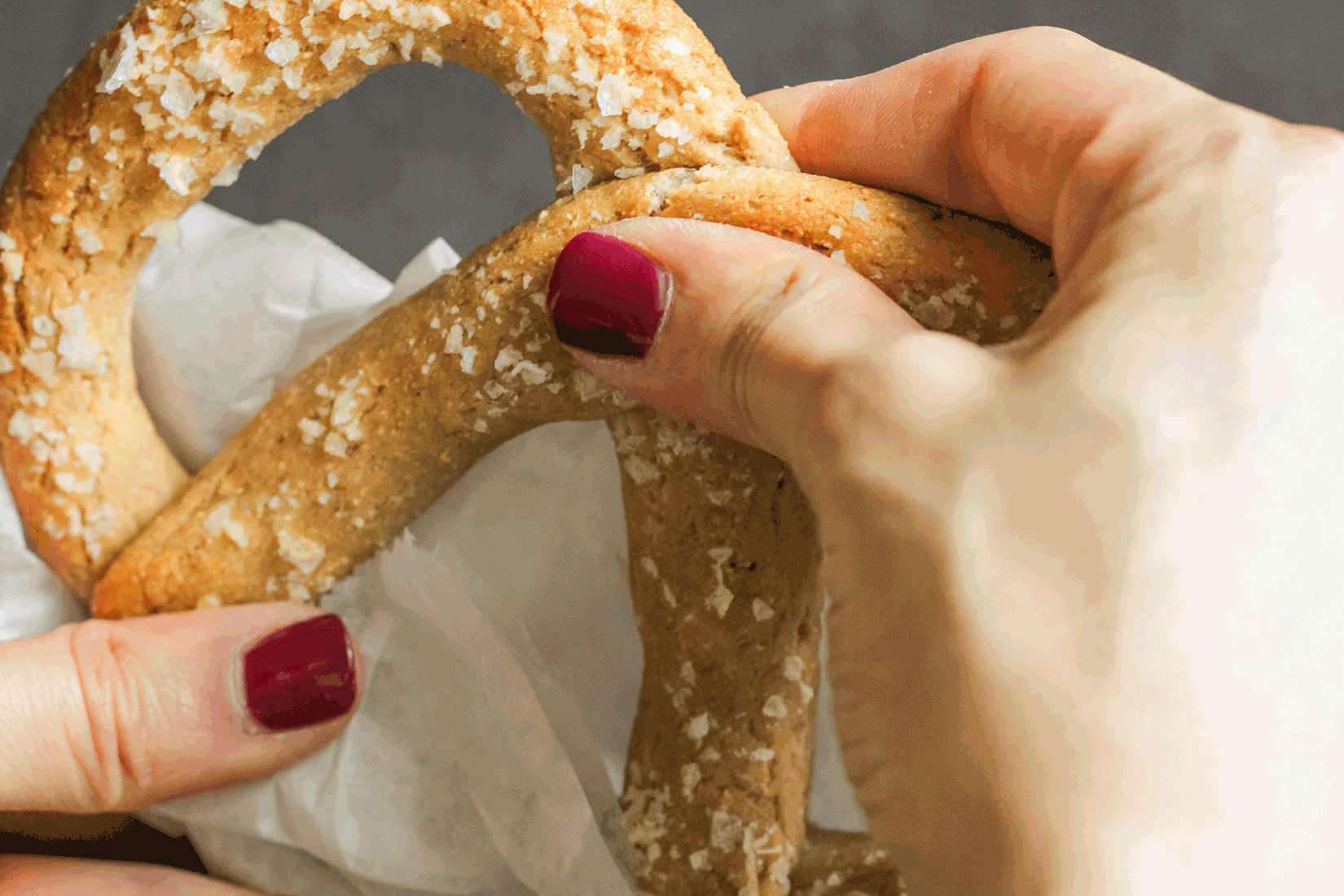 See how soft it is?!  I'm dying, I'm dying, I'm dead.
Here is the recipe's nutrition label:
Whoop whoop!  HEALTHY PRETZELS HERE I COME!  Compared to one Auntie Anne's pretzel, one of my Gluten Free Pretzels has:
140 less calories
46g less carbs
6g less sugar
11g more fiber
7g more protein
Auntie Anne's pretzels are high calorie and high carb, which doesn't necessarily mean unhealthy, but when you look at their ingredient list it's quite obvious that they're not the best for you.  They use bleached white flour, refined white sugar, and low-quality, hormone-filled butter (and lots of it…  I know firsthand).
My healthy Low Carb and Gluten Free Soft Pretzels are nutritionally balanced with only 200 calories each, healthy fats, filling fiber, and a whopping 15g of protein.
Now that's what I call a healthy pretzel.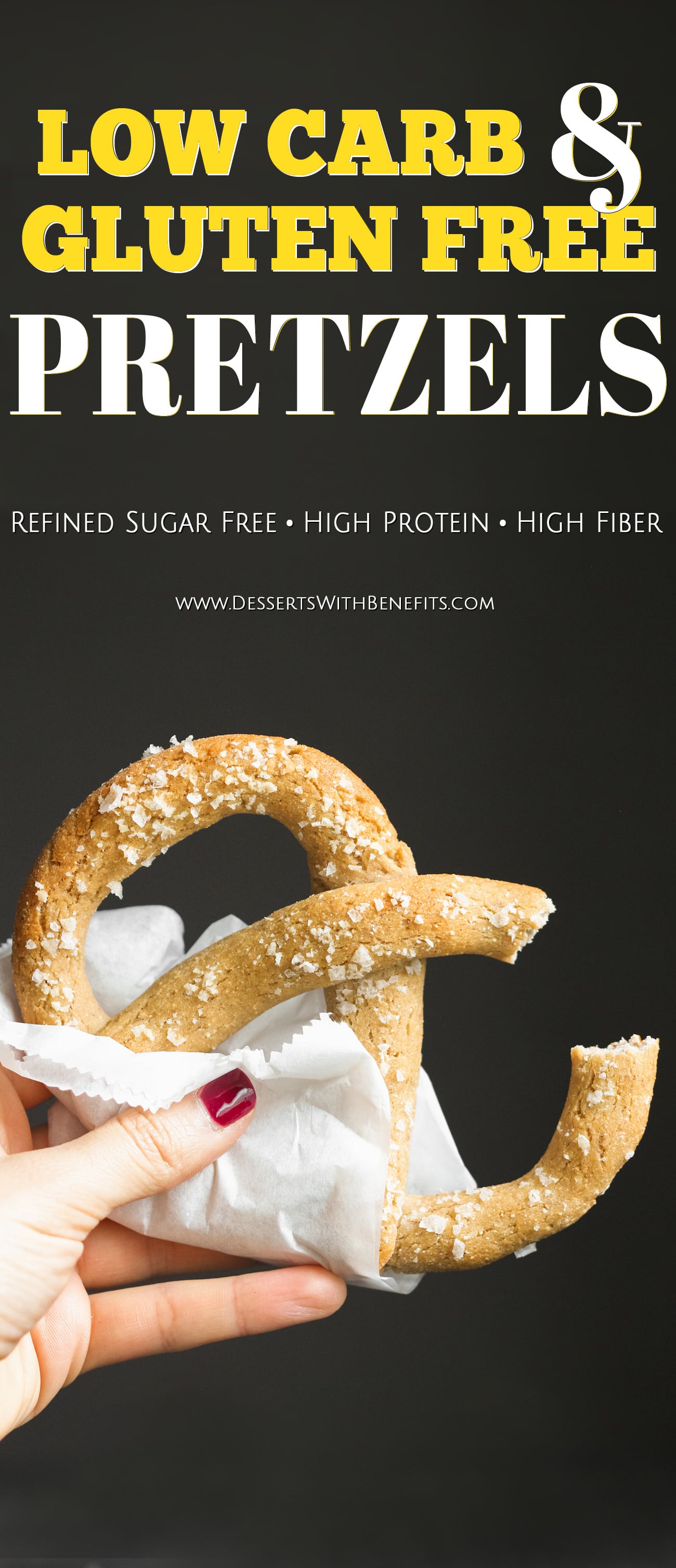 These Low Carb and Gluten Free Pretzels make for an incredibly satisfying breakfast, lunch, or snack.
Eat them alone or dip them in melted cheese or your favorite mustard.  Whatever option you choose, your taste buds are in for a real treat.  They'll never know you're fooling them with healthy food.
.
With love and good eats,
.
– Jess
.