Healthy Low Carb and Gluten Free Cinnamon Sugar Soft Pretzels
Cinnamon Sugar Soft Pretzels…  made healthy?  And gluten free?  And LOW CARB?!?  Hell yes!
These Cinnamon Sugar Soft Pretzels have the perfect soft, fluffy, and bready texture…  they're seriously delightful.
This is the closest gluten free bread can get to the classic breads made with wheat flour.  One bite and you'll have a hard time believing it's gluten free.
These pretzels are made with high-protein organic soy flour instead of the typical refined white flour, and they're sweetened with sugar-free erythritol and organic stevia instead of white sugar.  But you'd never know it!
I adapted this recipe from my Salted Soft Pretzels recipe.  In order to make those deliciously savory pretzels into sweet, sugary, cinnamony goodness, I added vanilla extract, stevia extract, and granulated erythritol to the dough.  And, instead of brushing the unbaked pretzels with an egg wash and a sprinkle of coarse salt, I coated the baked pretzels in a mixture of coconut oil and natural butter flavor, then tossed them in a mixture of granulated erythritol and ground cinnamon.
Like Churro Pretzels, if you will.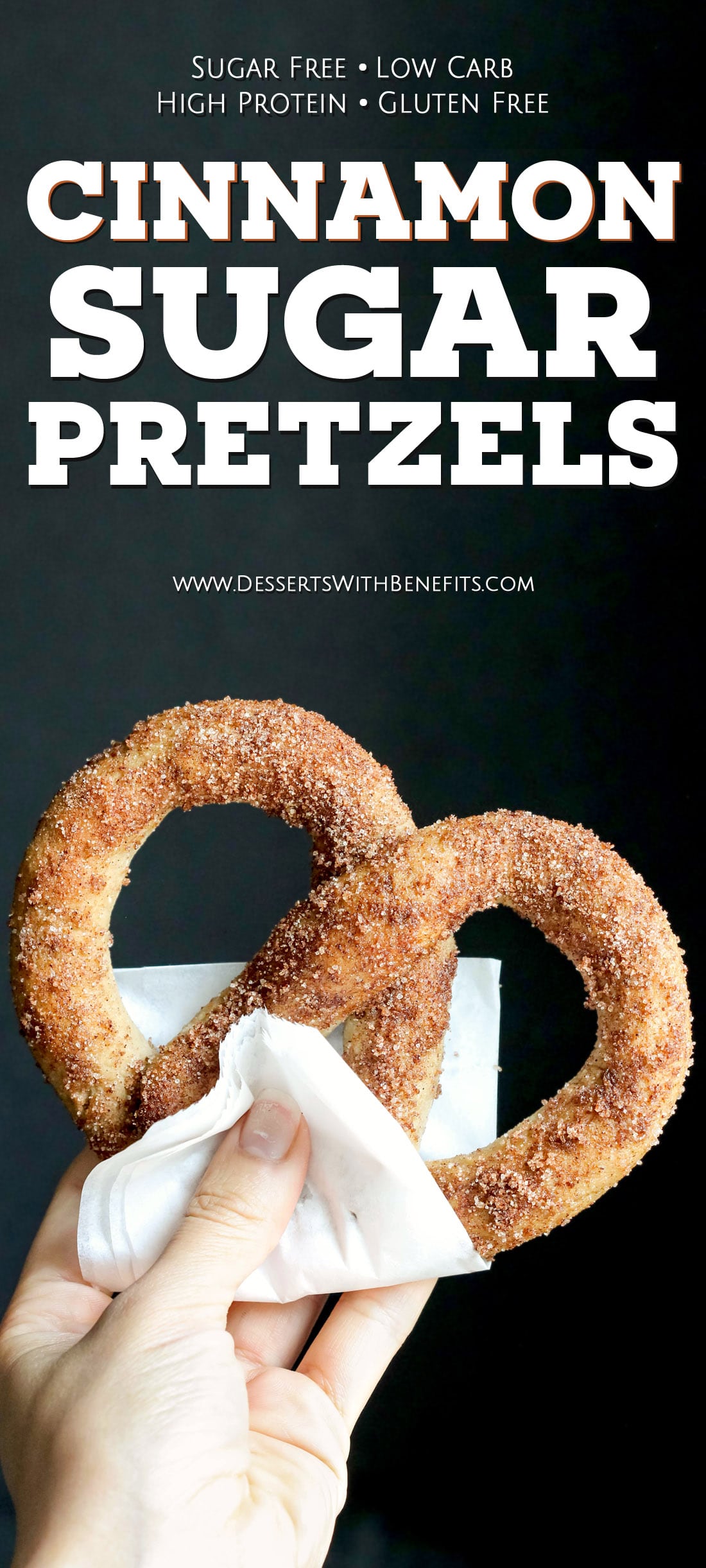 See that decadent cinnamon-sugar coating?
It tastes like purely sugary, unhealthy SIN.  It's what I call good eats.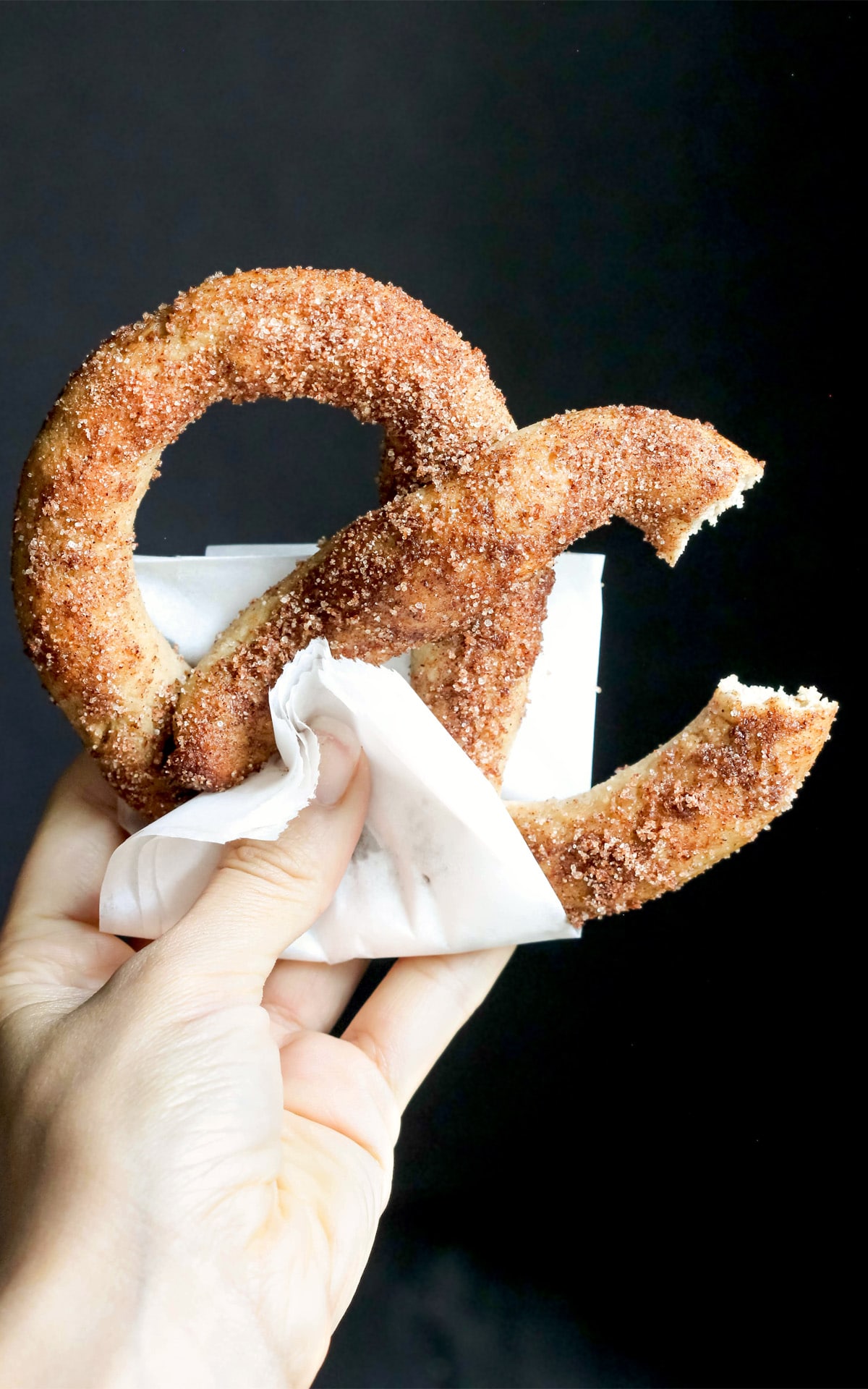 Oh man, I'm on cloud nine right now.  Delicious, indulgent, and healthy.  Yes, you CAN have it all!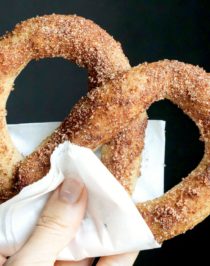 Print Recipe
Pin Recipe
Healthy Low Carb and Gluten Free Cinnamon Sugar Soft Pretzels
Healthy Cinnamon Sugar Soft Pretzels?? OH YES. They're so delicious, you'd never know they're sugar free, low carb, high fiber, high protein, dairy free, and gluten free!
Instructions
For the Pretzel Dough:
In a small bowl, whisk together the psyllium and yeast.

In a stand mixer bowl fitted with a beater attachment, add the almond milk, applesauce, egg whites, butter flavor, vanilla extract, and stevia extract. Turn on medium speed.  While mixing, sprinkle in the psyllium/yeast mixture. Mix until smooth.  Scrape down the sides of the bowl, then mix until smooth again.  Mixture should look like thick gravy.

In a medium-sized bowl, whisk together the soy flour, coconut flour, erythritol, baking powder, baking soda, and salt. Add to the stand mixer and mix on low speed.  Scrape down the sides of the bowl and mix on last time on medium speed.  Dough should be very thick, dense, and slightly sticky.

Shape the dough into a ball and cover with plastic wrap. Place the bowl in a warm area for 1 hour.

Preheat the oven to 350 degrees Fahrenheit.

Divide the dough into 8 equal portions. Carefully roll the dough into long logs (if the log breaks, just stick it back and it'll be fine…  these are gluten free, so that's kinda expected right?) and shape into pretzels. Carefully transfer the pretzels onto the prepared pans.  Bake for ~23 minutes, or until golden brown.  Let cool slightly.
For the Cinnamon-Sugar Coating:
In a small bowl, whisk together the melted coconut oil and butter flavor.  In a shallow dish, whisk together the erythritol and cinnamon.

Brush the pretzels with the coconut oil mixture then toss in the cinnamon-sugar mixture.  Serve immediately and enjoy!
Recipe Notes
Just like storebought pretzels, these are best served immediately after they are made!
Nutrition Facts
Healthy Low Carb and Gluten Free Cinnamon Sugar Soft Pretzels
Amount Per Serving (1 pretzel)
Calories 260
Calories from Fat 108
% Daily Value*
Fat 12g18%
Sodium 340mg15%
Carbohydrates 24g8%
Protein 15g30%
Vitamin C 3.3mg4%
Calcium 250mg25%
Iron 3.6mg20%
* Percent Daily Values are based on a 2000 calorie diet.
Compared to an Auntie Anne's Cinnamon Sugar Pretzel, one of my Gluten Free Cinnamon Sugar Soft Pretzels have:
210 less calories
60g less carbs
25g less sugar
13g more fiber
7g more protein
ZERO cholesterol, plus MORE vitamins and minerals
I can't believe Auntie Anne's pretzels have 470 calories EACH!  Oops…  I used to eat 2 to 3 at a time.  Oh gosh, that's about 87g of sugar in ONE SITTING.  Aaaaand that's not even including the frosting I used to dip them in…
*smacks self in head*
These Healthy Low Carb and Gluten Free Cinnamon Sugar Soft Pretzels are the best alternative to unhealthy bakery-bought pretzels.
They're so soft and fluffy, you'd never know they're missing the butter.  Trust me.  There was a time where I used to eat pretzels for almost every meal of the day.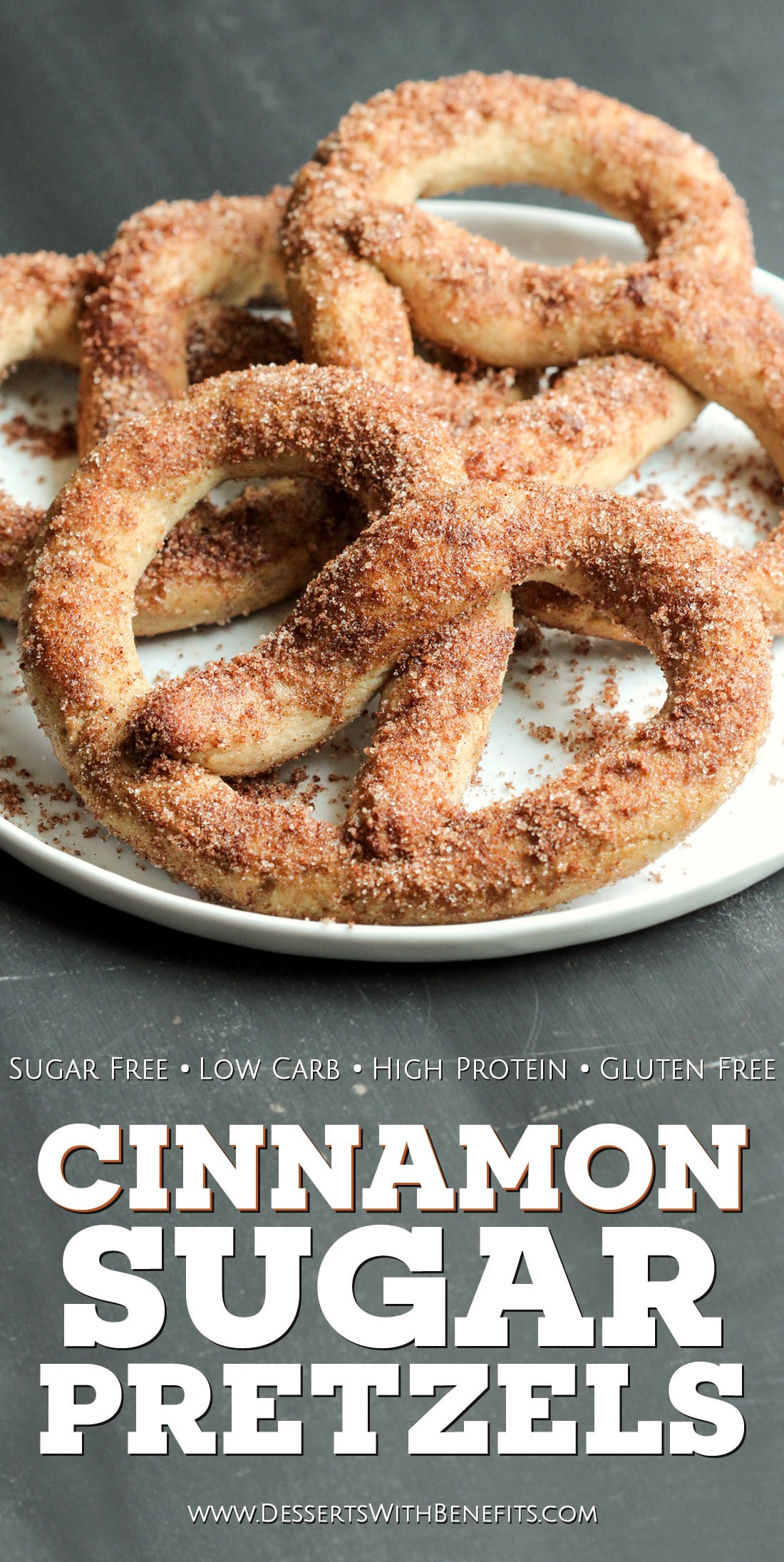 The second I run out of these pretzels (ehem, in about 5 minutes, ehem), I'm gonna make another batch.  ASAP.
My motto?
Bake. Eat. Sleep. REPEAT!
.
With love and good eats,
.
– Jess
.