Healthy Mango Cardamom Chia Seed Pudding
This Healthy Mango Cardamom Chia Seed Pudding is inspired by one of the most popular desserts served at the bakery I work at — a Mango Lime and Cardamom Coconut Tapioca Pudding.  The two recipes are similar but very different at the same time.  Like brothers and sisters.  I omitted the lime juice (personally, I'm not a huge fan of lime), increased the amount of mango and cardamom, and of course, used a simple, no-cook chia seed base instead of a cooked tapioca pearl pudding.  The result?  Unparalleled delicious perfection.
The mango adds a tropical, sweet, and addictive quality while the cardamom transports you to a far away land of rainbows and unicorns.  And in that land, your taste buds are in a permanent state of bliss.  Nirvana, even?
I'm a bit new to using cardamom in recipes because its flavor is so distinctive.  It's described as both citrusy and peppery.  But I can tell already, I'm becoming obsessed.  I want to sneak it into everything I make.  It goes perfectly well in recipes that call for cinnamon, nutmeg, ginger and cloves (like Carrot Cake).  And of course, it pairs oh so well with mango in this Healthy Mango Cardamom Chia Seed Pudding!

Healthy Mango Cardamom Chia Seed Pudding
Prep Time: 10 minutes
Cook Time: 0 minutes
Total Time: 10 minutes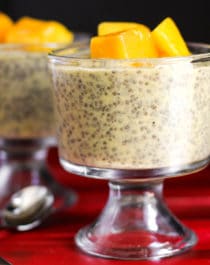 Fat per serving: 6
Calories per serving: 160
Ingredients:
Directions:
In a blender (I used my NutriBullet), puree the almond milk, mango chunks, vanilla extract, cardamom and sweetener.
Stir in the chia seeds with a spoon.  Pour the mixture evenly into jars, seal tightly, and refrigerate overnight.  Serve and enjoy!
Notes:
You can use coconut milk instead of the almond milk if you like.  Both are delicious!
All images and text ©
.
.
Here is the recipe's nutrition label:
I think this can be classified as the healthiest breakfast/snack/dessert OF ALL TIME, yes?!?
Yes.
NOM NOM NOM.  I could eat this for breakfast for the next MONTH.  It's so sweet and satisfying (and filling).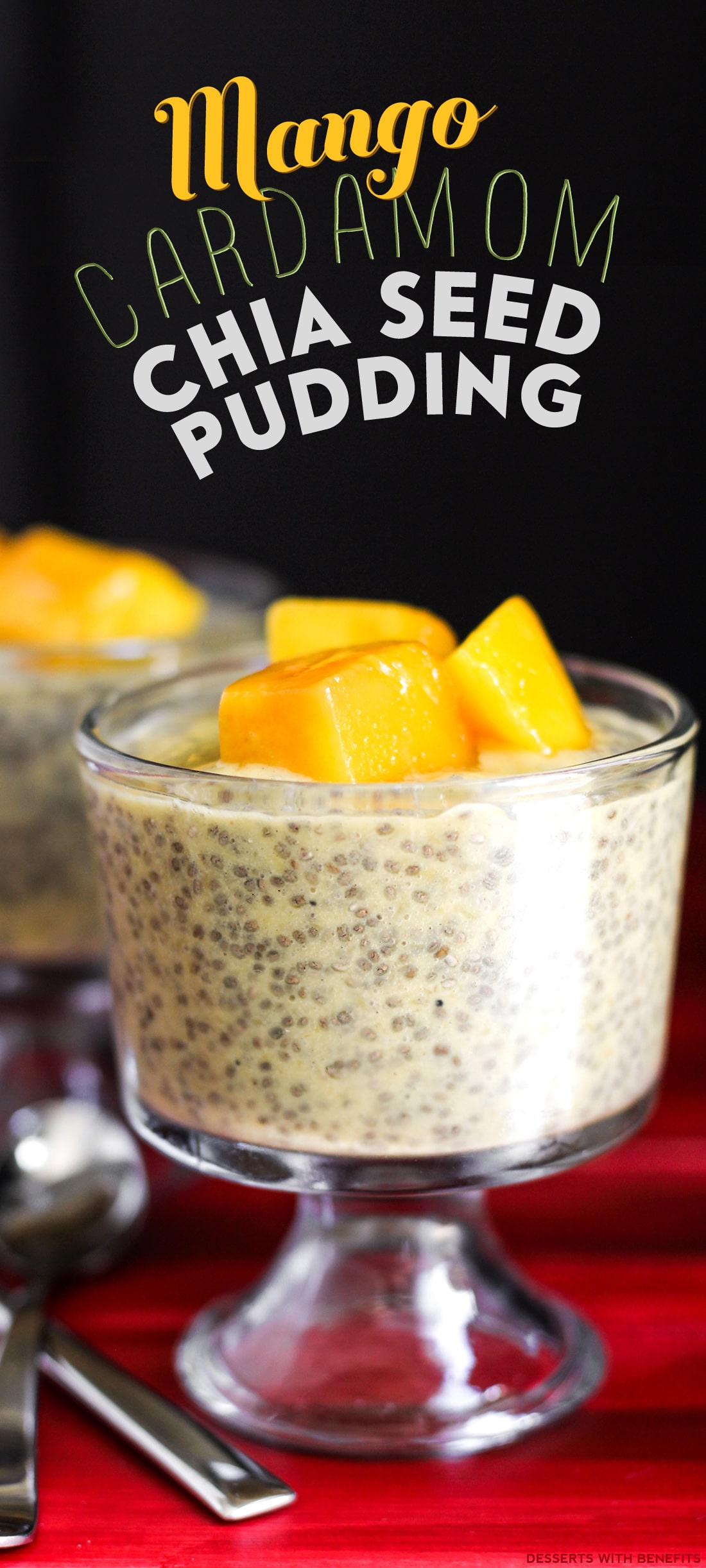 Enjoy!
.
– Jess
.