Healthy No-Bake Nutella Granola Bars
I was craving granola bars but didn't want to step foot near my oven because it's so hot here in Texas, sooooo these no-bake granola bars happened!
These Healthy No-Bake Nutella Granola Bars are sweet, soft, and chewy, and full of chocolatey-hazelnut flavor, you'd never know they're gluten free, high protein, and high fiber with no sugar added!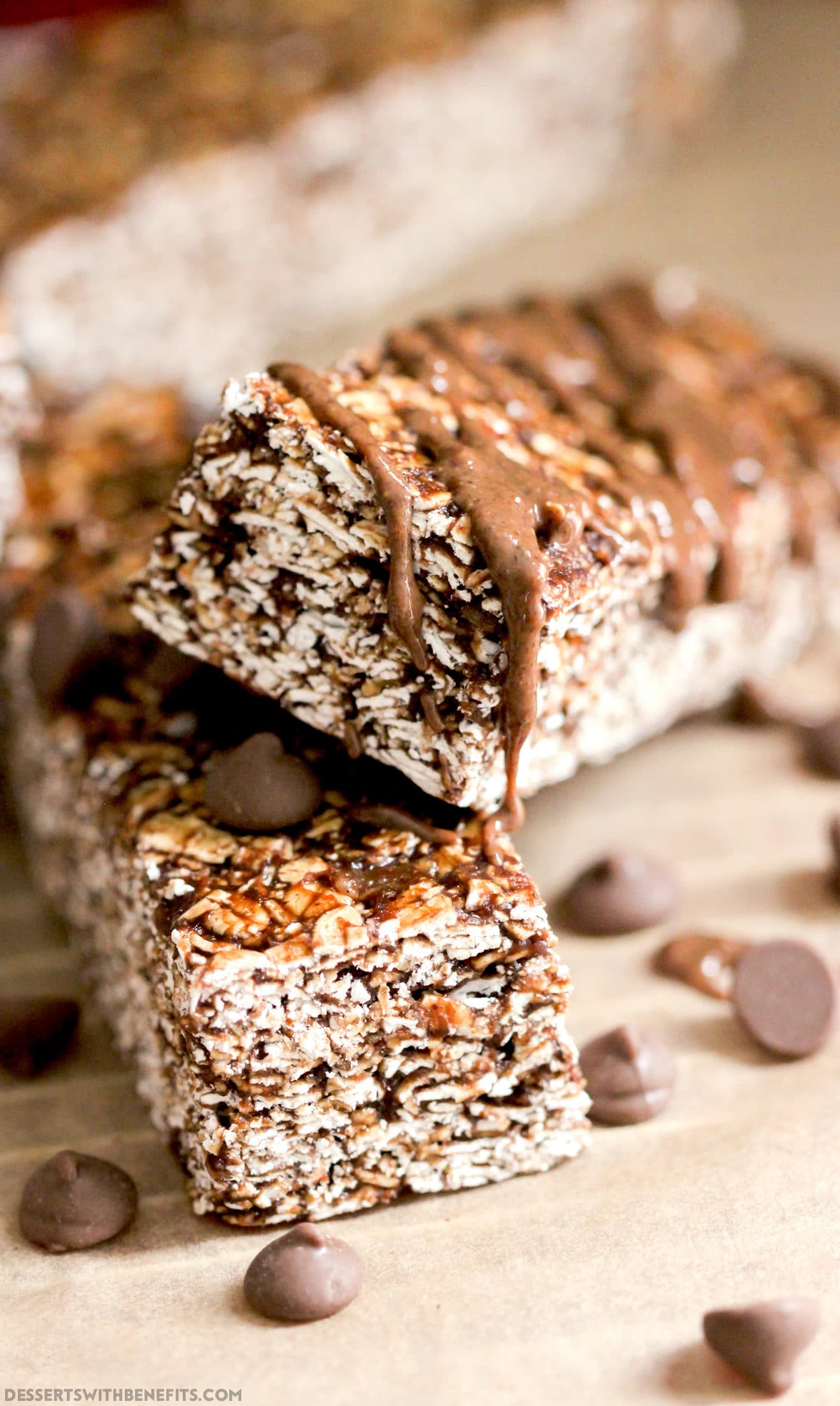 Homemade granola bars are usually baked and end up hard, dry, and crumbly.  There's a time and a place for crumbly foods, but when you're hungry and on the go, trying to munch on a crispy, messy bar while driving to work isn't really ideal.
*glances over at the crumbs all over my car floors and seats*
If you'd rather snack on chewy Clif bars rather than those break-into-a-million-pieces Nature Valley bars, then these homemade granola bars are right up your alley.
And they're SO incredibly easy to make too!  All you gotta do is mix the ingredients in a bowl, press into a pan, refrigerate, and slice.  That's it.
These are the perfect snack to keep on hand for when you're hungry and too busy to cook breakfast every morning.  But really now, these are the perfect snacks for chocolate lovers at any time, whether you're busy or completely free  😉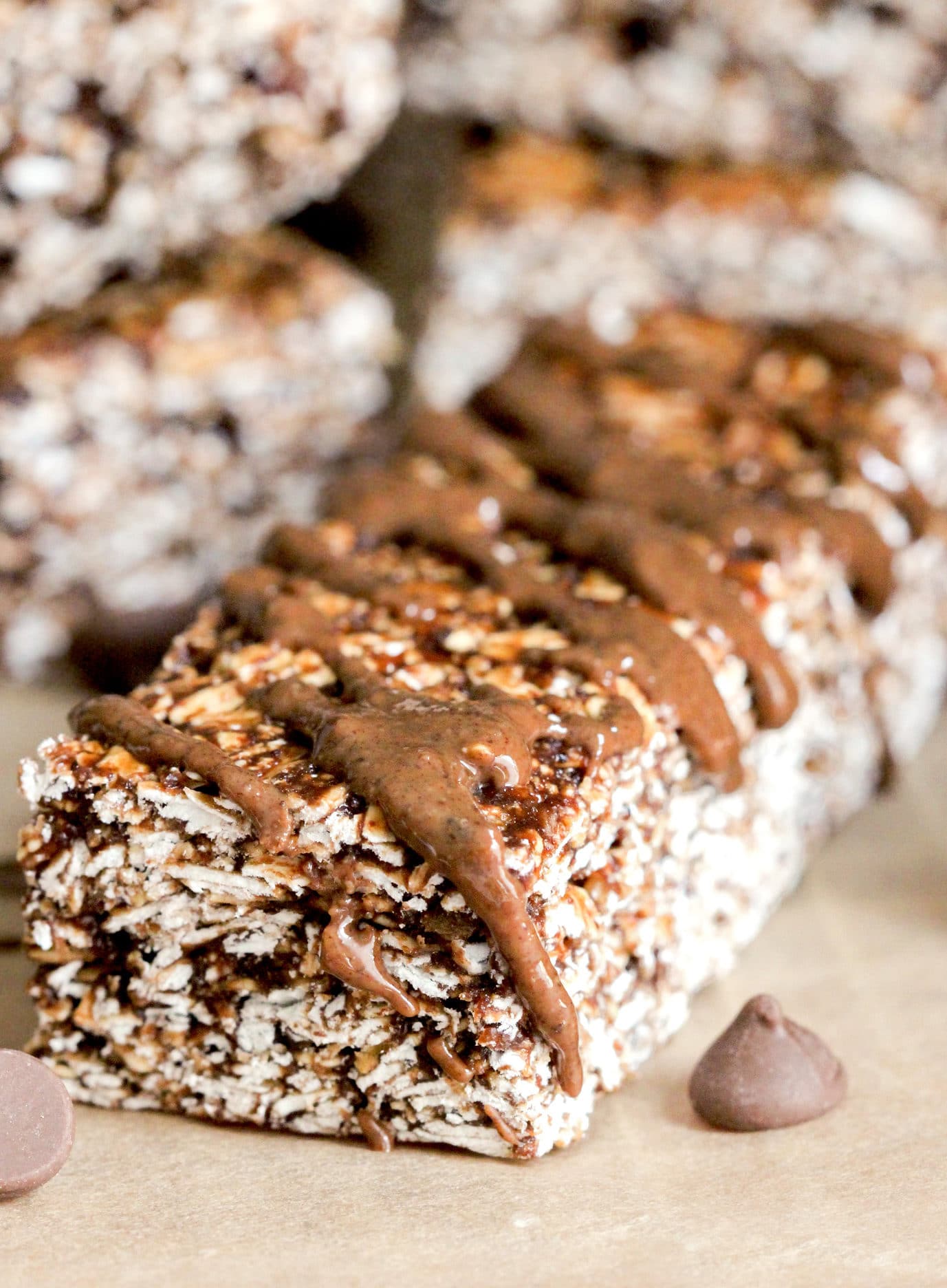 I expected these granola bars to be mildly sweet, seeing as how they don't have any sugar added, but at first bite, I was surprised at the decadent sweetness.  I could taste the chocolate (of course) and most definitely the hazelnut.  One bite, two bites, three bites, INHALE.
How good are these bars?  So good, you'll inhale them  😉
I made these with Naturally More® — a nut butter company taking their butters to the next level.  They make Organic Peanut Butter, Protein-Packed Peanut Butter, and Probiotic-Infused Almond Butter and Chocolate-Hazelnut Butter.  All of their products are non-GMO, gluten-free, dairy-free, and vegan (whoop whoop!).  The spread I used in this recipe has 80% less sugar and 65% more protein than Nutella!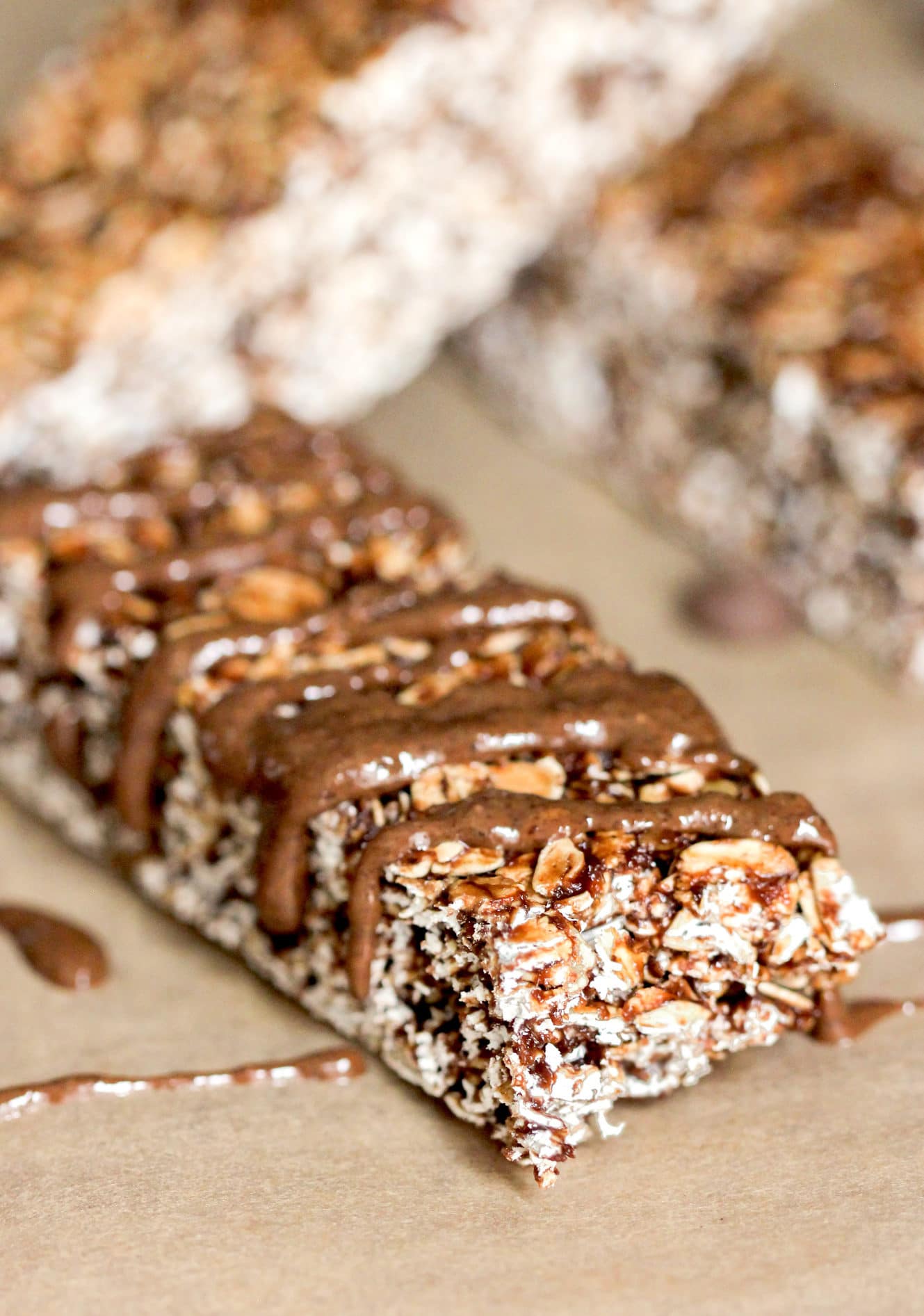 Healthy No-Bake Nutella Granola Bars
Prep Time: 20 minutes
Cook Time: 0 minutes
Total Time: 20 minutes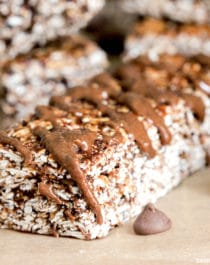 Fat per serving: 11
Calories per serving: 330
Ingredients:
1 cup Unsweetened Applesauce
128g (~1⅓ cups) Unflavored Whey Protein Powder
⅓ cup Unsweetened Natural Cocoa Powder
¼ tsp Salt
5 cups Old Fashioned Rolled Oats
Directions:
Line a 9″ brownie pan with parchment paper both ways.
In a stand mixer with with beater attachment, add the applesauce, chocolate-hazelnut spread and stevia extract.  Mix on low speed.
Turn off the stand mixer and add the protein powder, cocoa powder and salt.  Mix on low speed until fully combined.
Dump in the oats and mix until fully combined.  Scoop the mixture into the prepared pan and spread it out.  Place a sheet of parchment paper on top and press the mixture down further until compact.  Cover the pan and refrigerate overnight.
The next day, slice and serve!  To store, place the granola bars on a plate lined with a sheet of parchment paper and keep in the refrigerator.  Keeps for ~1 week.
All images and text ©
.
If you're looking for even more decadence, simply add ⅓ cup of mini dark chocolate chips to the recipe!
.
Here is the recipe's nutrition label:
A yummy, chewy granola bar recipe that's also filled with a whopping 19g of protein and 7.5g of fiber?!?  YASSSSS!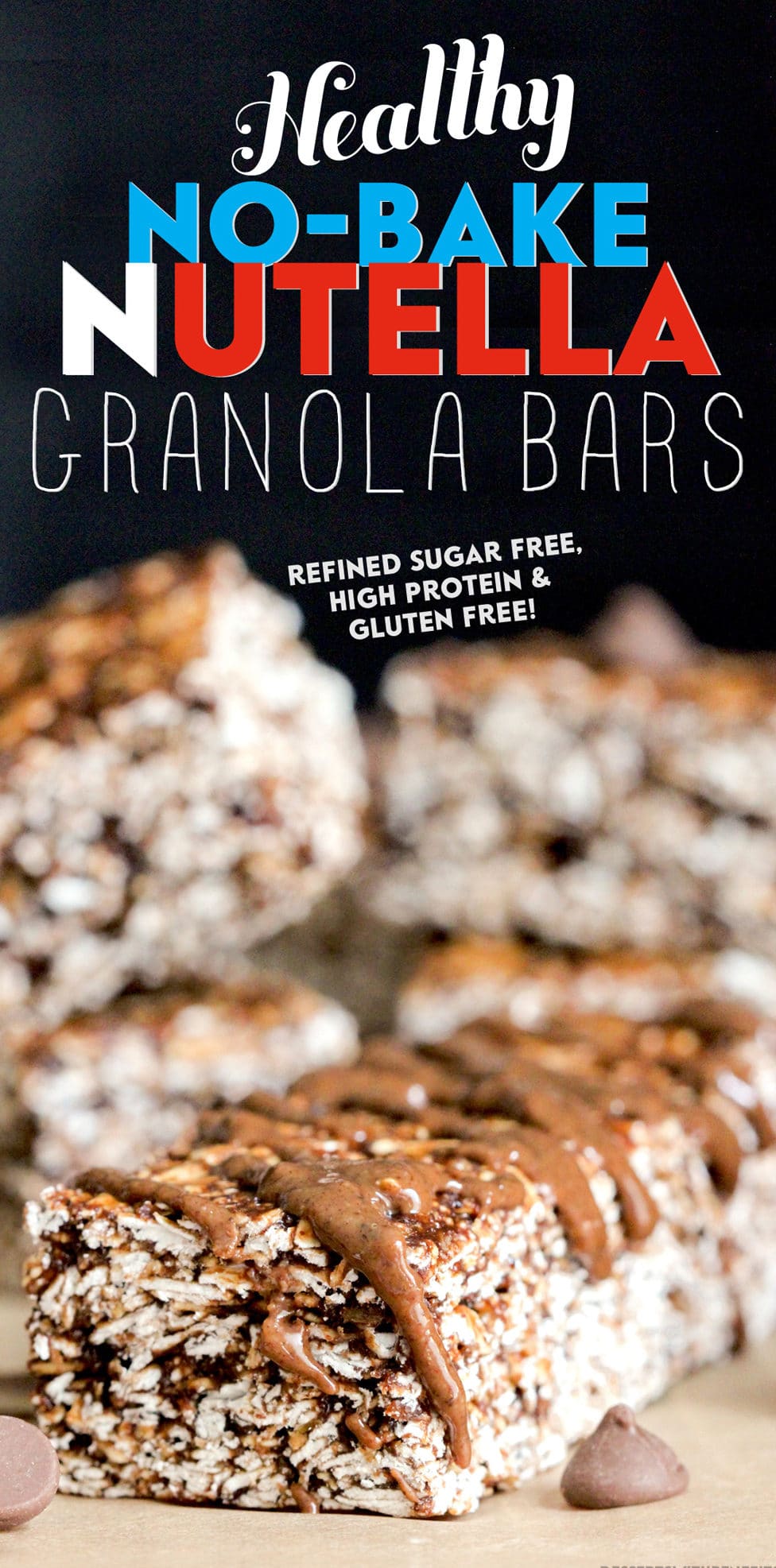 These soft, chewy, sweet and delicious (secretly healthy) No-Bake Nutella Granola Bars make for the perfect breakfast, especially with some coffee on the side.
Enjoy!
.
– Jess
.
This post was sponsored Naturally More®.  All opinions are mine and mine alone!  Thank you for supporting the sponsors that keep this blog going!