Vegan Orange Sweet Rolls
These Orange Sweet Rolls are so soft, sweet, and fluffy, you'd never know they're low fat, dairy free, and vegan with no sugar added!
Thanks to Immaculate Baking Co. for sponsoring this post, and thank YOU for supporting the brands that keep Desserts With Benefits going!  All opinions are mine and mine alone.

Can I tell you something?
Okay, soooo…  I have this Word document on my computer that's stocked FULL of recipes — recipe ideas, recipes that I have developed but haven't had the chance to try out yet, and recipes that I've made but failed and need some tweaking.  The document is 24 pages long, single-spaced, Arial font, size 8.  It's even color-coded and separated into sections, like Drinks, Cakes and Ice Cream.
Are you looking at me funny?  Am I insane?  Probably.  But it helps me choose what I want to bake at any given time  🙂
Orange Sweet Rolls have been on my Recipe Wishlist document since 2014.  I first saw a recipe on King Arthur Flour's site and fell in love.  And then I came across it again on Averie Cooks a few weeks ago (love her blog!).  I needed to make a batch!
What are Orange Rolls?
Orange Rolls are like Cinnamon Rolls but instead of a cinnamon-sugar filling they have an orange marmalade filling!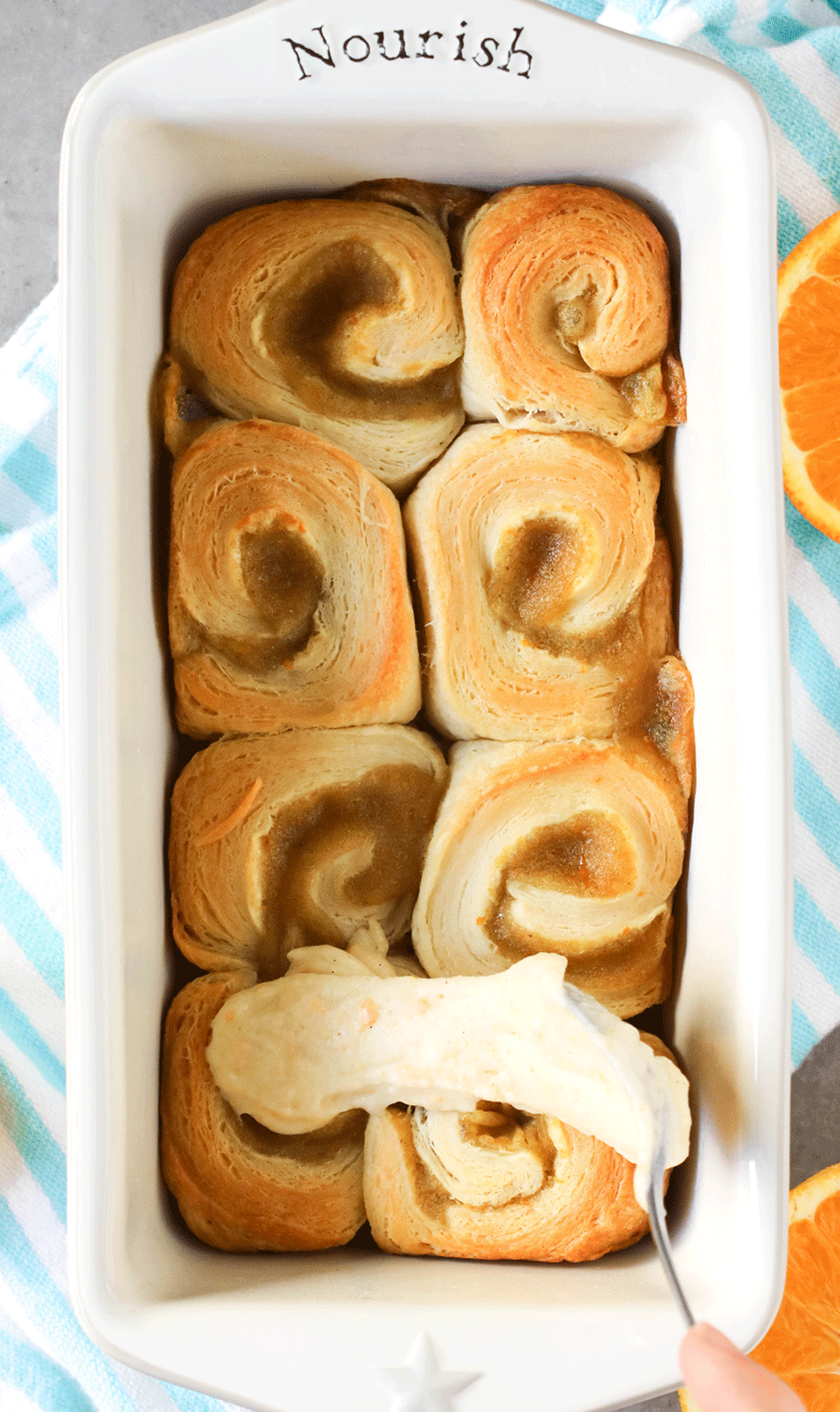 When Cinnamon Rolls have an orange twist, the only option is YES.
These Orange Sweet Rolls are super simple to make, packed with deliciously refreshing orange flavor, and they're made without the butter, oil, and have zero added sugar!!  Therefore, suitable for breakfast.  Yes, I said it.  Breakfast.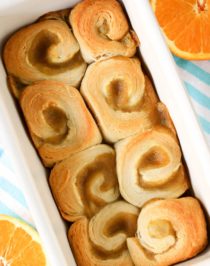 Print Recipe
Pin Recipe
Vegan Orange Sweet Rolls
These Orange Sweet Rolls are so soft, sweet, and fluffy, you'd never know they're low fat, dairy free, and vegan with no sugar added!
Ingredients
Rolls:
½

cup

100% Fruit Orange Marmalade Spread

**

½

tsp

Orange Zest
Instructions
For the Rolls:
Preheat your oven to 350 degrees Fahrenheit.  Spray an 8×5″ loaf pan with cooking spray and line one way with parchment paper.

Pop open the tube of crescent rolls, lay them side by side on a silicone baking mat, and place another silicone baking mat on top.  Roll the dough in between the mats into an ~7x11" rectangle.

In a small bowl, stir together the orange spread and orange zest.  Spread this over the rolled out dough.

Roll the dough into a log, just as you would roll cinnamon rolls.  Slice the log into 8 rolls.  Arrange the rolls inside the prepared pan.  Bake for ~25 minutes, or until the edges are golden brown.
For the Icing:
In a small bowl, whisk together all of the ingredients.

Spoon over the rolls.  Enjoy!
Recipe Notes
**If you're feeling the DIY route, you can also follow this recipe for an "Instant Orange Marmalade"
½ cup Canned Mandarin Orange Puree, packed in 100% juice
6 tbs Truvia Spoonable
¾ tbs Psyllium Husk Powder
Drain a can of mandarin orange segments (I got mine from Whole Foods. Make sure they're packed in 100% juice, not syrup!) and dump in a bowl.  Mash with a small potato masher.
Whisk together the mashed oranges, sweetener, and psyllium husk powder. Let sit for a few minutes to thicken, then spread it onto the rolled out dough.
How easy is this 5-ingredient recipe??  Typical Cinnamon Roll and Orange Roll recipes are made with bleached flour, pounds of butter, and tubs of sugar.  To make things both easier and healthier, I used 100% fruit orange marmalade spread instead of a butter/sugar/orange zest filling and Immaculate Baking Co's. Organic Crescent Rolls as the dough.  Yep, no need to stress over making a time-consuming yeasted dough — these rolls are yeast-free and don't need an hour (or two) to rise!  And unlike other crescent roll dough at the grocery store, Immaculate Baking never uses bleached flours, hydrogenated oils, or artificial ingredients.  This recipe uses natural, organic ingredients.

These Orange Rolls are soft and fluffy, sweet and orangey, and oh so good.
They're the bomb…  BOOM!!
Enjoy  🙂
.
With love and good eats,
.
– Jess
.