Healthy Peanut Butter Banana Bread
Here at Desserts With Benefits, we take peanut butter veeeeery seriously.  Today, I bring you the recipe for this Healthy Peanut Butter Banana Bread!  Basically, it's the BEST combination EVER of two foods that were a match made in heaven:  peanut butter + bananas.
I'm telling you, this is one of the best damn things that I have ever tasted.  I honestly felt graced with its presence.
I'M NOOOT WOOORTHYYY *bows down*
I don't kid around when it comes to peanut butter.  Especially when bananas are involved.  So you know I don't take this likely scenario lightly.  That's the honest truth.

This Healthy Peanut Butter Banana Bread is SO moist, rich, flavorful, and filling!  One bite and you'll be like, "WAIT.  HOW on earth does this not have butter or added sugar in it??"
You'd never know this magical loaf of deliciousness is refined sugar free, gluten free, and high protein too!  Yes, for real.
I like to drizzle each slice with warmed up peanut butter and a sprinkle of crushed peanuts.  Word to the wise, it's also delicious with a little glug of pure maple syrup  😉
I am so, so, SO happy with this recipe.  This Healthy Peanut Butter Banana Bread is incredibly tasty and addictive — the peanut butter and banana flavors are perfectly balanced together, and neither one overpowers the other.  It took a while to get this recipe right (it was either too banana-y, too dense, or not sweet enough), but I finally struck gold.
The peanut butter flavor shines bright, the bananas add natural sweetness, and the vanilla brings it all together.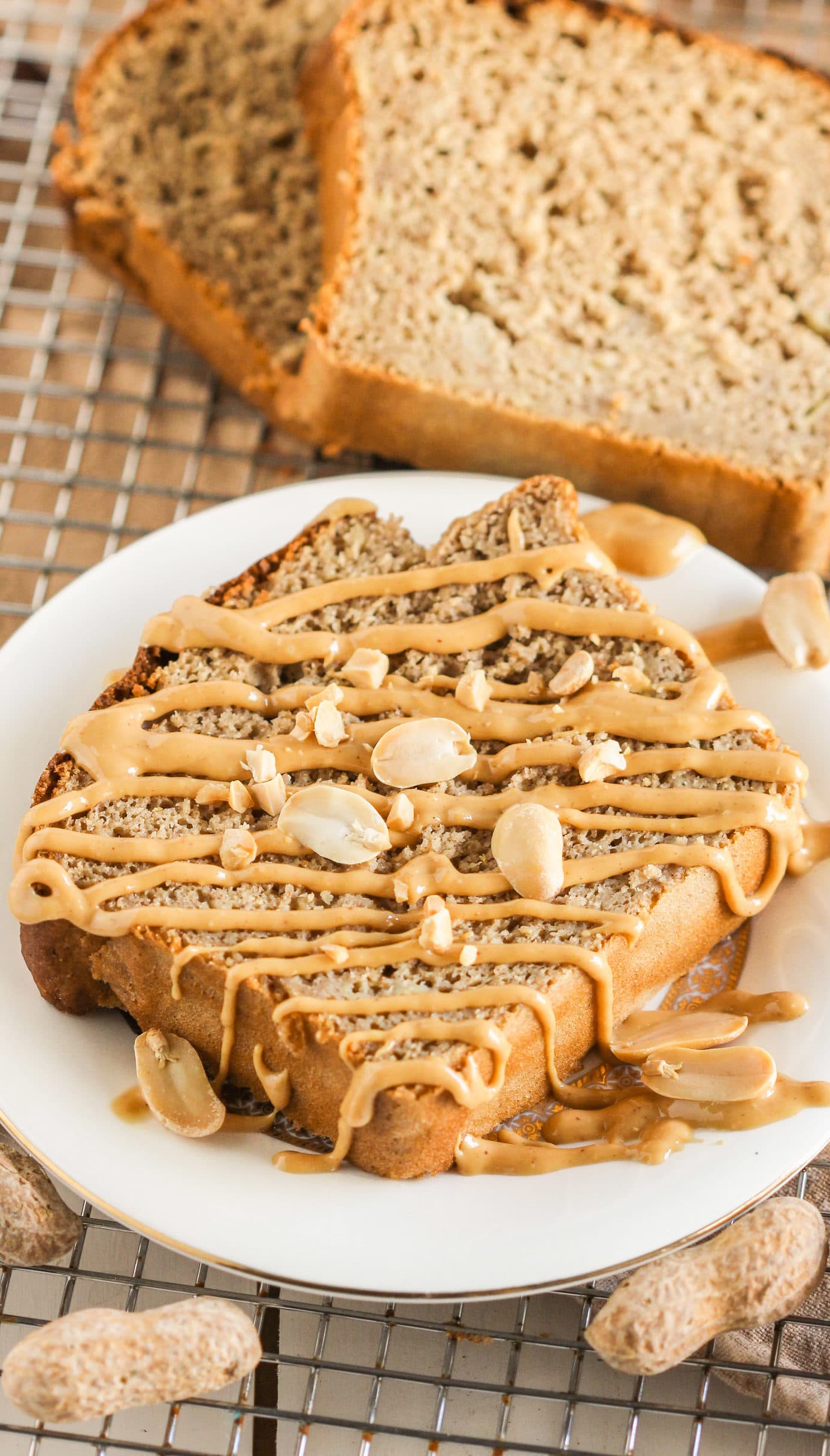 Best of all, this is actually good for you.
You don't have to choose between healthy or happy…  you can have BOTH.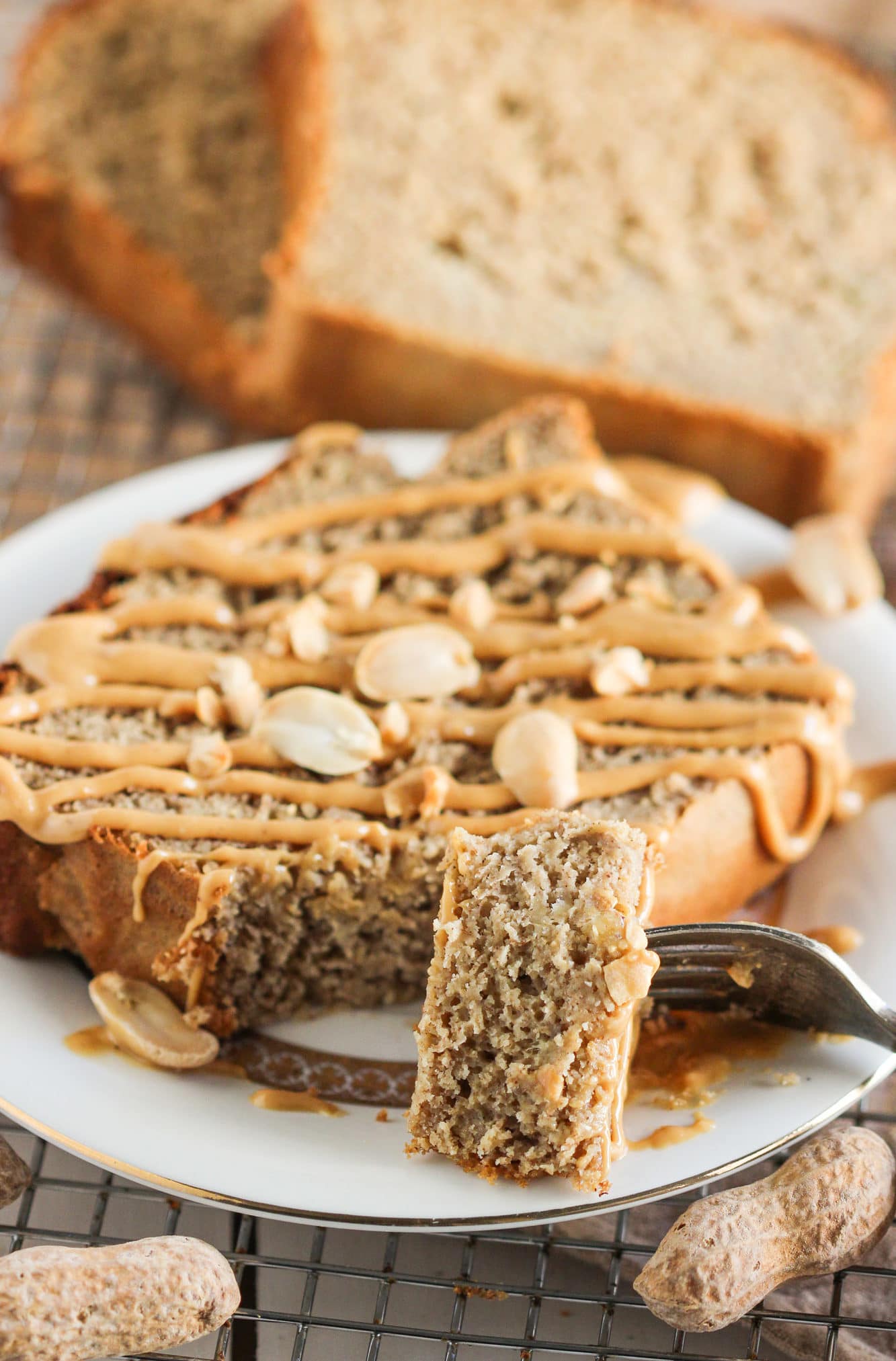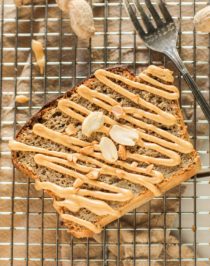 Print Recipe
Pin Recipe
Healthy Peanut Butter Banana Bread
This is the BEST Healthy Peanut Butter Banana Bread EVER! It's so rich, moist, and flavorful, one bite and you'll wonder how there's no butter and no sugar added. Yes, this bread is refined sugar free, gluten free, AND high protein!
Ingredients
136g

(1 cup)

Sweet White Sorghum Flour

120g

(1 cup)

Oat Flour

96g

(½ cup)

Granulated Erythritol

(or dry sweetener of choice)

4

tsp

Double Acting Baking Powder

1

tbs

Ground Cinnamon

¼

tsp

Salt

1 cup

+ 2 tbs

Unsweetened Vanilla Almond Milk

370g

(~1½ cups)

Mashed Bananas

128g

(½ cup)

Natural Peanut Butter

3

Large

Eggs

1

tbs

Vanilla Extract

1½

tsp

Liquid Stevia Extract
Instructions
Preheat the oven to 350 degrees Fahrenheit.  Spray a 9×5" loaf pan with cooking spray and line one way with parchment paper for easy removal later, and line a cupcake tin with 5 parchment paper liners (or if making muffins only, line 2 standard cupcake tins with 24 parchment paper liners**).

In a medium-sized bowl, whisk together the sorghum flour, oat flour, erythritol, baking powder, cinnamon and salt.

In an electric stand mixer bowl fitted with a whisk attachment, add the almond milk, mashed bananas, peanut butter, eggs, vanilla extract, and stevia extract.  Mix on medium-low speed until mixture is completely even.

Turn the mixer off and dump the dry ingredients into the stand mixer.  Return mixer to medium-low speed.  Mix until all of the ingredients are fully incorporated.  Scrape down the sides of the bowl if necessary.

Pour the batter into the prepared loaf pan and/or cupcake tin(s). Bake the loaf for ~75 minutes (or until the surface forms a nice brown crust and springs back when tapped) and the muffins for ~20-25 minutes (or until the surface springs back when tapped).

Let the loaf cool in the pan and transfer the muffins to a wire cooling rack to cool completely.  Store in a tightly sealed container in the fridge for up to 5 days.
Recipe Notes
**This recipe yields a 9x5" loaf PLUS 5 muffins, or, 24 muffins.  You can probably make 2 loaves by using 2 8x4" loaf pans, or you can make 24 muffins -- it's your preference!
Nutrition Facts
Healthy Peanut Butter Banana Bread
Amount Per Serving (1 slice of bread)
Calories 230
Calories from Fat 81
% Daily Value*
Fat 9g14%
Cholesterol 60mg20%
Sodium 270mg12%
Carbohydrates 29g10%
Protein 8g16%
Vitamin A 200IU4%
Vitamin C 5mg6%
Calcium 200mg20%
Iron 1.8mg10%
* Percent Daily Values are based on a 2000 calorie diet.
Above is the nutrition label for a slice of the banana bread.  Below is the nutrition label for a muffin: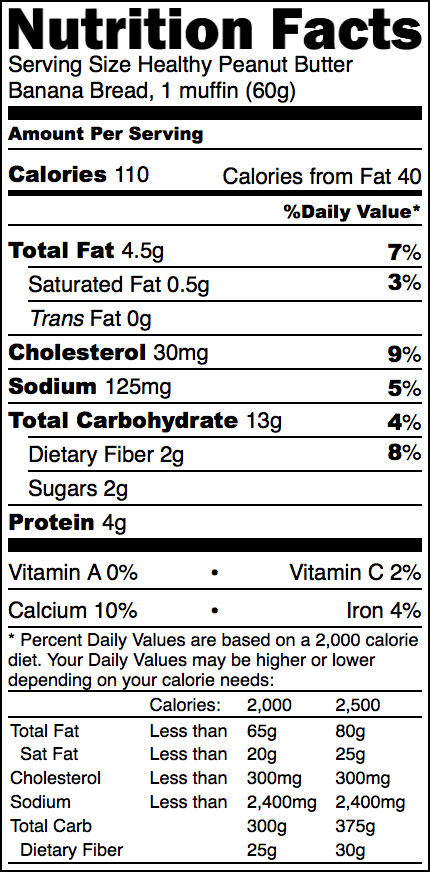 This is one sweet bread and it makes for an even SWEETER breakfast.  Yes, I said it.  BREAKFAST!
This Healthy Peanut Butter Banana Bread is low-glycemic with protein, fiber, and healthy fats, so it'll digest slowly and keep you full for hours.
Trust me.  Even with my insanely fast metabolism, a single slice kept me full for 4 hours.  So chomp away, my friends  🙂
I love this peanut butter + banana combination.  I'm still in awe that every ingredient in this recipe is a healthy one…  it seriously doesn't taste nutritious in the slightest.  I also like how there is no oil added in this recipe.  The only source of fat is from pure, natural peanut butter (and a tiny bit from the eggs).
This Healthy Peanut Butter Banana Bread is a great source of fiber, whole grains, and complete proteins.
Did you know that peanut butter alone is an incomplete protein?
Yes, the jar may say 6g, 7g, or even 8g, but that peanut butter needs to be paired with another food — such as a whole grains, rice, or beans — to be considered a complete protein:  a protein that contains all the essential amino acids needed for muscle growth and repair in the human body.
Yet another reason why this bread is so great — the peanut butter + sorghum flour + oat flour (+ the eggs too!) provide you with all the essential amino acids your body needs to stay alive and thrive.
YASSSSS I will take another slice, please and thank you  😉

Hope you enjoy the recipe!
.
With love and good eats,
.
– Jess
.