Healthy Peanut Butter and Jelly Cupcakes (Vanilla Cupcakes with Jelly Filling and Peanut Butter Frosting)
The first day of school and PB&J's go hand-in-hand, yes?  Yes.  While most girls probably spent hours picking out their outfits and choosing the perfect hairdo for their first day, I was the kind who sat around thinking about food and snacks instead.  I bet you I was probably thinking about PB&Js about 50% of the time.  Being a dessert-lover at the very beginning of my baking journey, Peanut Butter and Jelly Cupcakes popped into my head.  Because a PB&J sandwich could only be made better if it were in cupcake form!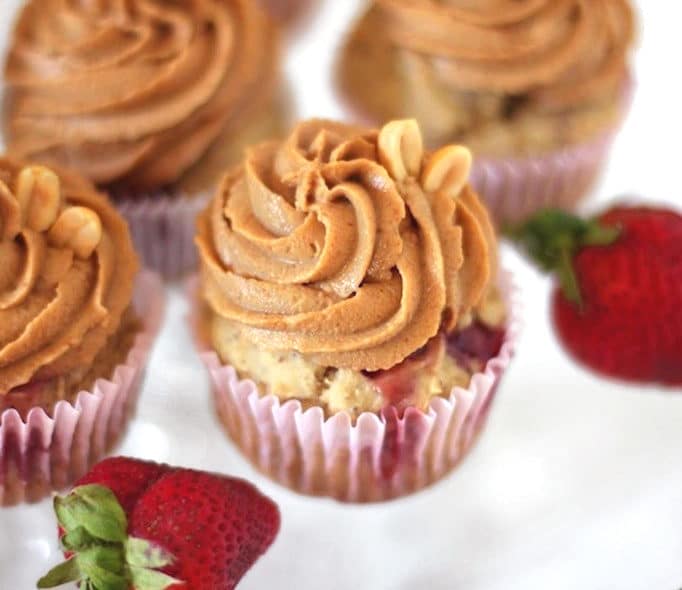 A healthy cupcake, that is!  No one needs to feel hyper and jittery hands from having too much sugary frosting (I'd rather be hyper and jittery from coffee, just sayin').  And I'm sure we'd all like to avoid falling asleep after a cupcake-induced sugar coma and sugar crash.
Whether they're for your first day of school, your kid's first day of school, your first day of work, a birthday, a party, or no reason at all, you need to make a batch of these healthy Peanut Butter and Jelly Cupcakes!
Peanut Butter and Jelly Cupcakes — frosted and ready to EAT.
Cut cupcake in half, shove into face.  Totally guilt-free food right here.  No regrets!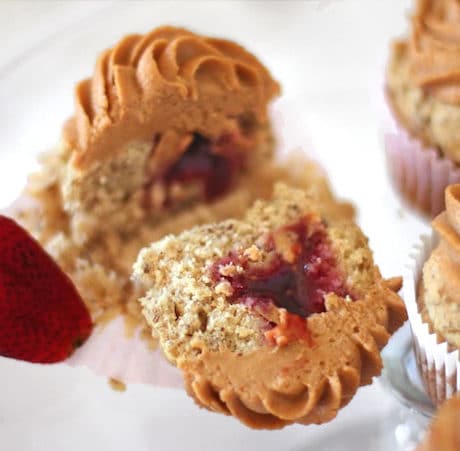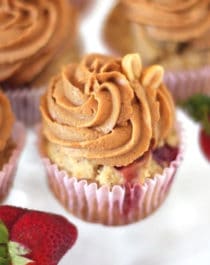 Print Recipe
Pin Recipe
Healthy Peanut Butter & Jelly Cupcakes
Ingredients
Frosting:
120g

(1 cup)

Peanut Flour

¾

cup

Unsweetened Vanilla Almond Milk
Instructions
For the Cupcakes:
Preheat the oven to 350 degrees and line a cupcake tin with 9 parchment liners or spray with cooking spray.

In a stand mixer bowl with whisk attachment, add the almond milk, applesauce, coconut oil and extracts. Mix on low.

In a small bowl, stir together the brown rice flour, quinoa flour, almond flour, corn starch, flax, baking powder, baking soda, xanthan gum and salt.

Slowly add the dry ingredients to the mixing stand mixer, then increase speed to medium high and mix for 20 seconds. Scrape down the sides of the bowl and whip the mixture again for about 20 seconds.

Scoop batter into the prepared cupcake tins and bake for ~21 minutes, or until the cupcakes spring back when tapped. Transfer cupcakes to a wire cooling rack to let cool completely.
For the Filling:
In a small bowl, stir together the strawberry sauce and food coloring.  Pour into a piping bag with a circle tip and fill the cooled cupcakes.
For the Frosting:
In a large bowl, whisk together the peanut flour and sweetener.

Stir in the almond milk. Let sit for ~5 minutes, add any more almond milk if you need it, then scoop into a piping bag and frost the cupcakes! Serve immediately or cover and refrigerate for later.
Nutrition Facts
Healthy Peanut Butter & Jelly Cupcakes
Amount Per Serving (1 cupcake with frosting)
Calories 220
Calories from Fat 72
% Daily Value*
Fat 8g12%
Sodium 160mg7%
Carbohydrates 30g10%
Protein 10g20%
Vitamin A 100IU2%
Vitamin C 1.7mg2%
Calcium 100mg10%
Iron 1.4mg8%
* Percent Daily Values are based on a 2000 calorie diet.
WHATTTTT only 220 calories for a cupcake WITH frosting?!?  Plus a whopping 10g of protein, 4g of fiber, and zero added sugar???  Yes puh-lease.
And just to show you how much better this is than your typical cupcake, I made the nutrition label for the Neely's PB&J cupcake recipe.  And it's shocking.  My version has:
340 less calories
23g less fat
ZERO trans fats (while the original recipe contains some!)
ZERO cholesterol
35g less carbs
37g less sugar
more fiber
Oh. My. Gosh.  Can you believe the difference?  For just ONE cupcake, would you rather have 560 (unhealthy) calories or 220 (healthy) calories?  And would you choose 31g of fat or 8g of fat?  Oh, and did you see how much sugar is in the original recipe?  A hefty 47g…  that's more than ¼ cup of sugar in just one cupcake.  Maybe I'm alone on thinking this, but that's just plain gross…  I'm sorry.
If you make this healthy Peanut Butter and Jelly cupcake recipe, you can eat TWO AND A HALF cupcakes for the same calories as ONE of the original cupcakes.  Winning!
.
With love and good eats,
.
– Jess
.