Healthy Peanut Butter Mousse
You'd never know that this SUPER thick, rich, and decadent Peanut Butter Mousse recipe is…  healthy!  It's sweet, yet sugar free and low carb.  It's delicious, yet dairy free and vegan.  It's addicting, yet high protein and totally guilt free!
Would you believe me if I told you that this Peanut Butter Mousse is good for you?  Well you should, because it is!  It's all natural, doesn't have any added sugar, it's low in carbs, high in protein, high in fiber, and totally nutritious.  Don't worry, though, it doesn't taste like steamed broccoli or anything.
This super easy 5-ingredient Peanut Butter Mousse is ultra rich and creamy, and packed with peanut butter flavor.
One little taste you will know what true love is.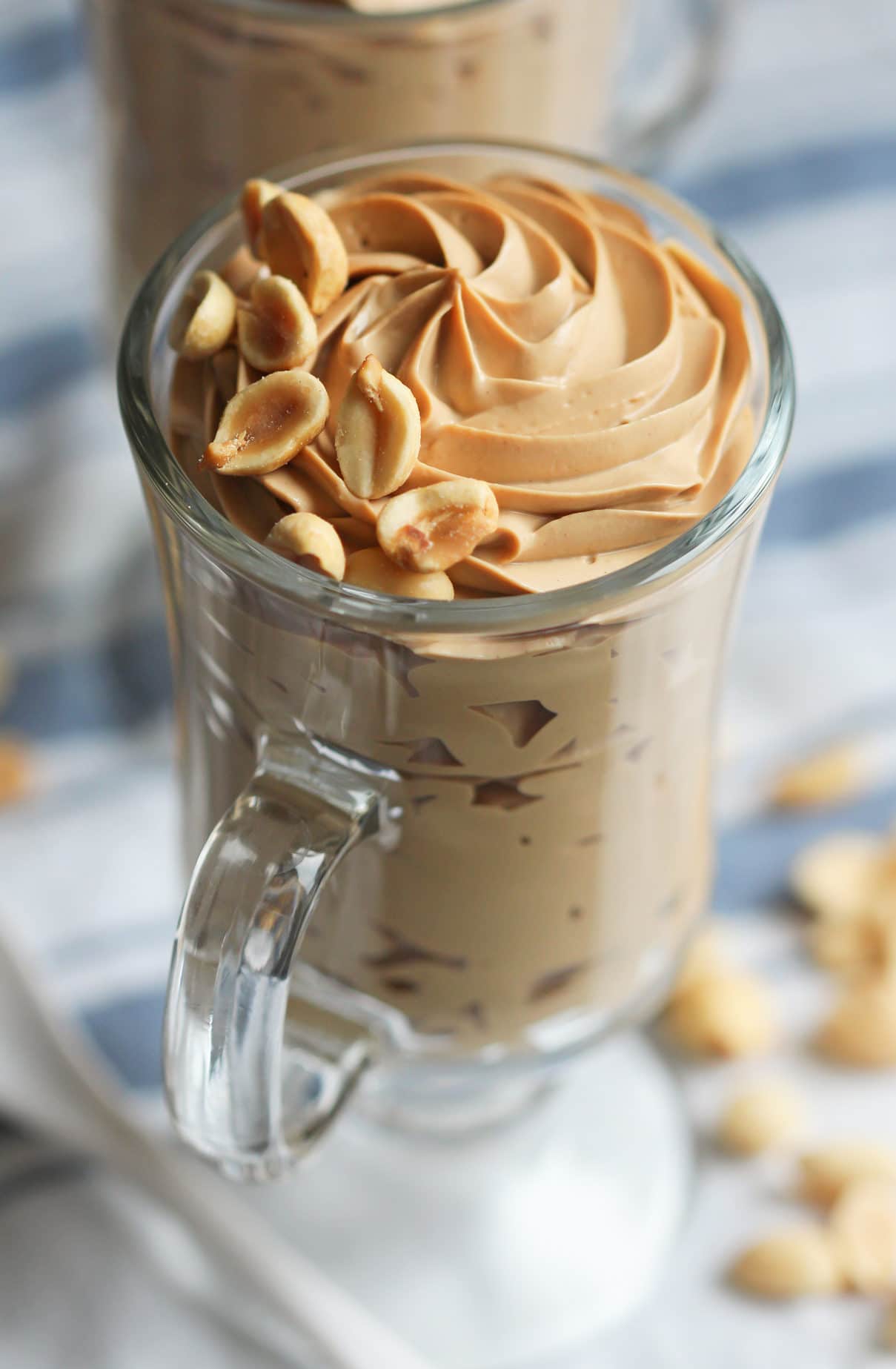 What I love about this recipe is how quick and easy it is to prepare.  I am pretty busy with school right now — lots of classes, lots of homework, lots of exams — so when I'm in the mood for dessert (which is all the time) I need something fast but still delicious.  This Healthy Peanut Butter Mousse is IT!!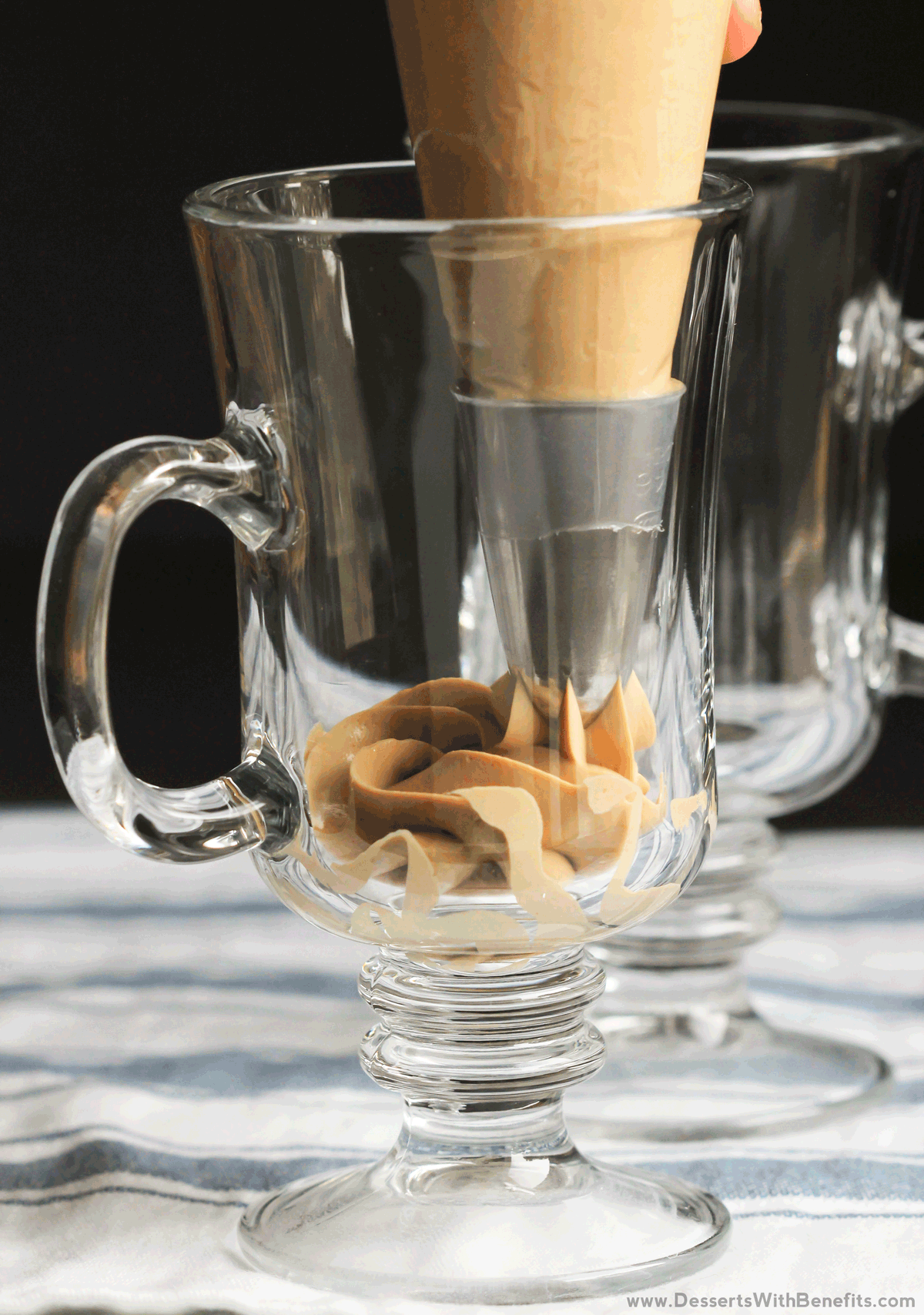 Healthy Peanut Butter Mousse
Prep Time: 30 minutes
Cook Time: 0 minutes
Total Time: 30 minutes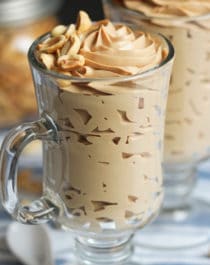 Fat per serving: 7
Calories per serving: 180
Ingredients:
one 14oz container Organic Extra Firm Tofu
1¾ cups Unsweetened Vanilla Almond Milk
2 tsp Vanilla Extract
2 tsp Stevia Extract
330g (2¾ cups) Peanut Flour
¼ tsp Salt
Directions:
Rinse and drain the block of tofu, then complete the following steps (basically, just try to press out as much liquid as possible):
Add all the ingredients to a large blender or food processor and puree until smooth. Scrape down the sides of the bowl when necessary.
Give it a taste and add more stevia or salt to taste. Be sure to puree the mixture as much as possible, you don't lose anything by overblending but you sacrifice texture and flavor by underblending!
Pour into serving bowls and serve immediately. If not serving right away, cover with plastic wrap and refrigerate.  Top the mousse with chopped, salted peanuts and some mini dark chocolate chips if you're feeling extra indulgent!
Notes:
All images and text ©
.
When I made this mousse for my family, no one believed it was actually sugar free and high protein (let alone vegan).
My dad said, "There's no way this is low calorie"  *spoons mousse into mouth*

I told him it was.  "No, it is, the whole bowl has 180 calories and 25g of protein!"

Dad:  Wow, it tastes like it'd be really fatty! *scrapes bowl clean*  That was really good…  Is there any more left?
He asked for another bowl later that day.  And he had some for breakfast the next day too.  Oh, and did I mention that my dad doesn't even like sweets?  So if he likes it, you will too!
.
Here is the recipe's nutrition label:
As a comparison, here is the nutrition label for Bon Appetit's Peanut Butter Mousse recipe.  Prepare to be shocked.
All I can say is…  WOW WHAT THE HECK OH MY GOODNESS THE DIFFERENCE IS CRAZY CAN YOU BELIEVE IT BECAUSE I SURE CAN'T AHHHH IS THIS FOR REAL BECAUSE IF IT IS LIFE IS AWESOME.  Okay, I took a breath.  But seriously?  Seriously??  For the same amount of mousse, my recipe has:
half the calories
22g less fat
12g less saturated fat
ZERO cholesterol or added sugar
20g more protein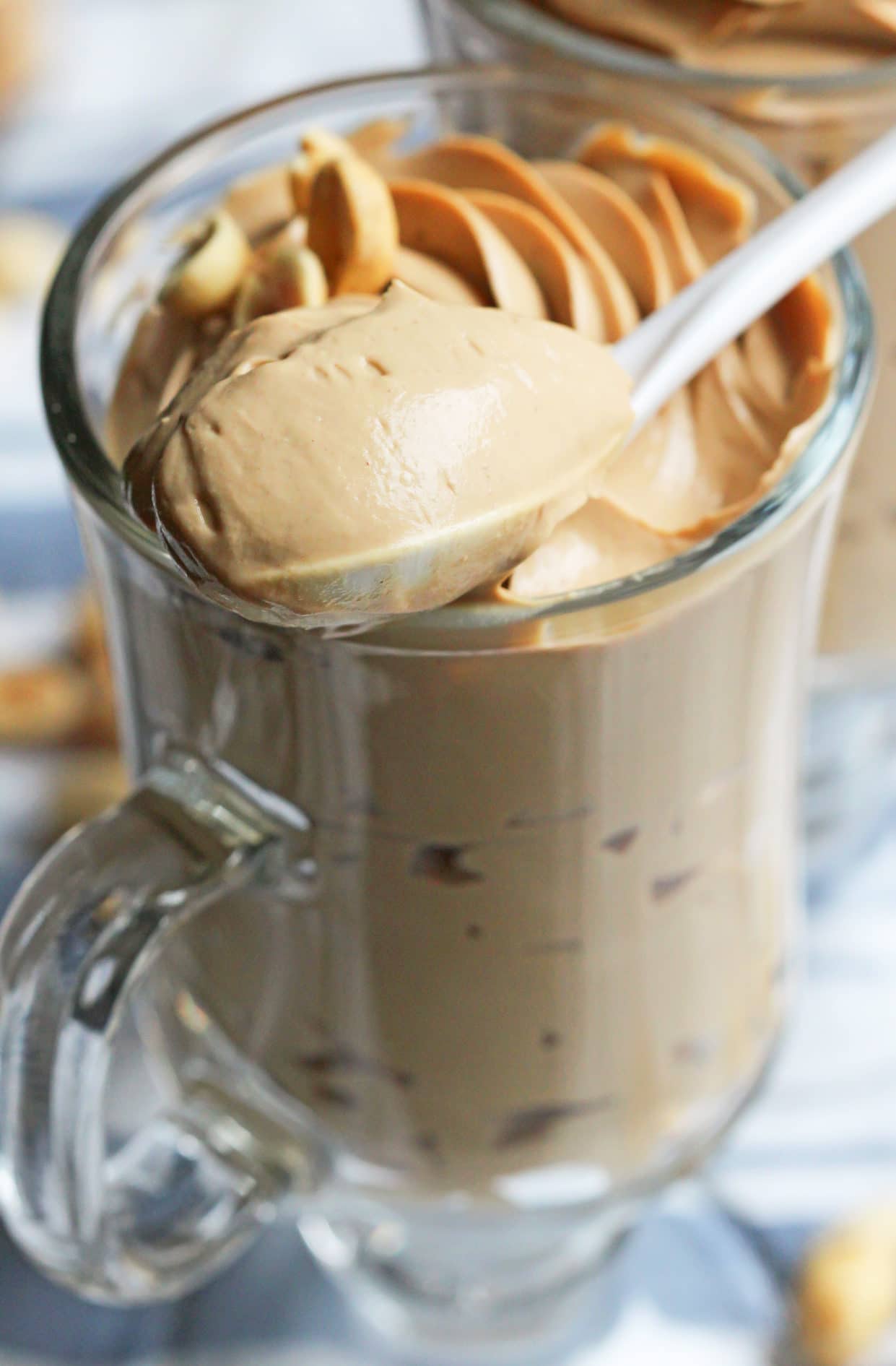 Okay, I've heard enough.  I'm off to the kitchen to make myself another batch  😉

.
With love and good eats,
.
– Jess
.