Healthy Peanut Butter Oatmeal Cookies
After one bite of these super thick, super soft, and super chewy cookies, you'd never ever guess that they're totally guilt-free and good for you!  These Healthy Peanut Butter Oatmeal Cookies are packed with peanut butter flavor and hearty oatmeal texture, but they're flourless, refined sugar free, and made without butter and oil!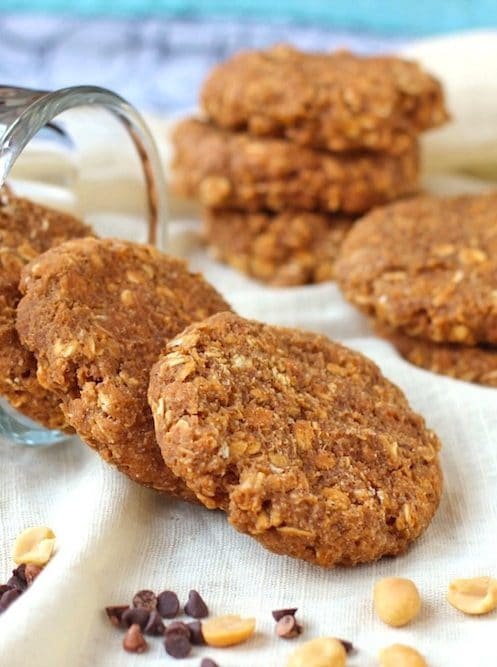 Sadly, these cookies were a long time coming.  I haven't had the best of luck making cookies lately (this happens to me quite a bit) so it took five trials to perfect this recipe.  All of the previous trials were not up to par…  they were too crumbly, not chewy enough, not sweet enough, or would dry out the next day and turn into rocks.  So sad.
Trial #1:  A little dry, too thick and too firm
Trial #2:  Rubbery in texture and I could taste the baking soda
Trial #3:  Wasn't sweet enough and felt like a muffin top
But then I remembered my Chewy Peanut Butter Cookies — the soft and sweet cookies perfect for the peanut butter lover out there.  I have actually made the cookies at least once a month since I posted the recipe back in May.  I was tired of making failed batches of cookies so I cheated and just copied my original Peanut Butter Cookies recipe and added rolled oats to it.  It worked perfectly!  😉
Trial #4:  Perfect, soft, and chewy Peanut Butter Oatmeal Cookies!  Not too sweet, not dry at all, not rock hard and certainly not crumbly.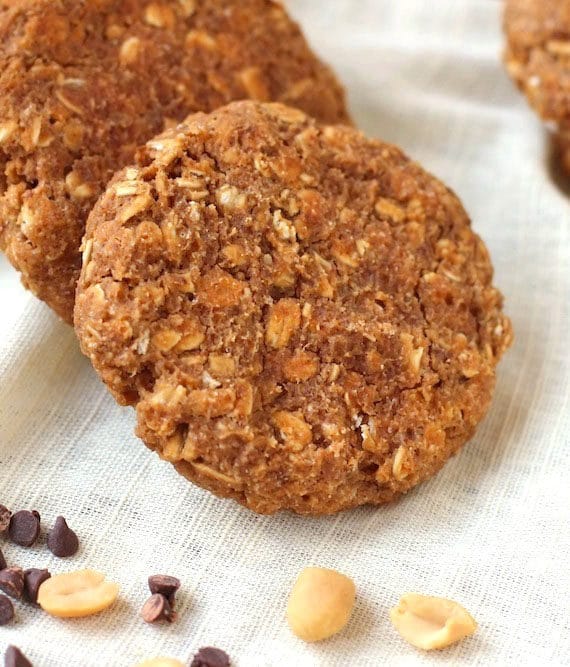 These Peanut Butter Oatmeal Cookies are super peanut buttery, sweet and super rich.  My sister tried one off the cooling rack and her eyes burst open.  She said, "it's SOOOO peanut buttery," and took another bite, walking off with the cookie.  My dad brought some to work and texted me,
"Everyone loved your cookies.  Please send more before you go back to AZ!"
Trust me, I did.  I'm glad nobody noticed the two missing cookies that I snuck with me to the airport, shhhh!!
Goodbye, New York.  Hello, Arizona!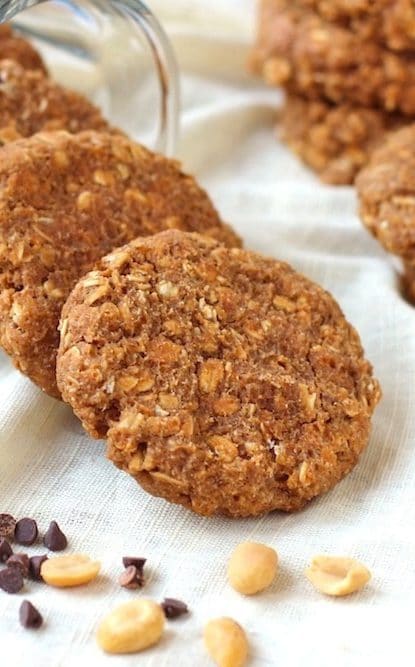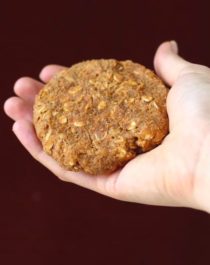 Print Recipe
Pin Recipe
Healthy Peanut Butter Oatmeal Cookies
One bite of these thick, soft, and chewy Healthy Peanut Butter Oatmeal Cookies and you'll be in shock that they're sugar free, gluten free, and vegan!
Ingredients
128g

(½ cup)

Natural Peanut Butter

(no sugar/oil added)

123g

(½ cup)

Unsweetened Applesauce

½ cup

+ 1 tbs

Unsweetened Vanilla Almond Milk

1

tsp

Liquid Stevia Extract

180g

(1½ cups)

Peanut Flour

144g

(1½ cups)

Old Fashioned Rolled Oats

128g

(⅔ cup)

Granulated Erythritol

(or dry sweetener of choice)

16g

(2 tbs)

Ground Flaxseed

1½

tsp

Double-Acting Baking Powder

¼

tsp

Salt
Instructions
Preheat the oven to 350 degrees Fahrenheit and line two cookie sheets with Silpats or parchment paper.

In a large bowl, stir together the peanut butter, applesauce, almond milk and stevia.

In a small bowl, whisk together the peanut flour, oats, erythritol, flax, baking powder and salt. Dump the dry ingredients over the wet ingredients and fold together.

Use a ¼ cup measuring cup to portion out the dough and place on the prepared baking sheets. Wet your hands with some water and flatten the dough rounds until they are the thickness you want.

Bake for ~9-11 minutes, or until the surface of the cookies are firm, yet soft. Slide the Silpat/parchment paper off the hot cookie sheets and let cool completely.
Nutrition Facts
Healthy Peanut Butter Oatmeal Cookies
Amount Per Serving (1 cookie)
Calories 190
Calories from Fat 81
% Daily Value*
Fat 9g14%
Sodium 110mg5%
Carbohydrates 17g6%
Protein 14g28%
Vitamin C 1.7mg2%
Calcium 60mg6%
Iron 1.8mg10%
* Percent Daily Values are based on a 2000 calorie diet.
When I calculated the nutrition facts for this recipe, I was pleasantly surprised!  I wanted to see how it would compare to a typical (unhealthy) Peanut Butter Cookie recipe, so I compared it to AllRecipes' Peanut Butter Cookie recipe.  Comparing cookie to cookie, mine has:
130 fewer calories
10g fewer fat (with less saturated fat too)
less sodium, half the carbohydrates, 5x the fiber and nearly 3x the protein
NO cholesterol and NO added sugar
ZERO grams of the dangerous/deadly trans fats (compared to 4g in the AllRecipes recipe!!)
While I know I am total bias and preferential to my own recipe, I think we can all see that my recipe is healthier than the AllRecipes recipe.  Oh, and my cookies are just as delicious  🙂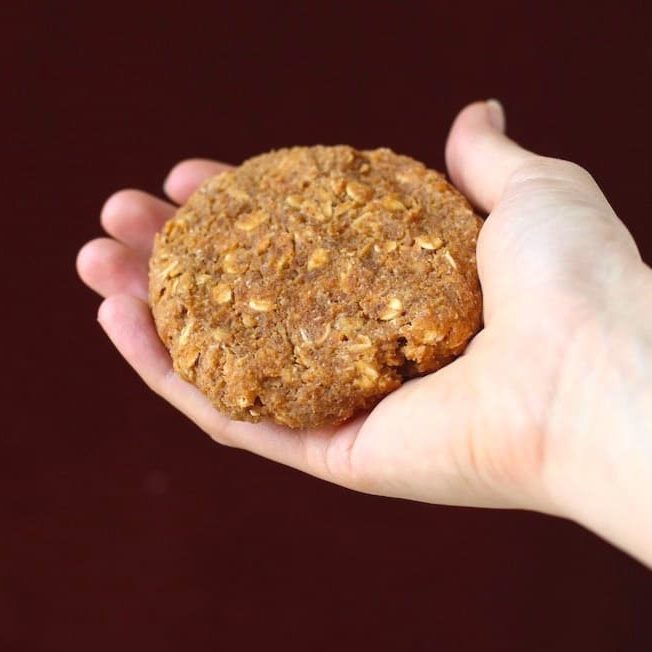 You've gotta make these Healthy Peanut Butter Oatmeal Cookies.  They're delicious, they're jumbo-sized, and they're secretly healthy!
.
With love and good eats,
.
– Jess
.