Healthy Peanut Butter Yogurt Dip
This Healthy Peanut Butter Yogurt Dip is sweet, decadent and TOTALLY addictive!  Perfect for dipping everything you can imagine…  and I mean everything.
From freshly sliced apples to chunks of ripe banana.
From whole, juicy strawberries to whole grain graham crackers.
From regular-sized spoons to giant soup ladles.  Ehem.  
This dip is so thick, rich and creamy, you'd never know it's low fat, low calorie and sugar free.  It doesn't taste healthy in the slightest.
If you're the kind of person who likes to dunk a spoon in the peanut butter jar every now and then…
CAN I HEAR AN AMEN!?
…  but would rather indulge in all that peanut butter flavor without downing 8,347 calories…  then this (secretly healthy) recipe is for you.  It's like peanut butter FROSTING!
I already started drooling at "peanut butter," so you can imagine what I did when I heard "frosting."
This stuff is so healthy you could eat it straight up for breakfast.
Like I did 😎
And lemme tell ya…  that quickly became the best freaking day ever.
Healthy Peanut Butter Yogurt Dip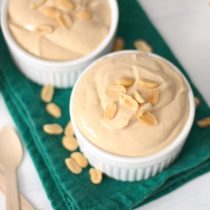 Ingredients:
120g (1 cup) Peanut Flour
⅛ tsp Sea Salt
¾ cup Unsweetened Vanilla Almond Milk
1 tsp Stevia Extract
1 cup Plain, Nonfat Greek Yogurt
Directions:
In a large bowl, whisk together the peanut flour and salt.
Whisk in the almond milk, then whisk in the stevia.  Lastly, whisk in the yogurt.
Cover the bowl with plastic wrap and refrigerate overnight.  Serve the next day with freshly sliced apples, strawberries, bananas or spoons alone. Feel free to top the dip with roasted, salted peanuts and/or mini dark chocolate chips!
Be sure to follow @DessertsWithBenefits on Instagram!  If you try this recipe, make sure to snap a picture of it, tag me @DessertsWithBenefits, and hashtag #DessertsWithBenefits.  I'd love to see it and feature you on #FanFaveFridays!
.
Here is the recipe's nutrition label:
Wow, only 110 calories??  Sure didn't taste low-cal at all.  I can't believe a 1/2 cup serving is packed with 16g of protein and 3g of fiber too.  Hmmm, I think I'll take it ALLLL, thank you very much.
Sharing?  What's sharing?  
You gotta make this delicious Healthy Peanut Butter Yogurt Dip pronto!
Like, DOUBLE the recipe if you want to because you need to.