Healthy Baked Pumpkin Donut Holes
Did you know that today is National Dessert Day??  Let's celebrate with the Healthy BAKED Pumpkin Donut Holes!
But really now.  Do you even need an excuse to make (and eat) donut holes?  No, I didn't think so  😉
Donut take my donut obsession lightly.  I reeeeaalllly like me some donuts.  Especially these Healthy Baked Pumpkin Donut Holes.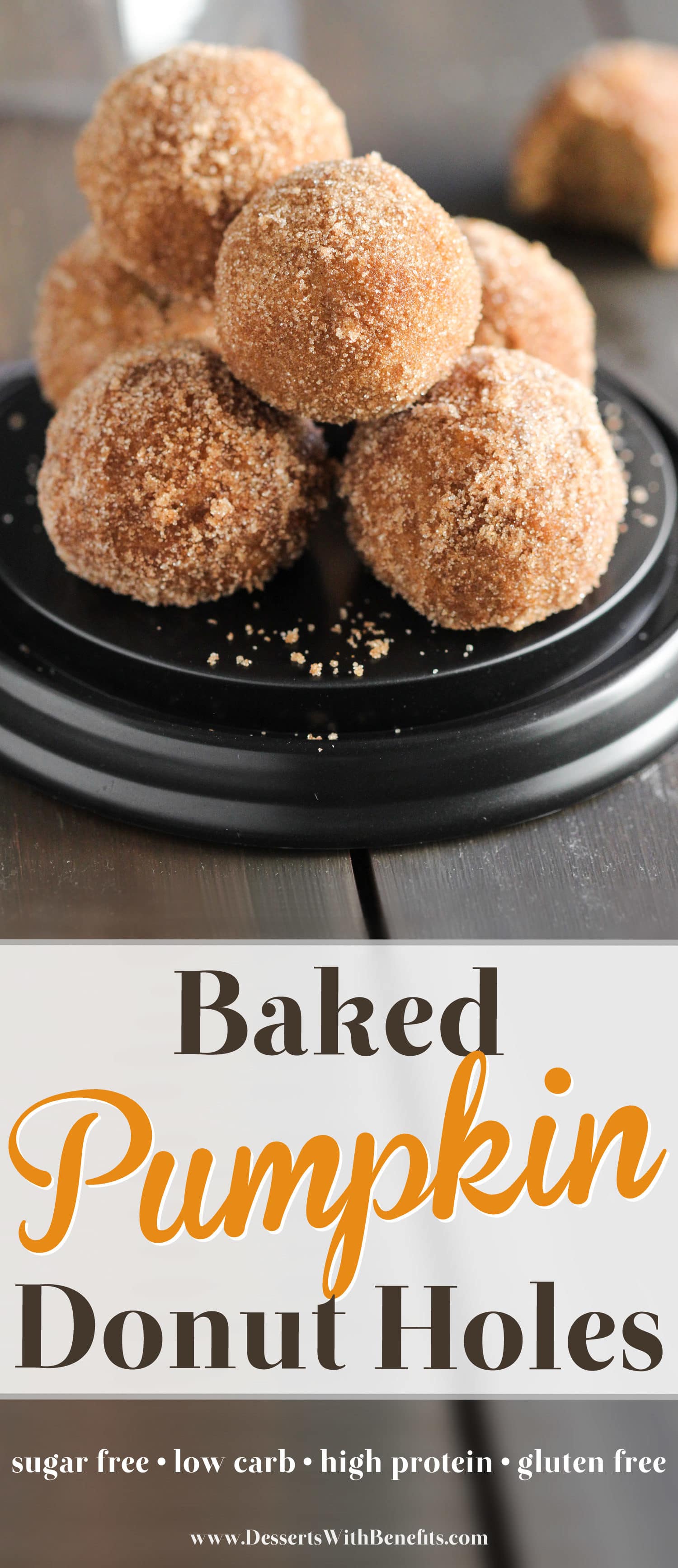 When I was in middle school and high school, I took bass guitar lessons every Monday after school.
True story:  I remember someone asked me what my favorite day of the week was.  Please donut hate me, but I actually said MONDAY.  And for the sole reason that, between the break between school and the bass lesson, my mother drove me to Dunkin' Donuts to get a donut (always a strawberry frosted donut with sprinkles) and an orange soda.  Yep.
Thanks mom!  *sarcasm*

But these donuts here?  These ain't your typical donuts.
First, they're donut holes — probably the most forgotten, unloved and unappreciated portion of the famous donut anatomy.  And for no reason whatsoever, because they're just as delicious and in a cuter package.
Second, they're pumpkin-y!  Toss all those boring vanilla and chocolate donut holes to the side and grab some of these Healthy Baked PUMPKIN Donut Holes.
Third, they're coated in cinnamon sugar!
Fourth (and most importantly), THEY. ARE. HEALTHY!
BOOM.  Yes, I said it.  HEALTHY.
And I speak the truth people.
These Healthy Baked Pumpkin Donut Holes are so damn addictive, you'll have a hard time keeping them around for longer than a few days.  I donut have self control around these babies!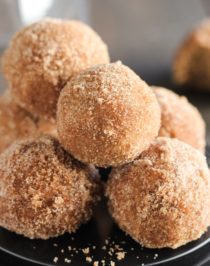 Print Recipe
Pin Recipe
Healthy Baked Pumpkin Donut Holes
You'll have a hard time controlling yourself around these Healthy Baked Pumpkin Donut Holes! They're fluffy, sweet, perfectly spiced, and totally satisfying. You'd never know these are sugar free, low carb, high protein, gluten free, and dairy free too!
Instructions
For the Donut Holes:
Preheat the oven to 350 degrees Fahrenheit and line a large baking sheet with parchment paper.

In a small bowl, whisk together the psyllium and yeast.

In a stand mixer bowl fitted with a

beater-scraper attachment

, add the almond milk, pumpkin puree, egg whites, erythritol, butter flavor, vanilla extract, and stevia extract. Turn mixer on medium-low speed.  While mixing, sprinkle in the psyllium/yeast mixture and mix until completely smooth.  Scrape down the sides of the bowl, then mix again.  Mixture should look like thick gravy.

In a medium-sized bowl, whisk together the coconut flour, soy flour, cinnamon, baking powder, ginger, nutmeg, cloves, and salt. Turn the mixer off and dump in the dry ingredients.  Return mixer to medium-low speed and mix until combined.  Scrape down the sides of the bowl and mix on medium speed.  Dough should be very thick, dense, and slightly sticky.

Roll the dough into bite-sized balls (I used an ice cream scooper to portion out the dough so they were all the same size).  Bake for ~18 minutes, or until surface is dry to touch, golden brown, and springs back when tapped.
For the Cinnamon Sugar Coating:
In a medium-sized bowl, whisk together the granulated erythritol and cinnamon.

In a small bowl, add the melted coconut oil.

When the donut holes are cool enough to touch, dip one at a time in the coconut oil and roll the ball between your palms to spread the oil around the entire surface, then toss inside the cinnamon sugar mixture.  Repeat with the rest of the donut holes.  Serve immediately and enjoy!
Nutrition Facts
Healthy Baked Pumpkin Donut Holes
Amount Per Serving (2 donut holes)
Calories 160
Calories from Fat 54
% Daily Value*
Fat 6g9%
Sodium 170mg7%
Carbohydrates 16g5%
Protein 9g18%
Vitamin A 3000IU60%
Vitamin C 1.7mg2%
Calcium 150mg15%
Iron 1.8mg10%
* Percent Daily Values are based on a 2000 calorie diet.
Now THAT'S a nutrition label I can be proud of — a whopping 9g of protein, 11g of fiber, and no added sugar!
These Healthy Baked Pumpkin Donut Holes will come and go in 3, 2, 1, GONE.  These don't taste healthy in the slightest.  They're sweet, spicy, fluffy, and delicious.  Light, but also filling…  there's nothing boring or bland about these donut holes.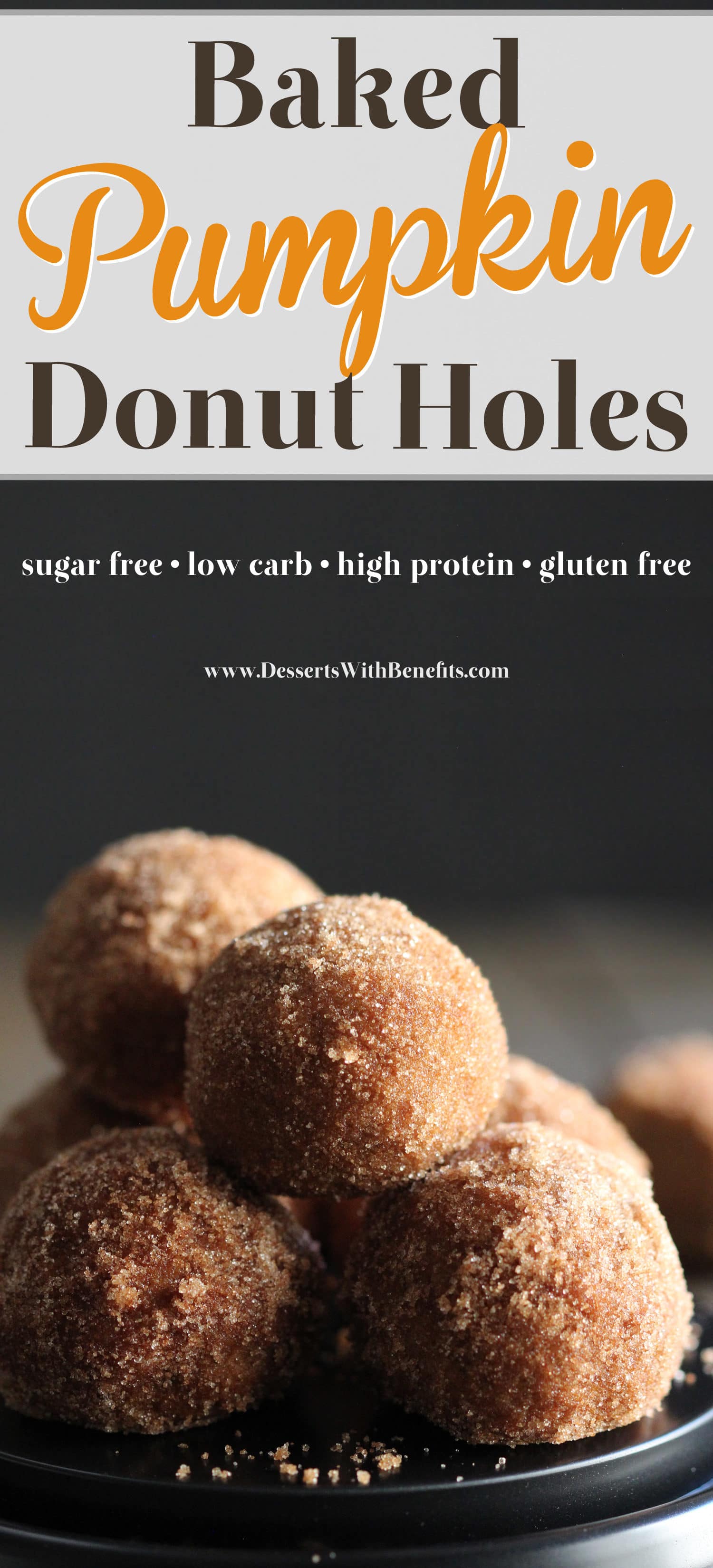 Since most people like/love/will-adore-for-the-rest-of-their-lives donuts, donut holes are basically a home run dessert to serve.  These Healthy Baked Pumpkin Donut Holes are way better option though, since they're good for ya and your guests.  They're portable, bite-sized, delicious — the PERFECT fall treat.
Enjoy!
.
With love and good eats,
.
– Jess
.