Healthy Low Carb and Gluten Free Monkey Bread
Guess what happened?  This Healthy Low Carb and Gluten Free Monkey Bread just happened!  No sugar, no butter, no oil, no white flour…  no nasties whatsoever, yet it tastes OH. SO. GOOD.
This Low Carb and Gluten Free Monkey Bread is soft, moist, and sweet, it's really hard to believe something that tastes this good could be so good for you.
It's packed with filling fiber, satiating protein, and healthy fats only.  I know, I know, it sounds like I'm describing some boring salad or something, but I swear, this doesn't taste like plain lettuce or raw broccoli in any way shape or form.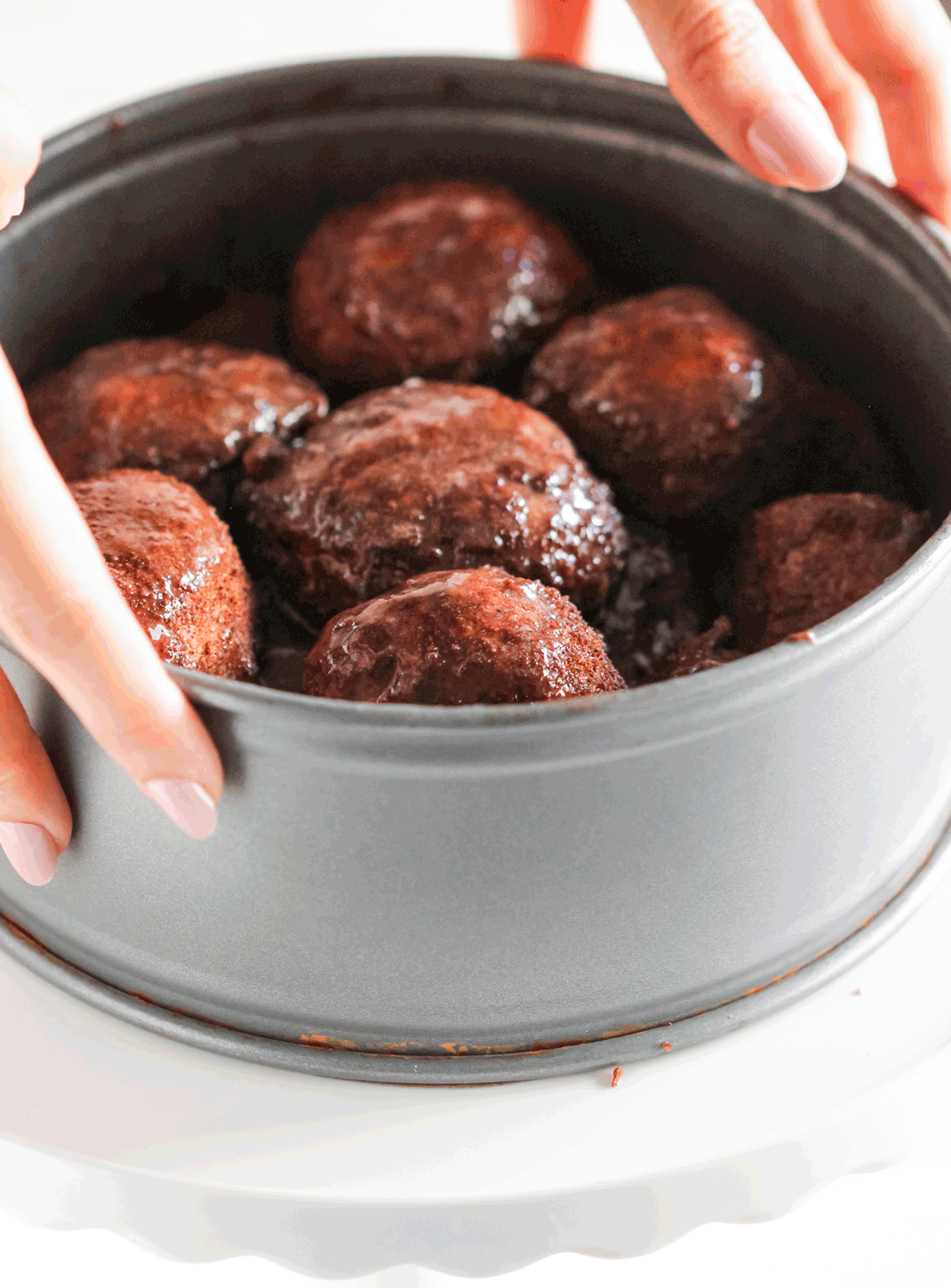 This stuff is legendary.  It's life changing.  It has definitely changed my life already!  I've made it three times in the last month, I just can't get enough.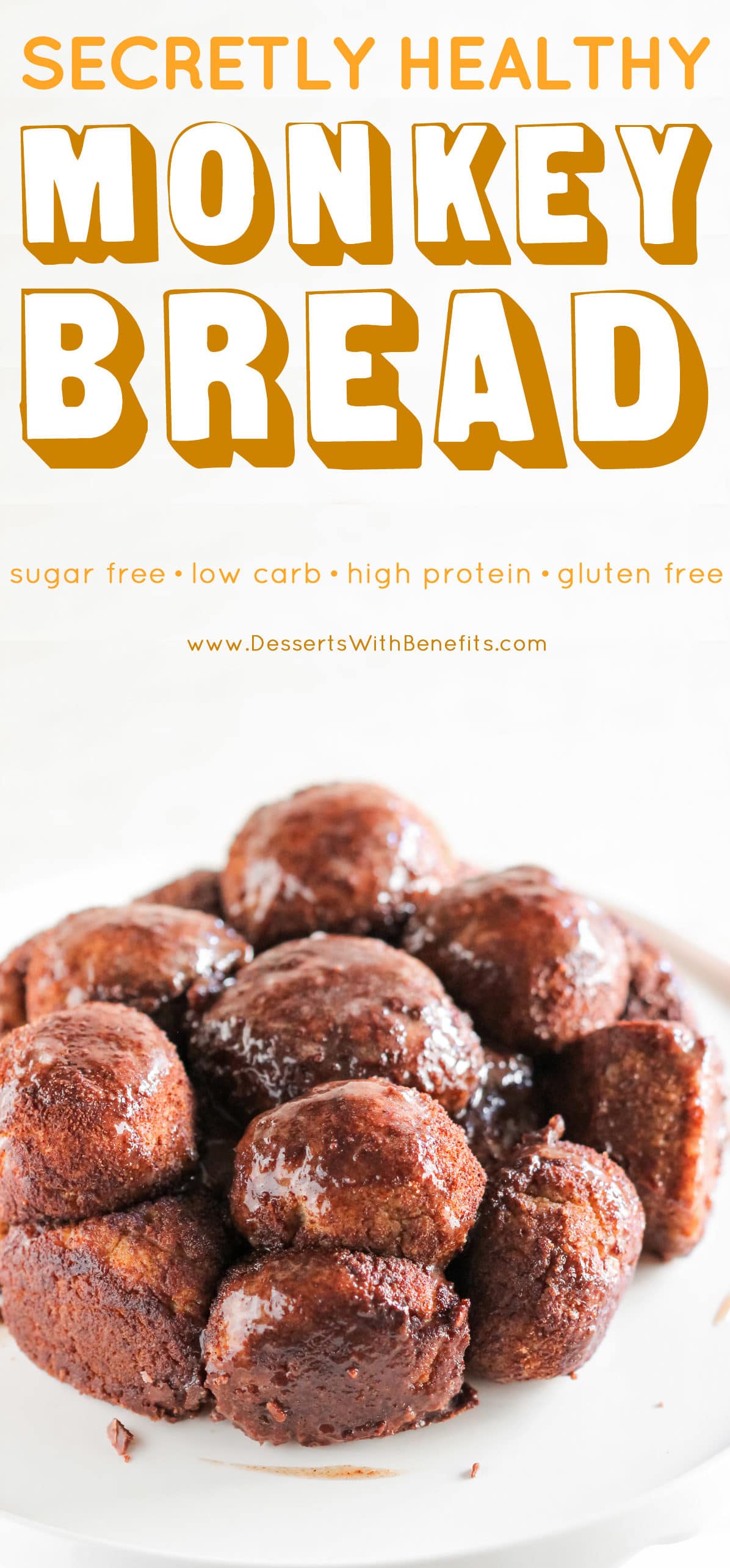 Don't you just wanna grab one?
This Low Carb and Gluten Free Monkey Bread is seriously decadent.  It's pretty filling too.  You won't be able to eat the entire pan even if you tried.  I mean, you'll definitely WANT to, but it's impossible.  Two or three pieces and you'll be full.  My family calls me the "bottomless pit" so I can eat about four  😉
Every time I make this recipe I'm really surprised at how well it turns out.  It's slightly dense, but also very fluffy.  Kinda like a donut hole, but more substantial.  Unlike many gluten-free baked goods, these don't crumble (or taste) like sand — they can actually hold their shape!

Mmmm!  *drools*
I'm really bummed that I finished off a batch of this homemade Monkey Bread just this morning for breakfast.  And all this dessert talk is making me crave these bubble-shaped Cinnamon Rolls again!  I guess I better get started on my fourth batch soon, huh?  😉
Healthy Low Carb and Gluten Free Monkey Bread
Prep Time: 1 hour 30 minutes
Cook Time: 28 minutes
Total Time: 2 hours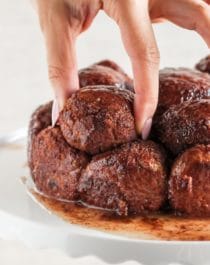 Fat per serving: 7.6
Calories per serving: 180
Ingredients:
Dough:
Cinnamon Sugar Coating:
96g (½ cup) Granulated Erythritol
2 tbs Ground Cinnamon
28g (2 tbs) Coconut Oil, melted
Homemade Maple Syrup, for serving
Directions:
For the Dough:
In a small bowl, whisk together the psyllium and yeast.
In a stand mixer bowl fitted with a beater-scraper attachment, add the almond milk, applesauce, egg whites, erythritol, butter flavor, vanilla extract, and stevia extract. Turn mixer on medium-low speed.  While mixing, sprinkle in the psyllium/yeast mixture and mix until completely smooth.  Scrape down the sides of the bowl, then mix again.  Mixture should look like thick gravy.
In a medium-sized bowl, whisk together the coconut flour, soy flour, baking powder, baking soda, and salt. Turn the mixer off and dump in the dry ingredients.  Return mixer to medium-low speed and mix until combined.  Scrape down the sides of the bowl and mix on medium speed.  Dough should be very thick, dense, and slightly sticky.
Compact the dough as best as you can into the bowl and cover with plastic wrap. Place the bowl in a warm area for 1 hour.
For the Cinnamon Sugar Coating:
In a medium-sized bowl, whisk together the granulated erythritol and cinnamon.
In a small bowl, add the melted coconut oil.
For the Assembly:
Preheat the oven to 350 degrees Fahrenheit and spray a 7″ springform pan** with cooking spray (I also lined mine with a parchment paper circle).
Roll the dough into balls (I used an ice cream scooper to portion out the dough so they were all the same size).  Dunk a dough ball in the oil and roll the ball between your palms to spread the oil around the entire surface, then toss inside the cinnamon sugar mixture.  Place the ball inside the prepared pan, and repeat the process with the rest of the dough.
Sprinkle the remaining cinnamon sugar into the pan.  Bake for ~28 minutes, or until a nice caramelized crust forms.  Immediately cover the pan with tin foil and let cool for ~30 minutes.
Place a heat-proof plate or cutting board over the monkey bread and quickly, but carefully, flip it.  Loosen the springform, keeping it on, but removing the springform base.  Drizzle some Homemade Maple Syrup (or real maple syrup or icing) over the monkey bread and let it soak in a little.  Place a serving plate over the monkey bread and once again, quickly, but carefully, flip it.  Remove the springform and serve warm!
Notes:
**You can also try a brownie pan or cake pan.
Just like storebought pretzels, these are best served immediately after they are made.  Storing isn't recommended.
All images and text © .
I first posted a Monkey Bread recipe way back in 2014, but there was always something bugging me about it.  I wanted to remake the recipe to make it a bit simpler and easier for y'all to make.  Here are the changes I made to the recipe:
Increased Psyllium Husk Powder, 16g to 40g
Increased Active Dry Yeast, 8g to 10g
Increased Salt, ⅛ tsp to ¼ tsp
Increased Egg Whites, 4 to 5
Increased Butter Flavor, 2 tsp to 1½ tbs
Increased Vanilla Extract, 2 tsp to 1½ tbs
Increased Stevia Extract, 2 tsp to 1 tbs
Increased Coconut Flour, 10 tbs to 1¼ cups
Decreased Soy Flour, 2 cups to 1¼ cups
Decreased Applesauce, ¾ cup to ½ cup
Added ¼ cup Granulated Erythritol
Added ½ tsp Baking Soda
I also tried baking the Monkey Bread in a 9″ springform pan. It only made enough for one layer, but it was still delicious!
.
Here is the recipe's nutrition label:
That's pretty damn good for MONKEY BREAD, if I do say so myself!  🙂
As a comparison, 2 pieces of Pillsbury's Monkey Bread recipe have 220 calories, 10g fat, 30g carbs, 0g fiber, 16g sugar, and 2g protein.  My healthified recipe is lower calorie, lower fat, lower carb, higher fiber, and higher protein, while also being sugar free and cholesterol free (wow, that was a mouthful).
Unlike Pillsbury, my recipe doesn't contain any dangerous hydrogenated oils/trans fats either.  My recipe might be healthier, but it sure doesn't taste like it.

Delicious, indulgent and…  healthy.  Yes, you can have it all!
Enjoy  🙂
.
With love and good eats,
.
-Jess
.