Healthy Reese's Fudge (Chocolate-Coated Peanut Butter Fudge)
This Healthy Reese's Fudge is made of a soft peanut butter fudge filling and covered with a decadent and rich chocolate shell…  you'd never know these cubes of deliciousness are low in sugar, high in fiber, and packed with protein!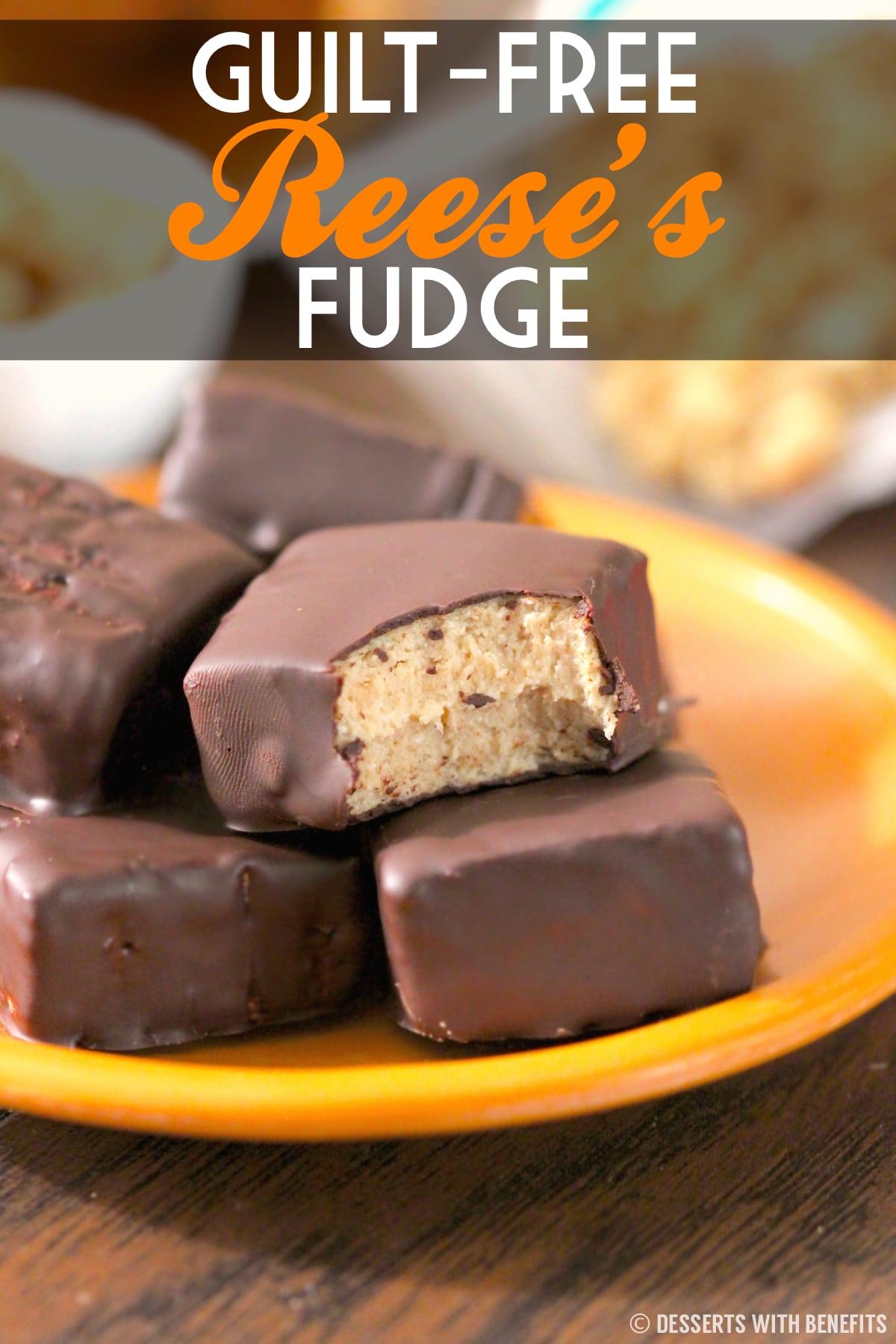 I love walking to my fridge and seeing dessert on every shelf.  Immediately when I open the door I swear I hear a choir of angels singing.  I guess I know what I'm eating for breakfast, lunch and dinner for the entire week.
Best. Week. Ever!  (especially the fudge-for-breakfast part…)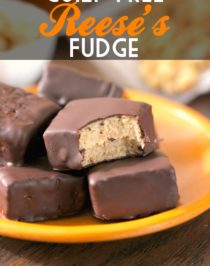 Print Recipe
Pin Recipe
Healthy Reese's Fudge
This Healthy Reese's Fudge is soft, packed with peanut butter and chocolate flavor, and melts in your mouth! You'd never know it's low calorie, low fat, low sugar, high protein, and gluten free too!
Instructions
Make the Peanut Butter Fudge. After slicing the fudge, place the fudge cubes on a cookie tray lined with a sheet of parchment paper. Place in the refrigerator while you prepare the chocolate.

In a microwave-safe bowl, add the chocolate and microwave at 30-second intervals, stirring between each one, until melted, then stir in the coconut oil.

Take the fudge out of the fridge. Toss a piece of fudge into the chocolate and use a fork to coat it entirely and remove it from the chocolate. Tap off any excess chocolate, then place the cube onto the prepared cookie sheet. Do this with the rest of the fudge, and reheat the chocolate if necessary.  Chill the cubes until the chocolate hardens, then serve.
Recipe Notes
**For a sugar free version, use Lily's no-sugar-added chocolate.
Nutrition Facts
Healthy Reese's Fudge
Amount Per Serving (3 pieces)
Calories 120
Calories from Fat 54
% Daily Value*
Fat 6g9%
Cholesterol 5mg2%
Sodium 150mg7%
Carbohydrates 11g4%
Protein 10g20%
Calcium 60mg6%
Iron 1.1mg6%
* Percent Daily Values are based on a 2000 calorie diet.
In case you wanted to compare nutrition label, here is the nutrition label for Hershey's fudge recipe.
I'm speechless.  Seriously.  I couldn't defend Hershey's, my ex-love, even if I tried — trans fats, a ton of sugar, fat, calories…  um, no thanks.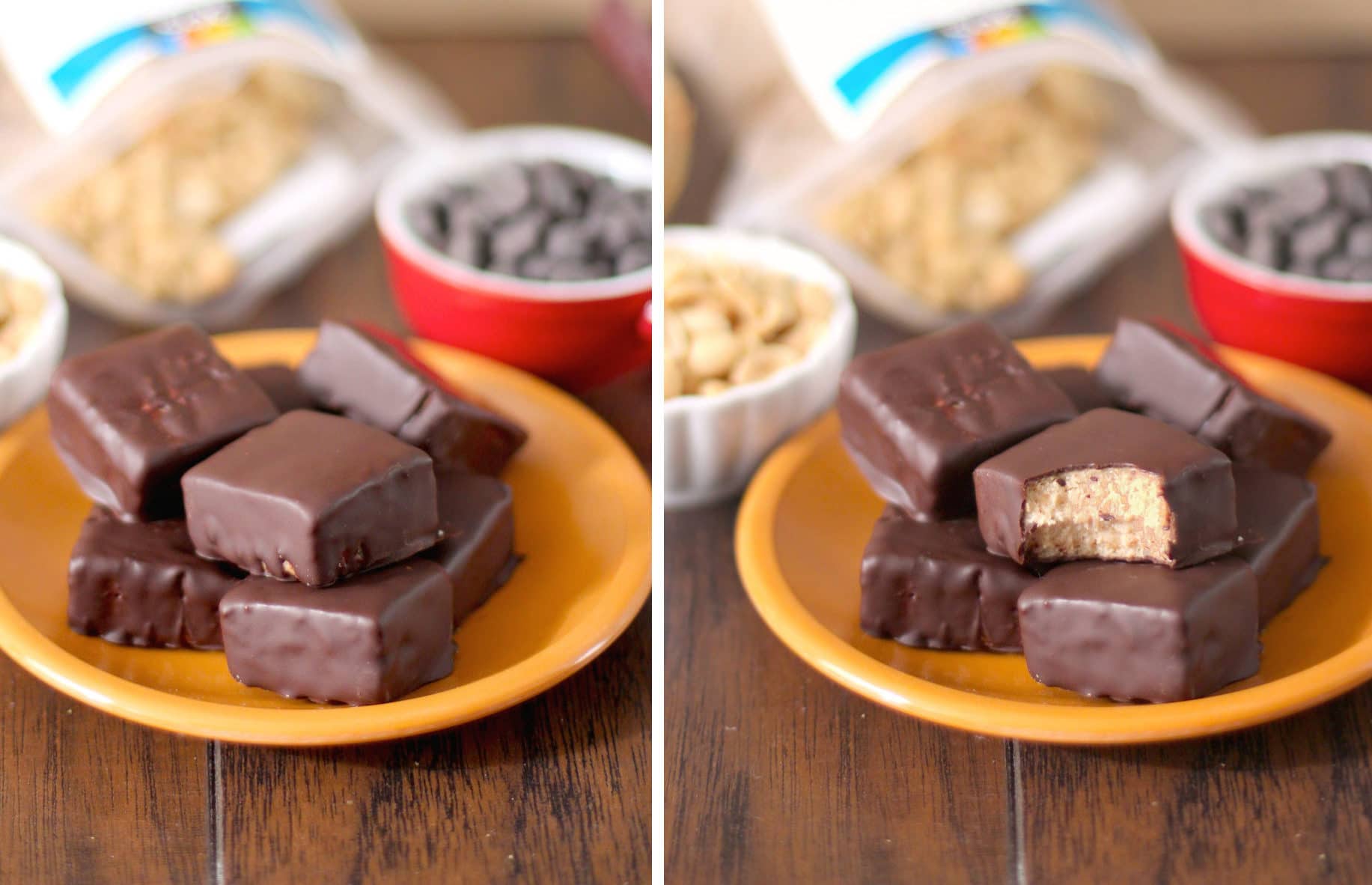 LOOK!  LOOK!
It's a bird, it's a plane, it's …  (Secretly) Healthy Reese's Fudge!!
Life = COMPLETE.
.
With love and good eats,
.
– Jess
.