Healthy Peanut Butter Fudge
This Healthy Peanut Butter Fudge is just like regular fudge — super rich, uber decadent and tooth-achingly sweet — but it's secretly healthy and guilt-free!  Yup, that means no three sticks of butter, no four cups of sugar and no heavy splashes of corn syrup or heavy cream…  just pure, fudgy peanut buttery goodness.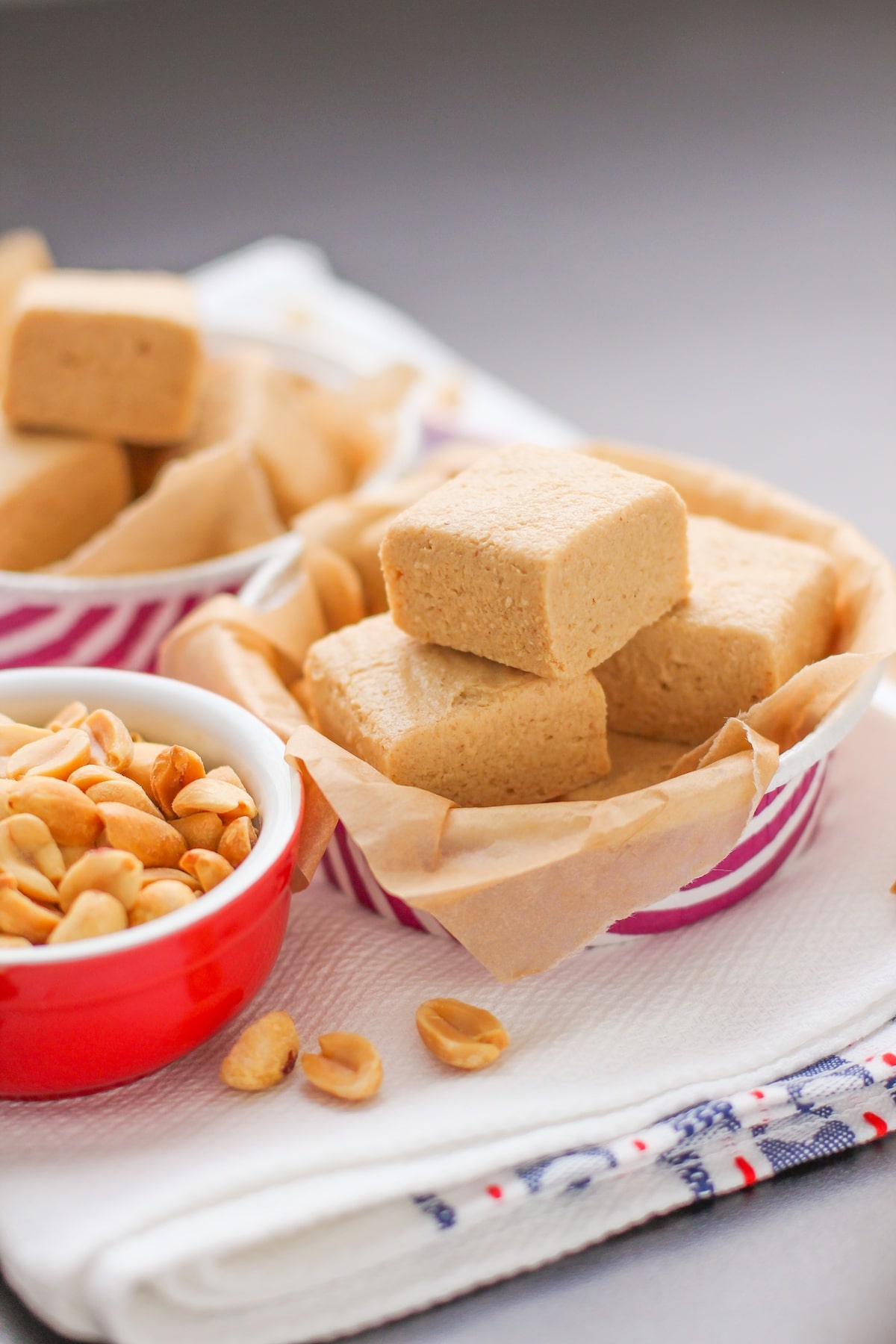 This Healthy Peanut Butter Fudge is dense, thick, and packed with that cuddly cozy peanut butter richness.  Each piece of fudge is just as comforting as a spoonful of peanut butter right out of the jar.  We've alllll been there.  You know what I'm talking about  😉
Another good thing about this fudge is that it doesn't have that annoying stick-to-the-roof-of-your-mouth kind of texture.  Some people like that but I hate it.  Oh goodness, this fudge is heaven.  BIG taste, mini package.  But it's not as sinful as it looks and tastes.  Not to mention, it's SO. DARN. EASY.  All thanks to the KitchenAid® Pro Line® Cordless Hand Blender.
I've had a hand blender on my wishlist for forever now and I'm so glad I finally got one.  Compared to my food processor, KitchenAid's Cordless Hand Blender is faster, easier and far more efficient.  In a way, it's kind of like a food processor but it blends your batter where YOU decide where to blend it.  Let's say you're pureeing strawberries in a food processor but a chunk gets stuck to the wall of the bowl (this happens to me ALL. THE. TIME.) and you have to stop blending and mush it down manually.  With the hand blender, you just swoop 'n swirl and BAM…  it's all smooth and even.
One BIG shocker here is that I was actually perfectly satisfied with just a few pieces of fudge.
*jaw hits the floor*
I didn't feel like eating the entire pan, despite how freaking delicious this is.
Healthy Peanut Butter Fudge
Prep Time: 30 minutes
Cook Time: 0 minutes
Total Time: 30 minutes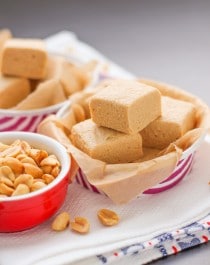 Fat per serving: 2.5
Calories per serving: 80
Ingredients:
Low Fat Cottage Cheese
Vanilla Extract
Directions:
Notes:
I originally wasn't going to share the recipe here because I worked so incredibly hard on publishing Naughty or Nice.  But, I understand not having a recipe here can be frustrating.  So, I'll meet you halfway…  how does that sound?  I'll show you all the ingredients I use in the recipe.  That way, you can determine on your own whether or not the cookbook is for you!
All images and text ©
.
.
Here is the recipe's nutrition label:
CHOMP!
Am I in heaven?  Sure feels like I'm in heaven.  Join me, will ya?  And make this recipe ASAP.  You'll soon witness these little cubes of fudge disappear just as fast as you made them  😉
.
With love and good eats,
.
– Jess
.