Healthy Peanut Butter Fudge (+ Video!)
This Healthy Peanut Butter Fudge is just like regular fudge — super rich, uber decadent and tooth-achingly sweet — but it's secretly healthy and guilt-free!  Yup, that means no three sticks of butter, no four cups of sugar and no heavy splashes of corn syrup or heavy cream…  just pure, fudgy peanut buttery goodness.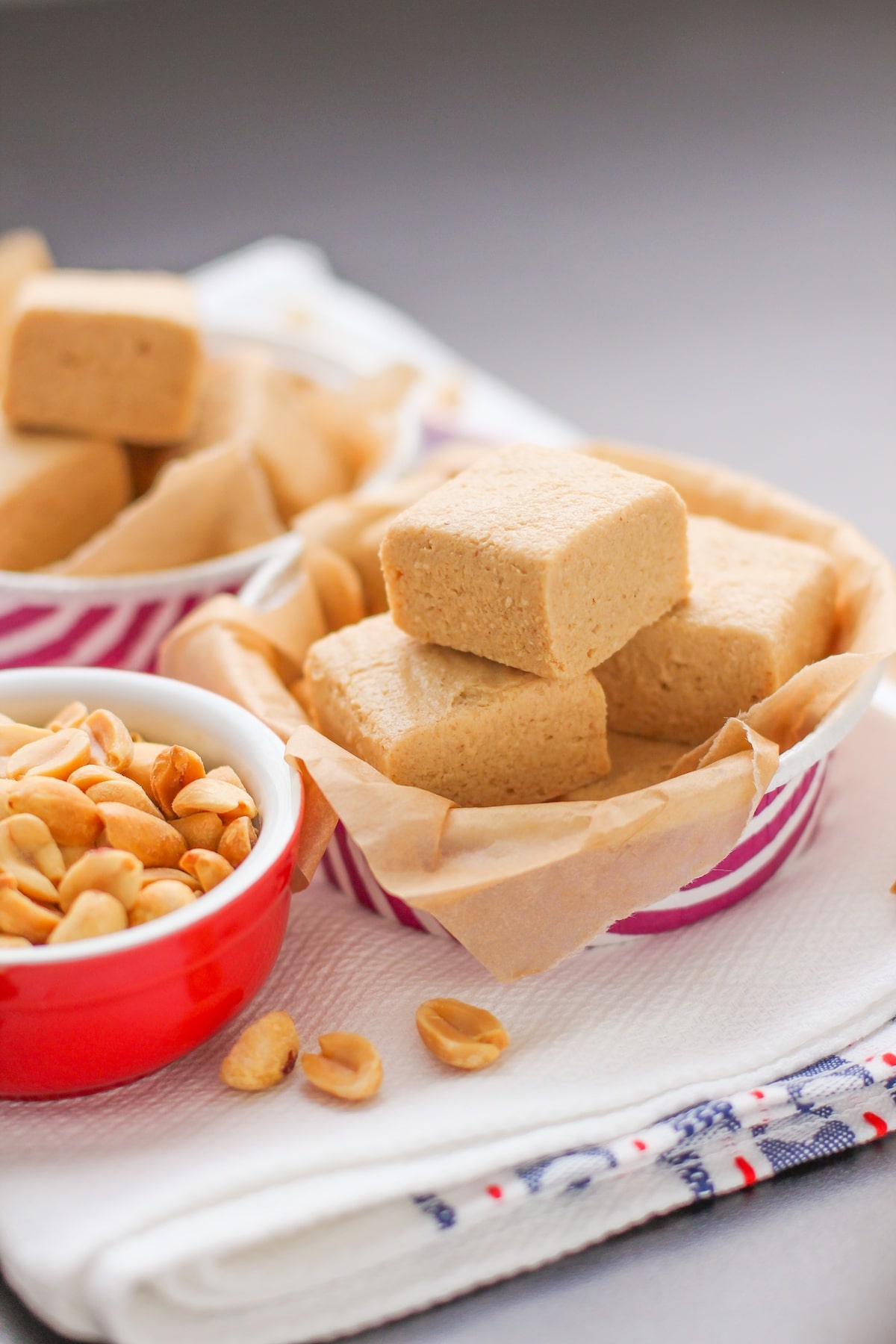 This Healthy Peanut Butter Fudge is dense, thick, and packed with that cuddly cozy peanut butter richness.  Each piece of fudge is just as comforting as a spoonful of peanut butter right out of the jar.  We've alllll been there.  You know what I'm talking about  😉
Another good thing about this fudge is that it doesn't have that annoying stick-to-the-roof-of-your-mouth kind of texture.  Some people like that but I hate it.  Oh goodness, this fudge is heaven.  BIG taste, mini package.  But it's not as sinful as it looks and tastes.  Not to mention, it's SO. DARN. EASY.
It's made entirely in a food processor, which is fast, easy, and super convenient.  Just dump all the ingredients inside, blend, and BAM…  it's all smooth and even.
One BIG shocker here is that I was actually perfectly satisfied with just a few pieces of fudge…  I didn't feel totally out of control and like I wanted to plow through the entire pan.  That's probably because it's full of filling protein and fiber, and doesn't have any addictive sugar.  Despite how freaking delicious it is, I was perfectly happy with just a few pieces at a time.
*jaw hits the floor*
😉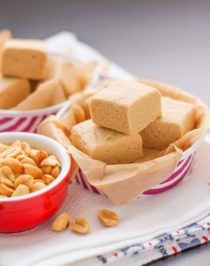 Print Recipe
Pin Recipe
Healthy Peanut Butter Fudge
This Healthy Peanut Butter Fudge is just like regular fudge — rich, decadent, and sweet — but it's secretly healthy with only 35 calories a piece and 1g of fat, plus 4.5g of protein! No need for the butter, sugar, or corn syrup!
Instructions
Line an 8×8" brownie pan with parchment paper both ways.

In a food processor, add all of the ingredients. Blend until smooth. Scrape down the sides of the bowl if necessary. Scoop the mixture into the prepared pan and spread it out.

Cover the pan with plastic wrap and refrigerate overnight. The next day, slice the fudge into 36 cubes. Serve immediately, or store in a tightly sealed container in the fridge for up to 5 days.
Recipe Notes
I originally wasn't going to share the recipe here because I worked so incredibly hard on publishing Naughty or Nice.  But I wanted to provide it here because that way, you can determine whether or not the cookbook is for you!
Nutrition Facts
Healthy Peanut Butter Fudge
Amount Per Serving (2 pieces)
Calories 70
Calories from Fat 18
% Daily Value*
Fat 2g3%
Cholesterol 4mg1%
Sodium 120mg5%
Carbohydrates 4g1%
Protein 9.5g19%
Calcium 40mg4%
Iron 0.4mg2%
* Percent Daily Values are based on a 2000 calorie diet.
Recipe republished with permission from the Naughty or Nice Cookbook!
.
Watch how to make this Peanut Butter Fudge!
.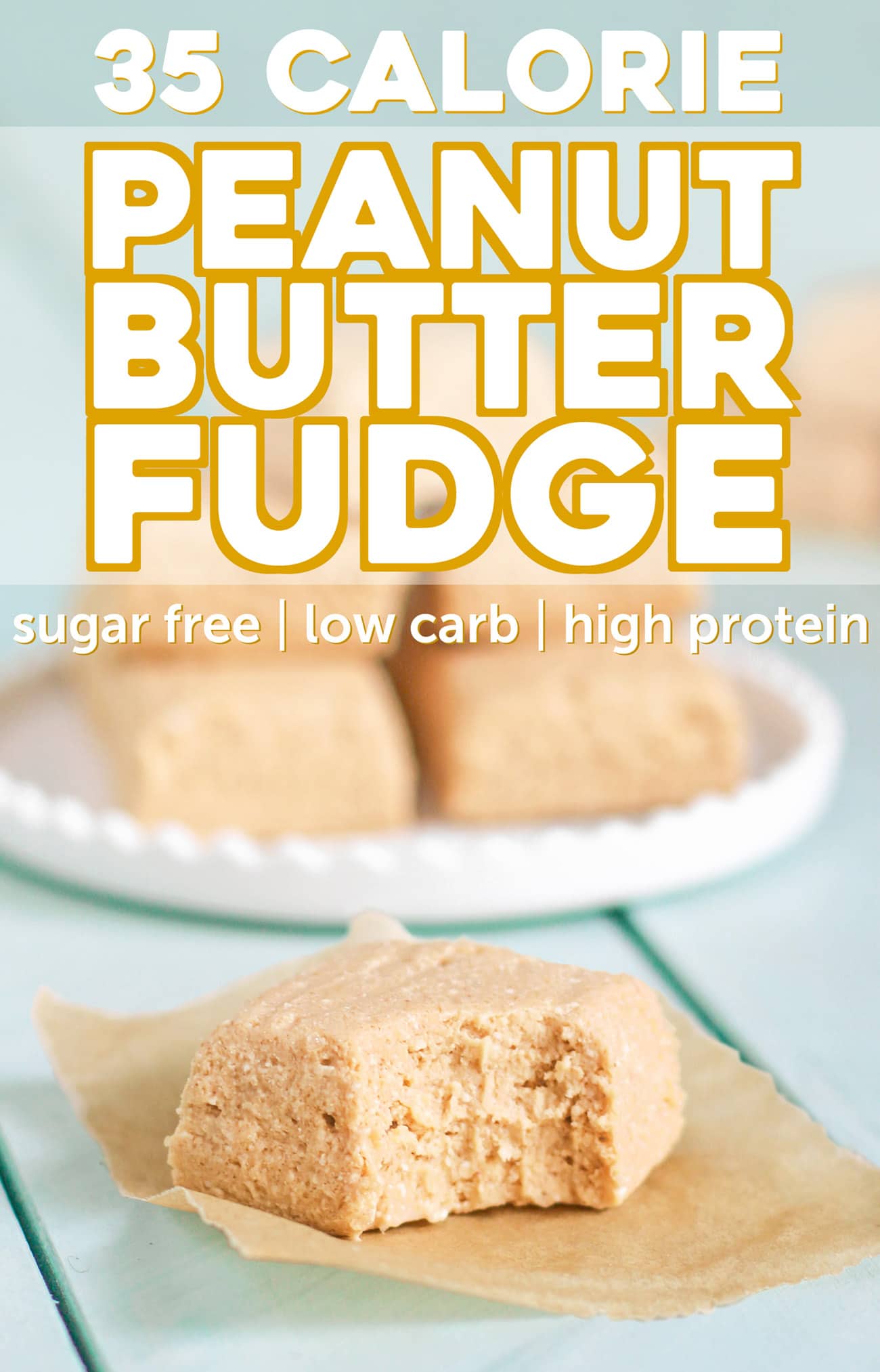 CHOMP!
Am I in heaven?  Sure feels like I'm in heaven.  Join me, will ya?  And make this recipe ASAP  😉
.
With love and good eats,
.
– Jess
.