Healthy Chocolate Peanut Butter Fudge
Healthy Chocolate Peanut Butter Fudge!  These sweet, chocolatey, peanut buttery squares are super dense, smooth and creamy with a perfect amount of crunch from the peanut coating…  it's just like regular fudge, except it's sugar free, high protein, high fiber, gluten free and vegan.
Mmmmmmm  *drools all over self*
(I'm sorry if you just pictured me drooling all over myself.  I'm embarrassed now…)
Thanks to Immortalife for sponsoring this post, and thank YOU for supporting the brands that keep Desserts With Benefits going!  All opinions are mine and mine alone.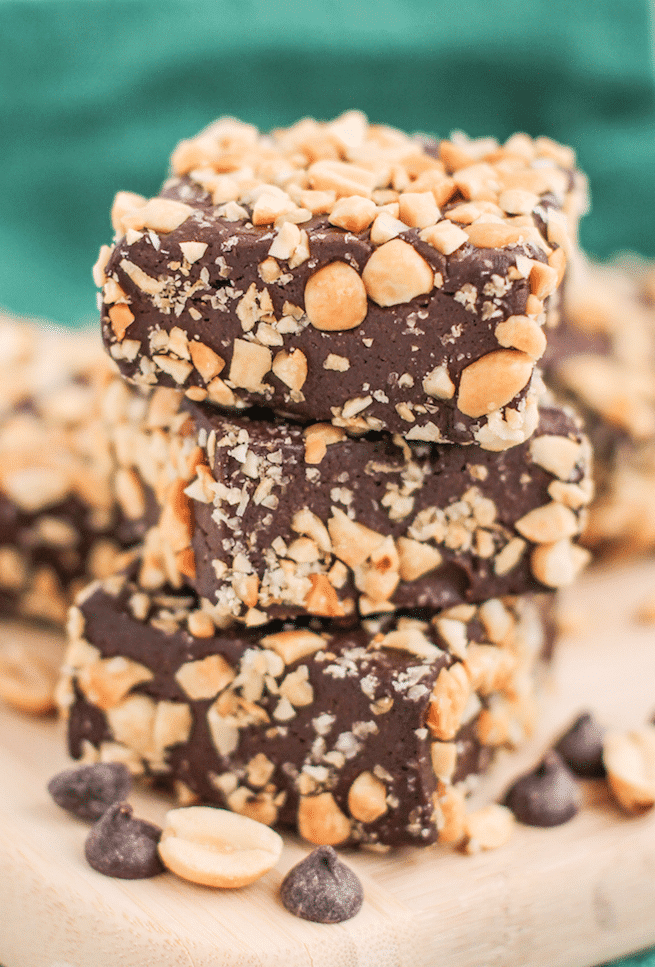 When in doubt, make fudge.
That's my motto.
Seriously, whenever I'm in a baking slump (aka, whenever all my cakes suck and never turn out the way I want them to), I turn to fudge.  It's like a no fail dessert for me (fudge never fails us, people!).  I've made Peanut Butter Fudge, Coconut Fudge, Matcha Fudge, Nutella Fudge, a plethora of Protein Bars…
Oh my gosh.  I think I have an addiction…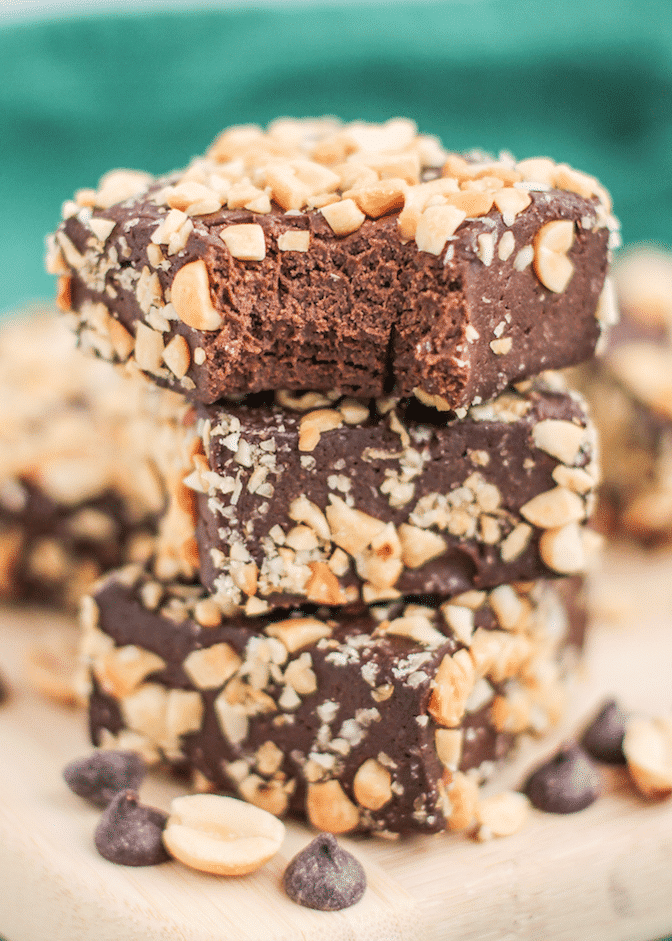 But it's a healthy addiction, so I'm okay with that.
I received a bottle of BioNourish, a whole foods powder made by Immortalife.  Nourish is made with nutrient- and antioxidant-rich ingredients, including raw organic cacao, maca, hemp and reishi mushrooms (don't worry, it doesn't taste like mushrooms).  Plus, it's got organic spirulina, beets, bananas, strawberries, raspberries and camu camu (fruit).  It's also non-GMO, vegan, dairy free, and gluten-free.  BioNourish is just what it sounds like — it's nourishment in a bottle!  But in this case, it's nourishment in fudge.
Chocolate. Peanut Butter. Fudge.
And it's the freakin' bomb.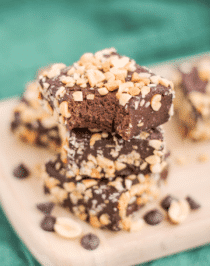 Print Recipe
Pin Recipe
Healthy Chocolate Peanut Butter Fudge
This Healthy Chocolate Peanut Butter Fudge is super dense, smooth, and creamy with a crunchy peanut outside!
Instructions
Line an 8x8" brownie pan with parchment paper.

In a stand mixer bowl with beater attachment, add the Nourish. Mix on low speed while you pour in the almond milk. When that is all mixed, add the peanut butter.

In a small microwave-safe bowl, add the chocolate chips. Microwave at 20-seconds intervals, stirring between each one, until melted. While mixing, add the melted chocolate.

Slowly add about half of the peanut flour to the stand mixer, one spoonful at a time.

Add the salt and stevia extract, then add the rest of the peanut flour. The mixture should get thick, like cookie dough (see picture below). Scrape down the sides of the bowl, then mix one last time.

Scoop the mixture into the prepared pan and flatten it out. Cover with plastic wrap and refrigerate overnight.

The next day, slice into 16 squares (or desired size) and place on a tray.

Pour the peanuts onto a dish. Press the fudge into the peanuts to coat, then place back on the tray. Serve immediately or store in a tightly sealed container in the fridge.
Recipe Notes
This fudge is best served the day and/or the day after it's made. After that, the peanuts don't retain their crunch!
Nutrition Facts
Healthy Chocolate Peanut Butter Fudge
Amount Per Serving (1 square)
Calories 200
Calories from Fat 108
% Daily Value*
Fat 12g18%
Sodium 70mg3%
Carbohydrates 13g4%
Protein 12g24%
Vitamin A 400IU8%
Vitamin C 3.3mg4%
Calcium 80mg8%
Iron 2.7mg15%
* Percent Daily Values are based on a 2000 calorie diet.
Healthy Chocolate Peanut Butter Fudge.  BOOM.  It's so good it hurts  😉
Enjoy!
.
– Jess
.