Healthy Matcha Green Tea Coconut Fudge
If you're a tea-drinker and if you're a dessert lover (and oh gosh, please say yes, because I really hope you are), then this Healthy Matcha Green Tea Coconut Fudge is for you!  It's super soft and fluffy and flavorful and sweet, but without the granulated sugar, corn syrup, heavy cream and butter.
I was really surprised at how many people loved that Peanut Butter Fudge and that Coconut Fudge from a few months ago.
 …
Actually, no, I take that back.  I wasn't really surprised at all.  I would be shocked if fudge in general didn't gain any sort of traction.  Especially when it's healthy  

Since those recipes were so popular, I tried making a few variations — vanilla bean fudge, chocolate fudge, strawberry milkshake fudge — but none of them worked.  The base recipe is pretty finicky with only a few ingredients, so it's hard to swap any of them out.
I finally thought about making a matcha tea-flavored fudge, because that way I could use my Coconut Fudge as a base.  I used Stevia in the Raw as the fudge's sweetener, added vanilla bean paste for flavor and those pretty mini black vanilla bean specks, and added organic matcha powder for both flavor and color.
Oh yeah, and the antioxidants!
(Just kidding, I used matcha because I bought some last week)  😉
Healthy Matcha Green Tea Coconut Fudge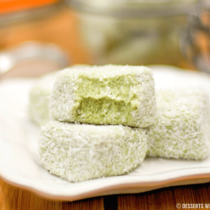 Ingredients:
Directions:
Line an 8" brownie pan with parchment paper both ways.
In a powerful blender or food processor, add the cottage cheese, vanilla paste, Stevia in the Raw and matcha powder. Puree until completely smooth.
While blending, pour in the melted coconut butter.
While blending, sprinkle in the homemade metamucil. Scoop the mixture into the prepared brownie pan and spread out the surface to flatten. Place the pan in the freezer for 2 hours.
Place the shredded coconut in a large bowl.
Slice the fudge into 36 pieces (it will be a tad sticky, but that's normal... once it's coated in the coconut it won't be!). Coat the fudge squares with the shredded coconut, then place on a large serving plate.
Once all the fudge is coated with the coconut, refrigerate uncovered overnight and serve the next day (You can serve them immediately if you want to, but they'll be really soft at this point... everyone liked these best the next day).
Notes:
Typical fudge recipes are made with cups and cups of sugar, calorie-laden sweetened condensed milk and super sugary marshmallows…  but not this one.  Instead of those ingredients I used Stevia in the Raw, but you could also use Monk Fruit in the Raw.  It's these super quick and easy swaps that make your favorite desserts (aka, FUDGE) better for you!
I say this makes for a guilt-free treat, am I right?
Yes, I'm right.  Don't argue with me.
In The Raw® has a long line of healthy sweeteners, including natural sugar alternatives and their new product that I'm super excited about:  Sugar In The Raw Organic White®.  If you're used to baking with granulated sugar, then you're going to love this.  While it is sugar, it isn't bleached like typical white sugar, it's Eco-Social certified, USDA Organic and non-GMO.  That's like a win-win-win-win!  😀
Check out the 8 Best Dessert Do-Overs with In The Raw® on Kitchen Daily.  Trust me.
Here's the nutrition label for this Healthy Matcha Green Tea Coconut Fudge:
WOW.  Only 150 calories for three pieces of fudge?!  Plus, 4g of filling fiber and 11g of complete protein?  Yes, please.  Because what's better than a piece of fudge?  Three pieces of fudge!
*chomp chomp chomp*
Mmmm…  these are so fudgy and delicious you'll forget they're healthy in an instant.
WARNING:  May be habit-forming.
You might wanna make an extra batch…
.
.
This post was sponsored by In The Raw® via AOL Media.  All opinions are my own and are not indicative of the opinions or positions of In The Raw® or AOL.