Healthy Single-Serving Red Velvet Microwave Cake
Healthy Single-Serving Red Velvet Microwave Cake…  with a secret ingredient, shhhh!!  And did I mention it's totally healthy enough for breakfast?  Oh, and how could I forget?!  IT LITERALLY TAKES 5 MINUTES TO MAKE.
Haaaaaallelujah!

This is how I satisfy my Red Velvet Cake cravings without having to bake an entire cake.
This Healthy Single-Serving Red Velvet Microwave Cake is soft and fluffy and moist and sweet, with the perfect hint of cocoa and vanilla.
Top it with cream cheese frosting and chocolate shavings and you've got yourself a real winner.  You don't have to choose between healthy or happy…  you can have BOTH!
Healthy Single-Serving Red Velvet Microwave Cake
Prep Time: 8 minutes
Cook Time: 2 minutes
Total Time: 10 minutes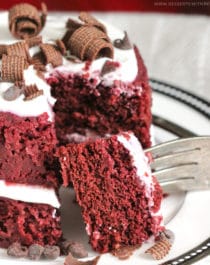 Fat per serving: 4g
Calories per serving: 190
Ingredients:
61g (¼ cup) Roasted Beet Puree (see Directions)
3 tbs Unsweetened Vanilla Almond Milk
8g (1 tbs) Ground Flaxseed
1 tsp Vanilla Extract
1 tsp Natural Butter Flavor
51g (3 tbs) Sweet White Sorghum Flour
1 tbs Unsweetened Regular Cocoa Powder
1 tsp Double-Acting Baking Powder
tiny pinch of Salt
Directions:
For the Roasted Beet Puree:
Preheat the oven to 400 degrees Fahrenheit.
Rinse and gently scrub 1 medium beet, then wrap it in foil.
Place the beet on a pan and bake for 1 hour, or until a fork pierces through the center with ease. Carefully unwrap the beet and let cool for 30 minutes.
Scrape off the beet skin (they should peel off easily) and chop into chunks. Add the beet chunks to a food processor and purée until completely smooth.
For the Cake:
Spray 2 standard ramekins with cooking spray.
In a medium-sized bowl, whisk together the almond milk, beet puree, ground flaxseed, vanilla extract, and butter flavor.
Add in the sorghum flour, cocoa powder, baking powder, sweetener, and salt.  Whisk until completely combined.
Scoop the batter into the prepared ramekins and microwave them both for ~90 seconds, or until the surfaces spring back when tapped.  Let cool.  Serve with cream cheese frosting and shaved chocolate.  Enjoy!
All images and text ©
.
.
Here is the recipe's nutrition label:
YES.  Only 190 calories and 4g of fat, plus 8g of filling fiber and 6g of protein.  BOOM.
I thought I would compare my cake's nutrition label to the nutrition label of a typical Single-Serving Red Velvet Microwave Cake made with refined flour, white sugar, and lots of oil.  And guys…  it's terrible.  Click here to see the unhealthy version's nutrition facts…………………  MIND. BLOWN.  Like, literally, my mind is blown to bits.  I didn't know it was even possible to fit 800 calories in such an eeny teeny cake!  Well, apparently it is.  I would much rather choose a cake with 190 natural calories over a cake with 800 artificial calories.  Aaaand I'd also like to avoid the 57g of sugar (thats nearly 5 tablespoons!) in a single sitting.  That amount of sugar is kind of scary.
THANKFULLY, there's a better option now with this Healthy Single-Serving Red Velvet Microwave Cake.
How good does this bite of cake look???  Lemme just tell ya right now.  It was damn delicious.
.
-Jess
.
PS:  If you want a full-size Red Velvet Cake recipe, try this Healthy Red Velvet Cake or this Vegan Red Velvet Cake!