Dairy Free S'mores Brownies
Craving S'mores?  Yes?  Don't worry, we're in this together.  If you're in the mood for S'mores but don't have a campfire to roast mallows on (or if you're challenged like me and your mallow always ends up engulfed in flames, melting in every possible way), then satisfy your cravings with these S'mores Brownies!  Best of all, they're made with only 6 ingredients!
Thanks to Immaculate Baking Co. for sponsoring this post, and thank YOU for supporting the brands that keep Desserts With Benefits going!  All opinions are mine and mine alone.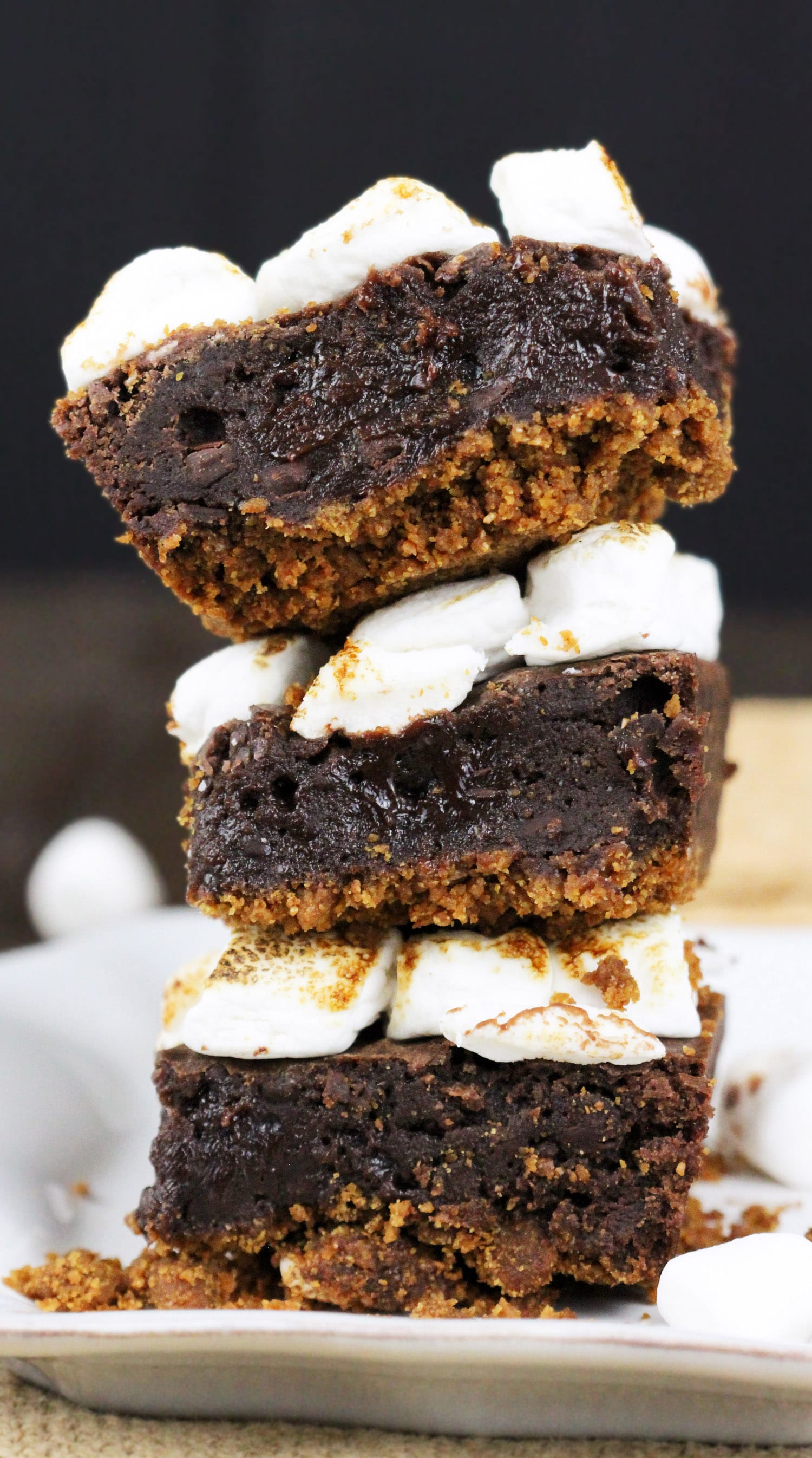 Please don't hate me (or virtually punch me), but I have never been a fan of s'mores…  but let me explain!
I love the flavor of s'mores, but the graham crackers are just too big and crunchy that they fall apart when you take a bite.  The roasted marshmallows ooze out of the "sandwich" and plop all over the ground (or if you're unlucky like me, it'll all end up on your nice white pants  -_-).  And on top of that, the chocolate melts all over your fingers, which is a total waste, because melted chocolate belongs in your mouth.
So if you're messy like me, or if you just have a S'mores craving (hi, um, I think we all do?), then you gotta make these S'mores Brownies.  Made with an actual graham cracker crust, a fudge brownie filling, and a sweet marshmallow studded topping.  Every bite is full of that salty-sweet graham cracker flavor, fudgy brownie texture, and chewy marshmallowy topping.
If you're feeling a little extra, bring out the blowtorch and toast those mallows!
I used my torch to toast the mallows inside.  And as you can probably assume, there was a SLIGHT, slight fire.  But I caught it quickly.  I have ninja-like reflexes when it comes to saving a dessert's life.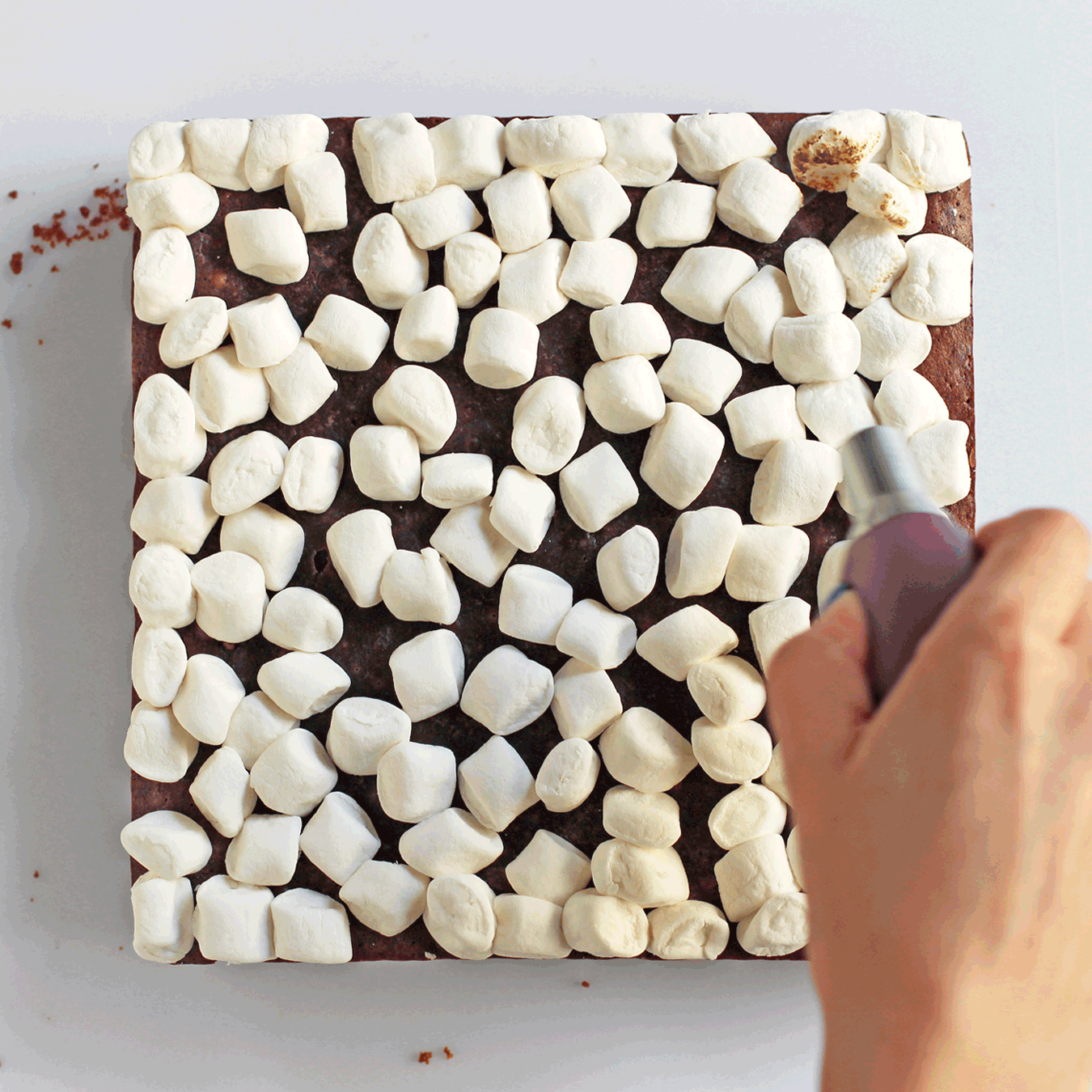 Everyone absolutely LOVED these S'mores Brownies.  We all appreciated the fact that we could enjoy the S'mores indoors, and we all liked how much better these are for you than the competition.
I used 100% Whole Wheat Graham Crackers and coconut oil in the crust, opposed to other storebought grahams made with bleached flour and artificial ingredients.
I used Immaculate Baking Co.'s Organic Fudge Brownie Mix, which is made with spectacular, wholesome ingredients.  This is honestly the only brownie mix I would ever consider using because it's made with organic cane sugar, organic wheat flour, and organic chocolate.  Other storebought mixes use bleached white sugar, bleached flour, high-fructose corn syrup, artificial flavors, and dangerous hydrogenated oils (trans fats).
I used vegan, all-natural marshmallows from Whole Foods for the topping.  Most mini marshmallows on the market are made with corn syrup, genetically modified starch, preservatives, and artificial food color.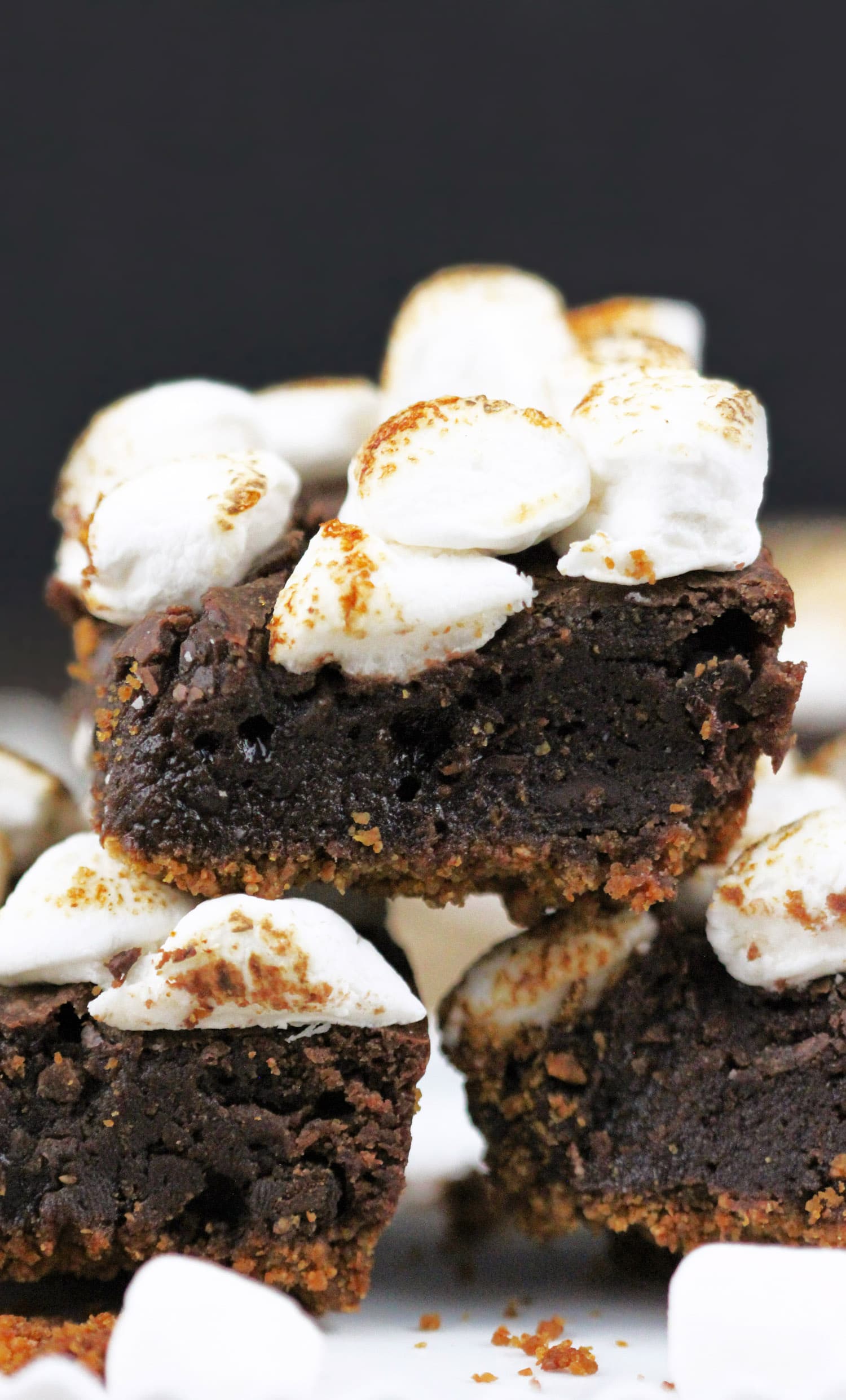 You can feel good about indulging in these S'mores Brownies!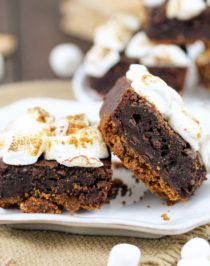 Print Recipe
Pin Recipe
Dairy Free S'mores Brownies
If you're in the mood for S'mores but don't have a campfire to roast mallows on, then satisfy your cravings with these 6-ingredient S'mores Brownies!
Ingredients
Brownies:
⅓

cup

Unsweetened Applesauce

¼

cup

Coconut Oil

(melted)

2

Large

Eggs

(room temperature)
Marshmallow Topping:
1½

cups

Natural Mini Marshmallows

(I used vegan mallows)
Instructions
Preheat your oven to 350 degrees Fahrenheit and line an 8x8" brownie pan with parchment paper both ways.

For the Graham Cracker Crust-  In a large bowl, add the graham cracker crumbs.  Pour in the melted coconut oil and stir together until completely mixed in.  Dump the mixture into the prepared pan and flatten it out.  Bake for 8-10 minutes.

For the Brownies-  In the same large bowl for the crust, add the applesauce, melted coconut oil, and eggs.  Whisk until completely smooth.  Add in the brownie mix and whisk together until the batter is even.  Scoop the batter over the graham cracker crust and bake for 32-35 minutes (32 minutes if you like super fudgy brownies, 35 minutes if you like more set brownies).

For the Marshmallow Topping

-  Immediately after pulling the brownies out of the oven, sprinkle the marshmallows on top of the brownies and place the pan back in the oven for 5 minutes.  Let cool completely, then slice and serve!  If you're feeling like a badass,

torch

those mallows!
One bite and you won't be able to resist another!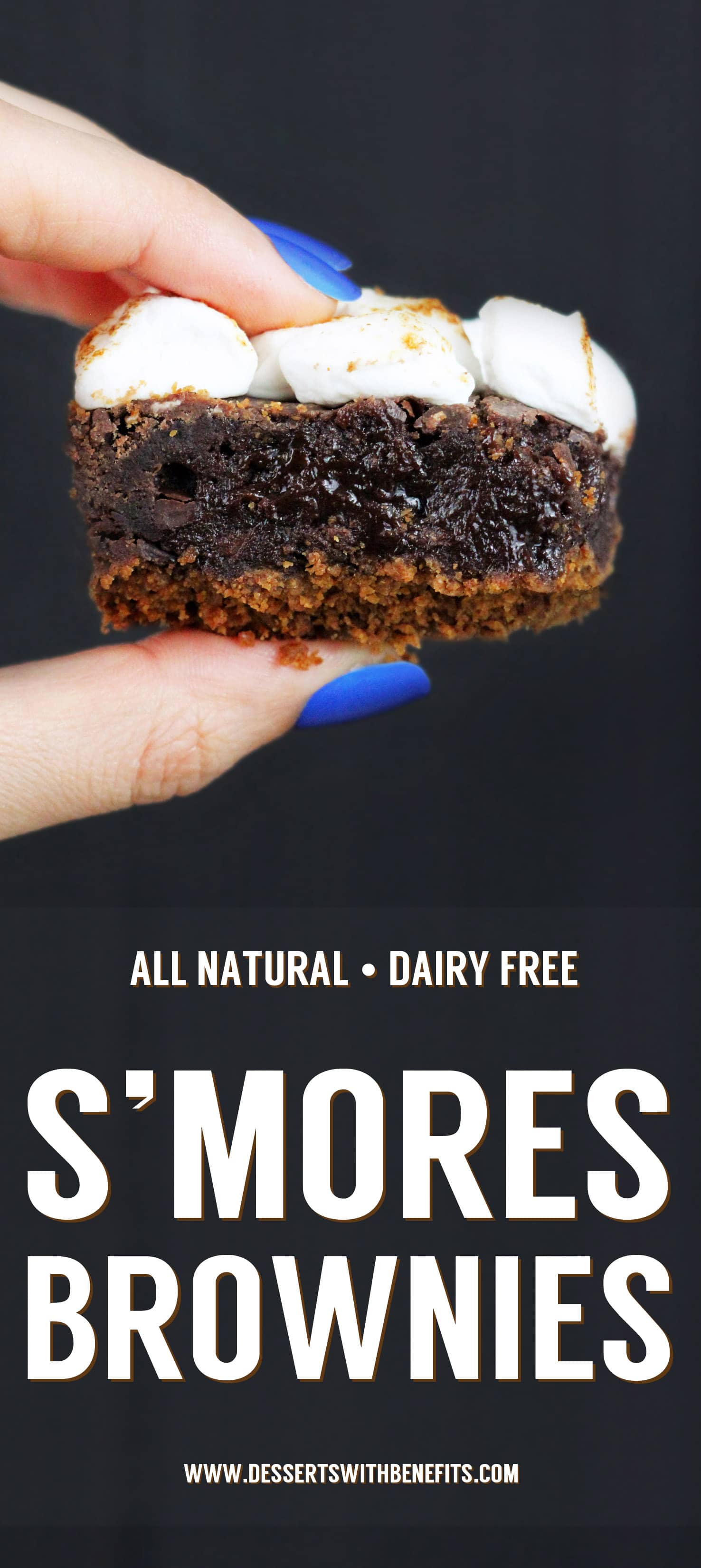 Enjoy!
.
With love and good eats,
.
– Jess
.