Healthy Strawberry Protein Fluff
If you're craving something sweet, filling, and delicious, you gotta make this 5-ingredient Strawberry Protein Fluff!  It's like ice cream and whipped cream combined, but totally guilt free coming in at just 65 calories per serving!
Oh, and it's sugar free, low fat, and high protein too.  One spoonful and you'd never believe it's actually good for you.  It's so creamy, light, and airy.  The strawberries add both sweetness and a bright flavor.  And paired with protein powder and vanilla stevia extract, it has a "strawberries 'n' cream" flavor.

There's nothin' much better than a huge, voluminous batch of this Strawberry Protein Fluff.
It's so fluffy and filling that it's impossible to eat the whole thing in one sitting (unlike a pint of ice cream).  But even if you refrigerate the leftovers for later, this will FOR SURE be gone by the end of the day.  I like making this around brunch hour and slowly eat it all day.  Because I'm the type of person who wanders to the fridge 17x an hour looking for snacks.  I live that graze life.

Can you see the fluffiness?  Your sweet tooth is really gonna enjoy this one  😉
Healthy Strawberry Protein Fluff
Prep Time: 15 minutes
Cook Time: 0 minutes
Total Time: 15 minutes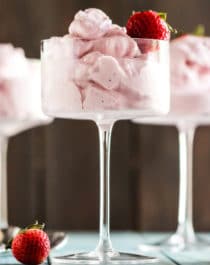 Fat per serving: .5
Calories per serving: 65
Ingredients:
Directions:
In a food processor, add the frozen strawberries, almond milk, and stevia extract.  Puree until almost completely smooth.
In a small bowl, whisk together the protein powder and xanthan gum.  Dump this into the processor and blend again.  After about 10 seconds, scrape down the sides of the processor to catch any powder that flung up, then blend again.
Blend for ~1 full minute, or until the mixture doubles in volume and turns a nice pink color.  Serve immediately.
All images and text ©
.
Recipe adapted from this Blueberry Protein Fluff.
.
Here is the recipe's nutrition label:
LOOK AT THAT NUTRITION LABEL!  Only 65 calories, .5g of fat, and 5g carbs, plus 9g of protein and 2g of fiber…  WINNING!

Enjoy!
.
With love and good eats,
.
– Jess
.