Healthy Strawberry Vanilla Chia Seed Pudding
I've teased you on Instagram LONG ENOUGH!  The time for me to share the beginnings of my chia seed pudding obsession has begun.  Let us commence with this Healthy Strawberry Vanilla Chia Seed Pudding 🍓 — with generous layers of vibrant and sweet strawberry puree and warming vanilla-infused chia seed pudding, we've got a really tasty treat on our hands! 🙌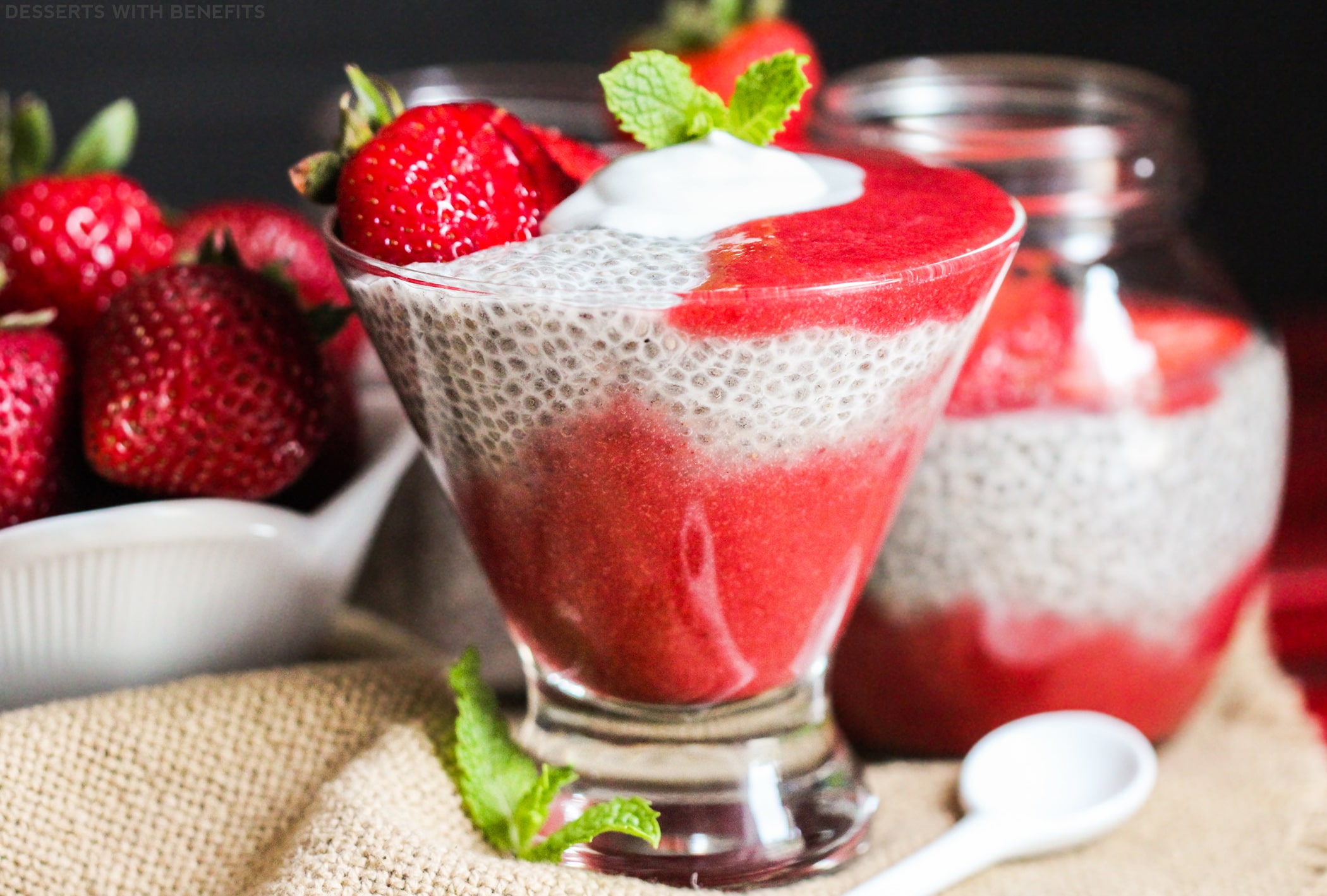 Prior to my first chia pudding ever, a Raspberry Blood Orange Chia Seed Pudding, I had a serious aversion to chia seeds.  They smelled weird to me, they reminded me of little bugs, and I absolutely hated their crunch whenever I tried them in a smoothie.  Oh, and they got stuck in my teeth all. the. time. 😑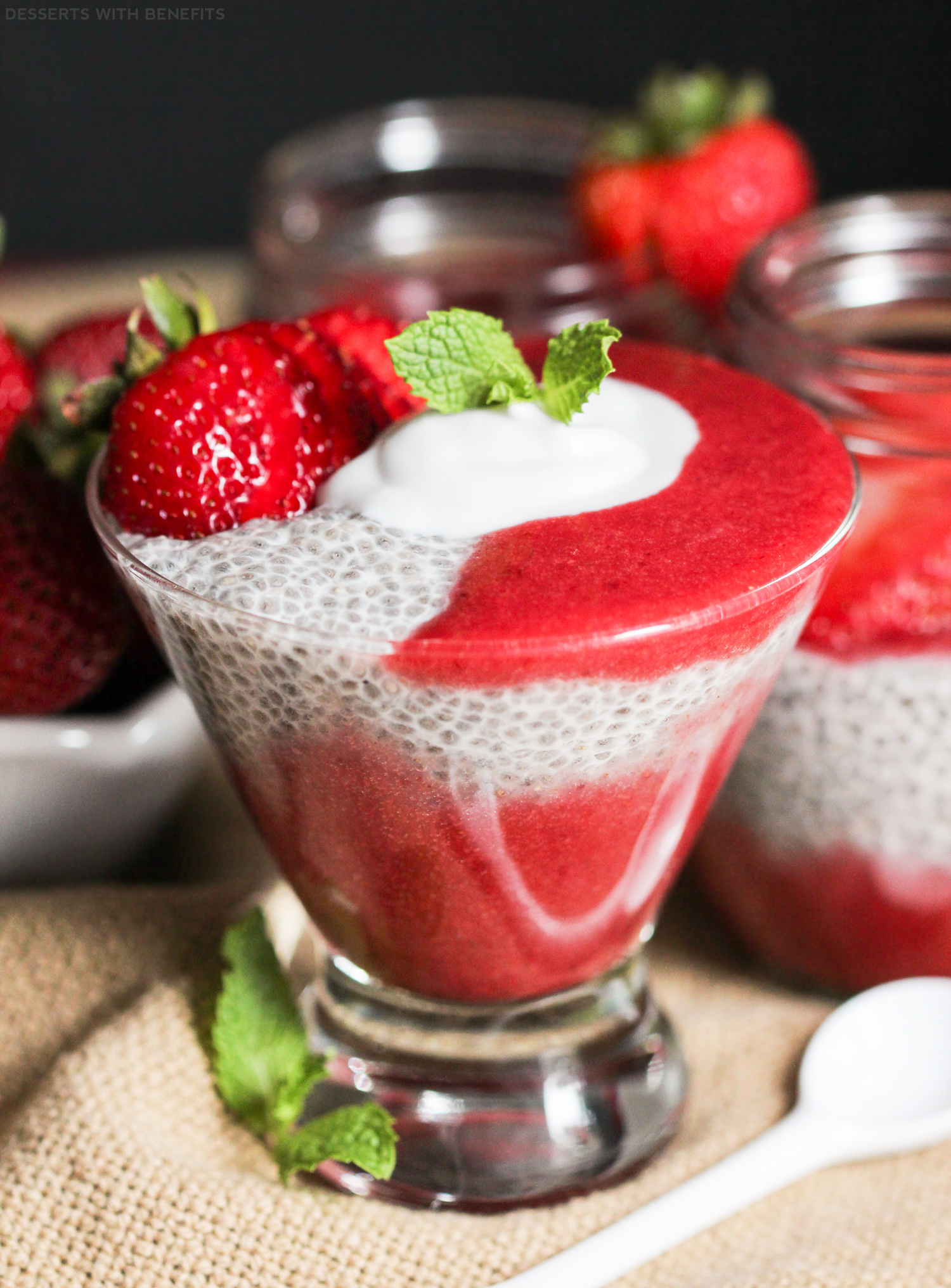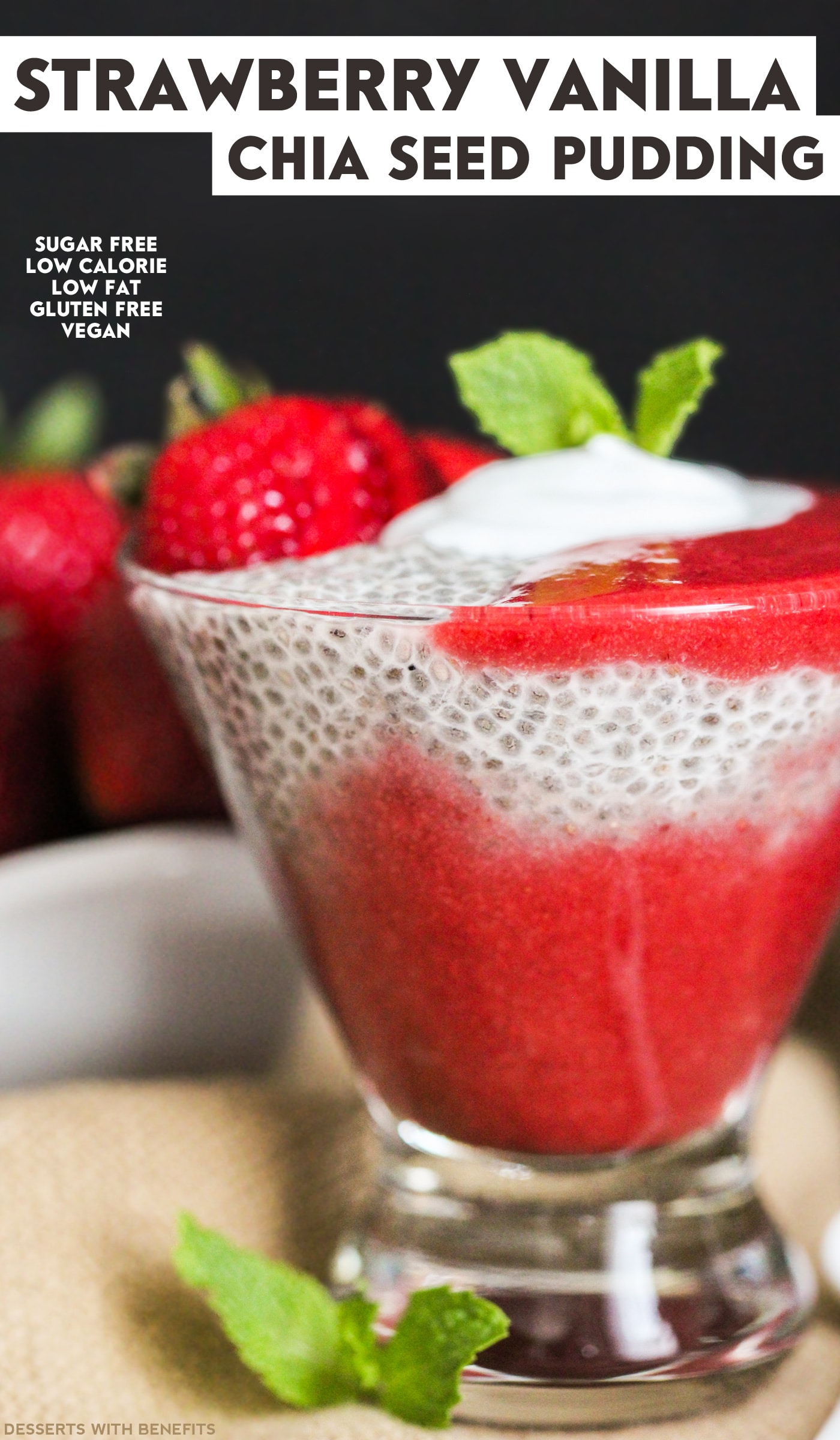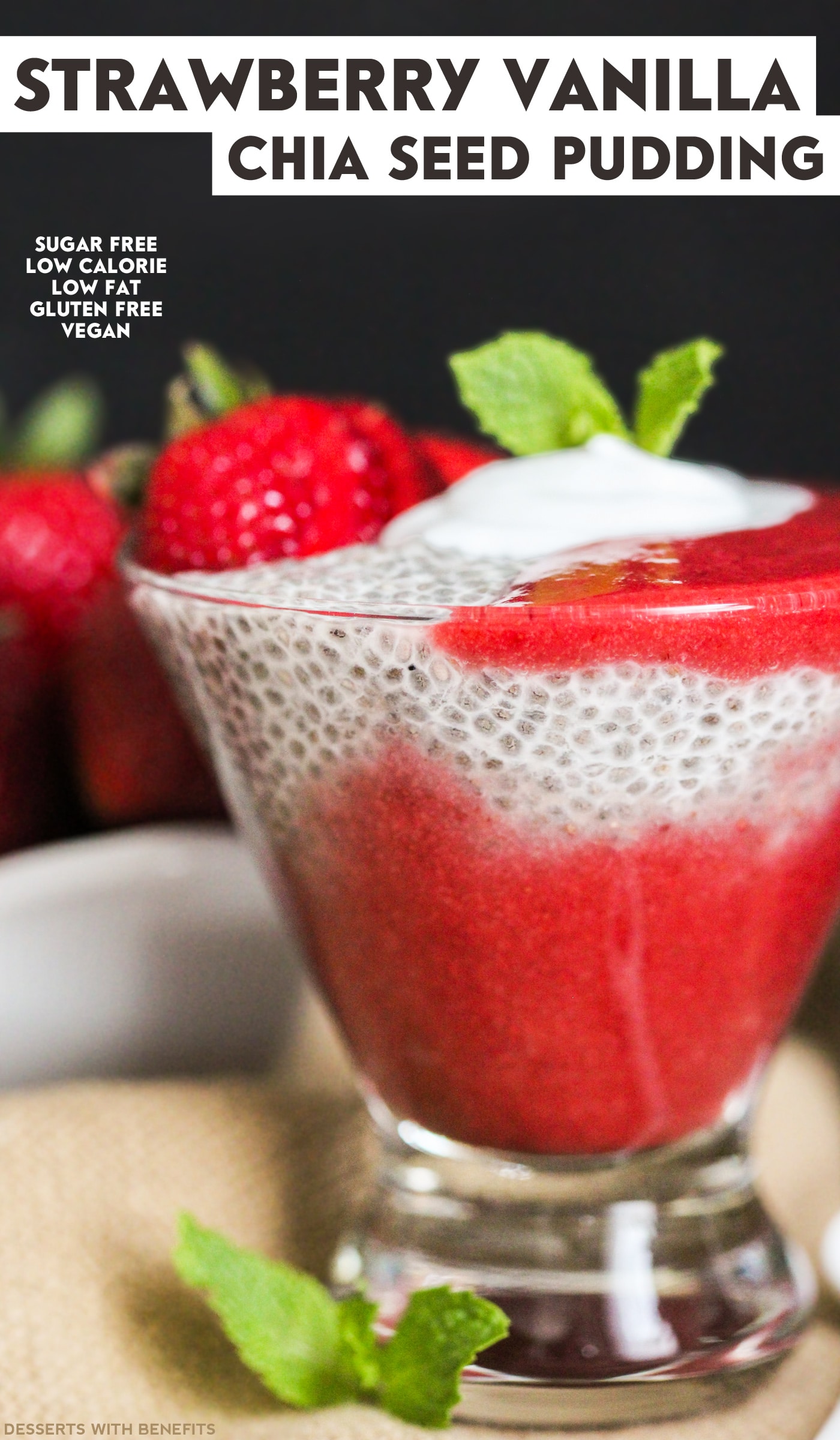 BUT, there's some sort of magic that happens when you soak 'em overnight.  They gel up like cray cray and all of a sudden, with a few extra ingredients, they taste GOOD, they're no longer crunchy, and they're actually quite purdy to look at.
When I see a chia pudding, I no longer think about those widdle baby chia seeds as "bugs."  The texture isn't bad at all, in fact, I really like it.  It's in between a raspberry or blackberry smoothie and tapioca or rice pudding.
I lurv it.  I think you will too!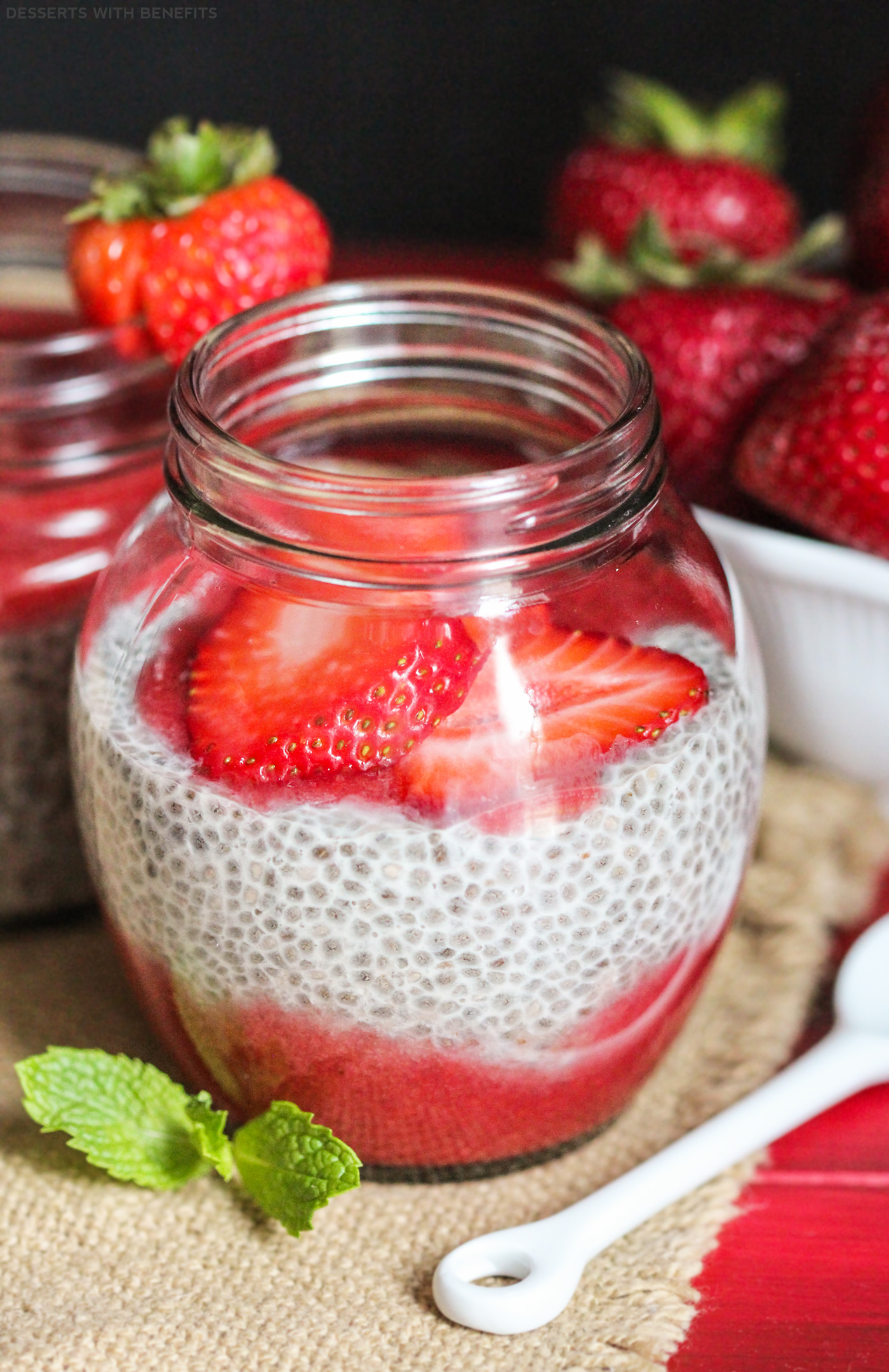 Healthy Strawberry Vanilla Chia Seed Pudding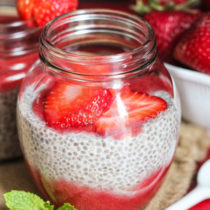 Ingredients:
1¾ cups Unsweetened Vanilla Almond Milk
2 tsp Vanilla Extract
60g (5 tbs) Chia Seeds
8oz Frozen Unsweetened Strawberries, thawed completely (you can prob use fresh too)
Directions:
In a shaker cup, add the almond milk, vanilla extract, chia seeds and sweetener.  Cover with the cap and shake.  Pour into jars, seal tightly, and refrigerate overnight.
In a small blender (I used my NutriBullet), puree the strawberries.  Pour the puree evenly into the jars.  Serve and enjoy!
Be sure to follow @DessertsWithBenefits on Instagram!  If you try this recipe, make sure to snap a picture of it, tag me @DessertsWithBenefits, and hashtag #DessertsWithBenefits.  I'd love to see it and feature you on #FanFaveFridays!
.
I topped some of my puddings with coconut cream and some with freshly sliced strawberries.  Both are deeeelicious 🙂
Here is the recipe's nutrition label: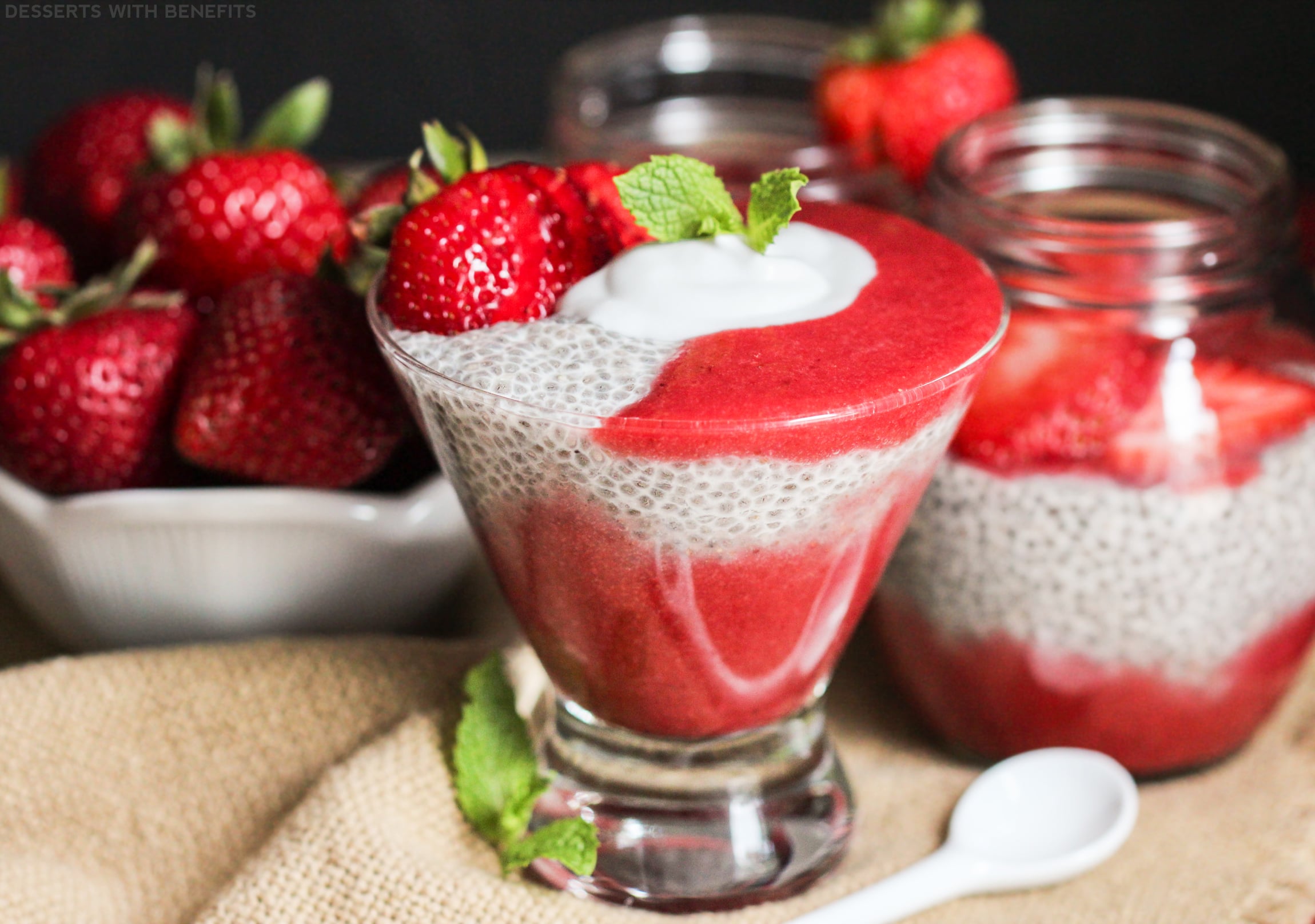 Can you believe this has got just 150 calories per serving?!  Plus, 10g of filling fiber and 6g of protein.
POWER TO YA 💪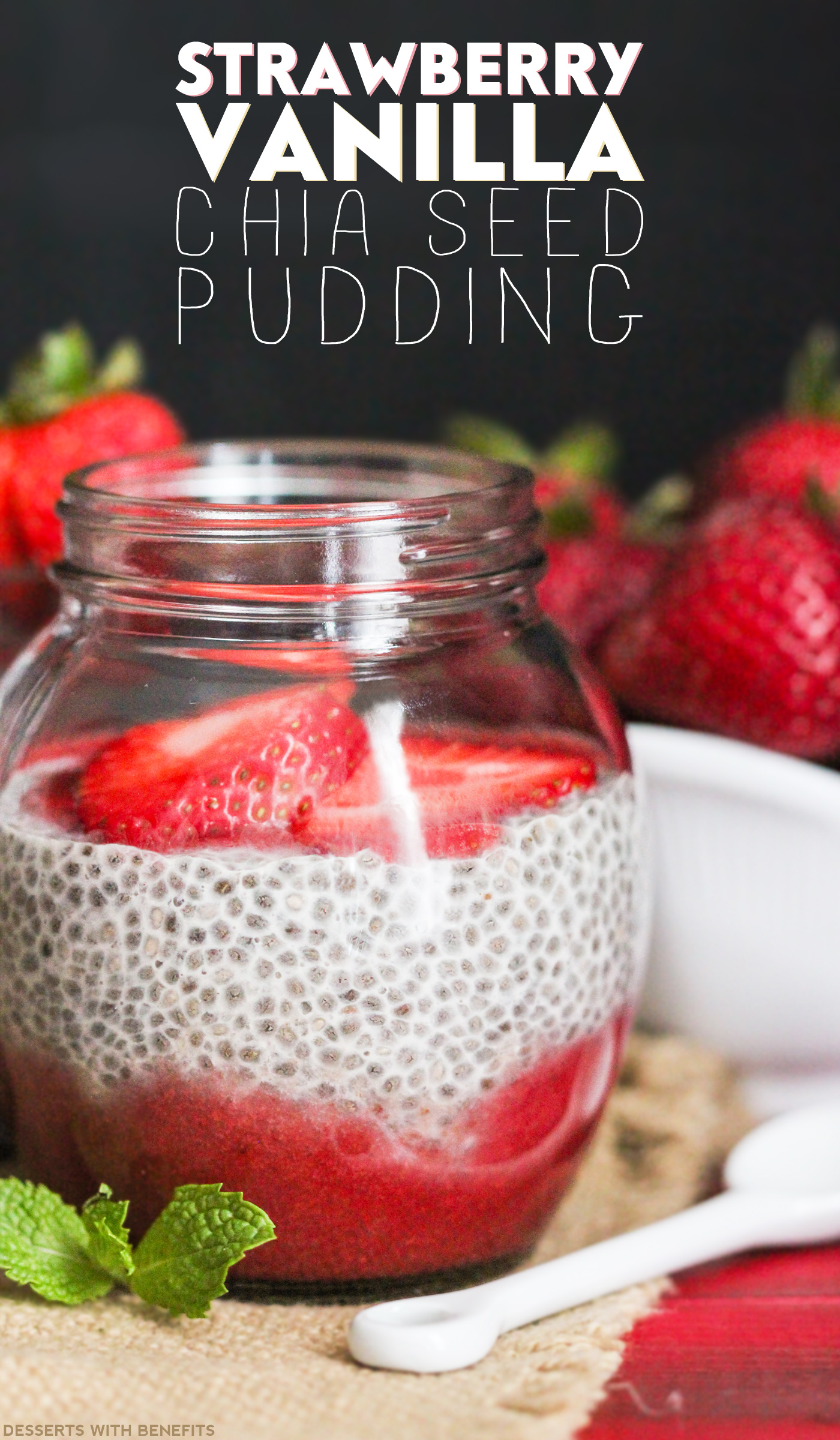 Well, that's all for today folks!  Hope you like/LOVE the recipe!  And make sure to stay tuned for the next bazillion Chia Seed Pudding recipes 😁😝
.
– Jess
🎂🍴💕
.