Healthy Vegan Lemon Curd
This Healthy Vegan Lemon Curd is creamy, sweet, tart, and delicious.  You'd never know it's sugar free, low carb, gluten free, and dairy free too!
Lemon Curd has been on my Recipe Wishlist for years now!  I don't know why it took me so long to make it…
Oh, wait, maybe it had something to do with all that butter, sugar, and egg yolks.  BUT I finally made a batch, and while I was at it, I made healthier.  I am SO glad I did!
My parents love lemon-flavored desserts so I knew they'd love this Lemon Curd.  Years and years ago, they were fast food-eaters, soda-drinkers, and "everything unhealthy consumers."  They've adopted a healthier lifestyle since then, but are still suffering some of the effects from their old bad habits.  They're trying their best to improve their cholesterol levels and LDL:HDL ratio, and they try to avoid excess added sugar as much as possible.  Of course, I didn't want to make them a typical lemon curd filled with 1 heaping cup of sugar, 8 egg yolks, and 1½ sticks of butter.  Um, no thank you.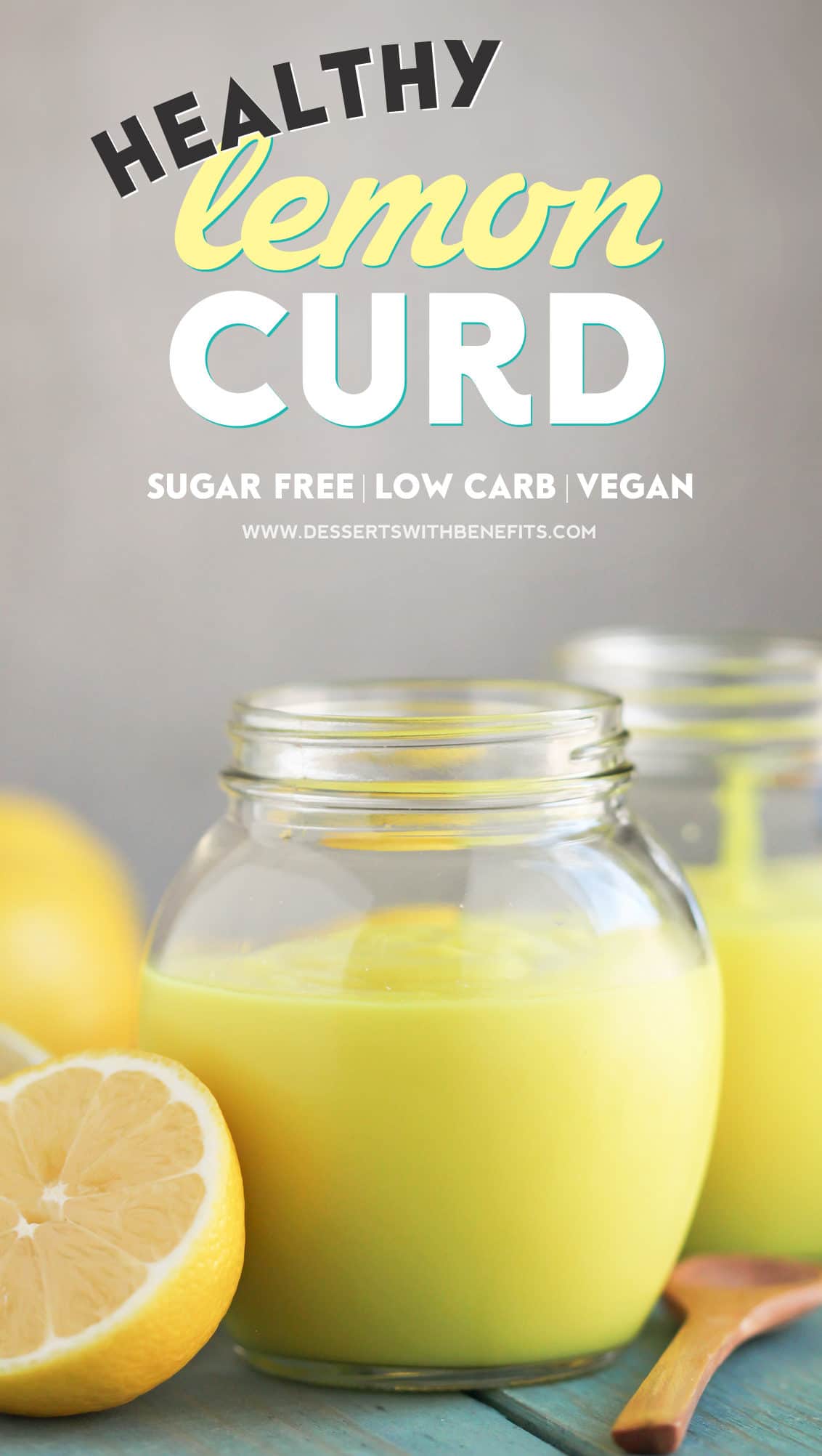 I am neutral to lemony desserts, it's not really my favorite thing in the world (that's what chocolate is for), but I'll definitely eat this Vegan Lemon Curd.  It's just too good to pass up!  After taste testing it along with some yogurt, I became a woman obsessed.  After my parents taste tested it, they became just as obsessed as I was.
Let's just say we finished the entire batch in a short two days.  I think I'll have to make a batch just for myself and not share.  Shhh.
Just look at the creaminess.  Make it for yourself and you'll be so glad you did.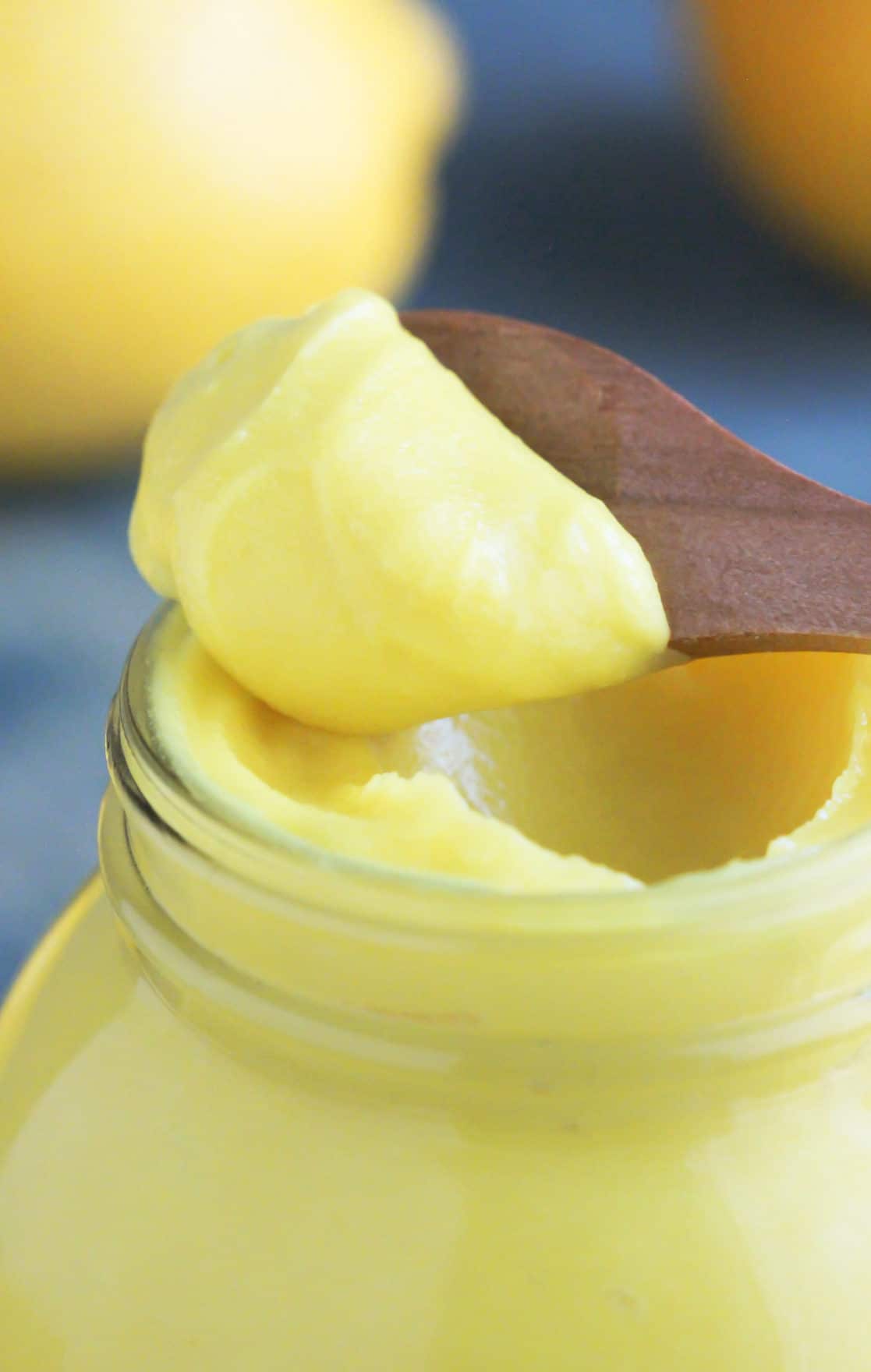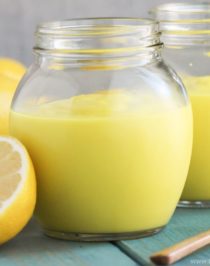 Print Recipe
Pin Recipe
Healthy Vegan Lemon Curd
This easy homemade Lemon Curd is UBER creamy, sweet, tart, and delicious. So delicious you'd never know it's sugar free, low carb, paleo, keto-friendly, gluten free, dairy free, AND vegan too!
Instructions
In a double boiler placed over medium heat, whisk together the coconut milk, lemon juice, and lemon zest.

In a small bowl, whisk together the erythritol, corn starch, turmeric, and salt.  Whisk the dry ingredients into the wet ingredients until completely smooth.  Whisk occasionally for ~5 minutes.  When the mixture begins to warm up, whisk a bit more often.  When you hear the water bubble in the bottom portion of the double boiler, whisk the mixture constantly until thickened.

Place a fine mesh sieve over a heat-proof bowl and strain the lemon curd.  Whisk in the butter flavor.  Let the curd cool on the counter for ~1 hour.  Cover and refrigerate overnight.

The next day, give the curd a whisk to make sure it's even, then spoon into serving jars.  Serve and enjoy!
Nutrition Facts
Healthy Vegan Lemon Curd
Amount Per Serving (2 tbs)
Calories 50
Calories from Fat 41
% Daily Value*
Fat 4.5g7%
Sodium 20mg1%
Carbohydrates 3g1%
Vitamin C 3.3mg4%
Iron 0.7mg4%
* Percent Daily Values are based on a 2000 calorie diet.
If you compared this Vegan Lemon Curd to typical storebought lemon curd for the same serving size of 2 tablespoons, my healthified version will save you 50 calories and a whopping 18g of sugar!  Not to mention, the cholesterol, sugar rush, and jitters.
I'm gonna go grab a spoonful of this magical substance, BRB.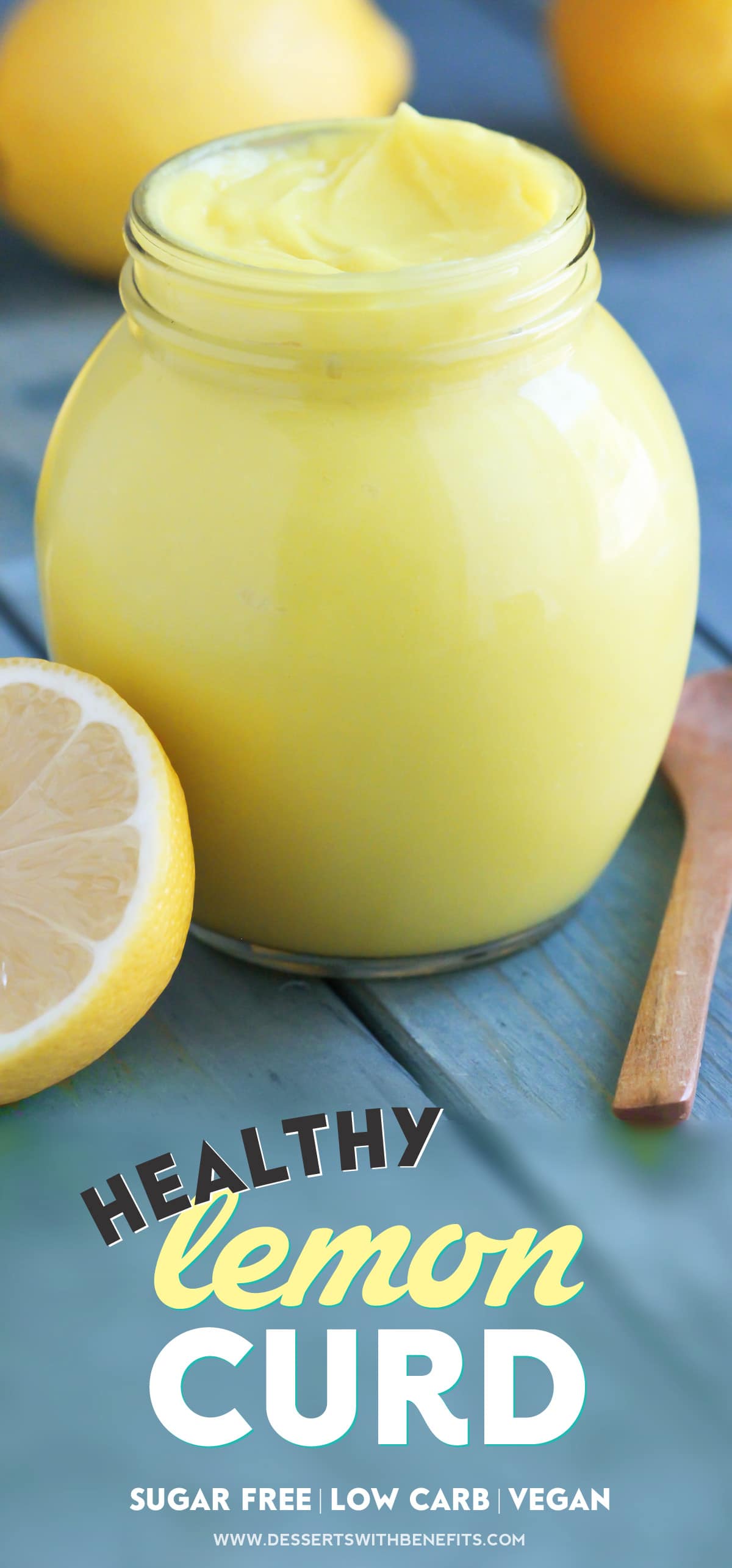 This Healthy Vegan Lemon Curd tastes DIVINE.  It's tangy, refreshing, and will awaken your senses.
Zip some excitement into your mouth and make a batch at home!  Word to the wise, it's perfect spooned on top of Vanilla Bean Ice Cream.
Enjoy  🙂
.
– Jess
.