Homemade Alcohol-Free Vanilla Extract
YES!  You can make vanilla extract at home!  All you need is vodka and vanilla beans.  But, did you know you could make alcohol-free vanilla extract at home too?
*jaw drops to floor*
People choose alcohol-free vanilla extract over its alcohol-containing counterpart for many reasons, but whatever your reason may be, you. will. love. this. vanilla.
It's easy, it's cheap, it's sugar-free, low-carb, gluten-free and vegan.  Don't worry though, it's mighty tasty.  Storebought vanilla extract is pretty darn expensive, and they almost always contain alcohol and added sugar or corn syrup…  but not this Homemade Alcohol-Free Vanilla Extract!
Sometimes when you use vodka-containing vanilla you can taste the alcohol in your finished product, especially no-cook foods such as ice cream, fudge, frosting, dips and puddings.  If this has ever happened to you, then make this recipe!  This Homemade Alcohol-Free Vanilla Extract is super easy to make and requires only three ingredients.  It's perfect in cakes and other baked goods, frostings, ice creams, other no-bake treats and more  🙂
Homemade Alcohol-Free Vanilla Extract
Homemade Alcohol Free Vanilla Extract — yes, you can make vanilla at home! This recipe is super easy and requires only 3 ingredients. Perfect in cakes, frostings, ice creams and more!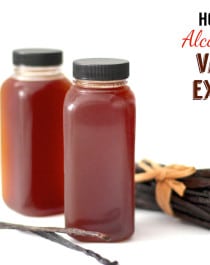 Fat per serving: 0g
Ingredients:
¼ tsp Salt
1 cup Filtered Water
Directions:
Cut the vanilla beans so they can fit inside the bottle you are using. Slice the beans lengthwise, just enough so that you pierce through one side (you want to expose the tiny vanilla seeds but keep them attached to the bean).
Place the vanilla beans inside the bottle, add the salt and completely cover with the filtered water.  Place the lid onto the bottle and shake vigorously.
Place the bottle in the fridge and shake once a day for 4 weeks (I put a daily reminder on my calendar so I wouldn't forget). For the next 5 weeks you can shake it less often, like 2-3x a week.  The vanilla will be ready to use after these 9 weeks (although, longer the better)!  Shake before using.
Notes:
Once the vanilla is done steeping, the vanilla extract will keep in the fridge for ~3 months.
All images and text ©
.
Since it will take approximately nine weeks to get the finished product, start now and you'll have just enough time to package it and gift it to someone you love by the winter holidays.
A friend, a coworker, a cook, a baker, a secret admirer…  😉
GO GO GO!!
.
With love and good eats,
.
– Jess
.