Healthy Millionaire's Shortbread Bars
Shortbread.  Caramel.  Chocolate.
No wonder these are called Millionaire's Shortbread Bars…  they're so rich you feel like royalty when you taste it.  More than anything, though, you will feel like a real winner when you remember that this bar you are eating isn't so bad for you.  That's right.  The decadence you see here is actually good for you!  Unlike the original recipe, which contains refined flour, white sugar, butter and other unhealthy ingredients, these Healthy Millionaire's Shortbread Bars are whole grain, low sugar, free of butter, and contain fiber and antioxidants.  Yeah, in dessert.  Life is good, yes?
I honestly wasn't expecting this recipe to be such a success as I was making it (nothing like expecting defeat before you even started the battle).  I mean, how could I possibly healthify caramel with the substitutions I was making?  Using no heavy cream, sugar and butter is likely a recipe for disaster (hah, no pun intended)
So when these bars were finally ready to slice, I was a nervous wreck.  Knowing my luck, something was bound to go wrong.  As I sliced the bars and caught a glimpse of the caramel, I squealed like a little kid.  The caramel didn't gush out, the chocolate layer wasn't too thick, and the shortbread crust didn't crumble into dust.  Yeah, I kind of imagined all of those things before I even brought out the knife.  I quickly snapped some photos (aka, three) and had to put the camera down.
The looming question:  does it taste good?
I took a bite and did a little happy dance (or prance?).  That was my very first "happy dance" and I certainly hope it was my last…  I'd be quite embarrassed if you saw me do that.  It was deeelicious.  The shortbread crust was exactly like shortbread–nice and buttery with a slight crumble.  The caramel was sweet, smooth and creamy.  And the chocolate?  Oh, the chocolate… rich and undeniably decadent.  A real millionaire's treat.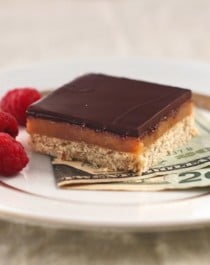 Print Recipe
Pin Recipe
Healthy Millionaire's Shortbread Bars
Ingredients
Shortbread Crust:
5

tbs

Coconut Oil

(melted)

2

tbs

Unsweetened Applesauce

2 tbs

+ 2 tsp

Agave Nectar

⅔ cup

+ ¼ cup

Oat Flour

½

cup

Brown Rice Flour

1

tbs

Ground Flaxseed

½

tsp

Salt
Caramel Layer:
1

cup

Light Coconut Milk

(canned)

¼

cup

Coconut Oil

(melted)

¼

tsp

Salt

¼

cup

Agave Nectar

¼

cup

Water

1

cup

Granulated Erythritol

½

cup 

Sucanat

½

tsp

Vanilla Extract
Chocolate Layer:
3.5

oz

85% Cacao Chocolate

(melted)

1

tsp

Coconut Oil

(melted)
Instructions
For the Crust:
In a large bowl, stir together the melted coconut oil, applesauce, and agave.

Stir in the oat flour, brown rice flour, flaxseed, and salt. Form a ball with the dough, cover, and refrigerate for 45 minutes.

Preheat the oven to 350 degrees Fahrenheit and line an 8" brownie pan with parchment paper both ways.

Press the dough into the pan. Dock it with a fork, and bake for ~15-18 minutes, or until surface is dry and the edges are golden brown.
For the Caramel Layer:
In a small bowl, whisk together the coconut milk, melted coconut oil, and salt.

In a medium saucepan, stir together the agave, water, erythritol, and sucanat. Use a rubber spatula to scrape down the sides of the pot so there are no crystals above the surface of the sugar mixture.

Place a candy thermometer in the pot and place over medium-medium/high heat. Do not stir, let mixture come to a boil.

At 250 degrees Fahrenheit, turn off the heat and slowly whisk in the coconut milk/shortening mixture (it should bubble). Stop whisking once all is added and return to medium-medium/high heat.

At 245 degrees Fahrenheit, remove from heat and whisk in the vanilla extract. Pour hot caramel over the crust and let cool/firm completely at room temperature.
For the Chocolate Layer:
In a small bowl, stir together the melted hcocolate and coconut oil. Pour over the completely cooled and hardened caramel, and refrigerate JUST until the chocolate has firmed up. Do not refrigerate any longer than that. Slice and serve!
Nutrition Facts
Healthy Millionaire's Shortbread Bars
Amount Per Serving (1 bar)
Calories 210
Calories from Fat 99
% Daily Value*
Fat 11g17%
Sodium 110mg5%
Carbohydrates 25g8%
Protein 3g6%
Iron 1.4mg8%
* Percent Daily Values are based on a 2000 calorie diet.
Everyone who tried these Healthy Millionaire's Shortbread Bars had a hard time believing they were actually healthy.  Unlike what everyone thought, my Healthy Millionaire's Shortbread Bars don't have "500 calories and 50g of fat per slice."  Just to convince you even MORE, I thought I'd compare my recipe's nutrition facts to the nutrition facts of the original recipe (courtesy of Joy of Baking)!
Compared to the original recipe, my recipe is:
lower calorie
lower fat/saturated fat
lower carb
lower sugar
cholesterol free
higher fiber
And my recipe tastes just as rich and sweet and decadent and satisfying as the original…  if not better.  Not to mention, this recipe doesn't contain any butter, whole milk, refined sugar and refined flour!  Oh, and it's gluten free and vegan (but you'd never know it).
The richness of the chocolate helps balance the sweetness of the caramel, and the shortbread crust provides a lovely textural contrast.  This is my family's new favorite dessert, and I assure you, it will be yours too  🙂
.
With love and good eats,
.
– Jess
.