Healthy Oatmeal Raisin Krispy Treats with Vanilla Fondant
Today is a good day.
No matter what happens, today is a good day!
Even if you  pressed the sleep button eight times  forgot to set your alarm …
or forgot to brush your  teeth  hair …
or forgot to put on your  underwear  socks before leaving the house …
Today is a good day!
I'm sure you've guessed by now, the reason why today is such a good day.  Yup.  Oatmeal Raisin Krispy Treats with Vanilla Fondant!  I'm in love.
When I made these I couldn't wait to try them…  I was contemplating whether or not to skip the whole refrigerate-to-firm-up step just so I could get my greedy little hands onto that refrigerator door and into that brownie pan full of crunchy, sticky goodness.  But I was good and made myself wait.  I actually had to leave the room because I was about to burst with every whiff of that enchanting scent!  When the time (finally) came, I almost ripped that refrigerator door right off it's hinges (I guess I turned into Popeye from all that spinach lately) and grabbed the pan with all my might.
I stopped.  The fondant was utter perfection, smooth and silky looking.  I sliced the treats calmly, excited to taste what awaited.
I smiled.  Probably as wide as a kid who just got a big birthday gift, wrapped in a crazy colored paper and topped with a wild bow.  They were beautiful.
I ate.  I melted inside, and all of my worries were gone… my chemistry test, gone, my heavy workload, diminished, my long list of chores, erased… well, sort of.
A clean bite.  Today?  Yeah, today's a good day.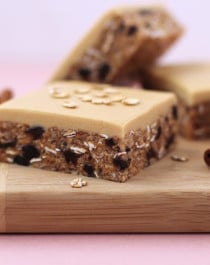 Print Recipe
Pin Recipe
Healthy Oatmeal Raisin Krispy Treats with Vanilla Fondant
Instructions
For the Krispy Treats:
Line an 8" brownie pan with parchment paper both ways.

In a large bowl, stir together the crispy rice cereal, oats, flaxseed, cinnamon, and salt.

In a large, microwave-safe bowl, stir together the brown rice syrup, almond butter, vanilla paste, hazelnut extract, stevia extract, butter flavor, and almond extract. Microwave at 20-second intervals, stirring between each one, until mixture is warm and runny. Stir in the raisins and protein powder. Dump in the rice cereal mix and fold together.

Scoop mixture into the brownie pan and flatten it out.
For the Fondant:
In a small bowl, stir together the protein powder, sweetener, and melted coconut oil. Scoop over the krispy treats and spread it out with the back of a spoon. Refrigerate for 2 hours, then slice and serve!
.
With love and good eats,
.
– Jess
???
.
Be sure to follow @DessertsWithBenefits on Instagram!  If you try this recipe, make sure to snap a picture of it, tag me @DessertsWithBenefits, and hashtag #DessertsWithBenefits.  I'd love to see it and feature you on #FanFaveFridays!
.