Super Easy Peanut Butter and Jelly Braid Bread (+ Video!)
Step up your PB&J game with this super easy Peanut Butter and Jelly Braid Bread!  It looks like it's difficult to make but it really took less than 20 minutes to whip together.  Oh, and the kicker?  It's vegan, all natural, and has no sugar added — perfect as a tasty, back to school lunchbox snack!
Thanks to Immaculate Baking Co. for sponsoring this post, and thank YOU for supporting the brands that keep Desserts With Benefits going!  All opinions are mine and mine alone.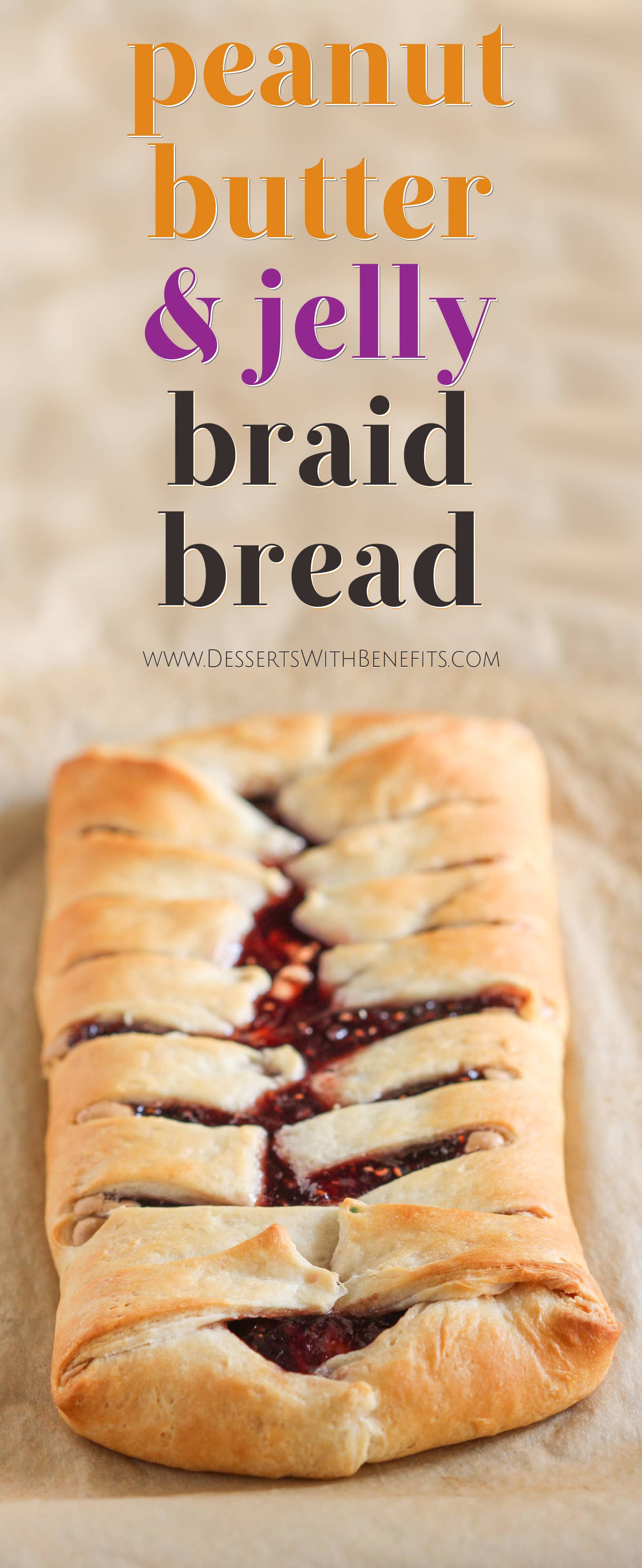 My kitchen has been a healthy dessert factory that last few weeks and I ain't even mad about it.  I've been baking healthy cakes and cookies and bars and breads like a crazy woman.  My oven has not had a day of rest in over nine days (!!!).  It feels natural to wake up every morning, grab a cup of coffee, and preheat the oven to 350℉.
A few years back, I saw this amazing braid bread tutorial on the King Arthur Flour blog and had to try my own variation.  Since it's back to school season, the first flavor combination that came to mind was PEANUT BUTTER AND JELLY.
Obviously  😉
Just look at how good that looks.  It's literally stuffed with peanut butter and jelly.
I used creamy peanut butter here, but you can most definitely use crunchy if that's your thang.
I also used 100% fruit raspberry fruit spread to avoid any excess added sugars or corn syrup.  You can use any fruit flavor you like — strawberry, blueberry, cherry, etc.  It's all good.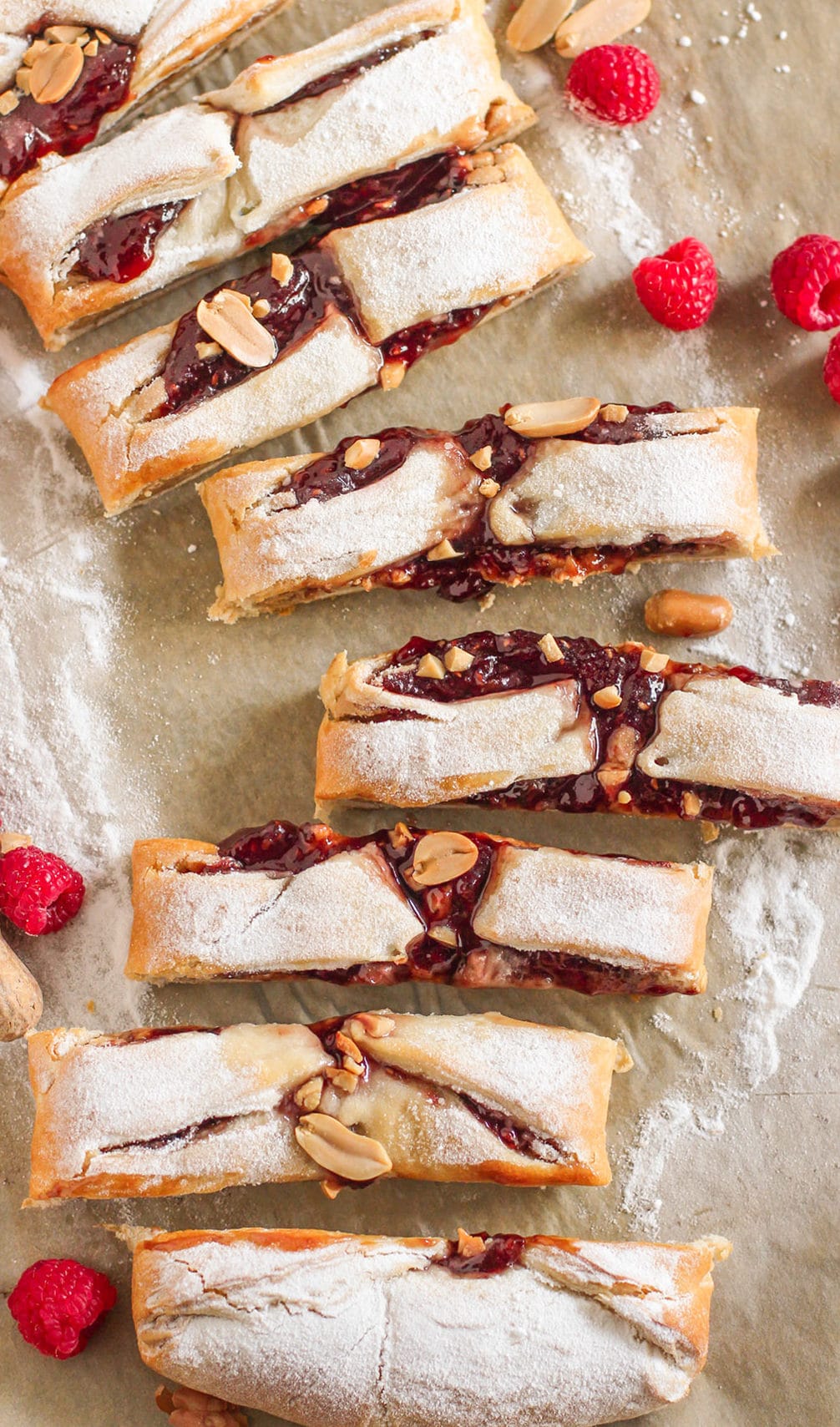 Feel free to dust your braid bread with powdered erythritol (or powdered sugar).  I like to sprinkle mine with chopped peanuts for extra texture.
Have you ever seen a braid bread and thought, "DANG, how cool!  I wonder how they made that!"  Well, wonder no more, because I made a fun little stop-motion video tutorial for y'all:
.

.
How easy was that??  Now go, make this Peanut Butter and Jelly Braid Bread for yourself.  It's magic in a braid  🙂
Peanut Butter and Jelly Braid Bread
Prep Time: 15 minutes
Cook Time: 15 minutes
Total Time: 45 minutes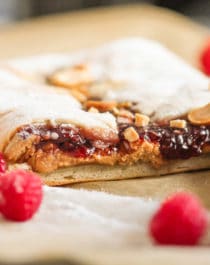 Fat per serving: 11
Calories per serving: 230
Ingredients:
Braid Bread:
½ cup Natural Peanut Butter
½ cup 100% Fruit Raspberry Fruit Spread
Optional Toppings:
Powdered Erythritol or Powdered Sugar
Chopped Peanuts
Directions:
Preheat your oven to 350 degrees Fahrenheit.  Line a baking sheet with parchment paper.
Open the tube of crescent rolls and unroll it out on top of the parchment lined baking sheet, lengthwise, so that you have a long and narrow rectangle of dough.
Crimp the crescent perforations together so there are no holes or separations between the dough.  Place another sheet of parchment paper on top of the dough rectangle and gently roll it out to flatten.  Don't roll it to thin it out, though, you still want that fluffy crescent texture!
Scoop the peanut butter in the center of the dough rectangle and spread it out to create a smaller rectangle in the center.  Scoop the fruit spread on top of peanut butter rectangle and spread it out.
Cut the corners out of the dough, then slice the long side of the dough into 8 slices (to make 8 servings).
Flip the ends of the dough (the uncut part) to lay on top of the fruit spread, and start "braiding" the dough.  Crimp each side of the braid together.  It's okay if the braid separates a little in the oven as it bakes, it's nice to see the filling sometimes!
Bake for ~16 minutes, or until golden brown.  Let cool, then slice and serve!  Feel free to dust with powdered erythritol or powdered sugar and a sprinkle of chopped peanuts.
All images and text ©
.
For this recipe, I used Immaculate Baking Co.'s ready-to-bake organic crescent rolls.  It's the "bread" component in this Peanut Butter and Jelly Braid Bread.
This is honestly the only crescent roll dough I will ever use.  It's all organic and made with natural, wholesome, quality ingredients.  Far better than the other crescent roll doughs at the grocery store, which are filled with hydrogenated oil (aka dangerously unhealthy trans fats), artificial food dyes (red #40 and yellow #5), TBHQ (a preservative), and bleached flour.

It's okay if the braid separates a little in the oven as it bakes, it's nice to see the filling sometimes!
My ex-coworker from the bakery I used to work at always said, "Perfection is a myth in the household kitchen.  Rustic is always best!"
If you've ever wanted to make homemade braid bread, the time is NOW.  It's so easy, so fun, and so, so delicious.

Enjoy!
.
With love and good eats,
.
– Jess
.