Healthy Quintuple-Chocolate Dark Chocolate Truffle Tart (To Celebrate My 1st Blogiversary!)
Happy Birthday, blog!  You're ONE!  🙂
So no, we cannot indulge a double, triple, or even quadruple chocolate tart to celebrate this day…  it must be quintuple.  Yes, you read that correctly.  This tart has five sources of chocolate:
The chocolate oat base is perfect — it melts right in your mouth!
The chocolate coffee layer enhances the richness of the chocolate.
The chocolate layer is like the center of a Godiva truffle, just on a larger scale.
The chocolate glaze is smooth and absolutely stunning!
The mini chocolate chips, just a little extra dazzle for such a special tart.
Don't be put off by the seemingly long ingredient list and directions, this entire recipe actually consists of only 14 ingredients (whoa!), and I made the entire thing in my dorm.  Yes, my dorm.  You will be fine  😉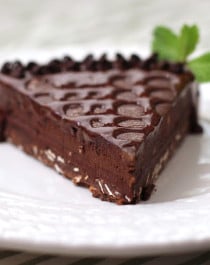 Print Recipe
Pin Recipe
Healthy Quintuple-Chocolate Dark Chocolate Truffle Tart
Ingredients
Topping:
¼

cup

Mini Semi-Sweet Chocolate Chips
Instructions
For the Chocolate Oat Base:
Spray a 9" springform pan with cooking spray and set aside.

In a large, microwave-safe bowl, add the coconut butter and microwave at 20-second intervals, stirring between each one, until melted.

Add the coconut milk, honey, and extracts and stir together. Once incorporated, add the cocoa powder and stir again. Add the protein powder and salt and stir once more. Fold in the oats.


Scoop this mixture into the prepared cake pan and spread with the back of a spoon. Use a pastry roller to flatten further (or you may wrap your fingers with plastic wrap and bring the mixture to the edges of the pan).
For the Chocolate Coffee Layer:
Add the protein powder, erythritol, cocoa powder and coffee to a medium bowl and stir. Add the coconut oil, water and extract and stir again (mixture should be sticky).

Scoop this mixture into the pan and spread using only the spoon you used to stir the mixture with to spread the mixture with into the pan. Refrigerate until firm.

Once firm, flatten with a pastry roller (you can probably use a rubber spatula).
For the Chocolate Layer:
In a microwave-safe bowl, add the chocolate and microwave at 30-second intervals, stirring between each one, until melted.

Stir in the coconut milk ¼ cup at a time, then add the three tablespoons.

Add the stevia, stir, then add the powdered erythritol spoonful at a time. Pour this mixture over the previous layer and pat the pan to bring it to the edges (I could see some air bubbles so I pat the pan on the counter until they reached the surface -- it doesn't have to be perfect though, the glaze with cover it). Refrigerate overnight.

For the Chocolate Glaze and Topping:
In a small bowl, add all the ingredients and whisk.

Put glaze into a sandwich bag (or piping bag) and snip a tiny corner and drizzle in your desired design.

Top with the chocolate chips. You can either serve immediately or refrigerate for an hour to firm up, but only add the glaze the day of serving.
*kicks feet up on table*
Oh, what a year it's been!  It's strange how much you come to love something.  In my case, however, I find it strange how much I came to love this blog — something created completely out of the blue (and possibly as a procrastination tactic to avoid studying for finals…  yes, I'm quite the procrastinator!)
Little did I know that this blog would make me so happy, so proud.  It makes me feel so incredibly connected with others, despite not seeing you all face-to-face.  Sometimes if I'm having a bad day, that little email notification I get when someone comments on a post is what turns the day back around, it's what brings a smile to my face  [insert cheesy grin here]
But seriously though, I absolutely adore blogging.  I love talking to you guys, responding to comments, answering questions, etc, and most of all, I love cooking up delicious recipes!  Okay, okay, I love cooking up delicious desserts.  So I hope you are looking forward to another year of posts and recipes on my blog!
Just be warned…  amazing things are coming!  🙂
.
With love and good eats,
.
– Jess
.