Save The Bees with Bee Delightful
A little over a month ago I was invited to attend a Save The Bees dinner event, which was hosted to bring awareness about the rapidly dying bee colonies in the U.S., educate us of the bee's utmost importance, and support Bee Delightful's goal to save 1 million bees. 🐝
Bee Delightful™ is a very unique local honey company here in Austin, Texas.  They have a skilled bee-rescuing team in place who rescues at-risk honey bee hives and transplants them in their bee sanctuary here in Austin.  100% of their honey is sourced from farmers with organic, treatment-free beekeeping practices and is jarred and sold as Canna Bees™ — 1 jar of their honey saves 100 bees!  They have 3 varieties:  Wildflower, Clover, and their Rescue Blend™
The rescued honey harvested from their Austin bee sanctuary is their Rescue Blend™
The kicker?  It's infused with CBD!  (Little known fact — I am a huge proponent of CBD)
CBD (or Cannabidiol) is a naturally occurring chemical compound, called a "cannabinoid," found in marijuana/cannabis and hemp plants.  You've probably heard of THC, the psychoactive cannabinoid that gets people high, but THC and CBD are not the same — CBD is a non-psychoactive cannabinoid, so it won't make you high.  CBD is legal in Texas, unlike marijuana and pure THC.
According to the National Cancer Institute, cannabinoids may be useful in treating the side effects of cancer treatment.  Studies show that CBD is likely to benefit those with stress, anxiety, depression, IBS, inflammation, chronic pain, multiple sclerosis (MS), some neurodegenerative diseases, including alzheimer's, and more.  When consumed, CBD can produce a relaxing, calming effect.
I had the pleasure of meeting and chatting with the founders of Bee Delightful™.  What amazing souls.  They were so generous and down to earth — by the way they spoke about their honey and bee sanctuary, you can tell how much they genuinely cared about the wellbeing of their rescued bees, as well as the bees they aim to rescue.
The Save The Bees event was full of CBD-infused foods, drinks, and great company.  I met some pretty awesome people that night!
And ALL the food was infused with CBD!  Those chefs are seriously some miracle workers because every dish they put out was spot on.  My favorites?  The sticky salmon ribs, the Korean short rib + kimchee deviled egg, and Korean fried chicken.
The event was held outdoors at a beautiful private residence.  On an August evening here in Texas, it was still incredibly hot out, even at 7pm.  That was when chef Preston Day (also, Chief Operating Officer at Bee Delightful) came out with Honey Yogurt Raspberry Popsicles to help us beat the heat!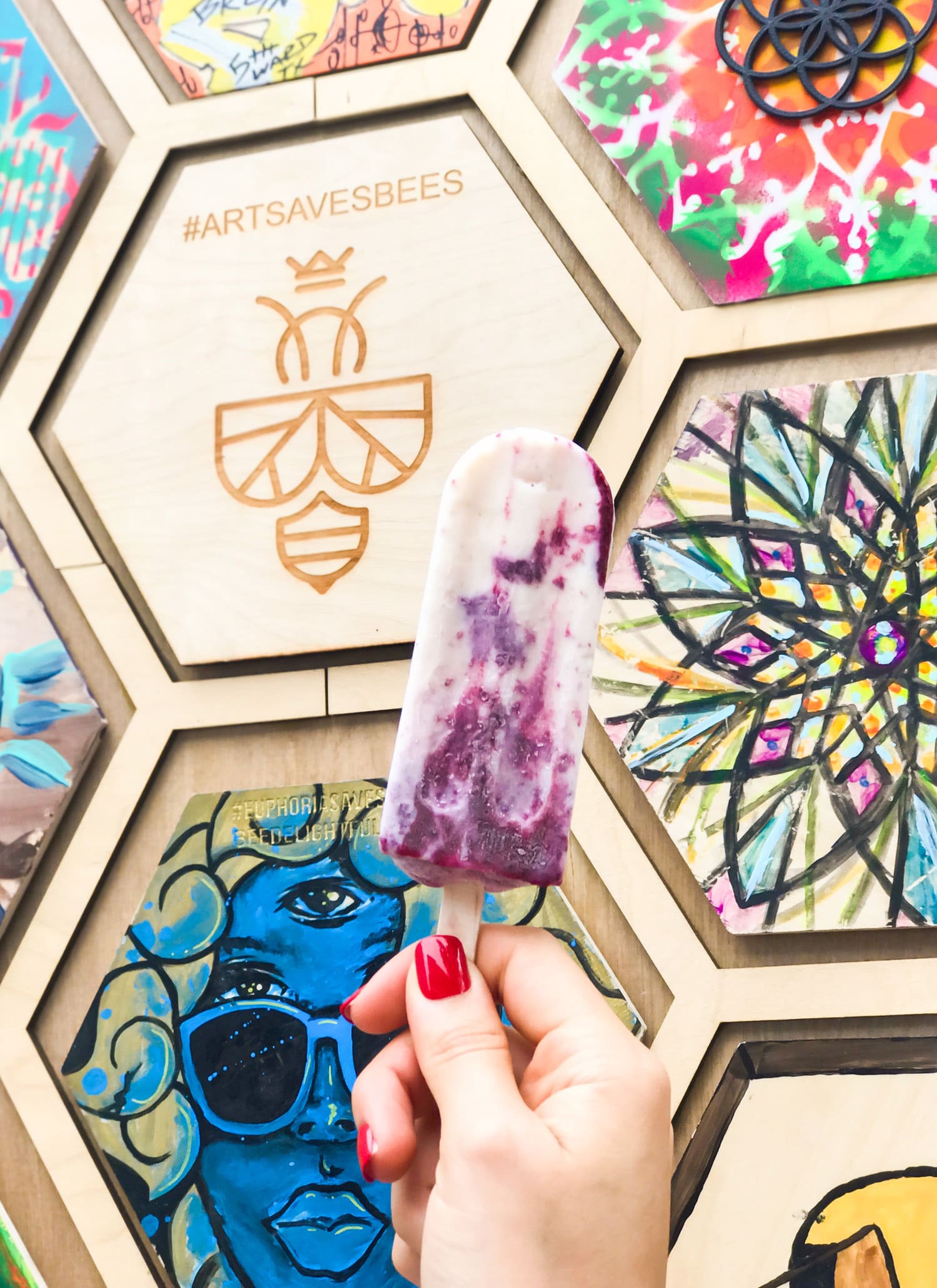 Seriously the best popsicle I've ever had (and each one was infused with 25mg of CBD)!  It was creamy, not icy, and perfectly sweet.  I kinda wanted to eat seven more…  but I had to save some room because we had a night full of savory food ahead.  Mind-blowingly delicious food.
To be totally real with y'all, when I was first invited to the event, I had no idea what to expect.  There weren't many details provided ahead of time so I didn't know what kind of food would be served, how many people were going, if it was indoors/outdoors, or even what to wear.  All I knew was that the entire dinner would be infused with CBD, and the goal of the night was to help Bee Delightful™ save 1 million bees.
I bought a jar of Bee Delightful's honey a while back from Lazydaze Counterculture, a local CBD dispensary (it's also available at Thom's Market), and loved it, so I definitely wanted to attend the dinner to help support them and their goal.  I guess I was so used to typical "infused" foods (aka weed brownies and krispy treats) that I was expecting more of the same at the dinner.  But damn guys, was I wrong.
Chef Preston Day worked alongside Tiffani Janelle of Cannachef Magazine, and pulled out ALL THE STOPS that night.  Every bite of food made me want seconds.  And thirds.  And enough to take extra home with me.  You'd never know anything served that night was infused with CBD.  All you'd know is that it was infused with a ton of damn awesomeness.
From the delicious Honey Yogurt Raspberry Popsicle to those totally addicting sticky salmon ribs, from the homemade kombucha to the fantastic crowd of people who were there alongside me, the Save The Bees dinner event was surely a night to remember.  It was without a doubt one of the most unique, memorable dinners I've ever attended.  The Bee Delightful™ team will be hosting more pop-up dinners in the future.  I will definitely be attending those!  If you're in the Austin, TX area and would like to attend as well, be sure to follow Bee Delightful on Instagram and Facebook, and subscribe to their email.
.
PS:  After the dinner I took home some CBD-infused kettle corn made by chef Tiffani Janelle…  it goes without saying that it was SO. DAMN. GOOD.
Yes, past tense.  Because I ate it all almost immediately  😉
.
With love and good eats,
.
– Jess
.