Healthy Single-Serving Microwave Carrot Cake Muffin
You can make this Single-Serving Microwave Carrot Cake Muffin in 5 minutes?  Oh yes.  It's sugar free, high protein, high fiber, gluten free, dairy free, and vegan… it's healthy without the healthy taste!
Easter is coming up and no matter how many chocolate eggs, pastel-colored candies and bunnies I see, I always associate this holiday with carrot cake.  I flash back to an Easter celebration party from when I was in elementary school.  While all of the other kids were outside scavenging for hidden eggs, I was inside, first in line for a slice of carrot cake.  First come, first serve!  And I wanted that corner piece.  You know, because it has the most frosting…  ehem.
The second I got that cake I sat down at a table, scraped all of the frosting off the cake and ate the frosting by the spoonful.  I didn't care much for carrots as a kid (clearly), but I have grown to appreciate its flavor, its texture and its nutritional benefits.  Similar to how I have grown to love dark chocolate  🙂
I made this Single-Serving Microwave Carrot Cake Muffin because Easter is just a few days away.  Carrot cake has now been transformed into a healthy muffin that can be enjoyed for breakfast, a snack and a dessert!  This Single-Serving Microwave Carrot Cake Muffin is simple, nutritious and takes only a few minutes to make and a few minutes to "bake."  Enjoy!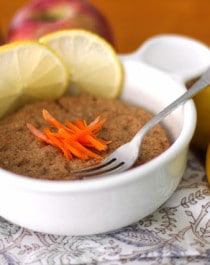 Print Recipe
Pin Recipe
Healthy Single-Serving Microwave Carrot Cake Muffin
Ingredients
Instructions
Spray a 5" baking dish with cooking spray.

In a medium-sized bowl, stir together the flax, almond milk, grated carrots, applesauce, zest, sweetener, apple pie spice, and salt.

Stir in the oat flour. Last, stir in the baking powder. Pour into a prepared dish and microwave for ~5 minutes (depends on your microwave), or until the surface springs back when tapped. Let cool slightly, then enjoy!
Recipe Notes
Feel free to add 1 tbs of raisins or chopped walnuts or pecans to the recipe!
Nutrition Facts
Healthy Single-Serving Microwave Carrot Cake Muffin
Amount Per Serving (1 entire recipe)
Calories 330
Calories from Fat 72
% Daily Value*
Fat 8g12%
Sodium 340mg15%
Carbohydrates 52g17%
Protein 13g26%
Vitamin A 6500IU130%
Vitamin C 12.4mg15%
Calcium 200mg20%
Iron 3.6mg20%
* Percent Daily Values are based on a 2000 calorie diet.
A perfectly balanced breakfast with healthy fats, complex carbohydrates, fiber, protein and no refined sugar!  I love topping this Carrot Cake Muffin with pecan butter or almond butter to create a complete protein and a satisfying meal.  Absolutely delicious.
You need to try this.  Go grab some carrots!
.
With love and good eats,
.
– Jess
.