Healthy Homemade Dark Chocolate
After making Homemade White Chocolate, I realized how easy it was to make chocolate bars at home.  After a complete flop at making dairy-free Milk Chocolate (oxymoron?), I decided it would be FAR easier to make Healthy Homemade Dark Chocolate.  Plus, dark chocolate is more holiday-ish anyways.
This homemade dark chocolate makes for the perfect gift this holiday season (or any occasion, for that matter).  It's super simple to make and is absolutely delectable!
It tastes far better than storebought dark chocolate, probably because this homemade version is made without artificial flavorings, milk fat, soy, and PGPR.  Really though, this chocolate is better because of all the love you put into it   😉   Just neatly wrap the chocolate bars in parchment paper, wax paper, or cellophane bags and close with a sticker or tie with a ribbon!
Even though it might be easier to grab some fun-sized Snickers from the store, it isn't as loving as something homemade.  I mean, I'm totally guilty of buying a bunch of junk food for presents (partly because I got to snack on a few dozen myself), but now that I know how unhealthy those artificial products are–whether it's from the insane amount of sugar or hazardous level of hydrogenated oil–I certainly don't want to hand those out to the people I love.  To me, it's like saying, "Happy Holidays!  Now put on a few pounds and maybe raise your cholesterol too?"
I love you, I don't want to slash days off your life.  I don't even want to slash MILLISECONDS off your life.
I know, I know, I may be taking this to the extreme, but after taking a few nutrition courses and completing a large number of research projects, I really don't want to give people such dangerous substances.  Oh, and I also don't want to support the candy makers who live to shove sugar down our throats…
No, I'm not asking you to hand out carrot sticks (because quite frankly, everyone would hate that, even a rabbit), just give your friends and family (or even a complete stranger) some homemade guilt-free goodies this year  🙂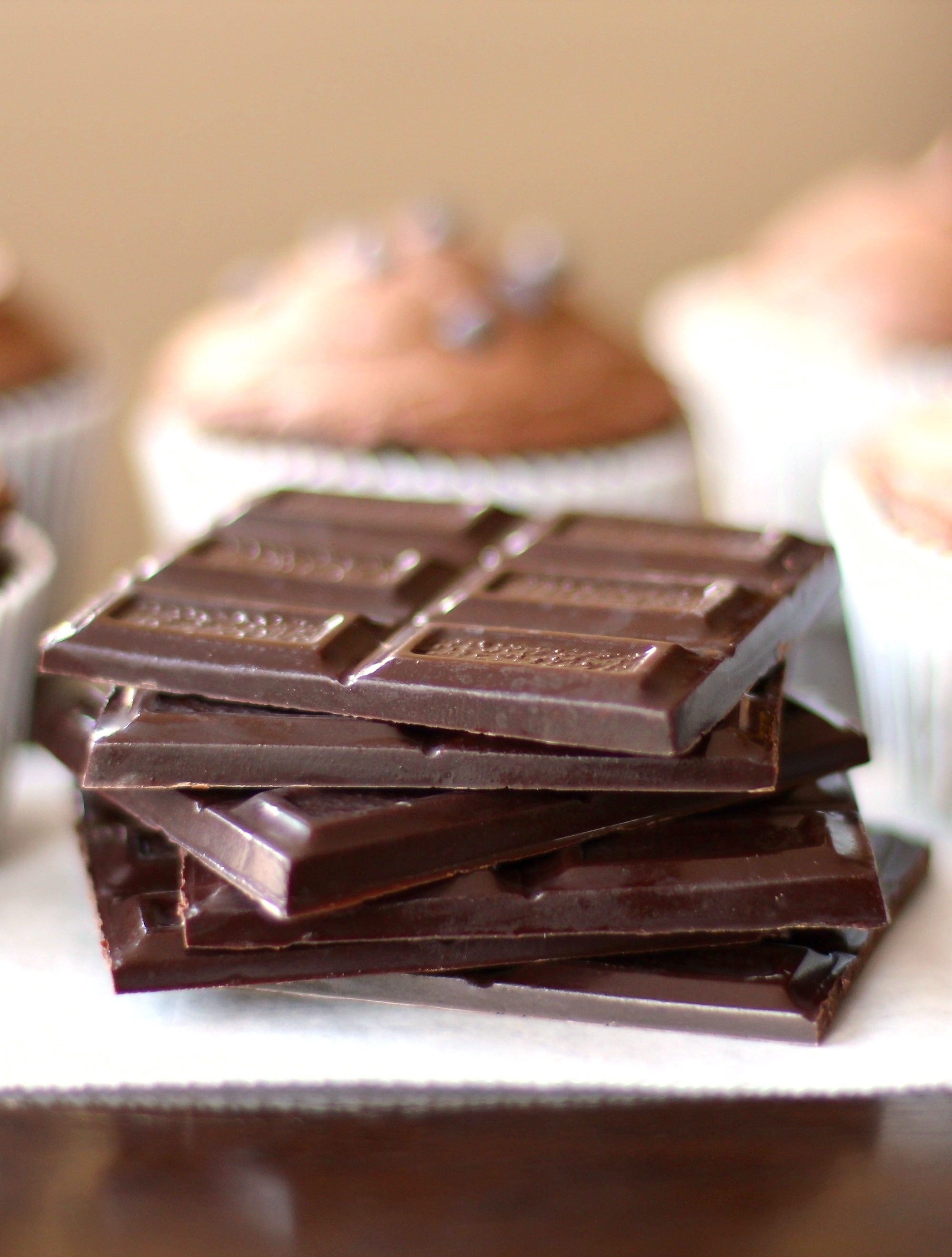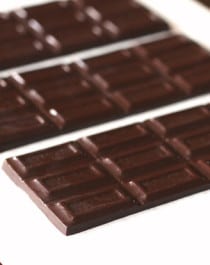 Print Recipe
Pin Recipe
Healthy Homemade Dark Chocolate
Instructions
In a double boiler, add the cacao paste and cacao butter. Stir occasionally until melted.

Take off the heat and whisk in the stevia, then the erythritol, and finally the vanilla beans (chocolate should be smooth and silky).

Place

chocolate bar molds

on a large, flat plate (make sure that it will fit inside your fridge!), then pour the chocolate into the molds. Refrigerate until firm (~2 hours). Store in a tightly sealed container in the fridge for up to 2 weeks.
Recipe Notes
They no longer sell the chocolate bar molds I used to make this recipe, so I just linked to another bar mold I found on Amazon.com!
Nutrition Facts
Healthy Homemade Dark Chocolate
Amount Per Serving (1 bar = ¼ of recipe)
Calories 210
Calories from Fat 189
% Daily Value*
Fat 21g32%
Carbohydrates 10g3%
Protein 2g4%
Iron 1.8mg10%
* Percent Daily Values are based on a 2000 calorie diet.
Mmmmm, antioxidants!
Enjoy!
.
– Jess
.