Healthy Single-Serving Pumpkin Microwave Cake
It's November, nearing December.  I should be pumping out pumpkin recipes like this is our last November.
But the pumpkin can wait, because to me, chocolate always comes first.  Um, I've been a little busy with chocolate lately (aka, Chocolate Microwave Cakes have been flying in and out of my microwave all week long…  I'm obsessed)
When I walked to my pantry to retrieve my last jar of applesauce, I saw the 9 cans of pumpkin lined up right beside it  (I guess I should use that instead, huh?)
That's when a Pumpkin Microwave Cake popped into my head.  I Googled "pumpkin microwave cake" and got over 6 million results.  While I only looked through a couple dozen, I got the gist of what those 6 million would include:
-processed flour
-refined sugar
-excess oil
-eggs
While I have nothing against eggs (they are healthy in moderation), I am slightly sensitive to them and wanted to make a recipe suitable for vegans.  However I do have something against processed flour, refined sugar and too much oil.  A single-serving cake should not have white flour, ¼ cup of sugar, and 20g of fat!
I based this recipe off the Chocolate Buckwheat version but made a few changes to make the recipe easier to make.  Not many people have buckwheat flour in their pantries, but most people have oats.  Oh, and everyone should have pumpkin, right?
This cake is absolutely delicious!  It's sweet, it's pumpkin-y, it's moist, it's filling and it's healthy.  It's whole grain, sugar free, oil-free and eggless.  Suitable for vegans, but perfect for everyone  🙂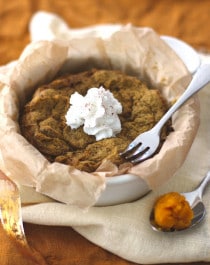 Print Recipe
Pin Recipe
Healthy Single-Serving Pumpkin Microwave Cake
Ingredients
Instructions
Line a 4-5" baking dish with parchment paper or spray with cooking spray.

In a medium-sized bowl, stir together the flax and almond milk.  Stir in the pumpkin, apple pie spice, sweetener, and salt.

Stir in the oat flour.

Last, stir in the baking powder. Scoop batter into the prepared baking dish and microwave for ~5 minutes, or until surface springs back when tapped. Let cool slightly, then DIG IN.
Nutrition Facts
Healthy Single-Serving Pumpkin Microwave Cake
Amount Per Serving (1 cake)
Calories 320
Calories from Fat 72
% Daily Value*
Fat 8g12%
Sodium 340mg15%
Carbohydrates 48g16%
Protein 13g26%
Vitamin A 13000IU260%
Vitamin C 5mg6%
Calcium 200mg20%
Iron 4.5mg25%
* Percent Daily Values are based on a 2000 calorie diet.
Amazing toppings include:  pure maple syrup, honey, almond butter, pecans, walnuts, coconut whipped cream, a dash of cinnamon, etc.  The possibilities are endless!
These nutrition stats are pretty amazing.  Only 320 satisfying calories, 8g of healthy fats (no added oil), 11g of filling fiber and 13g of protein.  To add more/complete the protein, just top with nuts or nut butters!
If only I knew about microwave cakes when I was younger.  I definitely would have chosen this over sugary cereals, oily breakfast sandwiches, chocolate bars and fried donuts!
.
With love and good eats,
.
– Jess
.