Healthy Veggie Shots and Fruit Chasers
Fellow veggie haters, behold.  For these Healthy Veggie Shots and Fruit Chasers are the answer to our problems!
I'm just gonna go out and say it:  I'm a baby when it comes to raw veggies–I run away from bitter broccoli and crunchy carrots.  And if someone brings one of those detox drinks near me, I hold my breath and push it away.
I don't like celery.
I don't like kale.
I don't like bell peppers.
PERIOD.
But in order to have a healthy, balanced diet, vegetables are important!  Especially if you live on a veggie-starved campus and would rather eat the krispy treats you just made rather than a cucumber…
and I know I'm not alone on that one…  so, why not get all the gross stuff out of the way "shots" style?  😉
"A drink is the answer, I don't know the question"
Is that funny, or is that funny?
One may ask, "Why not mix the two together into one smoothie?  I mean, you could use bananas and pineapple as those are pretty strong in flavor."
True, but have you ever eaten a bell pepper with a pineapple?  Sometimes, not even a banana (or three) can hide the strong, bitter taste of kale.
Another may ask, "Why not drink a V8?"
To me, V8 is a good backup if you're on the road or don't have access to produce.  V8s contain a lot of sodium and are extremely processed, so they don't contain the fiber or nutrients as the fresh veg themselves.  And they also sit in a tin can on a grocery store shelf for… how long?  So buy the fresh fruits and veggies whole.  Blend them up in two minutes, and chug them down in less than one!
Trust me, veggie-haters… this is for you!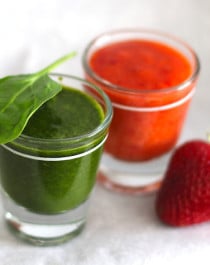 Print Recipe
Pin Recipe
Healthy Veggie Shots and Fruit Chasers
Ingredients
Veggie Shots:
¼

cup

100% Carrot Juice

1

cup

Baby Spinach

Optional: Celery, Bell Pepper, Cucumber, etc.
Fruit Chasers:
1

cup

Chopped Strawberries

Optional: Banana, Pineapple, Berries, etc.
Instructions
Blend the fruit chasers first, pour into shot glasses.

Next, blend the veggie shots (you don't have to wash the blender), pour into some more shot glasses.

SWIG.

CHASE.  But if you really wanna be hardcore, skip this step.
Done.  You survived.  Congrats.  You're a trooper  🙂
If only all twenty-one year olds celebrated with these……

.
With love and good eats,
.
– Jess
.