Healthy Whole Orange Almond Cake
This super moist and healthy Whole Orange Almond Cake is made with only 7 ingredients and NO butter or oil!
It's incredibly gratifying to watch peoples' expressions when they eat my desserts.  It usually starts with a gasp after it is first revealed, as I like to present cakes and such on clean, sophisticated plateware (you eat with your eyes first, right?).  I sometimes hear an "eep!" from excitement when I set the plate down.  I soon see a grin that stretches from ear to ear after the first bite is taken.  I love it most when someone actually closes their eyes.  It is like a short-lived, yet personal bonding moment between them and their tastebuds.
But nearly every. single. time…  someone will say, "Oh my gosh this has got to be packed with calories!"  Or, "Thank goodness I worked out this morning!"
I am always a little shocked, especially if it's a family member who says it.  Like, don't you know who I am?  I'm the household food police!  You want those Oreos?  I glare at you and list off every single ingredient I hate, why I hate it and why you should too.
So when my mother huddled over a slice of this cake and said, "Oh no, if I keep eating I won't be able to fit into my pants tomorrow …  *takes bite*  … but I can't stop, it's so good!"  I was speechless.  I rolled my eyes, picked my chin up off the floor and said "MOM, this is goood for youuu."  After I listed off the ingredients, she stopped hunching over her plate like a bear over her cub and proudly strut to the dinner table, healthy dessert in hand.
A superbly soft and moist cake that… has no oil or butter?  Yes.
A perfectly sweet cake that… has no sugar added?  Yes.
An incredibly decadent cake that is… cholesterol-free and lowers cholesterol?  Really?  Oh yes.
This Healthy Whole Orange Almond Cake is heaven on a plate.  Your tastebuds (and waistline) will be happier than ever!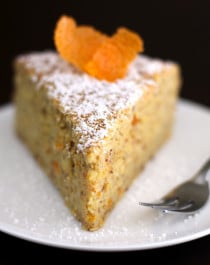 Print Recipe
Pin Recipe
Healthy Whole Orange Almond Cake
Ingredients
2

Organic Navel Oranges

(~10" in circumference)

1

cup

Egg Whites

(fresh, not cartoned)

½

tsp

Almond Flavor

192g

(2 cups)

Almond Flour

120g

(1 cup)

Oat Flour

192g

(1 cup)

Granulated Erythritol

2

tsp

Double-Acting Baking Powder
Instructions
Wash the oranges thoroughly then pierce all over with a knife. Place the oranges in a large pot and cover with water. Bring this to a full boil, then lower the heat to medium/low-low and cover. Simmer for ~1 hour (oranges should be very soft and tender), drain and let cool slightly. Cut the oranges into quarters, discard all seeds and puree in a blender.

Preheat the oven to 350 degrees and spray an 8" cake pan with cooking spray.

In a medium-sized bowl, whisk together the almond flour, oat flour, erythritol and baking powder.

In a large bowl, add the orange puree, egg whites and almond flavor. Whisk well. Dump the dry ingredients over the wet and fold together. Make sure there are no clumps.

Pour batter into prepared pan and bake for ~1 hour, or until surface of cake springs back when touched. Cool cake in pan for about 30 minutes, then flip onto a wire cooling rack, leaving pan over top for another 30 minutes. Remove pan and let cool completely. Slice and serve!
Recipe Notes
**After pureeing, the oranges should measure 2 cups (465g)
Nutrition Facts
Healthy Whole Orange Almond Cake
Amount Per Serving (1 slice = 1/10th of recipe)
Calories 210
Calories from Fat 99
% Daily Value*
Fat 11g17%
Sodium 40mg2%
Carbohydrates 19g6%
Protein 9g18%
Calcium 60mg6%
Iron 1.4mg8%
* Percent Daily Values are based on a 2000 calorie diet.
Talk about a decadent yet guilt free dessert!  This Whole Orange Almond Cake is an incredibly healthy breakfast, snack and/or dessert.
.
With love and good eats,
.
– Jess
.