Healthy Chocolate Cupcakes (or Donuts) with Chocolate Frosting
Wordless recipe!
Okay, maybe a couple words:  CHOCOLATE FOODGASM.
Healthy Chocolate Cupcakes (or Donuts) with Chocolate Frosting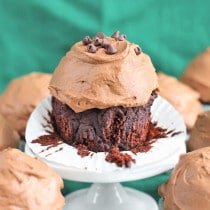 Ingredients:
Cupcakes/Donuts:
170g (1¼ cups) Sweet White Sorghum Flour
80g (½ cup) Organic Corn Starch
60g (¾ cup) Unsweetened Regular Cocoa Powder
60g (½ cup) Oat Flour
2 tsp Xanthan Gum
2 tsp Baking Soda
1 tsp Baking Powder
¼ tsp Salt
1 cup Unsweetened Vanilla Almond Milk
1 cup Brewed Coffee
82g (⅓ cup) Unsweetened Applesauce
56g (¼ cup) Coconut Oil, melted
48g (¼ cup) Granulated Erythritol (or dry sweetener of choice)
32g (2 tbs) Roasted Almond Butter (or nut butter of choice)
2 tsp Stevia Extract
2 tsp Vanilla Extract
2 tbs Apple Cider Vinegar
Frosting:
Directions:
For the Cupcakes/Donuts:
Preheat the oven to 350 degrees Fahrenheit and spray 2 regular cupcake tins OR 3 donut pans with cooking spray, depending on which you are making.  Don't use paper liners for the cupcakes because they'll stick, try parchment paper liners.
In a large bowl, whisk together the sorghum flour, corn starch, cocoa powder, oat flour, xanthan gum, baking soda, baking powder and salt.
In a medium-sized microwave-safe bowl, stir together the almond milk, coffee, applesauce, coconut oil, erythritol, almond butter, stevia extract and vanilla extract. Microwave at 20-second intervals, stirring between each one, until coconut oil is melted.
Stir the apple cider vinegar into the wet ingredients. Pour over the dry ingredients and whisk the batter until everything is incorporated and mixture is even (batter should be somewhat thick, kind of like a mix of thick cupcake batter and thin muffin batter).
Scoop batter into the prepared tins and spread slightly to flatten the surface. Bake the cupcakes for ~21 minutes and the donuts for ~17 minutes.
Transfer the cupcakes/donuts to a wire cooling rack and let cool while you make the frosting.
For the Frosting:
Add the protein powder to a medium-sized bowl and top with the yogurt and almond milk.
Stir the mixture together (add any protein powder or milk if needed) and frost the cupcakes with an offset spatula.
Serve the cupcakes/donuts!
Notes:
**Originally, I used Vanilla Amande Yogurt in this recipe, which is an almond yogurt sweetened with fruit juice. However, the company went under so it's no longer available.  I would recommend using plain yogurt in its place, and adding
Vanilla-Flavored Stevia Extract
or
Truvia
to sweeten. You can try using soy yogurt, coconut yogurt, dairy yogurt, whatever!