Healthy Chocolate Chip Cookie Dough
This delicious and secretly HEALTHY Chocolate Chip Cookie Dough is safe to eat raw! No eggs, no butter, no white flour, and no white sugar.
Plus, it's high protein, high fiber, gluten free, vegan, with no sugar added!
I should start off my saying welcome and I'm glad you're here!  Desserts with Benefits is a healthy dessert recipe blog that revolves around health, balance and an active, balanced lifestyle…  with some healthified cookies, cakes, and brownies snuck in between  🙂
Desserts can and should be eaten every day without feeling guilty or weighed down (hey, sweet tooth, did I get your attention?).  That is why this blog exists.  As a dessert-obsessed girl who studied Nutritional Sciences in college, I feel like it's my duty to share the knowledge I've gained over the years and provide recipes that any dietician would be glad to chow down on.
Sweet treats with health benefits?  YES, PUH-LEASE!
So go ahead, have that sweet treat on a daily basis without worrying about excess calories, unhealthy fats, highly refined sugars, etc.  Because I sure do!  I can't remember a day where I haven't eaten a cupcake, ice cream, a handful of chocolates, or even just a dessert-inspired milkshake.
Are you striving to be healthy but don't want to give up dessert in order to do so?  That's why I'm here y'all  😉
And that brings me to this Healthy Chocolate Chip Cookie Dough recipe!  It's safe to eat raw (it's made without eggs, so no need to worry about Salmonella), it's 100% whole grain (no bleached all-purpose flour here!), and is refined sugar free, high protein, and high fiber too  — a low glycemic treat so you can avoid the sugar-rush and sugar-crash.
This is the perfect recipe that perfectly represents my blog's name, Desserts with Benefits — a name that signifies exactly what it states:  desserts with health benefits!
Cookie dough is a sweet tooth's classic comfort food.  Just like how savory-lovers will eat mac and cheese or mashed potatoes, us dessert-lovers will head straight to the fridge with a spoon and a smile.
What makes us crave this unbaked treat?  Is it the endless supply of sugar?  The refined flour?  Or is it the abundance of butter that brings it all together?  It's all of that, and more.  When something so unhealthy is put into a convenient little container, all we see as a consumer is the pretty logo and a background scattered with innocent mini chocolate chips.  I should know, I used to eat cookie dough by the tub…  the Costco-sized tub (yes, it's embarrassing), so I know firsthand how good that stuff tastes.  But I turned a new leaf and am learning the ins and outs of nutrition.  I now know that the ingredients used by those cookie dough companies sure aren't "innocent" in any sense of the word.  I know firsthand how bad that stuff is for the human body.  We aren't made to consume such dangerous ingredients like hydrogenated oils, refined-to-the-bone white sugar and processed flour, we are made to eat natural foods, like this Healthy Chocolate Chip Cookie Dough.
Looks delicious, right?  Well, it is!  This all-natural cookie dough tastes just as sweet, just as buttery, and just as unhealthy as any storebought cookie dough, except this cookie dough is good for you…  this cookie dough has health benefits  🙂
Eating nutritionally balanced sweets has given me, my family, my friends and hundreds of thousands of readers a new perspective on the word, "dessert."
Dessert can now be healthy.
Dessert can now be guilt-free.
Dessert can now be beneficial to you as a whole…  mind, body and soul.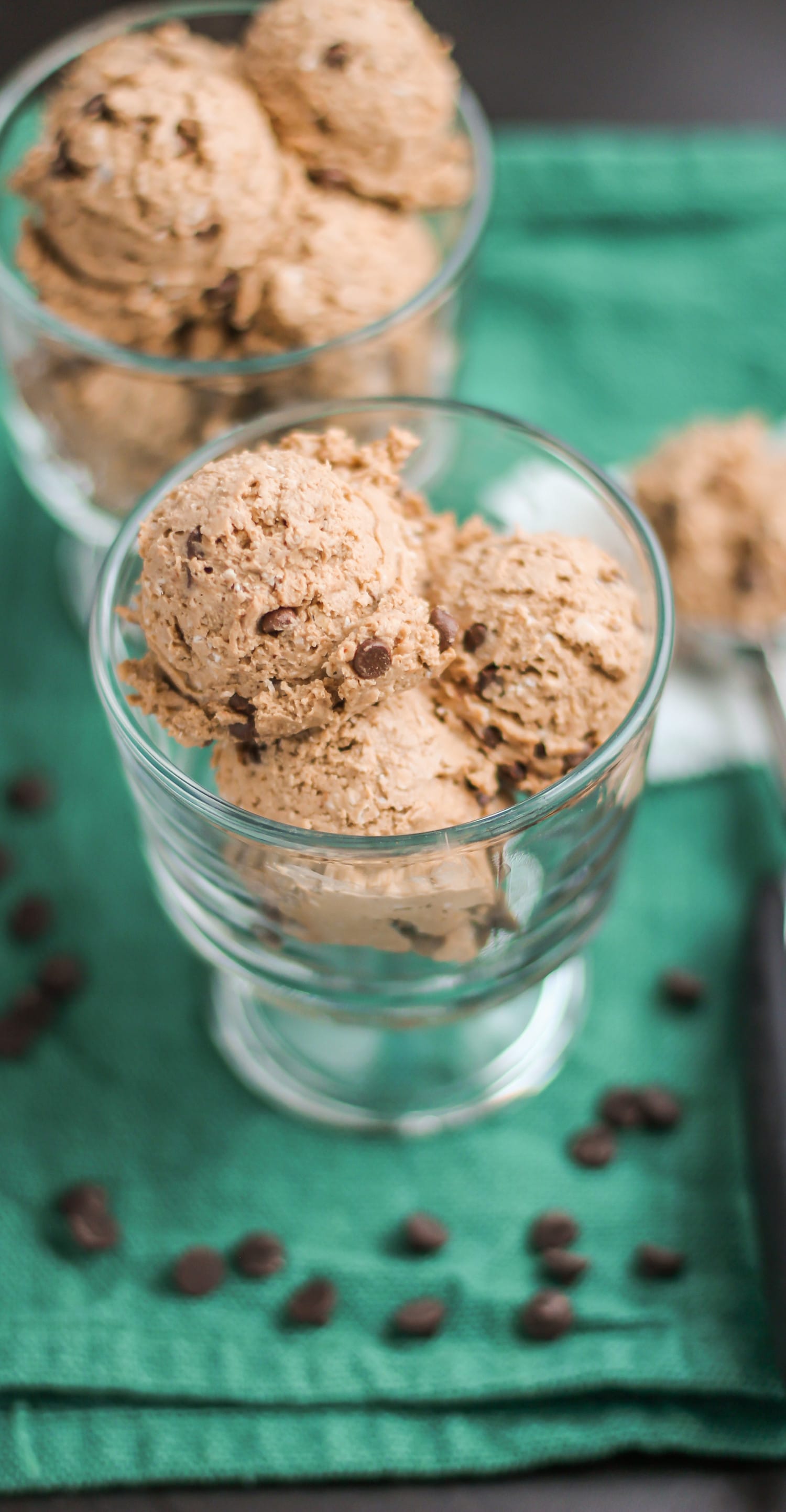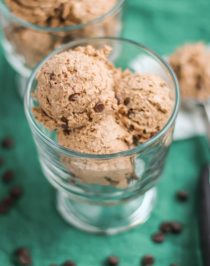 Print Recipe
Pin Recipe
Healthy Chocolate Chip Cookie Dough
Delicious and HEALTHY Chocolate Chip Cookie Dough that's safe to eat raw! Plus, it's high protein, high fiber, gluten free, vegan, with no sugar added!
Instructions
In a large bowl, stir together the protein powder oat flour, oats, chocolate chips and salt.

In an electric stand mixer bowl fitted with a

beater attachment, add the almond milk, almond

butter, vanilla extract, butter flavor and stevia

extract. Mix on low speed.

Dump the dry ingredients into the stand mixer

and mix until the ingredients are fully incorporated.

Scrape down the sides of the bowl if necessary.

Mixture should be thick and fudgy, like cookie

dough. Serve immediately, or store in a tightly

sealed container in the fridge for up to 5 days.
Recipe Notes
I made a delicious variation of this Chocolate Chip Cookie Dough that I wanted to share.  Here it is!
6 tbs Natural Almond Butter
¾ cup Unsweetened Vanilla Almond Milk
1 tsp Vanilla Extract
1 tsp Natural Butter Flavor
1 tsp Stevia Extract
¼ tsp Salt
1 cup Vanilla Brown Rice Protein Powder
¼ cup Oat Flour
⅓ cup Mini Dark Chocolate Chips
Nutrition Facts
Healthy Chocolate Chip Cookie Dough
Amount Per Serving (1 serving = ¼ cup)
Calories 170
Calories from Fat 81
% Daily Value*
Fat 9g14%
Sodium 80mg3%
Carbohydrates 13g4%
Protein 12g24%
Calcium 80mg8%
Iron 1.8mg10%
* Percent Daily Values are based on a 2000 calorie diet.
Recipe republished with permission from the Naughty or Nice Cookbook!
Enjoy  🙂
.
With love and good eats,
.
– Jess
.