Healthy Chocolate Fudge Protein Ice Cream
That's right…  Healthy Chocolate Fudge Protein Ice Cream!  And it was an accident too.  I was originally trying to make truffles, but the chocolate mixture never firmed up properly. At least I got something else out of the attempt.
Truffles are naturally made with only 2 ingredients: chocolate and heavy cream.
I wanted to omit the heavy cream, so I made a healthy alternative using soymilk and protein powder, which creates a thick and creamy texture similar to heavy cream.
Healthy Chocolate Fudge Protein Ice Cream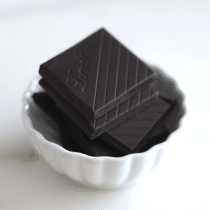 Ingredients:
¾ cup Unsweetened Vanilla Soymilk
60g (2 scoops) Vanilla Whey Protein Powder
6oz 90% Cacao Chocolate, melted in a large bowl
63g (3 tbs) Honey, Pure Maple Syrup, or Agave Nectar
5-15 drops Stevia Extract (to taste)
Directions:
Add the soymilk and protein powder into a shaker cup and shake until the protein powder is absorbed (it should be creamy).
Add a splash of the soymilk mixture into the melted chocolate and whisk.
Pour more of the soymilk mixture into the chocolate mixture and whisk again.
Add the rest of the soymilk mixture and the honey to the chocolate mixture and stir.
Put the bowl in the fridge for ~30 minutes, then put it in the freezer until it is frozen.
Bring the bowl out of the freezer 10 minutes before eating to soften, enjoy!
Notes:
Do NOT microwave the protein powder and soymilk together, it bakes into a gross cake patty (ew).
.
The ice cream melts pretty quickly, so scoop it into a cold bowl to slow the melting process… or just eat it like there's no tomorrow  
.
Yummy.
Chocolatey.
Creamy.
Tasty.
Healthy.
So share this with someone you love, or treat yourself to both servings.
I did…  hehe.
.
With love and good eats,
.
– Jess
🎂🍴💕
.
Be sure to follow @DessertsWithBenefits on Instagram!  If you try this recipe, make sure to snap a picture of it, tag me @DessertsWithBenefits, and hashtag #DessertsWithBenefits.  I'd love to see it and feature you on #FanFaveFridays!
.