5-ingredient No-Churn Medicated Chocolate Olive Oil Ice Cream (made in a blender — no ice cream machine needed!)
Well, I did it.  I made the best friggin ice cream on the planet.  This Chocolate Olive Oil Ice Cream.  But not just any Chocolate Olive Oil Ice Cream…  a medicated Chocolate Olive Oil Ice Cream made with just five ingredients!  And you make it in a blender too, so you don't need to buy an ice cream maker to make this (although, I must say, I own an ice cream machine myself and it was definitely one worthwhile investment.  I love it and feel like such a pro when I use it 😉).  Best of all, it's refined sugar free and full of healthy fats, with a punch of protein!
Way better than pot brownies, amirite?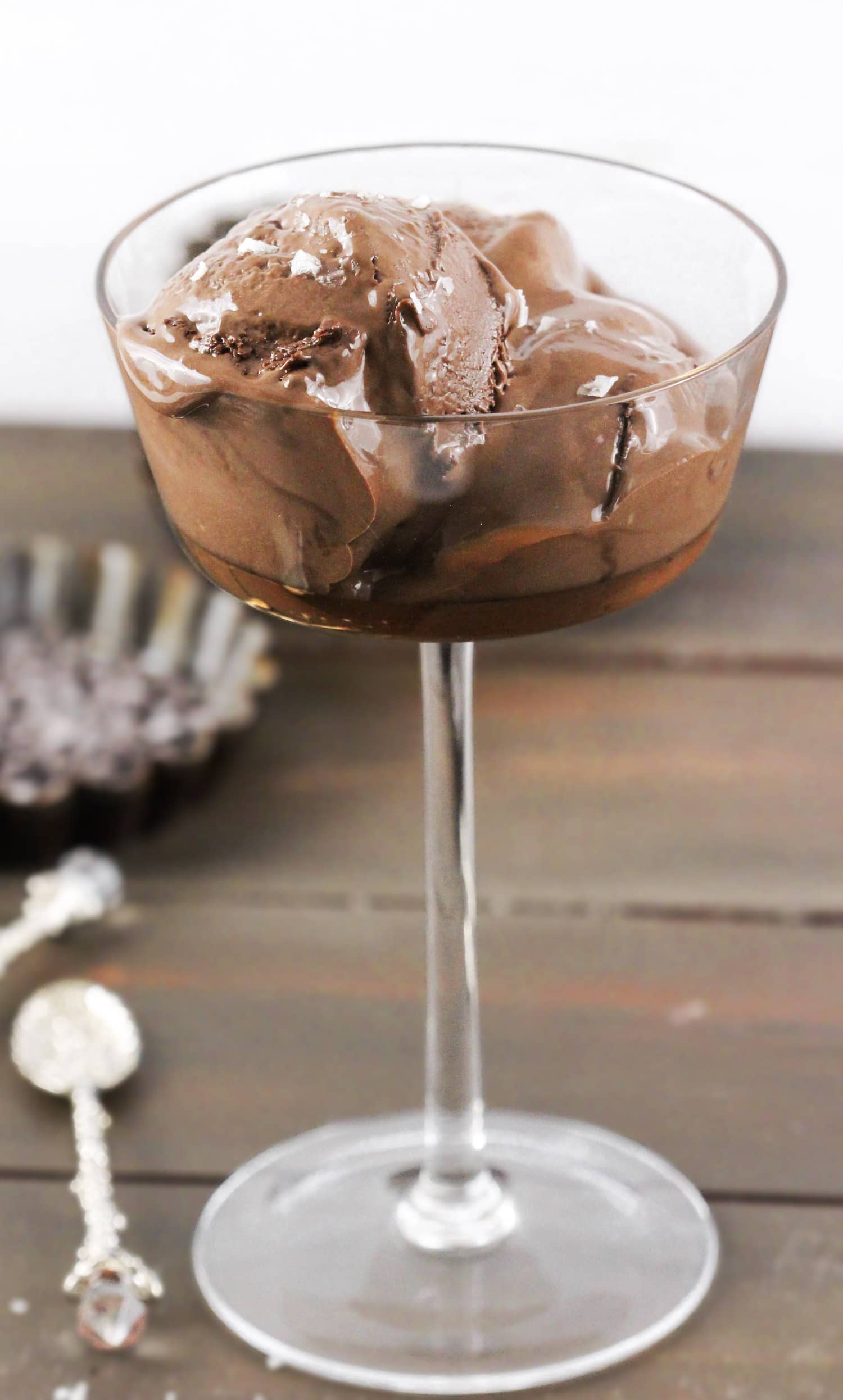 After making my Chocolate Fudge Ice Cream for the third time this last month, I thought I'd make a variation of it.  I was thinking a peanut butter swirl, or maybe even blending in some bananas.  I looked through my pantry and fridge to find some inspiration, and that's when I saw it — my cannabis-infused olive oil.
Yep.  That's goin' in.
When it comes to making homemade marijuana edibles, I prefer a low-dose of THC.  I mean, you get to eat more of it (yassss).  Kinda like gummy vitamins.  They're so damn good but when you can only have two, what's the point?  I want to eat like, thirty.  But without dying from some vitamin or mineral overdose.
It all depends on how you make your marijuana-infused olive oil.  You control the potency.  My canna oil has a potency of 1mg THC per 1ml of oil.  The recipe calls for 5 tsp (or 25ml) of oil, so the entire batch of ice cream has 25mg THC.
And of course, this goes without saying, if you don't want THC or if it's not legal where you are, just use regular extra virgin olive oil instead!  It'll still be just as delicious  🙂
If you've read my CBD-Infused Butter Mints post, then you know I use CBD for stress, anxiety, and sleep.  This recipe calls for just 3 tablespoons of honey, so I used my favorite CBD-infused honey in this ice cream.  I have the 500mg jar, so the entire batch of ice cream also has 252mg CBD.

Healthy Chocolate Olive Oil Ice Cream
Prep Time: 20 minutes
Cook Time: 0 minutes
Total Time: 20 minutes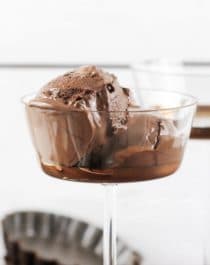 Ingredients:
Directions:
In a blender (I used my NutriBullet), add the almond milk, protein powder, honey, and olive oil.  Blend until completely smooth.
Add the melted chocolate and blend again.  Pour the mixture into a large bowl and place in the fridge for 1 hour.  Transfer to the freezer for ~4 hours, or until scoopable.
Serve with mini chocolate chips and some flaked sea salt.  Maybe a joint too.
Since I already know I'm gonna get emails of people asking, the glassware pictured in this post are from Amara.  My newest food prop site obsession!
All images and text © .
.
If you've ever wondered how to make homemade cannabis edibles that aren't cliché like pot brownies and gummy worms, then this Medicated Chocolate Olive Oil Ice Cream recipe is for YOU!
It's ultra creamy, incredibly rich, and perfectly sweet.  Plus, it's made with just five ingredients, and no ice cream machine required.
There's really no excuse to NOT make this recipe  😉

I brought a batch of this Medicated Chocolate Olive Oil Ice Cream to a party and 60 seconds after taking the lid off the container, five people had their own spoons and were digging in.  Everyone loved it and you will too!  Enjoy  🙂
.
With love and good eats,
.
– Jess
.