Healthy Homemade Butter Mints (with a secret ingredient!)
These Healthy Homemade Butter Mints are made with only 5 ingredients!  They're super easy to make and they're perfectly sweet and minty fresh.  Each one is like a mini bite of frosting.  You'd never know these DIY Butter Mints are sugar free, low carb, gluten free…  and made with a secret ingredient!
CBD!
CBD (or Cannabidiol) is a naturally occurring chemical compound, called a "cannabinoid," found in marijuana/cannabis and hemp plants.  You've probably heard of THC, the psychoactive cannabinoid that gets people high, but THC and CBD are not the same — CBD is a non-psychoactive cannabinoid, so it won't make you high.  Oh, and CBD is legal too!
I'm currently in Austin, TX, so marijuana and THC are still illegal, but I'm crossing my fingers that changes soon.  For now, who wants to make a trip out to Portland with me?? 🙂
According to the National Cancer Institute, cannabinoids may be useful in treating the side effects of cancer treatment.  Studies show that CBD is likely to benefit those with stress, anxiety, depression, IBS, inflammation, chronic pain, multiple sclerosis (MS), some neurodegenerative diseases, including alzheimer's, and more.
CBD can produce a relaxing, calming effect.  I personally take CBD in 2 forms:  isolate powder and vape.  I used to take CBD capsules (sporadically) but I just don't like pills all that much, and the dosage may not be fully absorbed, so I switched over to the isolate powder in the form of CBD edibles and a vape a couple months ago.

When I get stressed, I can't sleep.  Like, I can fall asleep just fine but will wake up at 1am, then 2am, then 3am, etc.  This happened to me a lot during my college years, probably due to wacky cortisol levels from all the stress.
A lot of important life/blog/business changes are happening right now, and have been for the last few months.  As you can probably guess, my sleeping habits haven't been great.  A few months ago, I was consistently waking up at 3am.  Back in college, I learned that if I wake up early feeling WIDE awake, it's better for me to just get up and start my day rather than sitting in bed feeling restless and anxious.  I just gotta take a deep breath, drink some coffee, and start working.
These days, if I wake up at 3am, I really don't feel like sitting at my desk and answering emails (oops).  I find myself in the kitchen instead.  Because how do I unwind?  FOOOOOD.
That's my kind of wake 'n' bake 😉
A couple months ago, on another (very) early morning, I decided to give CBD isolate powder a try.  These Healthy Homemade Butter Mints were the first thing I made with it.
I'm not gonna say that CBD is like a sleeping pill, because it's NOT.  But I will say that it's helped me sleep until around 6-7am.  Which honestly still shocks me at times.  I feel like I'm still used to waking up and having the clock read 3:32am or something.
I wasn't taking the CBD capsules regularly (maybe once a week?), so maybe it's the regular consumption of CBD via edibles and vape that's helping me sleep in later?  I don't know.  Because if anything my work load (and stress) has increased over the last month or so…
You may not know this, but my blog name, Desserts With Benefits®, is a registered trademark.  Unfortunately, I discovered that a company is borderline infringing on it using "Dessert With Benefits" on their new product packaging.  They even contacted me asking to use my mark, I said no, and they went ahead and did anyways.  Boooo *thumbs down*
Moving on.  My second trademark JUST passed (after a near two-year wait) for my new venture of making healthy edibles!  My trademark?  Baked With Benefits®  (heh, get it?  Baked?)  😉
Oh, and I also just hired a virtual assistant to help relieve some of my work load.  I've been a one-woman show behind this blog for six and a half years now, and I'm starting to learn how to ask for help.  I get over 100 emails a day, and if I skip a couple days of answering emails because I'm busy with other blog work (or basic everyday life duties), I get completely overwhelmed with the inbox and end up procrastibaking instead.  My VA's first day is November 1st.  I have no idea how to train someone how to answer my emails, so it'll be a learning process for both of us.  But I'm excited!
Anyways, onto the Healthy Homemade Butter Mints, yes?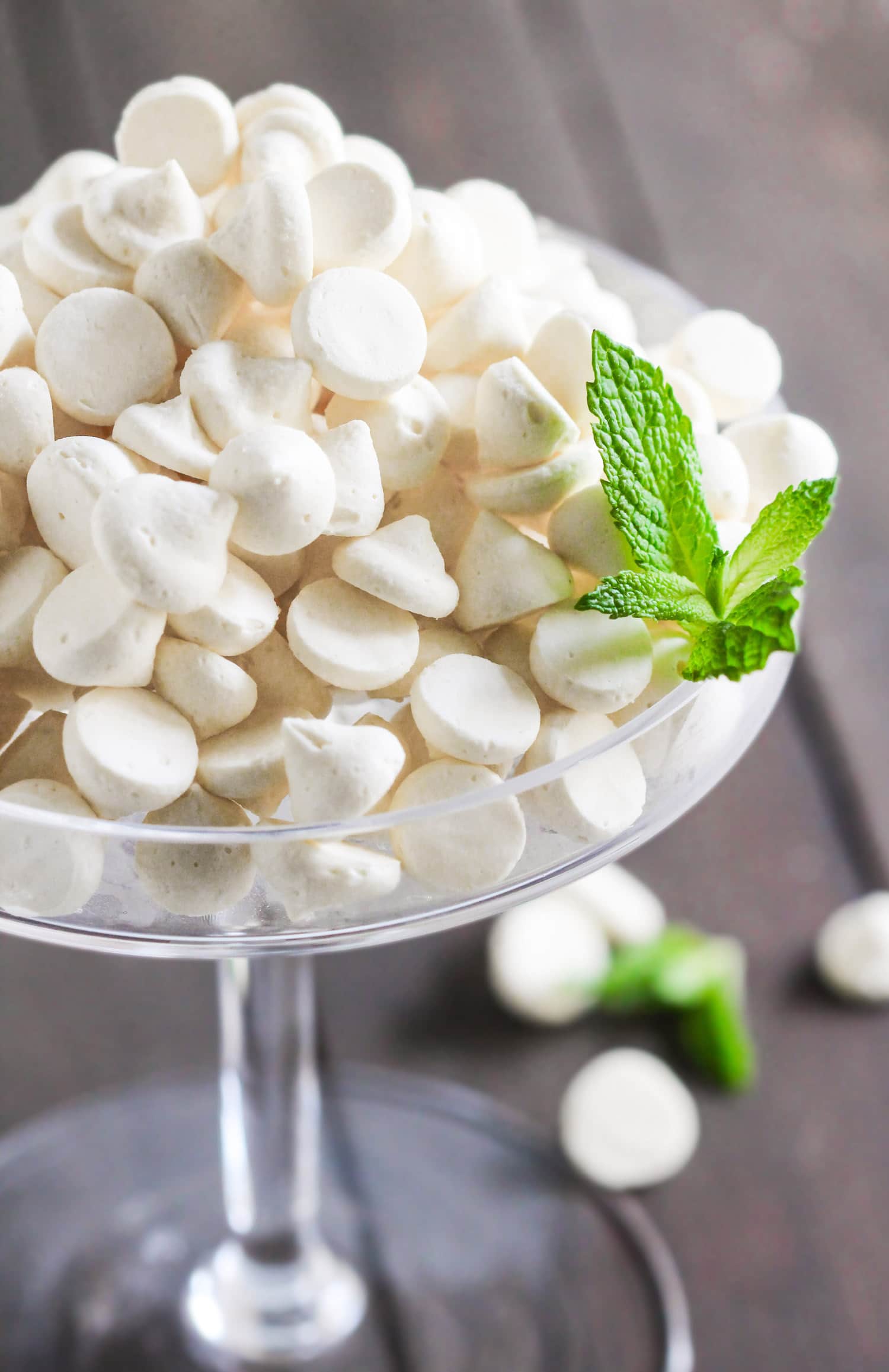 You butter believe these Homemade Butter Mints are uuuuber buttery.  Unlike the storebought kinds, these aren't stale and chalky, and these sure don't taste like 100% pure sugar with just a hint of artificial "butter" flavor.
Curious about the ingredients in storebought butter mints?  Here they are (unhealthy ingredients are in bold):
Sugar, Partially Hydrogenated Soybean Oil, Sorbitol, Butter (Pasteurized Cream, Natural Flavoring), Salt, Peppermint Oil, Natural and Artificial Flavor, Soy Lecithin, TBHQ, Sodium Benzoate.
Yeah…  not all that appetizing, huh?  Sugar, trans fats, artificial ingredients, preservatives…  yuck.  So I made a healthy homemade version with only 5 ingredients!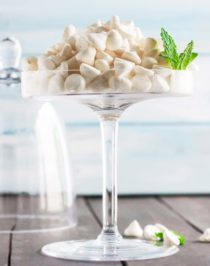 Print Recipe
Pin Recipe
Healthy Homemade Butter Mints
These 5-ingredient Healthy Homemade Butter Mints are easy to make, perfectly sweet, and minty fresh. Each one is like a mini bite of frosting! You'd never know these are sugar free, low carb, and gluten free too.
Instructions
In a stand mixer bowl with whisk attachment, add the butter and CBD isolate powder.  Beat on medium speed until the mixture is smooth and creamy, ~2 minutes.

Add the powdered erythritol, peppermint flavor, vanilla paste, and salt, then return mixer to medium speed.  Beat for ~4 minutes.  Scrape down the sides of the bowl and beat until it's really light and fluffy, and white-ish in color.

Line 2 baking sheets with parchment paper and reserve space in your freezer for them.

Scoop the mixture into a piping bag with small round tip (I used Ateco tip #804).  Pipe small buttons onto the baking sheets, then freeze overnight.

Transfer buttermints to an airtight container and freeze to store.  You can eat these straight from the freezer -- no thawing necessary!
Recipe Notes
**If you prefer, use CannaButter in place of the regular butter here!
PS:  In case you were curious, the glass cake stand and cake dome pictured in this post are from Amara.  My newest food prop site obsession!
Nutrition Facts
Healthy Homemade Butter Mints
Amount Per Serving (10 mints)
Calories 50
Calories from Fat 50
% Daily Value*
Fat 5.5g8%
Cholesterol 15mg5%
Vitamin A 200IU4%
* Percent Daily Values are based on a 2000 calorie diet.
Woot woot!  Only 50 calories for 10 mints!  YUSSS  🙂
These Homemade Butter Mints are like the filling of Andes mints — they're creamy in texture and have a bright and fresh mint flavor.  They make for the perfect after-dinner treat, but I snack on these all day long.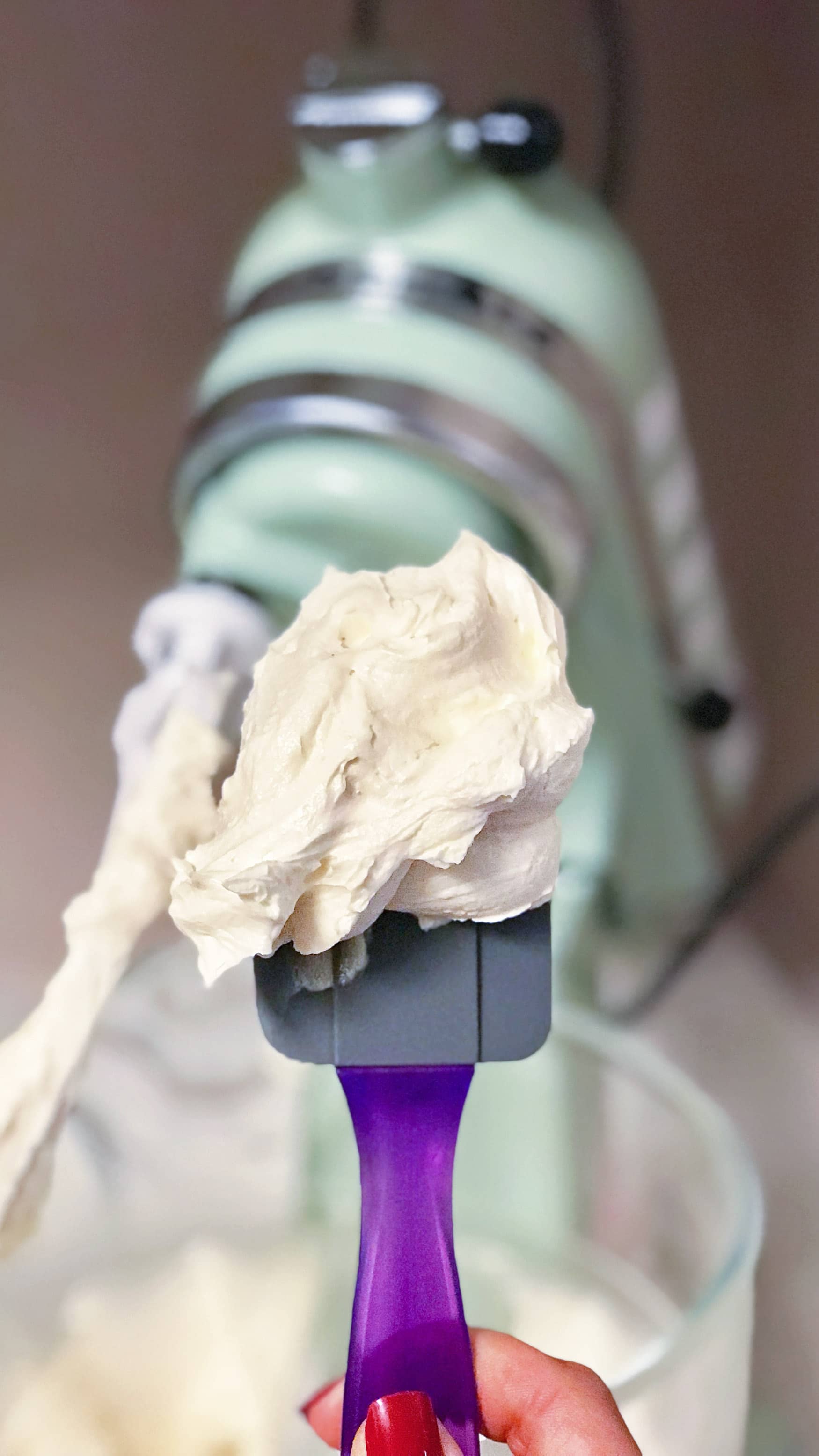 Look at that fluffy, buttery goodness!
In this recipe, I used CBDistillery's CBD Isolate Powder.  They are the only company I have found that sells affordable CBD Isolate.  1 gram can cost up to $96 (from a European company I was considering before I found CBDistillery), while 1 gram costs $30 at CBDistillery.  Every batch is tested, and all of their products are made from non-GMO, pesticide-free hemp grown in natural sunlight via organic practices.  This is what the isolate powder looks like out of the jar: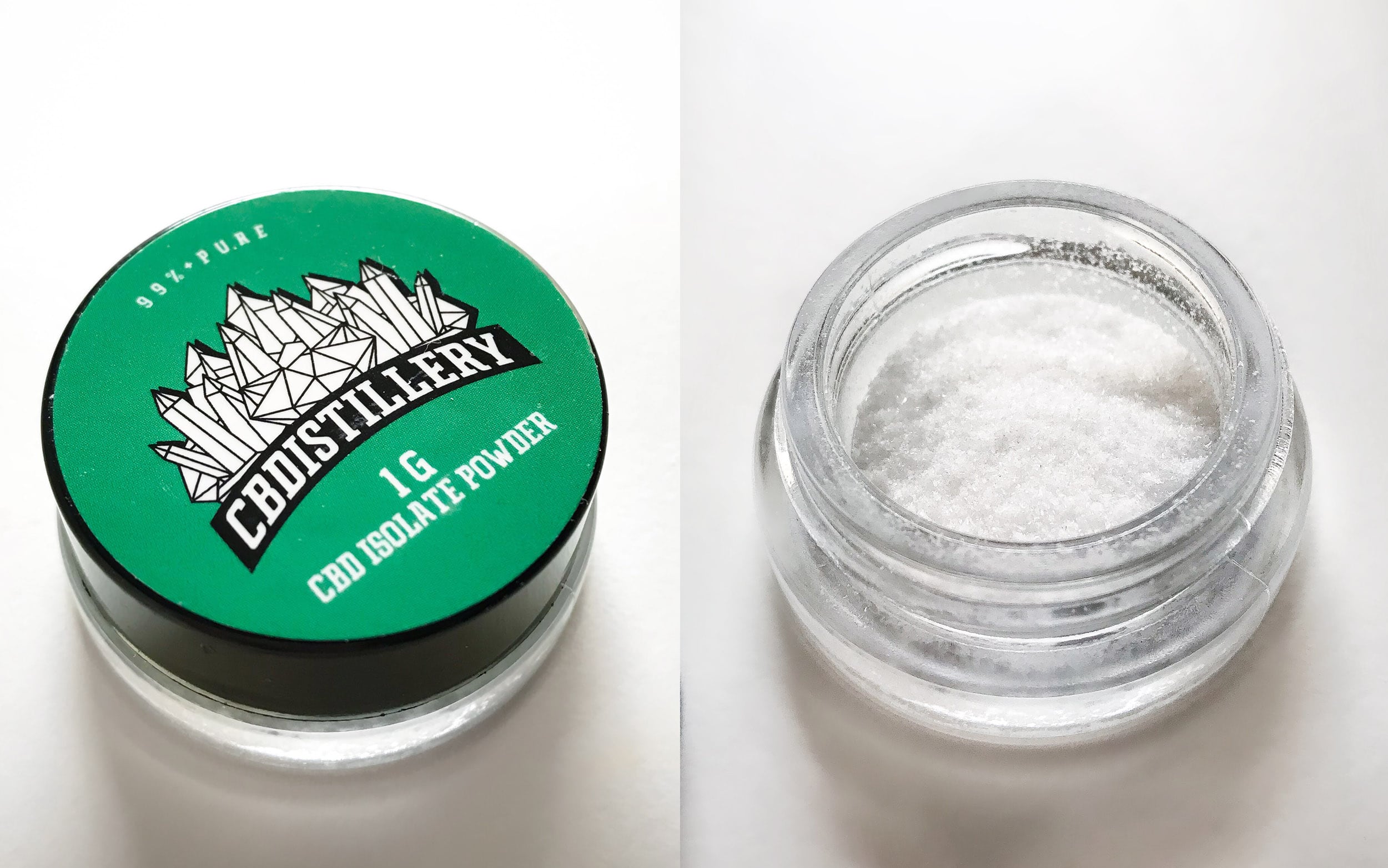 A little goes a long way!
You can most certainly use less than 1 gram as directed in the recipe.  You can use a ½ gram, or you can omit it completely if CBD ain't your thang.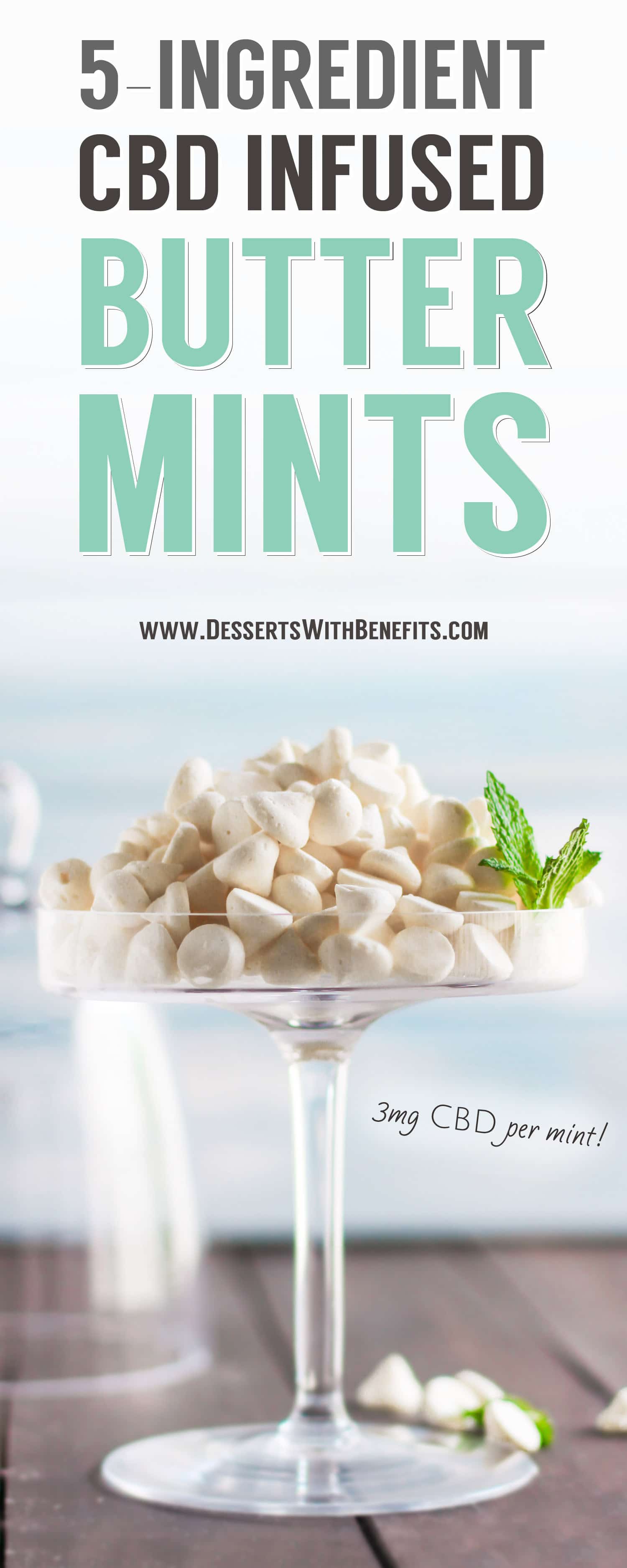 Since these Homemade Butter Mints are sweet like little frosting bites, yet sugar free and low carb, they're the perfect go-to treat for when you're craving something sweet but don't want all the excess calories and sugar.
Enjoy!
.
With love and good eats,
.
– Jess
.
This was not a sponsored post, however I was provided with the glass cake stand and dome from Amara as well as the CBD Isolate Powder from CBDistillery.  All opinions are mine and mine alone!
This blog post is intended as a reference only, not as a medical manual.  Nothing stated on this website is a substitute for any professional medical advice, diagnosis, or treatment that you may have been prescribed by your doctor.  Every human being is incredibly unique, so what may "work" for one person may not necessarily "work" for you (and vice versa).  The recipes that I provide here on the blog have all been eaten by yours truly, however I am NOT a registered dietician.  Consult with your doctor before beginning a new diet, health, and or fitness regimen.  Always seek the advice of a physician and registered dietician where appropriate!