Healthy Cheesecake Pops
When life gives you lemons, you make lemonade.
When your oven overbakes your cheesecake, you make cheesecake pops.
Okay, when you press the snooze button and overbake your cheesecake, you make cheesecake pops.
Understandably, we polished off my deliciously authentic, healthified Classic Cheesecake fairly quickly.  There was only one solution to a cheesecake obsessed family:  bake it again.  Sadly, round two didn't go as planned and I left the cheesecake baking in the oven for a little too long.  I was dismayed to see dark brown edges and deep surface crevices.  Why do snooze buttons exist??
But, there was a way to salvage it:  mash it horrifically and make cake pops.  Because sometimes, beautiful things can come from ugly, not so appetizing things.
I mean, would you have ever guessed that I overbaked this??  Nope!
And as I served this, no one knew my little secret.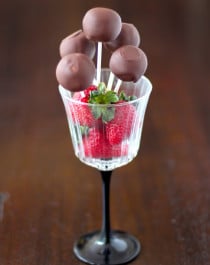 Print Recipe
Pin Recipe
Healthy Cheesecake Pops
Instructions
Line a cookie sheet with parchment paper or wax paper, set aside.

Put slice of cheesecake into a bowl and mash with a fork.  Scoop mixture and roll into 1" balls. Place on cookie sheet and freeze for about 30 minutes.

In a small microwave-safe bowl, melt the chocolate at 30-second intervals, stirring between each one, until melted. Put the cheesecake balls on popsicle sticks and coat in chocolate. Place on cookie sheet and refrigerate for about an hour, or until firm. Serve chilled.
Recipe Notes
*If your cheesecake is particularly creamy and not overbaked, just add ~2 tbs of graham cracker crumbs to the mixture until it can roll nicely into balls
Nutrition Facts
Healthy Cheesecake Pops
Amount Per Serving (1 cheesecake pop)
Calories 110
Calories from Fat 54
% Daily Value*
Fat 6g9%
Sodium 80mg3%
Carbohydrates 14g5%
Protein 4g8%
Vitamin A 200IU4%
Calcium 60mg6%
Iron 0.7mg4%
* Percent Daily Values are based on a 2000 calorie diet.
I was actually expecting these pops to have a lot more calories and fat than they really do…  I guess it's from the richness of the cheesecake and the sweetness of the chocolate.  I totally don't feel any guilt for eating 3 pops in a row, hehe.  Surprisingly enough, most of the calories/fat come from the chocolate and not the cheesecake!
Finally, something good came out of the snooze button!
.
With love and good eats,
.
– Jess
.