Guilt Free Cranberry Orange Bars
5-ingredient Guilt Free Cranberry Orange Bars – where blondies meet pie.  These are seriously like a mix between sugar cookie blondies, a slice of cranberry pie, and the cranberry bliss bars at Starbucks.  The perfect treat for the holidays!  And what makes 'em even better?  They're low calorie, reduced fat, and lower sugar than your typical holiday desserts!
Thanks to Immaculate Baking Co. for sponsoring this post, and thank YOU for supporting the brands that keep Desserts With Benefits going!  All opinions are mine and mine alone.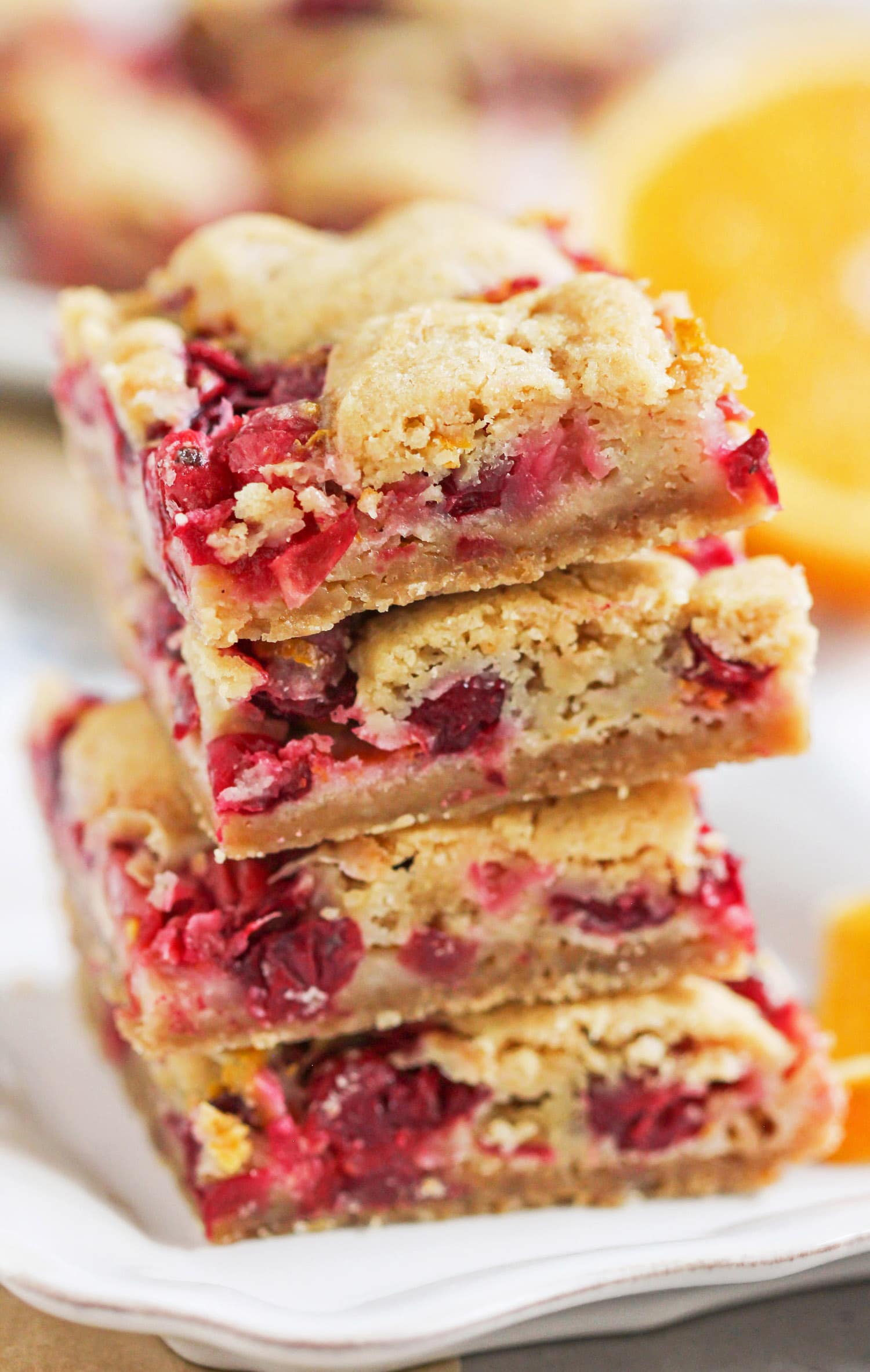 My mom is OB-SESSED with any cranberry dessert.  It's honestly the only reason I made this Cranberry Galette — for her, no one else, haha.  I'm usually more of a chocolate person, and the same with everyone else I know, but I think we could all most definitely make a temporary switch to these bars  😉
These Cranberry Orange Bars are sweet, dense, chewy, and bursting with tart cranberries, fresh orange zest, and a buttery sugar cookie base and crumble.
I love how each bar is studded with beautiful pink cranberries and flecks of orange zest.  Can't you just imagine sinking your teeth through these babies?
*drools*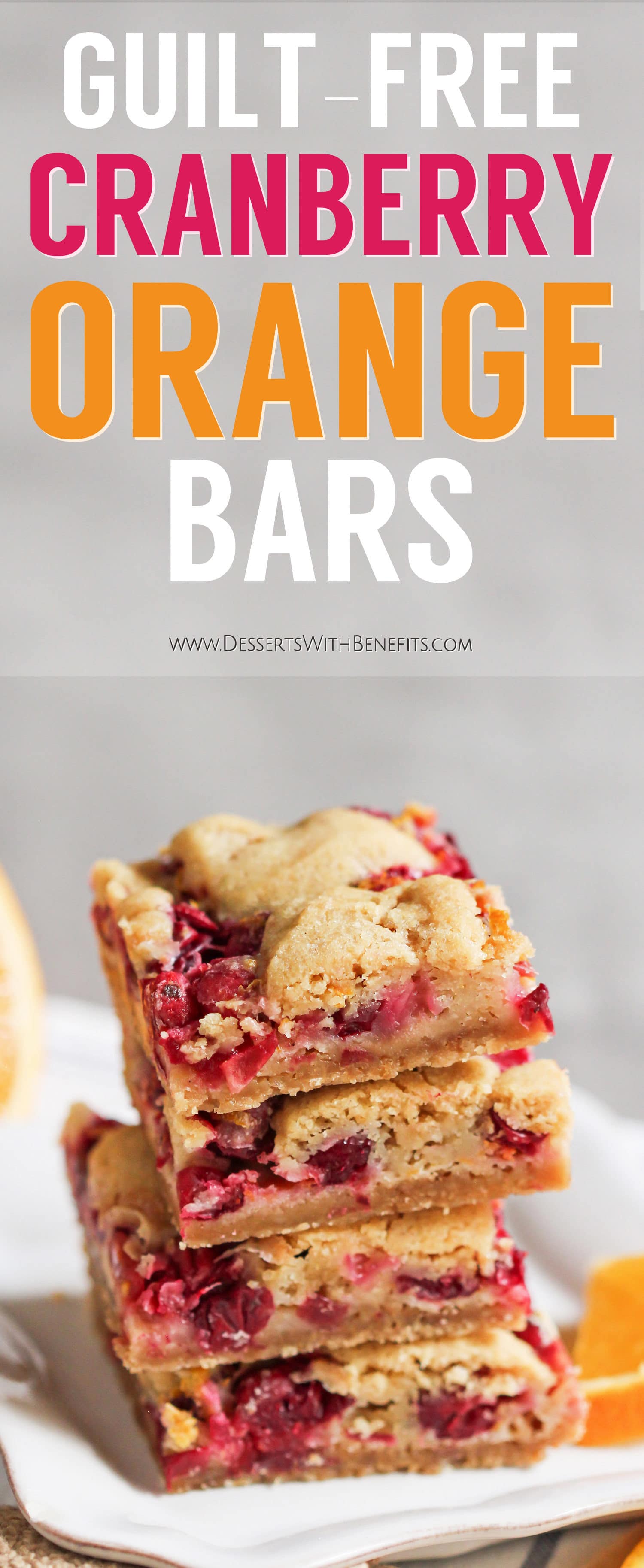 Thankfully, you don't have to imagine for too long, because the recipe's down below!
Guilt-Free Cranberry Orange Bars
Prep Time: 15 minutes
Cook Time: 1 hour 30 minutes
Total Time: 1 hour 45 minutes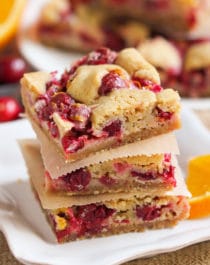 Fat per serving: 6
Calories per serving: 130
Ingredients:
BASE AND TOPPING:
FILLING:
Directions:
FOR THE BASE:
Preheat your oven to 350 degrees Fahrenheit.  Spray an 8×11″ rectangle pan with cooking spray and line one way with parchment paper for easy removal later.
Divide the package of cookie dough.  There are 12 cookies — evenly arrange 8 in the prepared pan and refrigerate the remaining 4 for the topping.  Bake for 20 minutes, or until the cookies spread out and fill the pan.  Let cool while you make the filling and topping.
FOR THE FILLING AND TOPPING:
In a large bowl, stir together the cranberries, erythritol, orange zest, and vanilla paste.
Slice each of the remaining cookies into 8 wedges (kind of like you're slicing a small round of cheese).
Pour the cranberry mixture over the cookie base and spread it out until it's even.
Evenly arrange the mini sugar cookie wedges on top of the cranberry filling.  Bake for 1 hour + 10 minutes, or until the cookie "crumble" topping is golden brown.  Let cool completely, then slice and enjoy!
Notes:
You can make this gluten free by using Immaculate Baking Co.'s Gluten Free Classic Sugar Cookie Mix prepared according to the box's instructions, and using that instead of the pre-made dough.
All images and text ©
.
.
Here is the recipe's nutrition label:
Wow, I'm surprised each bar has only 130 calories and 6g of fat!  While these are not sugar free, they are far lower in sugar than your typical holiday cookie or bar.  A bakery-bought blondie usually has around 400+ calories, 20g of fat, and a whopping 40g of sugar!
That's why I love Immaculate Baking's Sugar Cookie Dough.  It's not only organic, but it's made with just 7 simple ingredients:
Organic Wheat Flour, Organic Cane Sugar, Organic Palm Oil, Water, Organic Eggs, Organic Vanilla Extract, Sea Salt, Baking Soda, Cream of Tartar
And like I mentioned in the recipe's notes, you can make these Cranberry Orange Bars gluten free by using this Gluten Free Sugar Cookie Mix instead of the pre-made cookie dough.  It's made with super simple ingredients too!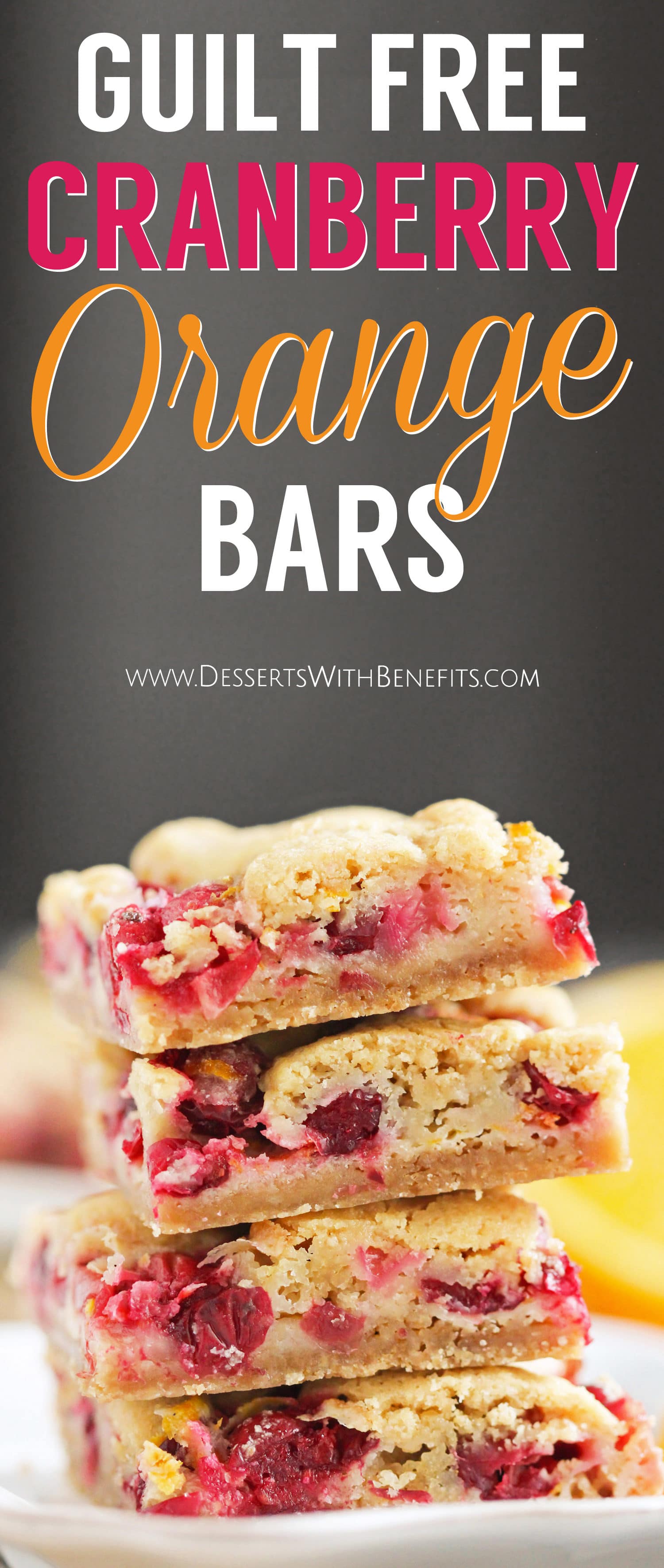 Enjoy!
.
With love and good eats,
.
– Jess
.