Healthy Chocolate Caramel Krispy Treats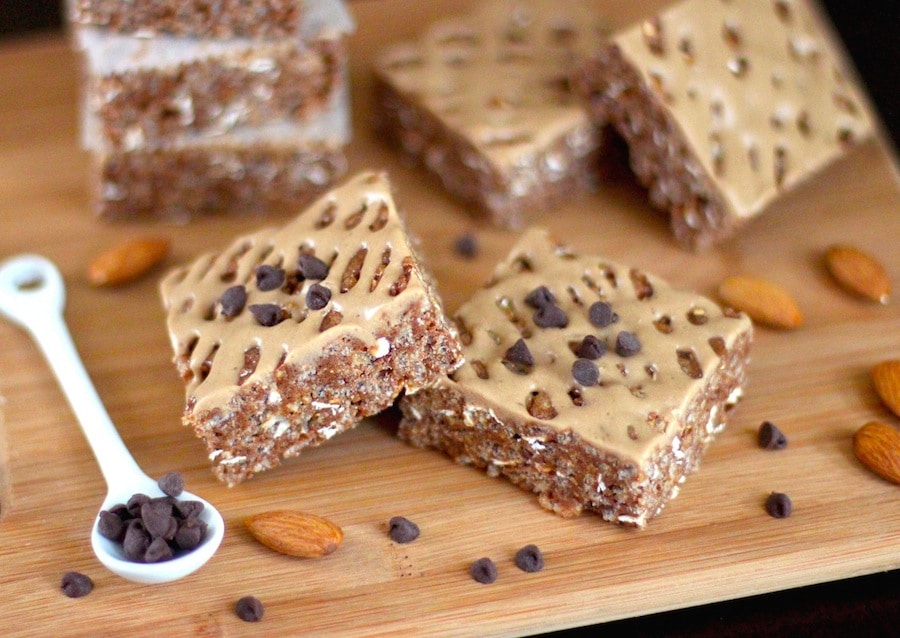 You know those Caramel Nut Brownie
Luna Bars
?  Well, I used to buy those on a daily basis when I was a freshman in university.  They were easy to grab out the door to class and they were 
especially
easy to eat…  they are so damn addicting!  Oh, what sugar will do to you (and sugar is listed 6x in their ingredient list).  I eventually tried cutting down on my sugar intake so I stopped buying those processed (and expensive) "candy" bars and I set out to make my own (I was having chocolatey-caramel withdrawal symptoms).  And the result?  Absolutely mouth-watering, crunchy and chewy, rich and decadent, secretly healthy Chocolate Caramel Krispy Treats!
No one could possibly ever guess that these treats are healthier than the original
Luna Bar flavor
.  These krispy treats taste
way
too sweet, rich and flavorful to be considered a health food, but they are!  Just look at the ingredients:
Healthy Chocolate Caramel Krispy Treats
Ingredients
Instructions
For the Krispy Treats:

Line an 8" brownie pan with parchment paper both ways.
In a large bowl, stir together the rice cereal, oats and salt.
In your largest microwave-safe bowl, stir together the brown rice syrup, almond butter, vanilla paste and caramel extract. Microwave at 30-second intervals, stirring between each one, until warm and runny. Stir in the protein powder one scoop at a time.
Scoop the wet over the dry and fold together. Press the mixture into the prepared brownie pan and flatten.

For the Icing:

In a small bowl, whisk together the protein powder, agave and coconut oil.
Scoop into a piping bag or ziploc bag and snip a tiny corner, drizzle over the treats. Refrigerate for 20 minutes, then slice and serve!
Notes
*If you don't have/want to buy caramel extract, omit it and use my healthy homemade caramel sauce recipe in place of the brown rice syrup!
**If you want to make the krispy treats vegan, use one scoop of brown rice protein powder instead of 2 scoops of whey.
This recipe is: no bake, low fat, high protein, gluten free, vegan*
https://dessertswithbenefits.com/healthy-chocolate-caramel-krispy-treats/
www.DessertsWithBenefits.com
Impressive!  100% whole grain, less sugar than Luna, and far fewer ingredients  🙂
These healthy Chocolate Caramel Krispy Treats were inspired by
Luna Bars
so I thought I'd do a little nutrition label showdown.
The Luna Bar nutrition label is on the left,  the DWB label is on the right (includes icing):
As you can see, the labels have very similar nutritional stats, but the Desserts with Benefits version has:  fewer calories, less fat, less saturated fat, less carbs, less sugar and a smaller (and more familiar) ingredient list…  opposed to Luna's ingredient list:
Hmmm, that is not very appetizing when I read it…  I only got to Organic Dried Cane Syrup and I quit.
You need to make this recipe ASAP.  These amazing and healthy Chocolate Caramel Krispy Treats will be gone in a flash, they are the kind of snack that loves you back!