Healthy Chocolate Peanut Butter Oatmeal Smoothie
I haven't made a smoothie in quite some time, I've been too busy making ice creams, cakes, and brownies!  To be honest, I like baking so much more than dumping a few ingredients in a blender and drinking it.  Boooring.  It's way more fun frosting some cakes, slicing them and handing them out to people.  You can't really share a smoothie and they don't often get a lot of "presentation points."  Especially this Healthy Chocolate Peanut Butter Oatmeal Smoothie.  It looks a bit like brown sludge, but after one sip you'll realize it's delicious sludge  🙂

Made with cocoa, peanut butter flour and other healthy ingredients, you'll get a healthy serving of fiber, protein, antioxidants, vitamins and minerals.  This smoothie is rich, creamy, sweet, and satisfying — perfect for the new year!

Healthy Chocolate Peanut Butter Oatmeal Smoothie
Prep Time: 5 minutes
Cook Time: 0 minutes
Total Time: 5 minutes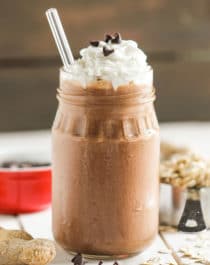 Fat per serving: 12g
Calories per serving: 290
Ingredients:
1 cup Unsweetened Vanilla Almond Milk
¼ cup Peanut Flour
¼ cup Old Fashioned Rolled Oats
2 tbs Unsweetened Dutch Processed Cocoa Powder
1 tbs Ground Flaxseed
pinch of Salt
Directions:
Add all of the ingredients to a blender and puree until completely smooth.  This smoothie thickens the longer it sits, so I recommend refrigerating overnight for a super thick texture.  If you don't want to wait, simply blend in a handful of ice cubes and puree until completely smooth.
All images and text ©
.
.
Here is the recipe's nutrition label:
Now that's what I call a healthy smoothie!

Add a straw and you're ready to go!
Enjoy  🙂
.
With love and good eats,
.
– Jess
.