Healthy Single-Serving Chocolate Microwave Muffin with Peanut Butter Icing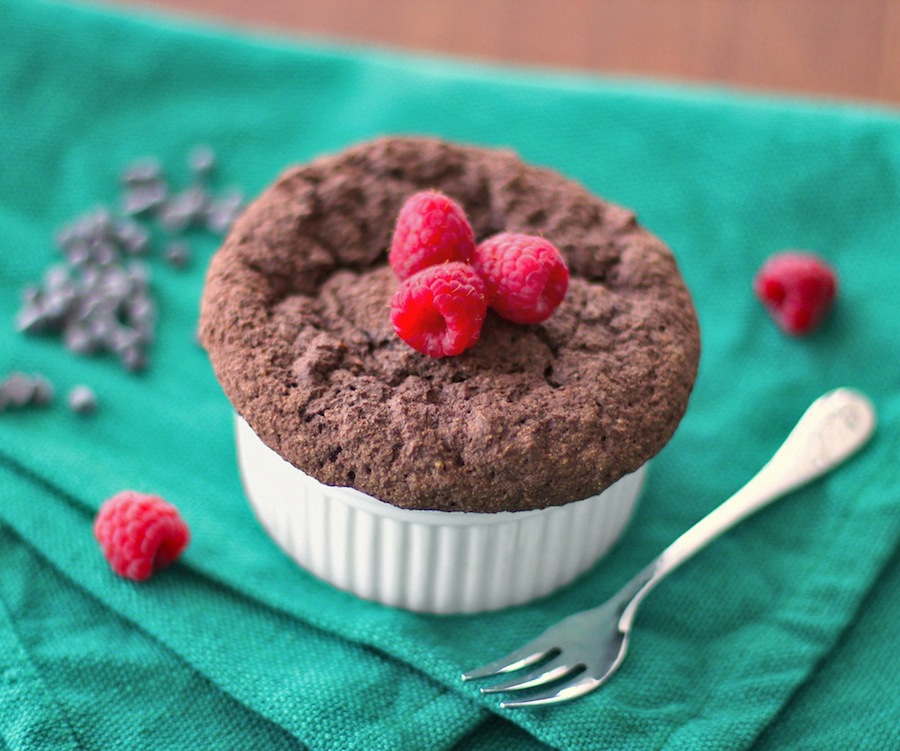 A chocolate muffin.  From the microwave, not the oven!  Made and baked in less than 10 minutes flat?
You bet.  Mix the batter, pop it in the microwave, dive right in…  with no need to share.  Really.
So skip the oven preheating and an insanely long baking time and make the ultimate healthy microwave muffin — this one, made with flax, applesauce and oats!  A good day will always start with some dessert for breakfast, but an amazing day will always start with a healthy breakfast, such as this one.
I mean, a guilt-free chocolate muffin so early in the a.m.?  Totally indicative of a great day to come  🙂
Healthy Single-Serving Chocolate Microwave Muffin with Peanut Butter Icing (sugar free, gluten free, vegan)
Ingredients
Muffin:

7g (1 tbs) Ground Flaxseed
1/3 cup Unsweetened Vanilla Almond Milk
62g (1/4 cup) Unsweetened Applesauce
4 packets Truvia
1/8 tsp Salt
15g (3 tbs) Unsweetened Regular Cocoa Powder
45g (6 tbs) Oat Flour
1 tsp Baking Powder

Icing:

3 tbs Peanut Flour
2 packets Truvia
2 tbs Unsweetened Vanilla Almond Milk
Instructions
For the Microwave Muffin:

Spray a 5" baking dish or 4" ramekin with cooking spray.
In a medium-sized bowl, stir together the flax and almond milk.
Stir in the applesauce, truvia and salt.
Stir in the cocoa powder, then stir in the oat flour.
Last, stir in the baking powder. Scoop batter into the prepared baking dish and microwave (the 5" baking dish takes about 4 min + 30 sec, the ramekin takes 5 min) until surface springs back when tapped.

For the PB Icing:

In a small bowl, whisk together all the ingredients until smooth.
Notes
This recipe is: sugar free, high fiber, high protein, gluten free, vegan!
https://dessertswithbenefits.com/single-serving-chocolate-microwave-muffin-with-peanut-butter-icing/
www.DessertsWithBenefits.com
The nutrition label on the left is for the muffin only, the label on the right is for the muffin and the icing:
This chocolate muffin, for you (and you only!) is just a fraction of the calories, fat and sugar than the other recipes, plus any other muffin you would find at the grocery store or bakery!
Make friends with your microwave, because you're going to be hanging around it for quite some time.