Healthy Homemade Crunch Bars
Growing up, I've always gravitated towards Hershey's Cookies & Cream Bars or Snickers…  nothing else.  But the variety of candies passed out during Halloween always made me think, "Oh my GOSH this is so good, why don't I ever eat these??"  I'd think that about Reese's Peanut Butter Cups, Twizzlers, and Dots…  but most of all, I'd think that about Crunch Bars.  They're so simple, but so good.  They're chocolatey, crunchy, crispy.  They satisfy your sweet tooth with every bite.  So since Halloween is coming up, I thought I'd try my hand at making them myself.  Especially after reading the ingredient list off the store-bought bars.
Milk Chocolate (Sugar, Chocolate, Cocoa Butter, Nonfat Milk, Milkfat, Lactose, Soy Lecithin, Natural Flavor, Crisped Rice (Rice Flour, Sugar, Barley Malt, Salt).
One good thing is that they removed preservatives and artificial ingredients (such as PGPR and vanillin) from their ingredient list, but it's still basically pure sugar  🙁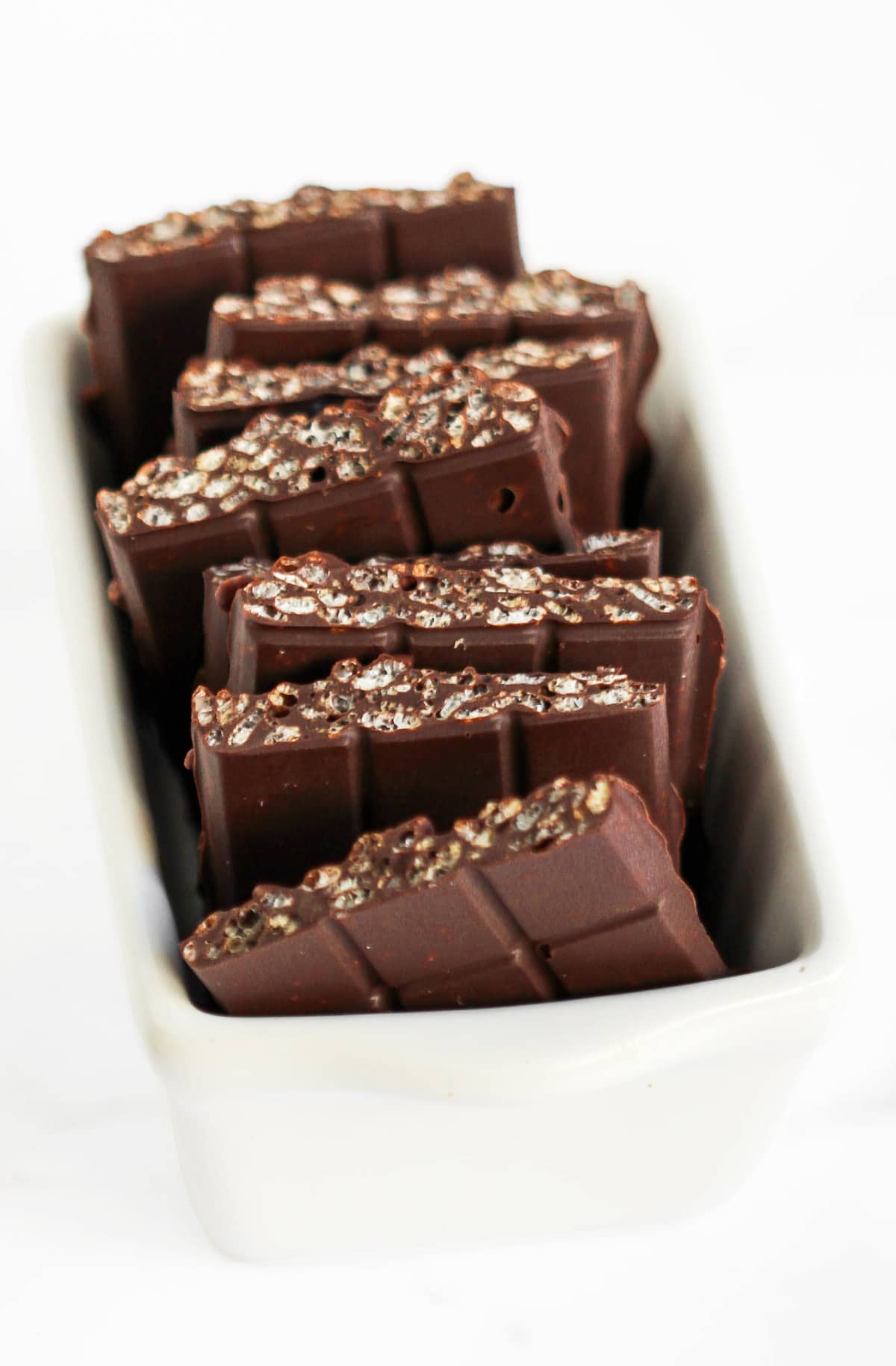 To avoid those less-than-ideal ingredients, I made this super easy delicious recipe for ya!
These 2-ingredient Homemade Crunch Bars taste just like the store-bought version, except they're WAY better!  All the crunchy, crispy, chocolatey heaven, yet made all natural, refined sugar free, and gluten free too!
Perfect for Halloween, healthy dessert, a decadent snack, or all of the above  😉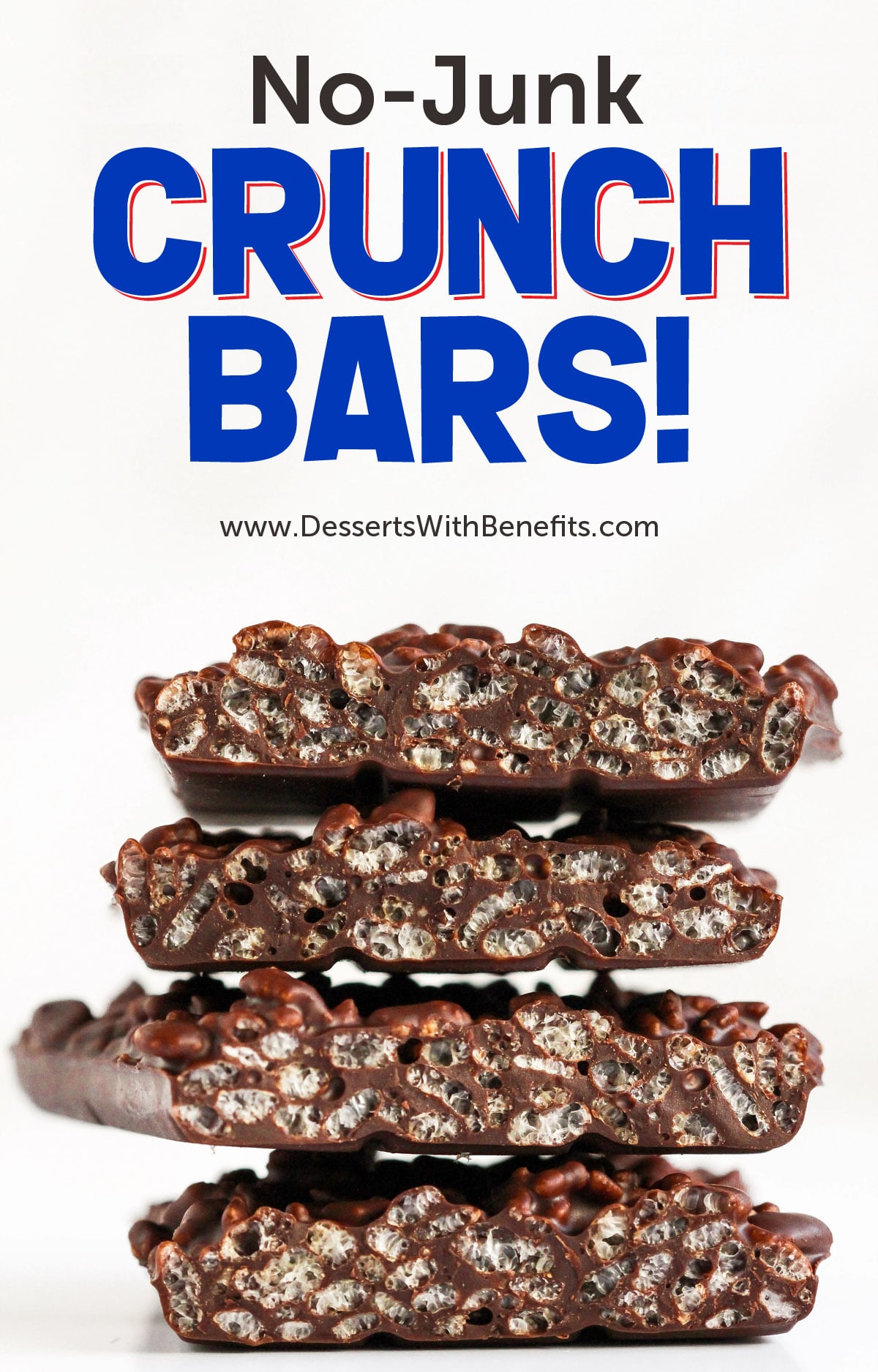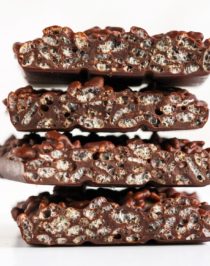 Print Recipe
Pin Recipe
Healthy Homemade Crunch Bars
These easy 2-ingredient Homemade Crunch Bars taste JUST like the original, except they're way better (and healthier too)! Crunchy, crispy, chocolatey, and satisfying. You'd never know they're sugar free, and gluten free too! Perfect for Halloween, birthdays, surprise parties, movie theatre snacks, or a decadent treat just for you.

Ingredients
2

cups

Crispy Brown Rice Cereal
Instructions
In a large microwave-safe bowl, add the dark chocolate. Microwave at 30-second intervals, stirring between each one, until completely melted. Let cool for 10 minutes.
Nutrition Facts
Healthy Homemade Crunch Bars
Amount Per Serving (1 serving = ½ chocolate bar)
Calories 80
Calories from Fat 52
% Daily Value*
Fat 5.8g9%
Cholesterol 1mg0%
Sodium 27mg1%
Carbohydrates 6g2%
Protein 1g2%
Calcium 10mg1%
Iron 1.4mg8%
* Percent Daily Values are based on a 2000 calorie diet.
But wanna know what makes this recipe really great?  It requires only 2 ingredients!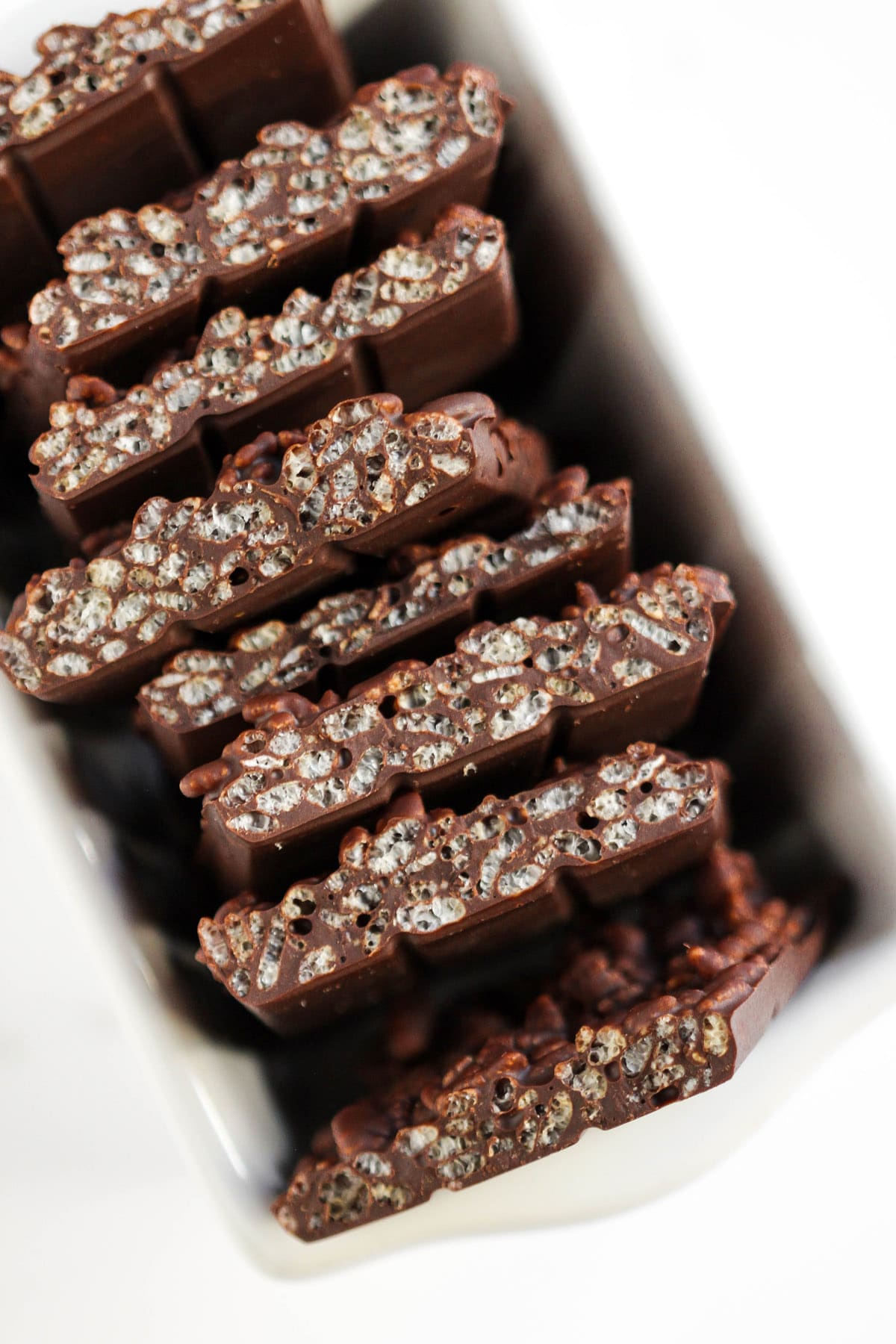 I might just make some fun-sized ones and sneak 'em into the theatre…  because I ain't paying $9 for a big tub of trans fat-filled popcorn.  Naw thank you.
These Homemade Crunch Bars are UBER chocolatey — they'll satisfy your sweet tooth in a single bite!
Totally drool-worthy stuff right here  😉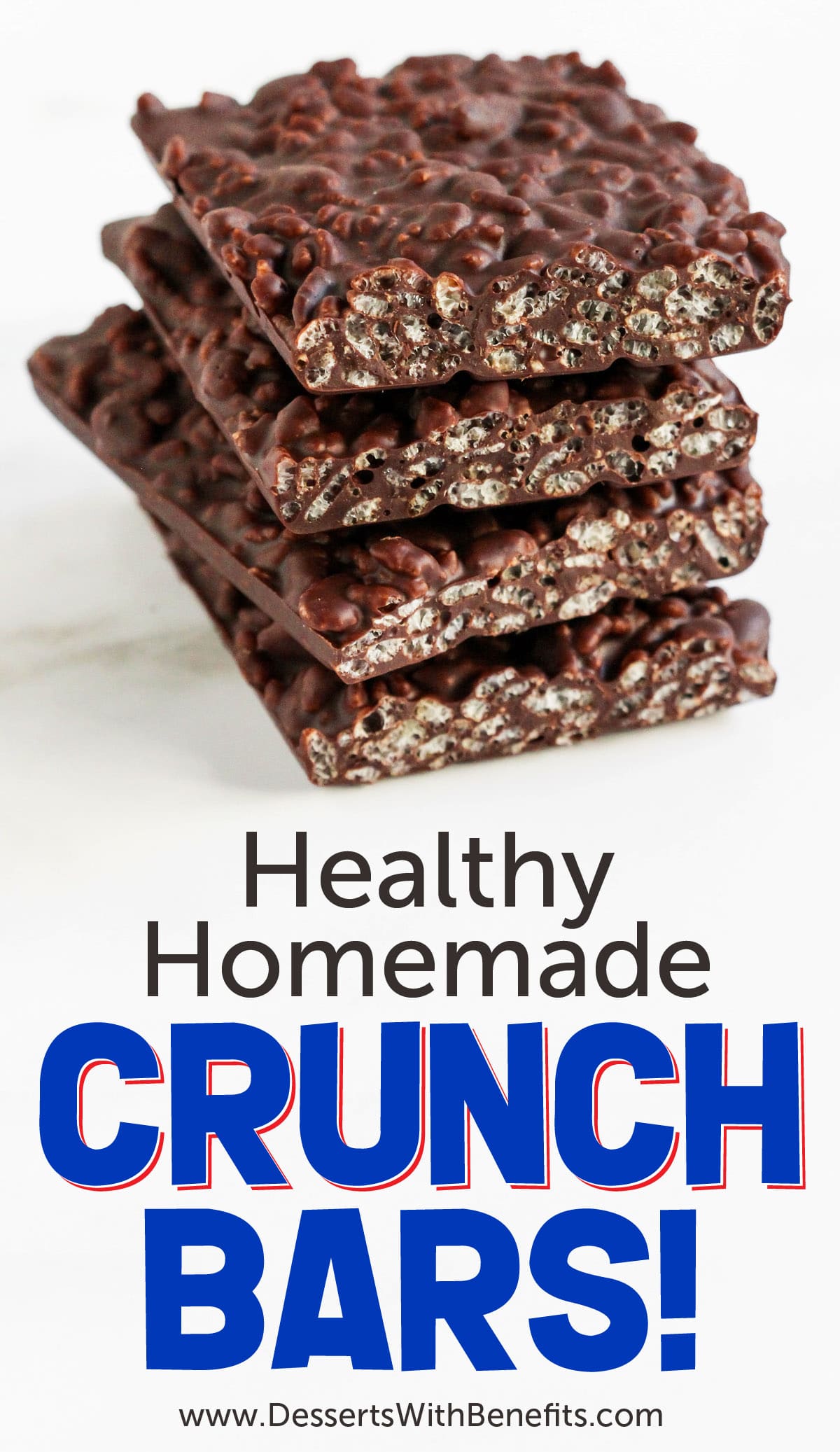 Enjoy!
.
With love and good eats,
.
– Jess
.