Healthy Homemade Milk Chocolate (To Celebrate My 3rd Blogiversary!)
Healthy Homemade Milk Chocolate without the heavy cream, refined white sugar, high fructose corn syrup, artificial flavorings and preservatives!
Chocolate addicts, BEWARE.  This guilt-free DIY chocolate is sweet, creamy, rich, satisfying and as close as you can get to Hershey's while staying au naturel!
I think this is the best recipe to celebrate my blog's 3rd birthday.  If you've been following Desserts With Benefits for a while, then you know allll about my dessert addiction.  And chocolate addiction.  And coffee addiction.
While Dark Chocolate is all fine and dandy, seriously now, it's nothing like Milk Chocolate.  Milk Chocolate doesn't "snap" like the dark varieties, it's soft and melts in your mouth.  It's creamy, it's super sweet, and it's totally addicting.  Unfortunately, storebought milk chocolate isn't good for you.  Oh, but this one?  This Homemade Milk Chocolate is: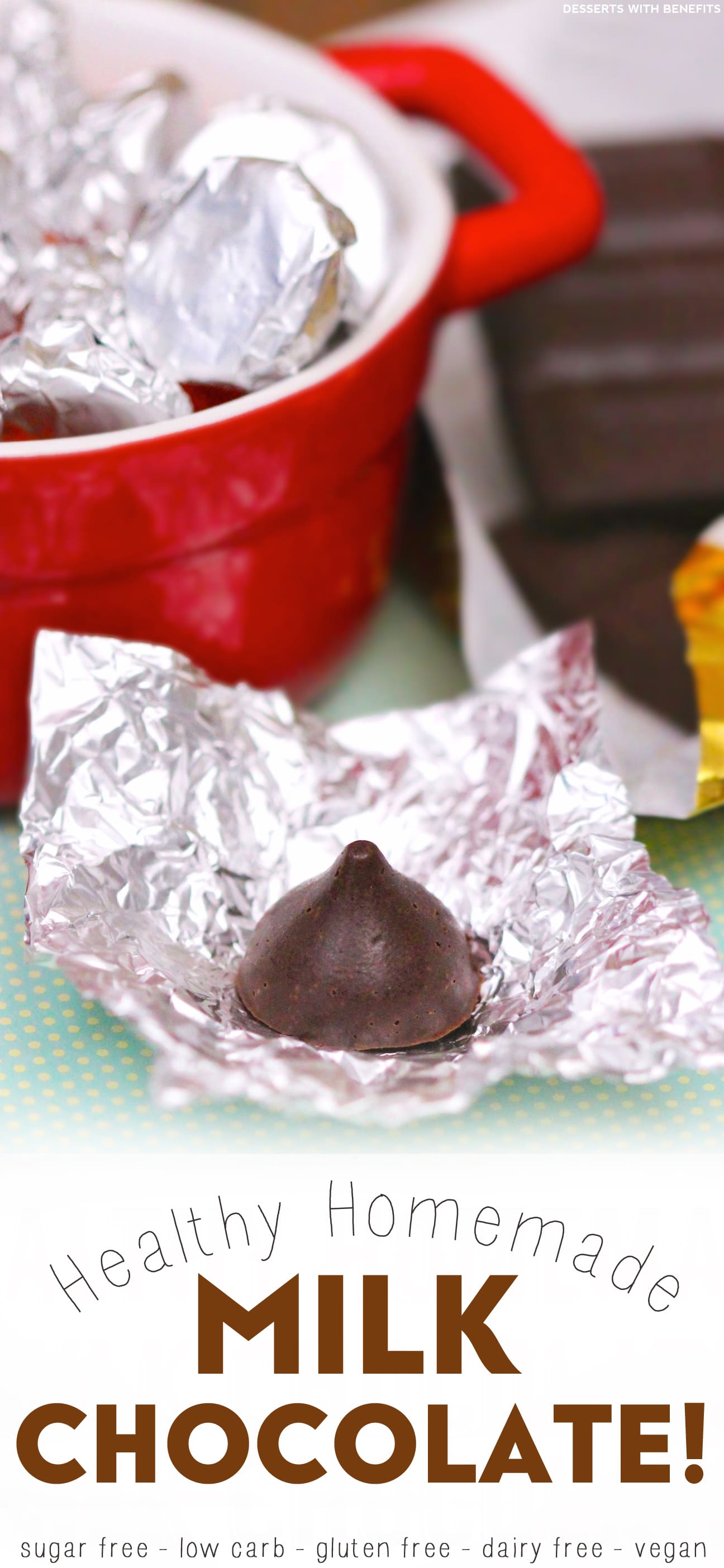 Sooo I should need to tell you something.  I'm not gonna lie to you or sugar-coat the truth.  This recipe is weird.  But in a good way, you know?  You see, this chocolate is, well, seized.
Did I just hear you gasp?  I bet the chocolatiers and professional cooks out there will now think of me as some amateur baker (I'm not gonna sugar-coat that either, I totally am an amateur), but trust me, even though you have to seize the chocolate in the chocolate-making process, you will still end up with a creamy and dreamy, delicious and nutritious, good-for-you and good-for-your-taste-buds chocolate.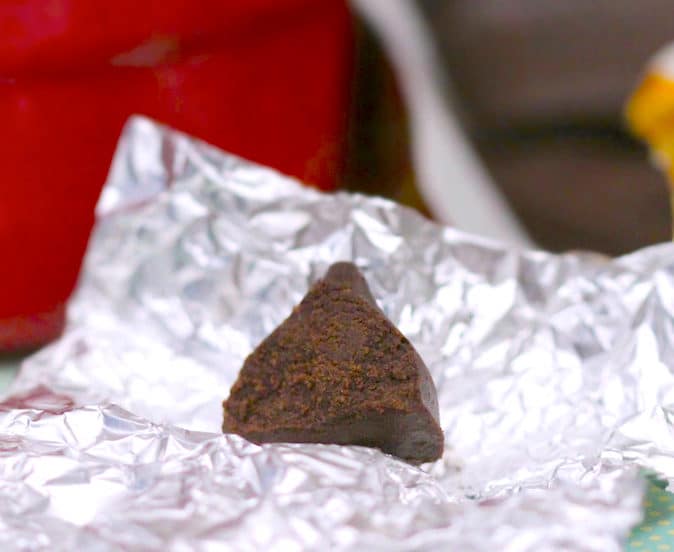 CHOMP!
See how soft and fudgy it is?  It doesn't "snap" like dark chocolate, it melts in your mouth.  Just like how ALL milk chocolate should  🙂
One bite and you'll have a hard timing believing this Healthy Homemade Milk Chocolate is all natural, sugar free, dairy free and vegan.
No butter, milk or heavy cream, no soy lecithin, no preservatives, no artificial "vanillin" flavoring, no PGPR — just pure and natural goodness.  Tastes like storebought chocolate, but this one's actually good for you!
Indulge…  sinfully sinlessly!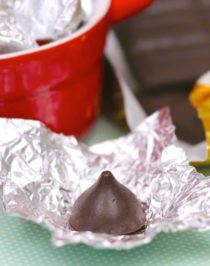 Print Recipe
Pin Recipe
Healthy Homemade Milk Chocolate
This Healthy Homemade Milk Chocolate is made without the heavy cream, refined white sugar, high fructose corn syrup, artificial flavorings, and preservatives!
Instructions
In a double boiler, add the unsweetened chocolate and almond butter. Place over medium-low heat and stir occasionally until completely melted.

While the chocolate/almond butter is melting, sift the erythritol and salt into a small bowl. Set aside.

When the chocolate/almond butter is completely melted and smooth, stir in the vanilla paste, butter flavor and stevia extract.

Toss in the sifted erythritol and stir together (the chocolate will seize, that's totally fine). Keep the mixture over the heat for a couple more minutes while stirring/folding. Make sure all the erythritol is dissolved and incorporated thoroughly. It should look like the picture down below.

Chill in the refrigerator until hardened (a couple hours or so), then remove from the molds and wrap in thin tin foil or cellophane wrapping. To store, keep tightly wrapped in the refrigerator.

.
Recipe Notes
I didn't expect the recipe to end up making so many chocolate bars so I had to use a variety of my chocolate molds.
Nutrition Facts
Healthy Homemade Milk Chocolate
Amount Per Serving (1 ounce)
Calories 130
Calories from Fat 99
% Daily Value*
Fat 11g17%
Sodium 2mg0%
Potassium 85mg2%
Carbohydrates 5g2%
Protein 3g6%
Calcium 40mg4%
Iron 2.2mg12%
* Percent Daily Values are based on a 2000 calorie diet.
This Healthy Homemade Milk Chocolate is nutritionally balanced with a good amount of healthy fats, filling fiber and satiating protein.  Unlike storebought chocolate, which has a whopping 30g of sugar (equivalent to 7.5 teaspoons of sugar), my chocolate doesn't have any added sugar whatsoever.  Supposedly chocolate companies have been making their chocolate lower in fat by using that strange "PGPR" additive.  No thank you.  Homemade is totally the way to go (plus it's got more protein and fiber)!
To be quite honest, I was never really a fan of Hershey Kisses.  Wanna know why?  Because that darn foil was just a hindrance to shoving sugar in my face.  But I've learned to be patient…
Just kidding.  I still hate that foil.  It's evidence of our shove-chocolate-in-face sessions.
.
I just want to say that I am so blessed to have you guys in my life.  Sometimes I stress myself out and focus too much on the recipes, the baking, the photographing (or at least, trying to take decent pictures), the responding to comments and emails, and so on, that I forget to tell you how much I truly appreciate you.  This post, this recipe, the rest of my recipes, this ENTIRE BLOG, actually…  it's all here because of you.  I am so grateful for you.  Without this blog, I truly have no clue as to what I would be doing in my life.  Throughout the years, a lot of people have asked me to share more about my life on the blog.  I guess I'm not as open as some other bloggers out there, but I'm trying!  So here's a start:
.
10 Things That You Probably Didn't Know About Jessica, the Blogger Behind Desserts with Benefits:
1.  Every morning I wake up, I immediately think of breakfast.  Like, the moment I open my eyes and lift my head off the pillow.  Seriously, HOW did I ever skip breakfast back in my teenage years?!?  To me, breakfast is just as important as coffee.  And that's pretty freaking important.
2.  I'm not shy, I'm just reserved.  I won't walk up to you to start a conversation, but if you start one with me you probably won't be able to get me to shut up (especially with a drink or two in me)
3.  I suffer from chronic bitch face syndrome.
4.  I get overwhelmed easily.  Usually by the sheer amount of emails I get.  I get soooo many from all you lovelies!  And while I absolutely love reading them (they make me smile, they brighten up my gloomy days, they make me over-the-moon happy to do what I do here at Desserts With Benefits), sometimes I just can't find the time to sit down and respond to them all in a timely manner.  The reason I may not respond right away is because I will never ever ever rush an email just to get it out of my hair.  You took the time to write to me, so in turn, I will take the time to write you back.
5.  Most girls like to hang out at the mall to shop for clothes.  I go straight to kitchen-related stores like Williams Sonoma, Sur la Table and Crate & Barrel, and look at (totally unnecessary) baking pans of all shapes and sizes.  Seriously, who the hell needs mini heart-shaped cupcake tins, seven different bundt pans and cake pans in four sizes??  Apparently I do.
6.  I cringe when I make spelling errors like its/it's and their/there/they're.  Its terrible.  JUST KIDDING, it's terrible!  Almost cried for a second there, phew!
7.  I'm suuuper good at cleaning, organizing and budgeting (despite said vices in #5).  I'm frugal and proud of it.
8.  I started a new tradition in 2014 to donate 10-12″ of my hair every year.  I've done it twice so far and I can't wait until the next time I get to chop it off.  My hair grows pretty fast, and since I don't heat or process my hair at all, I never get split ends and everyone always says my hair is super soft and smooth.
9.  Even though I'm so close to graduating, I still have no idea what I want to do after college (help!).  Write a cookbook?  Get a food truck?  Keep blogging in my super comfy pajamas?  Or, dare I say it, get a job?  In all seriousness, though, I'm lost.  Even though I'm studying Nutrition, I really don't want to become a Registered Dietician anymore.  And this is stressing me out.  EDIT:  I have graduated, I'm still blogging, and I got a job at a local gluten free/vegan/organic/local bakery.  I have specific business plans now, but I just need to get my bearings before I take those big steps (and risks).
10.  I'm really impressed by you reading all the way to #10!  But really now, I appreciate you guys SO MUCH.  I don't really express my (virtual) love for you guys, but I need to.  You make me so happy I want to cry!  Tears of joy, of course.  For now, here's a (virtual) high five — DON'T HIT YOUR COMPUTER, bad things will happen — and a (virtual) hug.  Just be glad this is virtual, because then you can skip witnessing my resting bitch face (see #3).
.
With love and good eats,
.
– Jess
.